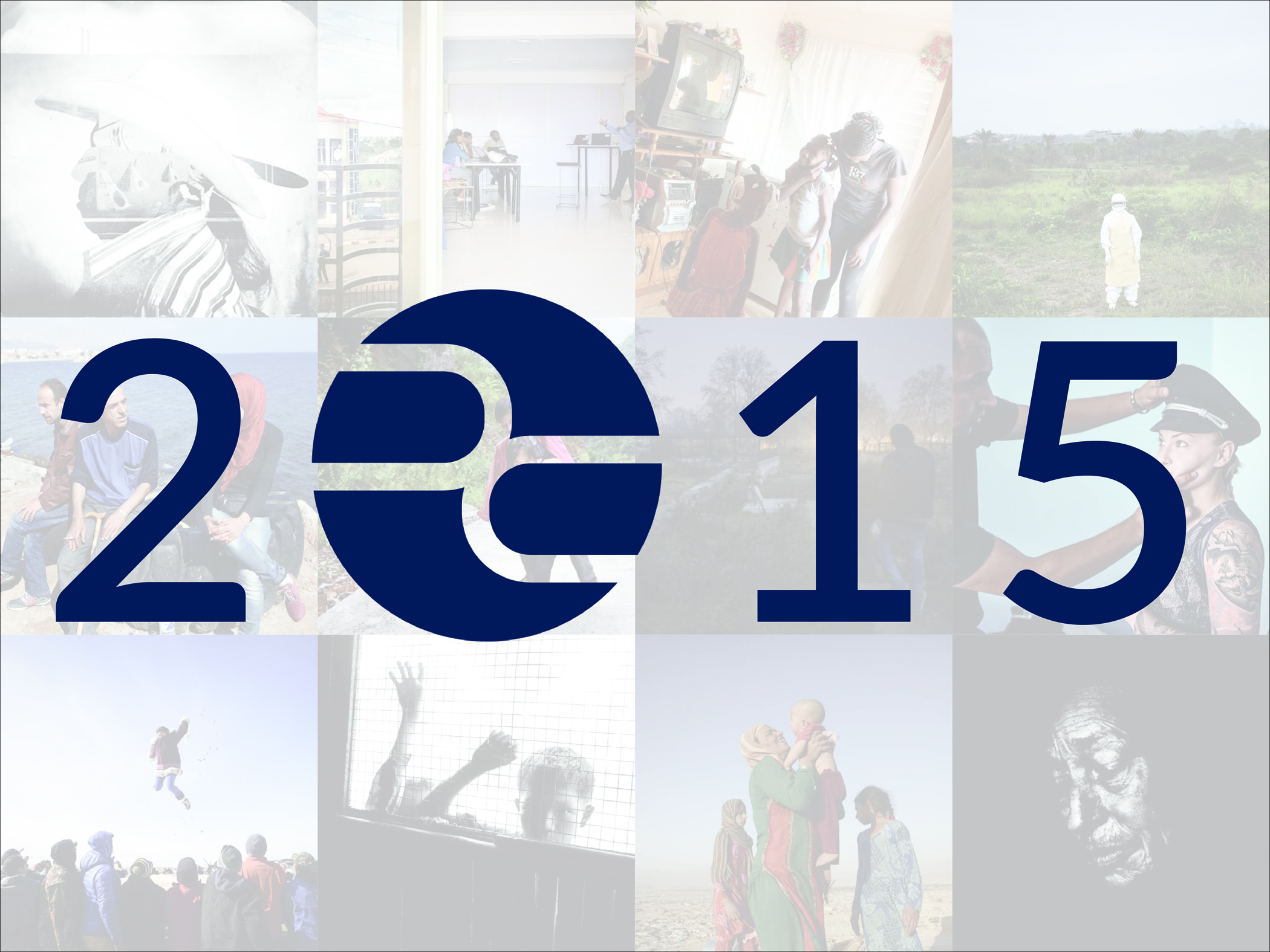 Our grantees have reported stories across the globe this year, on a range of topics including the environment, human rights, conflict, culture, poverty, economy, media, peacekeeping, politics, and public health.

We appreciate the fine work these journalists put into each one of their stories. To wrap up another successful year, with more than 100 projects that resulted in more than 450 placements in various media outlets, we would like to share some of our favorite images from our grantees.

Each member of our staff has chosen a favorite image from this year's reporting. Scroll down to view the selections and to read our reasons for choosing each particular image.



Image by Juan Herrero. Rwanda, 2015.
Nathalie Applewhite, Managing Director: "I love the use of the split frame in this image by Juan Herrero. It gives us a peek outside, while the focus is on the activity in the right of the frame where, just by the gesture of the teacher, I sense his enthusiasm for teaching. It signals something new and different is happening inside these walls."



Image by Spike Johnson. Myanmar (Burma), 2014.
Carey Averbook, Intern: "This image is the most arresting from Spike Johnson's project about the release of Burma's former child soldiers. With just a sliver of light I make out the middle child looking directly toward the camera, confronting me. Did he hold his glance or look away quickly? Is he just curious about the photographer and/or the camera? Is he asking or hoping for something? In Spike's caption, I learn that the area the children live in is also a hunting ground for new recruits to the Burmese Army. The stark contrast of dark and light builds on my encounter with the middle child. Light in the background and darkness in the foreground with the children in the middle–one reaching up, his hand grasping and raw; one looking straight at me, holding onto the window, as if trying to come through; and one witnessing quietly. I don't really know where we are nor whether the children were playing outside and stopping to look in or restricted in a space wishing to leave. The photo makes me feel the weight of the place between 'light and dark,' where these children live. Will they be recruited to become child soldiers? Will they continue their lives, never entering the Burmese Army, or have they already been released from service and returned to their families?"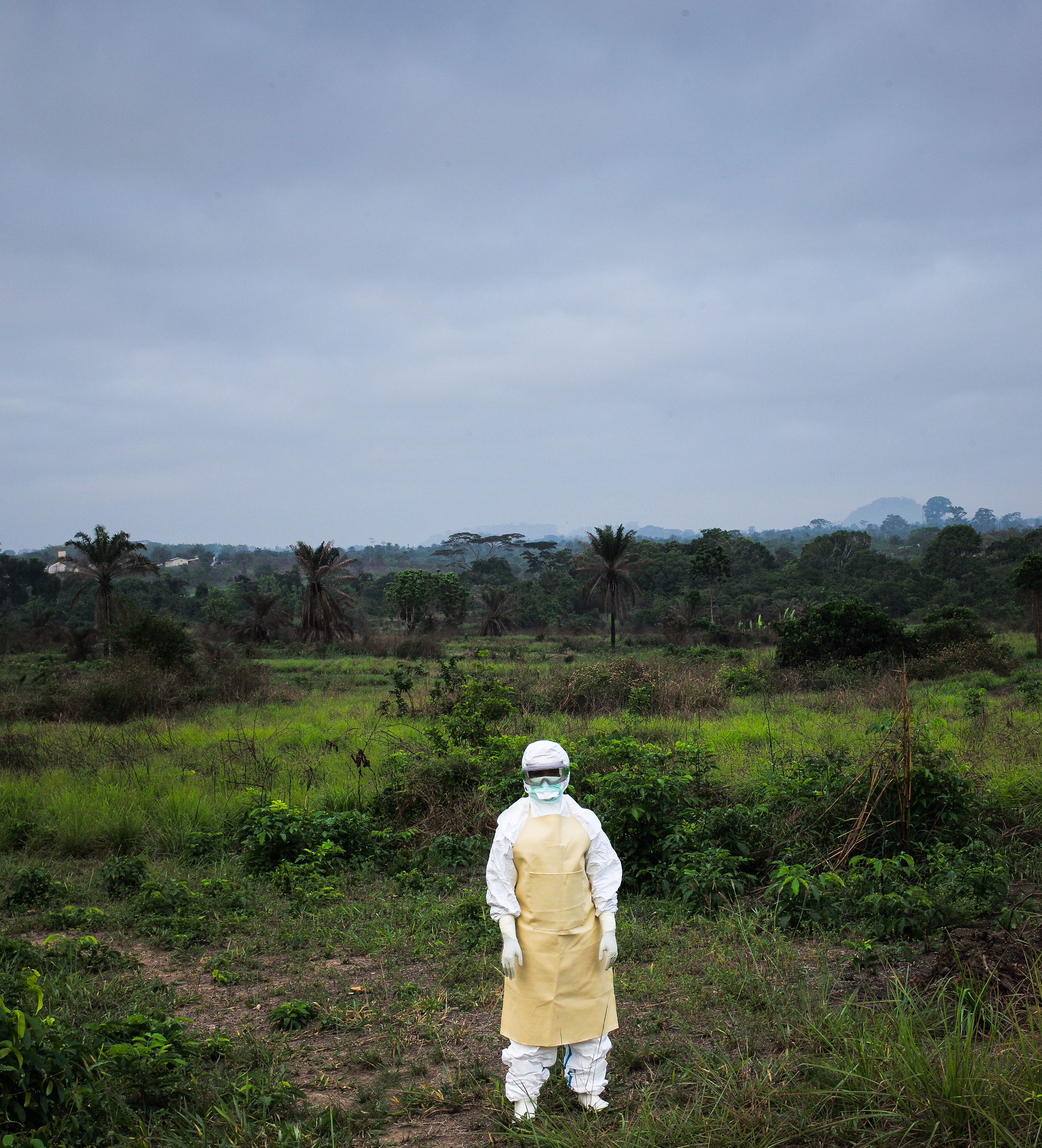 Image by Carl Gierstorfer. Liberia, 2015.
Emily Baumgaertner, Health Projects Coordinator: "This photograph of a Liberian nurse, dressed in full personal protective equipment (PPE), captures the local realities of the Ebola outbreak: she is the image's bold, startling subject, and yet anonymous and alone. After an hour in PPE–the maximum shift to avoid heat stroke–this healthcare worker would reveal her face, pour a liter of sweat out of her boots, then prepare to reenter the line of fire. Carl has captured the suited-up, resilient posture of a people at war with a relentless killer."



Image by Katie Orlinsky. United States, 2015.
Jin Ding, Marketing Coordinator: "The Paris Climate Summit has been on the front page every day over the past few weeks. For most people, Arctic ice melting isn't the kind of news we are interested in anymore. However, Katie Orlinsky's photography changes my opinion.

"Native people from Alaska are not the ones with a massive carbon footprint. Those from the less developed world are affected the most in the global warming. Orlinsky's photo reminds us that what we are taking away from those people is their beloved traditional lifestyle and, more importantly, their community and its happiness."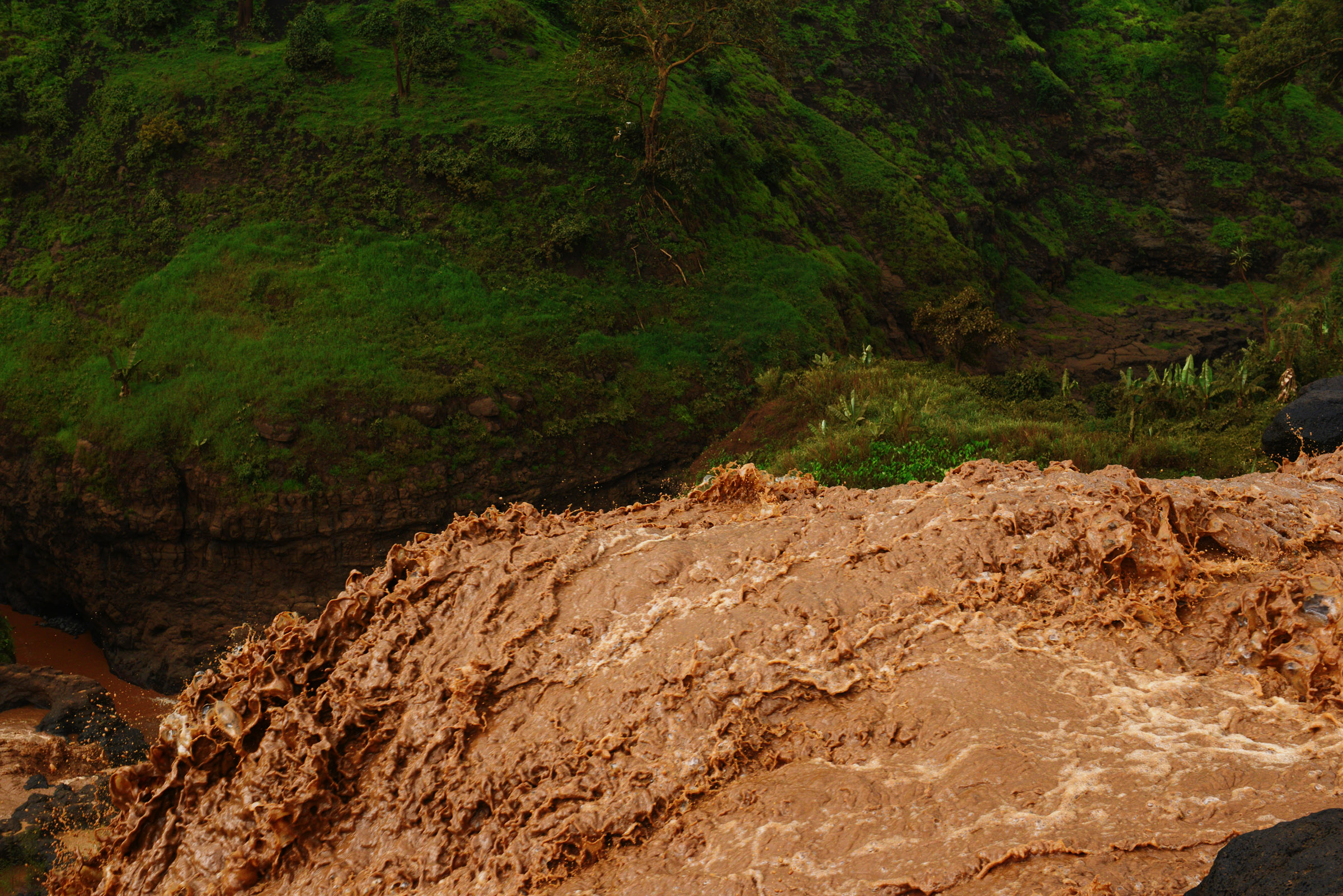 Image by Jonathan Rashad. Ethiopia, 2015.
Katherine Doyle, Associate Editor: "Construction of the Grand Ethiopian Renaissance Dam heralds opportunity for Ethiopia: it will be the largest hydroelectric dam in Africa and power generated should exceed domestic market needs. Downstream, Sudan and Egypt remain dependent on the Nile's waters for agriculture, industry, and potable water. Egypt draws 60 percent of its water from the Blue Nile. They stand to lose the most. Jonathan Rashad captures perfectly the roiling nature both of dispute and waterway."



Image by Daniella Zalcman. Canada, 2015.
Tom Hundley, Senior Editor: "I keep returning to Daniella's spare, dignified image of Mike Pinay. In profile, wearing a cowboy hat, stoic, proud. A jaunty feather in the hat, but an overarching sadness. It's more than a photograph—it's an essay that can be read on several levels, a painting in shades of gray and ambiguity, the mural of a man's life. Daniella's double-exposure portraits of the men and women who survived Canada's brutal residential schools for 'Indians' are overlaid with images relevant to their experiences. This technique has the effect of inviting you into the subject's interior life. Mr. Pinay, who was resident at the Qu'Appelle Indian Residential School from 1953 to 1963, tells Daniella, 'It was the worst ten years of my life. I was away from my family from the age of six to sixteen. How do you learn about relationships, how do you learn about family? I didn't know what love was. We weren't even known by names back then. I was a number.'"



Image by Dimiter Kenarov. Ukraine, 2014.
Marvin Kalb, Senior Advisor: "In so many ways the photo conveyed the complexity, danger and pain of the evolving East European crisis. Over it all looms the shadow of Putin's Russia, whose unpredictable moves have confused the West while advancing the old imperial interests of Russia."



Image by Holly Pickett. Greece, 2014.
Akela Lacy, Project Coordinator: "The water in the background drew me to this image. The color and light in the photo give a sense of clarity, but without much information you can tell that the three people are enduring something quite heavy. Coming from a refugee camp near Damascus, they are waiting in Greece at one detention center before being sent to another."




Image by Sim Chi Yin. China, 2013.
Quinn Libson, Social Media Editor: "On the surface, Sim Chi Yin's project on silicosis in China is a public health story. But if we dig deeper, it becomes obvious that the real heart of the work is the remarkable love between He Quangui, a former gold miner, and his wife. Faced with an incurable disease and limited resources, they still play and kid like giddy, courting teenagers. It's work like this, images that first seek to humanize, that I find the most powerful."



Image by Paula Bronstein. Afghanistan, 2014.
Jessica Obert, Multimedia Intern: "Paula Bronstein's photo essay on Afghanistan's war widows highlights the effects felt by decades of conflict in the region. I was drawn to this specific photo of a mother standing atop this mountain with her two daughters looking below to a country pained by war—but she is holding her baby high in the air and she is smiling. There is a levity felt by it. Even with so much loss there is light through what remains, and in its most simplest terms the future."



Image by Jake Naughton. Kenya, 2015.
Amanda Ottaway, Education Coordinator: "Consolatta Wafula was 16 when a powerful local politician forced her to have sex with him multiple times at her family's compound in Bumula, Kenya—a country where 25 percent of the health sector is funded by outside donors, the U.S. being the single largest contributor. The 1973 Helms amendment, named after its author, U.S. Senator Jesse Helms, prevents American aid dollars from being used to pay for abortions, with no exceptions.

"Consolatta got pregnant and had an unsafe abortion in secret. She nearly died of sepsis afterward. In June 2014, she was arrested and spent two days in jail because the 'government knew [she'd] had an unsafe abortion.'

"In this striking portrait by Jake Naughton I see the itchy rash that developed all over Consolatta's body after the procedure. I see one arm crossed over her belly, as if to protect it. Her direct gaze, her slight frown, the firm set of her lips—these things challenge and question me, Kenyan to American, woman to woman."



Image by Allison Shelley. Haiti, 2015.
Ann Peters, Director of Development and Outreach: "Follow the money—it's a key idea behind a lot of great reporting including 'The Clinton's Republic' project by Jonathan Katz and Allison Shelley. What Allison does is also follow the people—to see them going about their daily lives. Who they are beyond the headlines? Their joys and their sorrows, and in the case of Haiti, what happened in the wake of the devastating 2010 earthquake with the promise of an investor-friendly, quake-resistant Port-au-Prince?

"I picked this photo of Moniqua Jose who lives with relatives in a home built originally for the 2011 'Housing Expo' just outside the capital. She's grateful but it's not all that sturdy: Hard to believe it cost more than $3.3 million! The Housing Expo was one of the first reconstruction projects approved by the Interim Haiti Reconstruction Commission, headed by Bill Clinton and then-Haitian Prime Minister Jean Max Bellerive. The 60 homes cost over $200 million to build. They now generally are either occupied by squatters or in near ruins—and those occupied are not in that great a shape either."



Image by Sami Siva. India, 2014.
Steve Sapienza, Senior Producer: "Photographer Sami Siva's work on heroin addiction in India captures Joseph Pulitzer's call to 'illuminate dark places and, with a deep sense of responsibility, interpret these troubled times.' For this story, Siva crisscrossed northern India snapping photos that plunge us into the murky world of India's heroin addicts—graveyards, rural fields, and dusty back roads—the everyday places where their plight is easily overlooked. Siva succeeds in humanizing their plight and reporting a story that resonates with any community struggling with the scourge of heroin."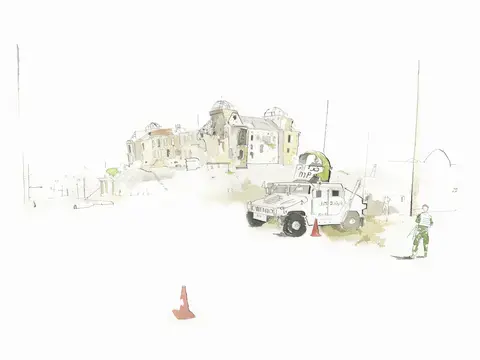 Drawing by George Butler. Afghanistan, 2014.
Jon Sawyer, Executive Director: "George Butler's ink-and-water-color drawings from Afghanistan evoke that country's tragic history. In this image you see the ruins of the European-style palace built by a westernizing king in the 1920s and later destroyed by Mujahideen rebels. In the foreground a military vehicle and a soldier standing guard. Nearly a century's worth of destruction, occupation and displacement, captured in a few strokes of ink and the faintest splash of color."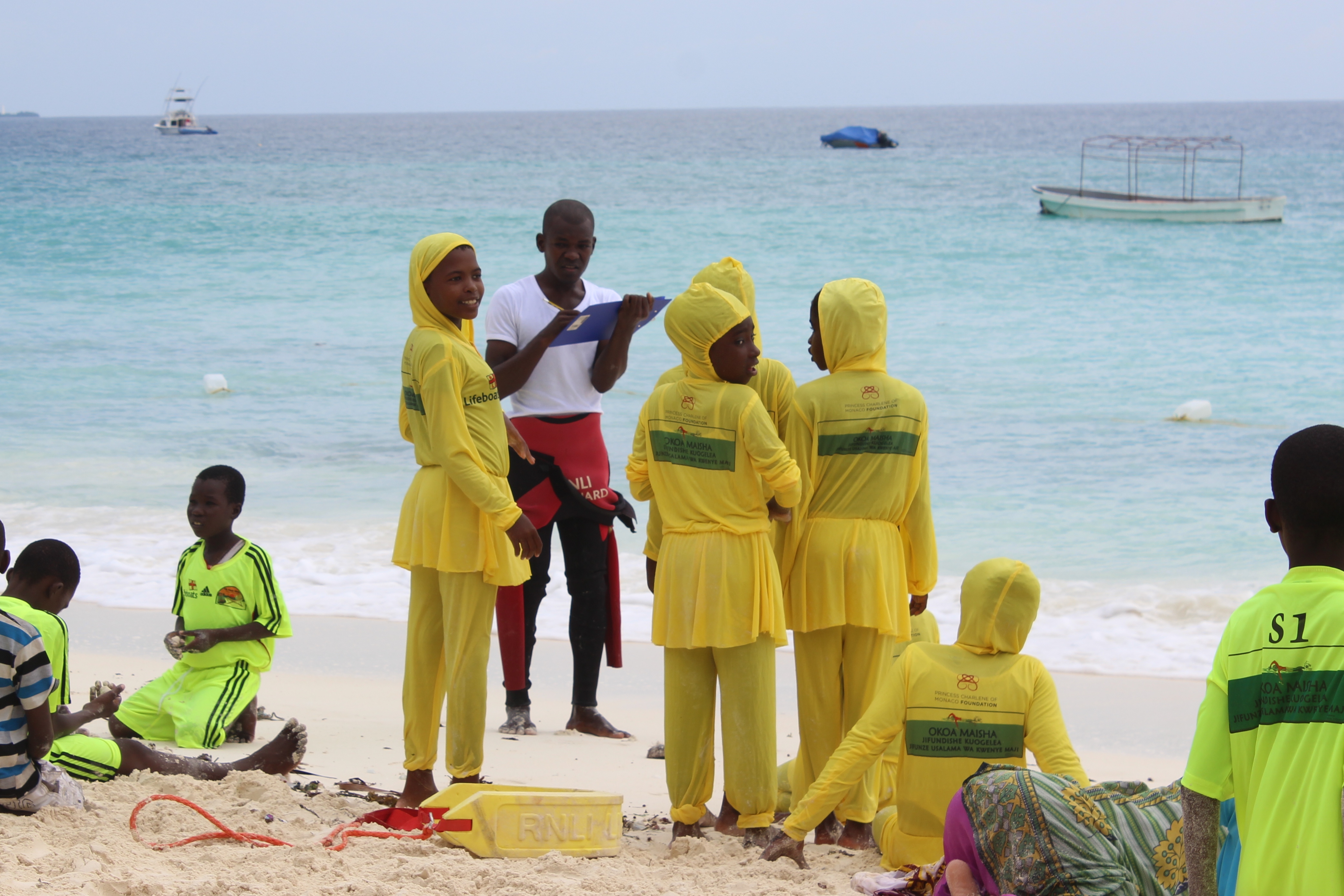 Image by Claire Felter. Tanzania, 2015.
Kem Sawyer, Contributing Editor: "You can see the excitement in the tallest girl's face. She's about to hit the water for the first time. Her swimming attire may be modest but the thinking behind it is quite bold. As photographer and Boston University student fellow Claire Felter tells us, on the islands of Zanzibar, where the population is almost entirely Muslim, many girls never learned to swim. That is, until recently, when a local NGO had special swimsuits designed so that the girls could cover their hair, arms, and legs. Now these girls are not only learning to swim, but in some classes they outnumber the boys."



Image by Leyland Cecco. Sudan, 2015.
Mark Schulte, Education Director: "This year the Pulitzer Center education team looked at the relationship between beauty and truth in images. How does a photojournalist create beauty out of ugly things, and thereby compel us to look longer and more deeply at their essential truths? What could be more unlovely than dust on a grinding machine in the desert? Yet Leyland Cecco's image from a Sudan mine is strikingly composed and gorgeously toned—a beautiful picture that does not obscure the hard reality it documents."



Image by Matt Black. United States, 2015.
Lauren Shepherd, Outreach Coordinator: "The Geography of Poverty is a digital documentary project by photographer Matt Black that combines geotagged photographs with census data to create a modern portrait of poverty in the U.S. In the summer of 2015 Black embarks on a cross-country trip to explore, document, and spark discussion about contemporary poverty and growing income inequality in the U.S. In the third part of the series for MSNBC, Black photographed 'Cancer Alley: Big Industry, Big Problems,' documenting the 'clusters of poverty' and sickness that shadow America's industrial South. In areas surrounding chemical industry plants, dangerous levels of toxic pollution are in the air and groundwater, affecting the health of those living close by.

"Black quotes the people in this photograph, 'People moved away, people die. The coal companies bought the houses out so they can strip mine.' With very little time in each city he documented in the span of a summer, he still made a point to be honest with the people he documented about his project and the importance of telling their story. The close-up portraits he shot in black and white—providing a view of their emotions in a raw light—gives us a look into the lives behind the number of people below the poverty line."



Image by Misha Friedman. Ukraine, 2015.
Evey Wilson, Associate Producer: "I love the moment Misha Friedman captures in this image. His touch and her eye contact pull me in. A lovely femininity is captured and the anticipation of her graduation is tangible. I appreciate how Friedman uses cool tones to unify the images from this project. Color plays an important role."