The Pulitzer Center awards fellowships to students at Campus Consortium partners to pursue independent reporting projects. Reporting Fellows cover a wide range of issues in countries around the world and in the United States. They benefit from Pulitzer Center mentorship, networking opportunities, and journalism resources. Most importantly, they become part of a vibrant community. Their articles, photo essays, video, audio, and interactives are featured on the Pulitzer Center website and in other news outlets.
---
What we're looking for
The Pulitzer Center is interested in reporting projects that focus on topics of global importance, with an emphasis on issues that have gone under-reported in the mainstream American media. We see great value in covering critical issues ranging from the environment, global health, and women's economic empowerment to refugees and migration, food insecurity, struggles for resources, human rights abuses, or peace and conflict.
Meet the 2022 Campus Consortium Fellows from our partner universities here.
The Pulitzer Center is also excited to announce a new cohort of Reporting Fellows in the categories of climate science, gender equality, and justice. These nine fellows will be reporting on a range of issues, both globally and nationally.
Meet our 2022 'Special Initiatives' Fellows here.
The Pulitzer Center is pleased to announce 14 journalists post-graduate from Columbia and Medill journalism schools for its 2022 Post-Graduate Reporting Fellowship Program.
Meet our 2022 Post-Graduate Reporting Fellows here.
---
How to apply
Each Campus Consortium partner has a separate application process and may have additional application requirements that go beyond the application form on the Pulitzer Center website. Please consult with your campus to make sure you know the deadline, the amount of the fellowship offered, how you should submit your application, and whether there are additional requirements. If selected, the Pulitzer Center will work with Fellows to further refine the project and support distribution.
---
---
Students from Columbia and Medill journalism schools interested in applying for the Post-Grad Reporting Fellowship Program should consult the career development office or journalism department at your school to learn about the application procedure. You may also email @reportingfellows@pulitzercenter.org for more information.
Reporting Fellow Alums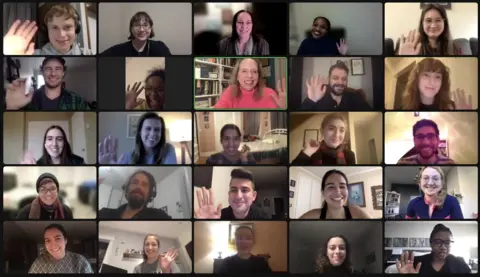 The Pulitzer Center is building a robust alum community. We provide opportunities for alums to deepen their connections, network, mentor others, and stay part of the Pulitzer Center family. Alums also take part in virtual and in-person reunions.
To learn more, contact Kem Sawyer, Director, Reporting Fellows Program, or Libby Moeller, Reporting Fellow Editorial Coordinator, at reportingfellows@pulitzercenter.org.
---
Washington Weekend
The Pulitzer Center hosts an annual fellows weekend in Washington, D.C., to introduce students (and their professors) to the work of other fellows, provide an opportunity to network with professional journalists and editors, and further broaden horizons.
For more information about 2019 reporting fellow projects read Reporting Fellows Present: Day One and Reporting Fellows Present: Day Two.
---
Internship Opportunities
Interested in working with the Pulitzer Center apart from the Campus Consortium fellowships? Check out our internship opportunities.