Story

November 9, 2022
2022 Reporting Fellow Washington Weekend Highlights
"You were brave; you took risks; and you persevered," Kem Sawyer told the Pulitzer Center Reporting Fellows at Washington Weekend 2022. "I am so proud of each and every one of you."
Washington Weekend celebrates the culmination of the Pulitzer Center's Campus Consortium Reporting Fellow program that sends students from partner universities around the world to cover underreported global issues. 
This year, from October 14 to 16, 51 Reporting Fellows from 40 universities gathered in the U.S. capital to share their work, get to know each other, and explore the city. They reported on everything from the environment to human rights to Indigenous issues, from Guam to India, Colombia, and Zimbabwe; the weekend gave them the opportunity to learn from each other's experiences, successes, and challenges.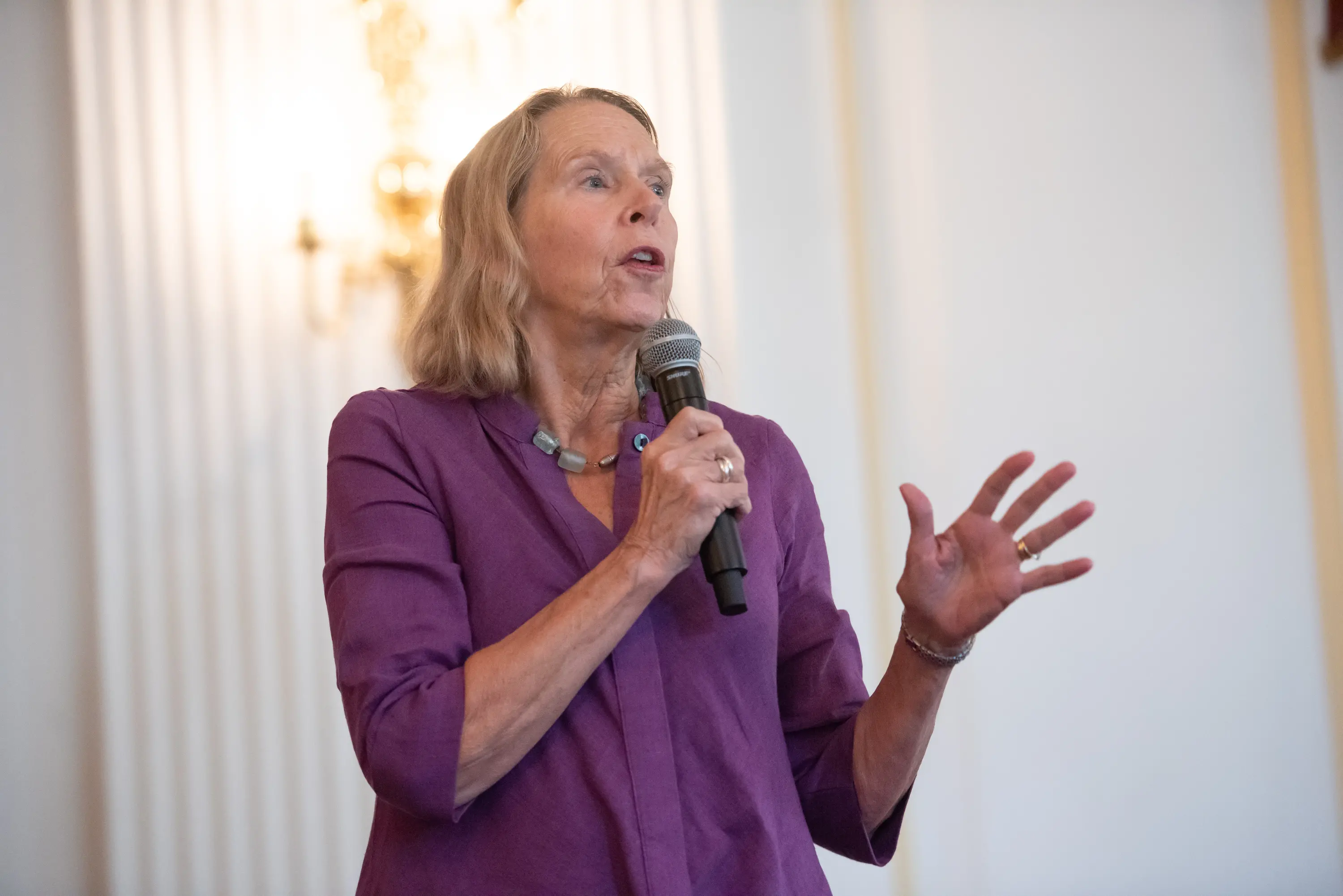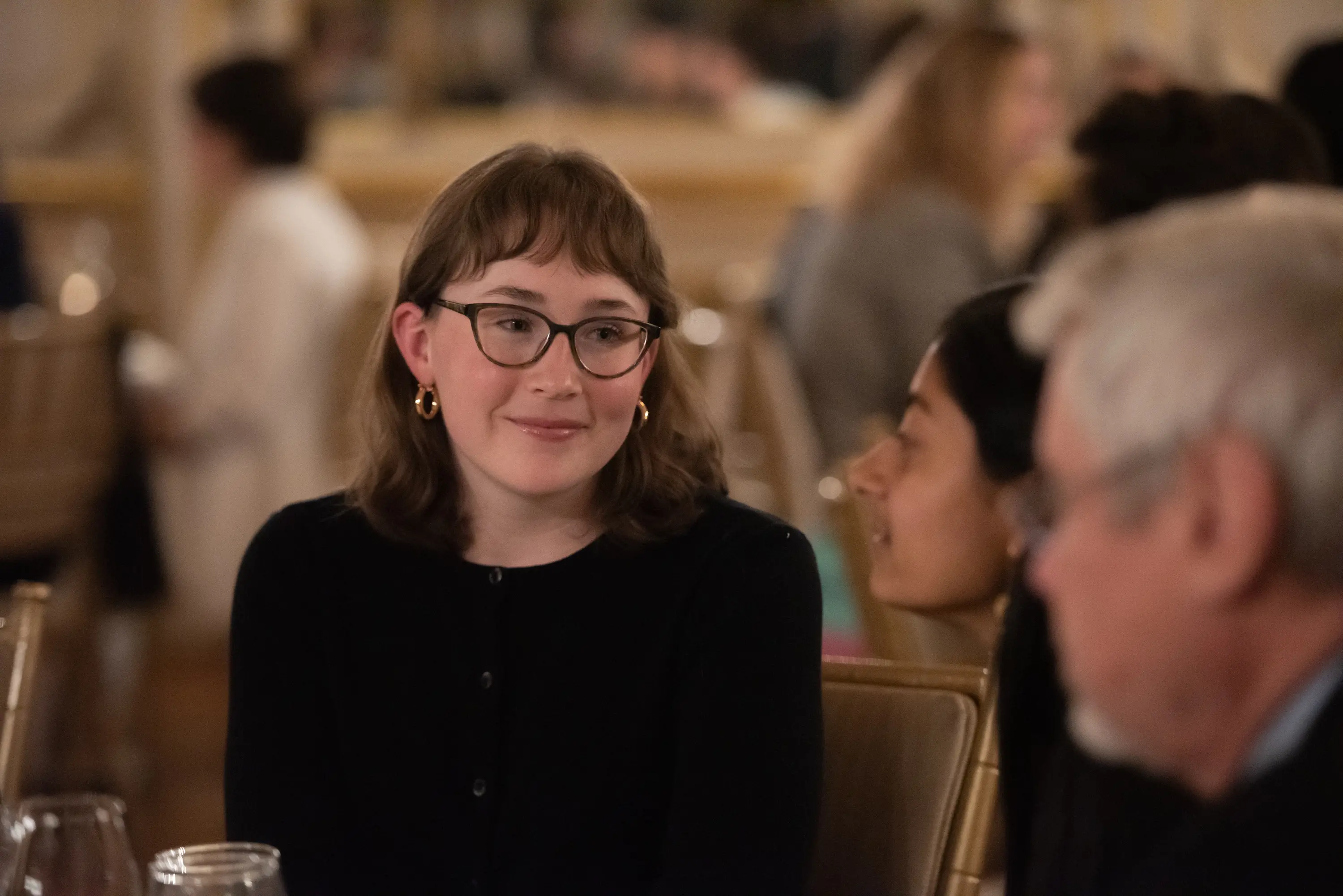 On the morning of Friday, October 14, Sawyer, who directs the Reporting Fellows program, introduced the Pulitzer Center staff, welcomed everyone to the Diplomat Room at the Omni Shoreham hotel, and kicked off the first in-person Washington Weekend event since 2019. The first day included Reporting Fellow panels on global health, climate and the environment, and labor and gender rights. Each Fellow gave a short presentation about their project, reporting, and takeaways, followed by a Q&A session.
Thrilled to be in-person at #PulitzerWeekend22 sharing the results of my @pulitzercenter reporting in Turkey this summer on the impacts of displacement on the mental health of Ukrainians. @JohnsHopkinsIH @JohnsHopkinsSPH pic.twitter.com/H77z5Mwl4H

— Diana Rayes - ديانا (@Diana_Rayes) October 14, 2022
The day ended with a formal dinner at the Cosmos Club, where Reporting Fellows dined with Pulitzer Center staff and special guests, including journalists and Campus Consortium partners.
"Every year, I share with Reporting Fellows a few cardinal principles—things like: Be persistent. Get the facts straight. Seek multiple points of view. Embrace diversity. Keep digging. Do not shy away from paradox and complexity. Surprise us," Sawyer said. "But this year, as we are still wrestling with the impact of COVID-19, there is one principle that matters most: Care deeply. Show your readers or viewers why they need to care about your story. Care for your colleagues. Care for your sources. Care for each other."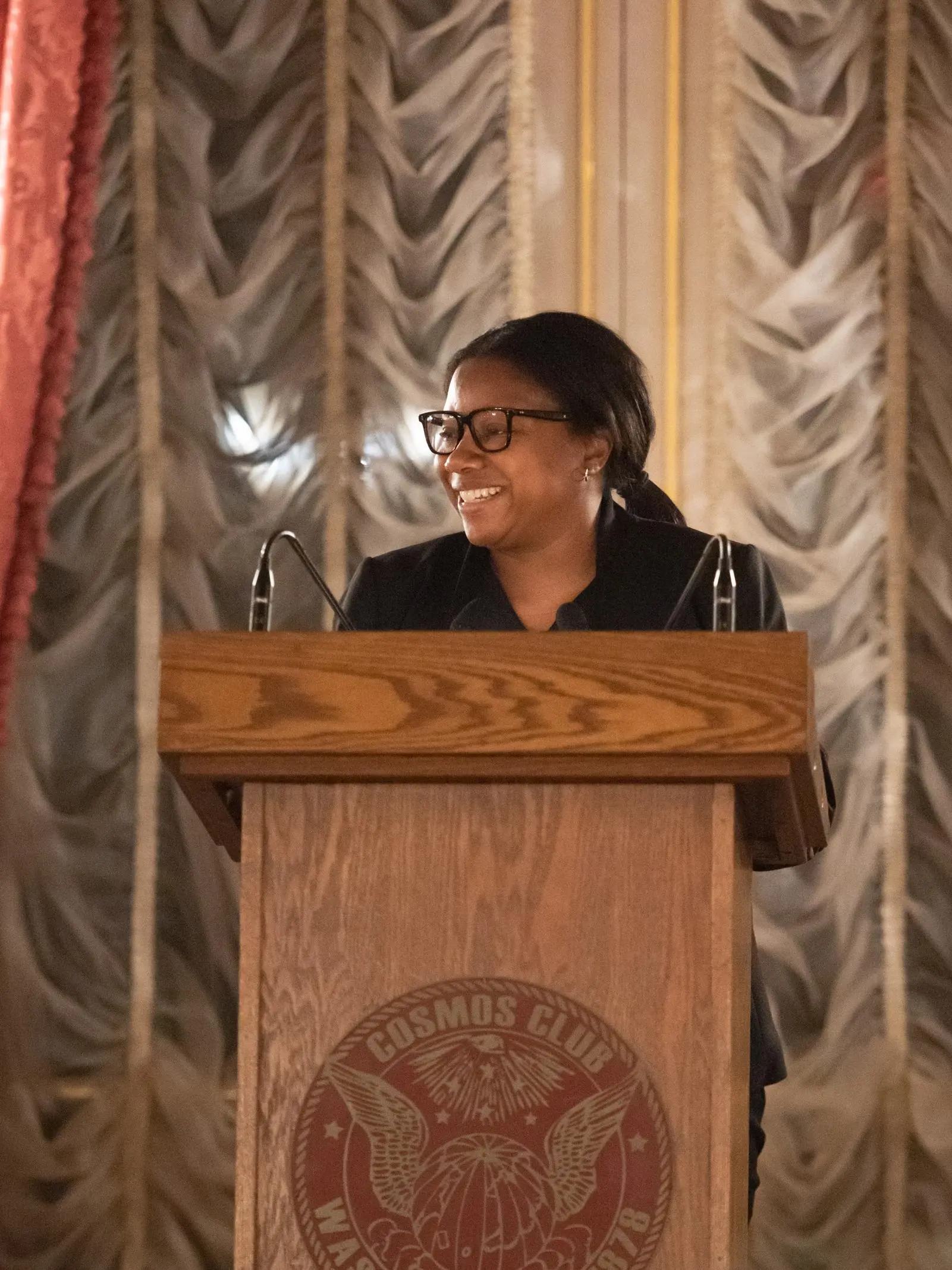 Sawyer then introduced the speakers for the night: first, 2018 Reporting Fellow and Semafor political journalist Kadia Goba; and later, The New York Times investigative reporter, Director of the Simon and June Li Center for Global Journalism at Columbia University, and Pulitzer Center Board Member Azmat Khan.
Goba recounted her own experience as a Reporting Fellow, during which she went to Sierra Leone to report on the environment, and stressed the importance of versatility through journalism's challenges.
"[From] dealing with the heat in Sierra Leone, West Africa, to a global pandemic was an interesting pathway into reporting, but here we are. And just when I thought everything would calm down, I was in the Capitol when January 6 happened," she recounted. "One of the key takeaways that I've had is that if you're the hardest worker in the room, you're going to get the nugget. It isn't the easiest career, but I wouldn't do anything else."
Next, Pulitzer Center Reporting Fellow Editorial Coordinator Libby Moeller introduced Azmat Khan.
"I think it's something that's so exciting for all of you, that in 10 years, or however long, you could be doing something that is radically different from what you're doing now, or is a version of journalism that is not [what] you necessarily expected or necessarily planned out," Khan said. "There is so much potential for you to take these opportunities that you're finding and to look for ways of testing yourself, and challenging yourself, and trying new things."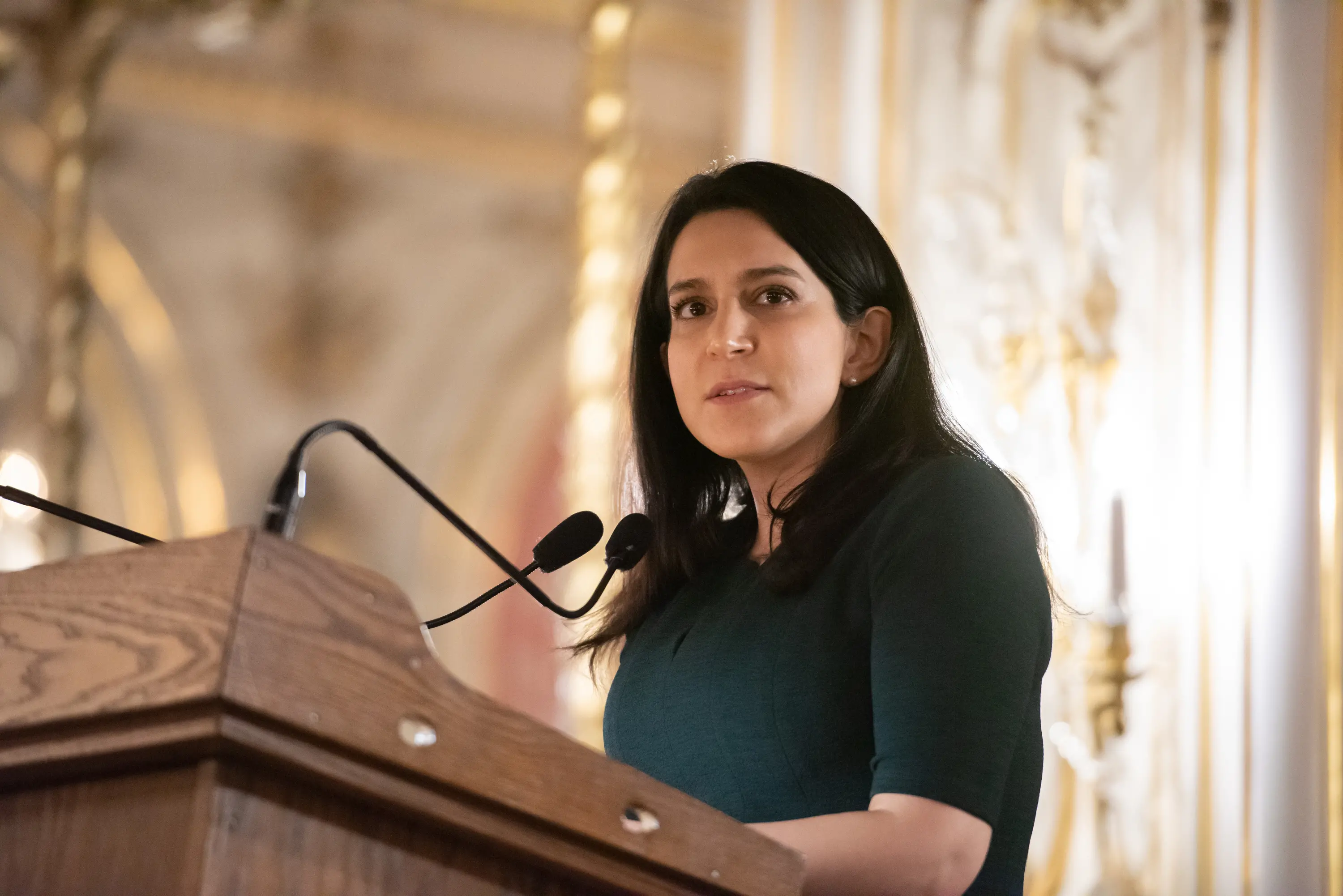 She also gave some words of advice to beginning journalists: get local, wherever you are; integrate other skills that you have; find what drives you; trust your instincts; and never lose sight of what drew you to a story.
The next day included a second panel on global health, a second panel on climate and the environment, and panels on Indigenous rights and human rights. 
"I'm incredibly grateful for this learning experience," said Boston University Reporting Fellow Kristen Chin, who produced a documentary film about a working class snow plower and changing winter weather conditions in Massachusetts with mentorship from The Boston Globe filmmaker David Abel.
The climate team making its way through this scavenger hunt!!! #pulitzerweekend22 pic.twitter.com/ulRr8puL0X

— Kristen (@kchinjournalist) October 15, 2022
After the four panels and lunch with their panel groups in downtown D.C., the Reporting Fellows set off on a scavenger hunt to explore the city and see the monuments. They started at the Gallery Place/Chinatown metro station and made their way across the city to the Washington Monument, the White House, and the Lincoln Memorial, with a beautiful view of the sunset before ending the five mile walking tour at the Washington Harbor.
having the best time networking & exploring #pulitzerweekend22 pic.twitter.com/X1Je1304zO

— sydney shuler (@sydneynshuler) October 16, 2022












In the evening, the Reporting Fellows joined Pulitzer Center staff at Nick's Riverside Grill in Georgetown. The Reporting Fellows caught up on each other's projects, traded stories from the field, and made connections.
Sunday, October 16, was the last day of Washington Weekend, with one panel on education and youth and another on art and identity. The final session was met with resounding applause.
Just finished up #PulitzerWeekend22! It was great meeting all the awesome journalists and I can't wait to see where everyone's journeys take them! pic.twitter.com/l7nrEctIPj

— Jordan Rusche (@jordan_rusche) October 16, 2022
Kem Sawyer and Libby Moeller thanked the Campus Consortium team—University and Outreach Director Ann Peters and Program Coordinator Mikaela Schmitt—the Communications team, including Multimedia Coordinator Daniel Vasta and Design Manager Lucy Crelli, videographer Mark Sugg, interns Grace Jensen and Isha Trivedi, CFO Mouhamad Alem, IT Manager Ash Guevara, and CEO Jon Sawyer for making the weekend possible. Communications Director Sarah Swan, Social Media Coordinator Alonso Balbuena, and intern Ethan Widlansky also played key roles.















Special thanks to the entire Pulitzer Center staff and to the journalists and Pulitzer Center grantees who advised the Reporting Fellows, several of whom attended Washington Weekend.
The mood was joyful yet sentimental as Reporting Fellows went their separate ways back to their homes around the world.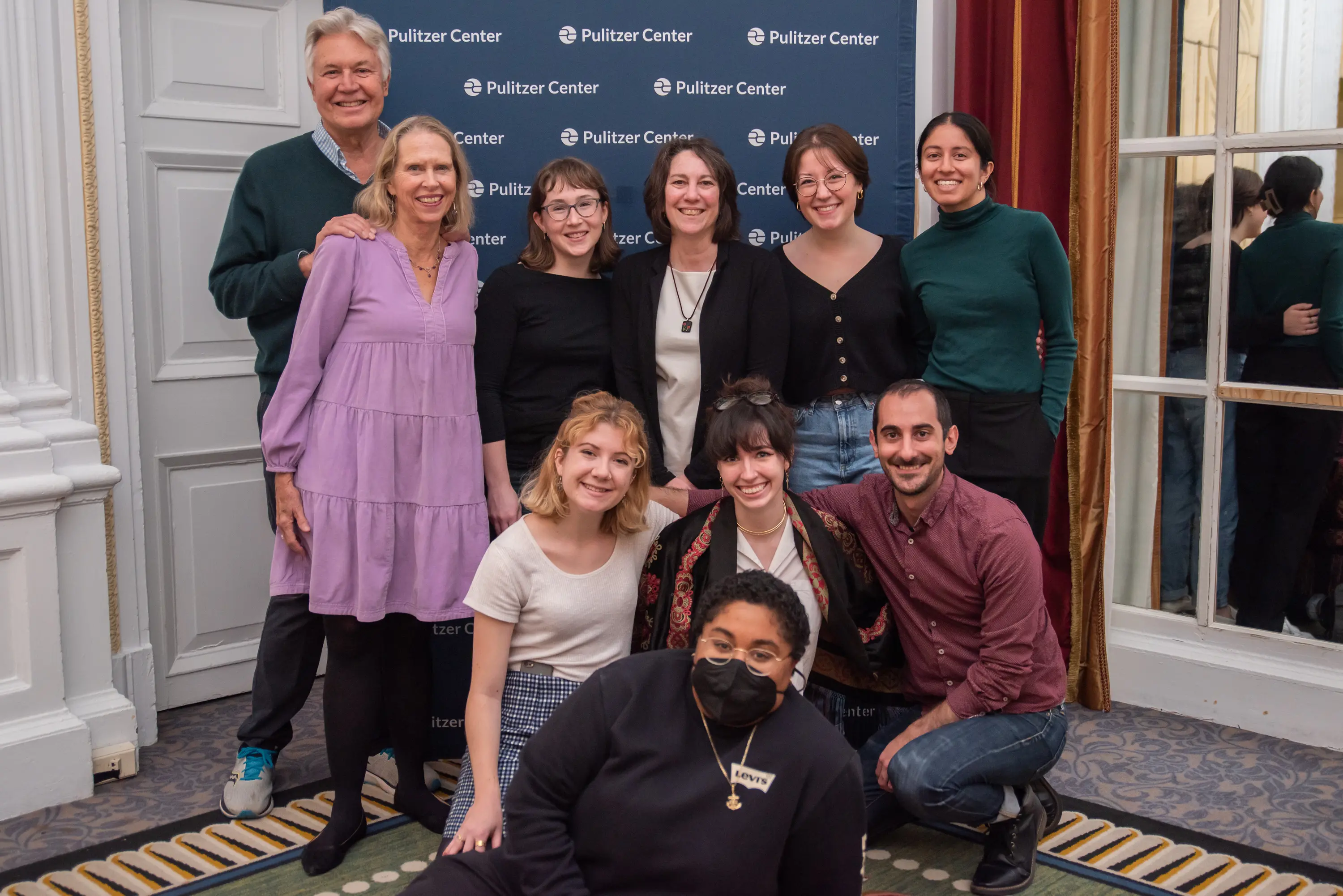 Click the links below to view blogs and videos from Washington Weekend:
Day Three of Washington Weekend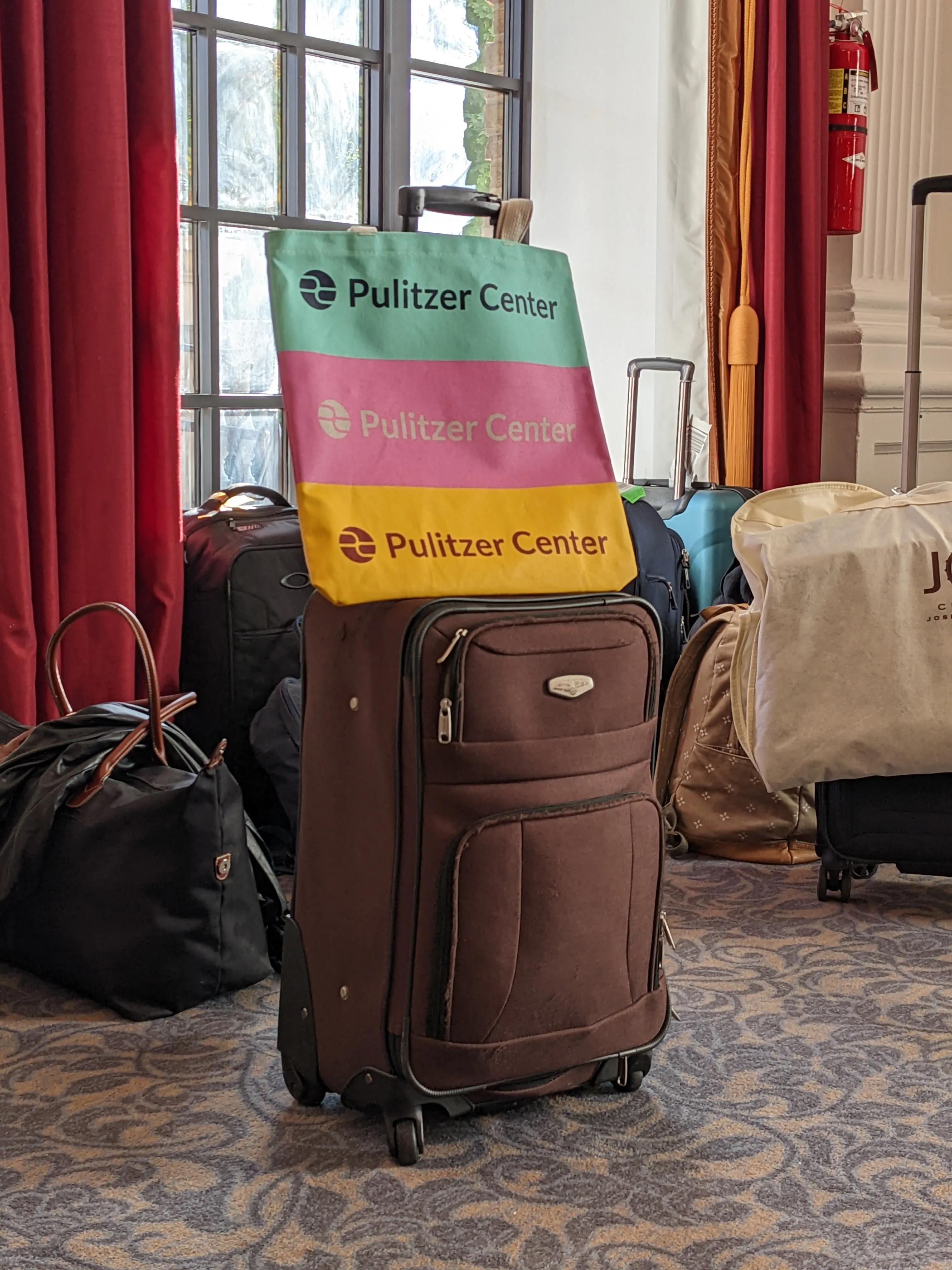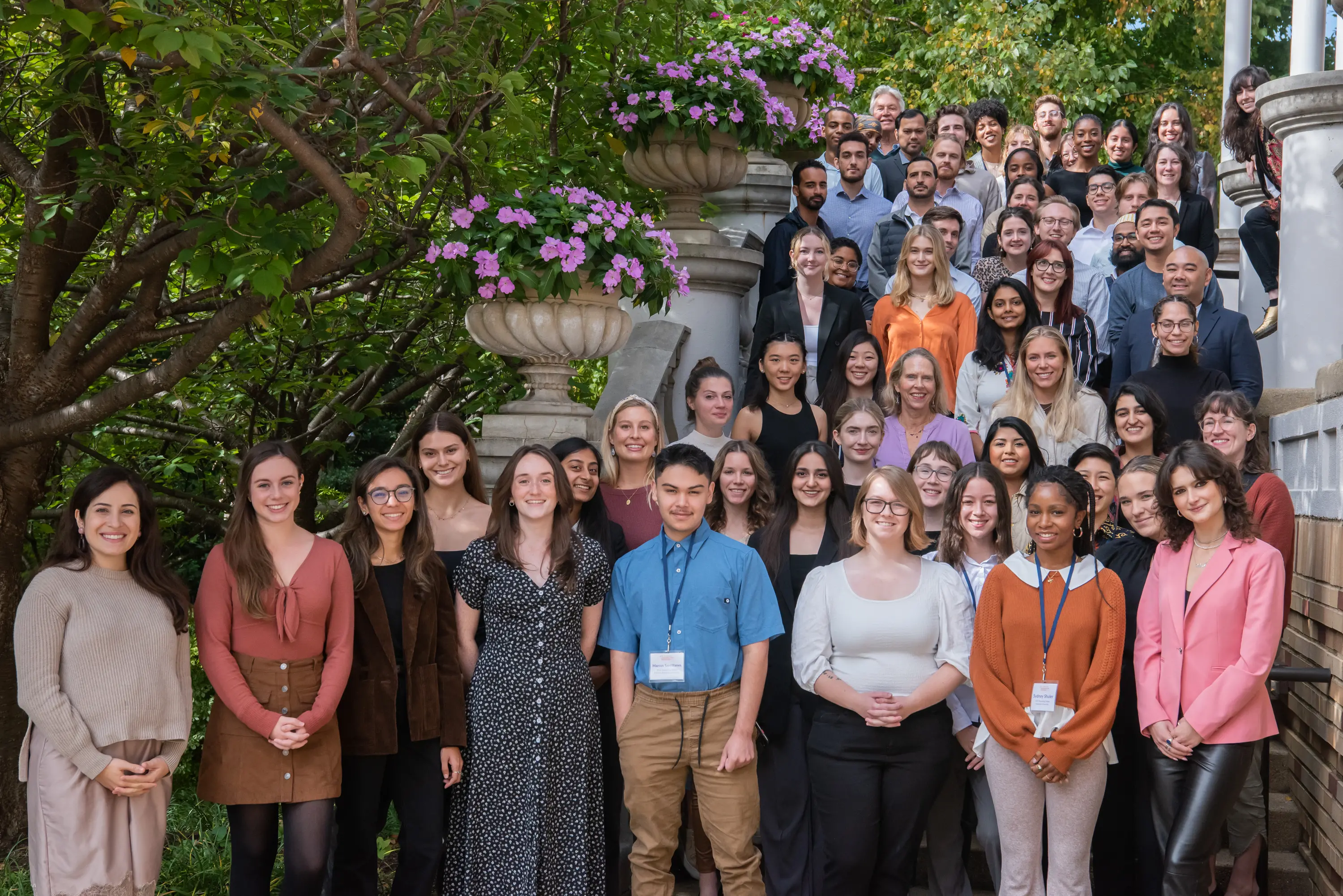 ---
This story has been updated; it was originally published on October 27.