Professional Development
If you had stumbled into the middle of the Pulitzer Center's Physical Theater Techniques for Exploring Global Issues workshop in August 2017, you might have seen a group of theater teachers frozen in place, their eyes gazing down as if they were reading a newspaper. A few moments later, they would have formed a huddle and posed as if they were whispering. Suddenly, they would isolate one member of the group, their hands clenched as if holding guns and ready to shoot. Silently, their target would collapse while, in one orchestrated motion, they all turned away.
These educators from 15 schools in Winston-Salem, NC were engaged in a workshop on physicalizing global news that culminated in Pulitzer Center journalism-inspired tableau performances, a silent series of scenes in which actors move into a pose, freeze, and then shift to a new pose in order to tell a story. The teachers were physicalizing grantee Kara Andrade's reporting on the death of Mexican activist Miguel Ángel Jiménez Blanco. You can see images from their performance below.





The hands-on workshop guided educators in developing methods for incorporating current reporting and pressing international issues into their theater curricula. Through collaborative exploration of journalism projects and performance and reflection activities, teachers considered how they could use creative movement to help students think critically about complex international stories and make local, personal connections to them.
To get deeper insights into one of the stories they had examined and the reporting that went into it, participants Skyped with Andrade. "Our work and your work is about building empathy," one participant told Andrade. Another participant added that she had been feeling like she couldn't trust journalism in the months leading up to the workshop. After the session, she said that talking to Andrade reminded her that "there are journalists out there doing the work ethically."
The 90-minute workshop was facilitated by Pulitzer Center senior education manager Fareed Mostoufi, an accomplished theater artist who created and directed original plays at Arena Stage in Washington, DC for nearly four years.
Student Workshops
In February 2018, Mostoufi returned to Winston-Salem to lead workshops for an ensemble of 40 students selected by the teachers he met in the fall. This time, the students used movement and the investigation of five Pulitzer Center reporting projects to examine their hopes for the world. You can see images from their performances and their scripts below:
Equality
The world is optimism,
Pessimism,
And memes.
It's round.
Huge.
It's evolving.
The world needs love,
Compassion,
and equality.
But there is inequality.
(Performances inspired by Pulitzer Center reporting)
We need to treat people equally.
We need impact.
Truth.
Compassion.
We need love.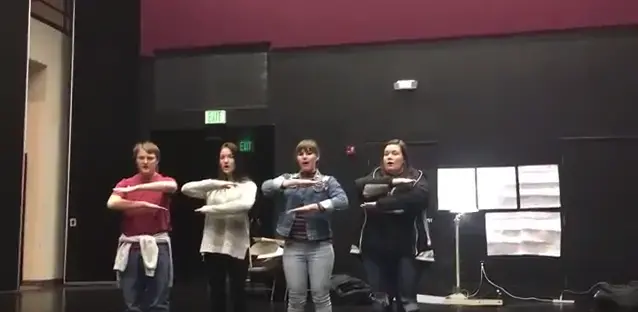 Students create movement inspired by the word 'equality.' Image by Fareed Mostoufi. United States, 2018.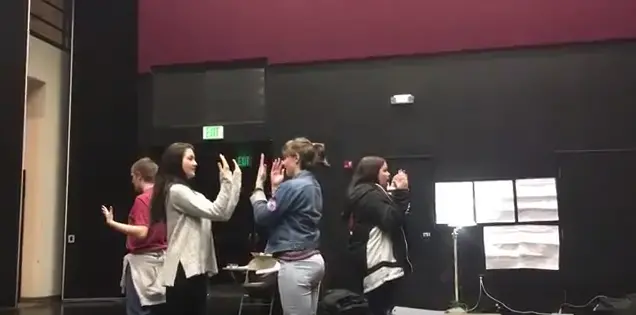 Students created this image to visualize the word, 'tolerance.' This image was adapted by the entire group as part of their final play, 'Our Hopeful World.' Image by Fareed Mostoufi. United States, 2018.



Our hopeful world
The world is beautiful.
Hopeful.
But there is hatred,
Reactions and ratings instead of information,
large groups that face discrimination,
that aren't treated fairly.
(movement performances inspired by Pulitzer Center reporting projects)
The word is evolving.
We need inspiration,
Love,
Love that can inspire people to change the world.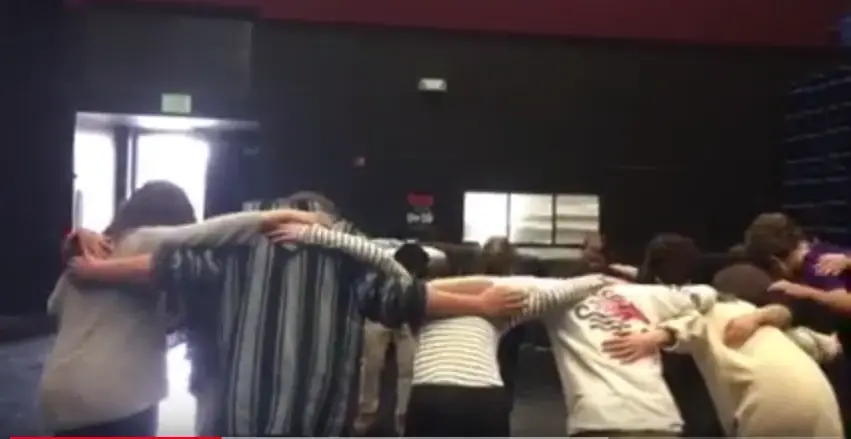 The creators of the performance 'Our Hopeful World,' interpret the world, 'evolving.' Image by Fareed Mostoufi. United States, 2018.
As part of the performance of 'Our Hopeful World,' a group of students freeze in an image inspired by Jeanne Carstensen's reporting on refugees from the Middle East and Africa who are traveling through Greece to seek asylum in Europe. Image by Fareed Mostoufi. United States, 2018.



These theater workshops are part of the NewsArts initiative, which partners the Pulitzer Center with Winston-Salem/Forsyth County Schools to demonstrate the ways in which creative approaches to storytelling can connect us to the global issues of our times.
If you would like to partner with the Pulitzer Center to bring a physical theater workshop, other professional development opportunities, or a Skype visit to your area, reach out to us at [email protected].