Pulitzer Center Update June 5, 2021
Introducing the 2021 Pulitzer Center Reporting Fellows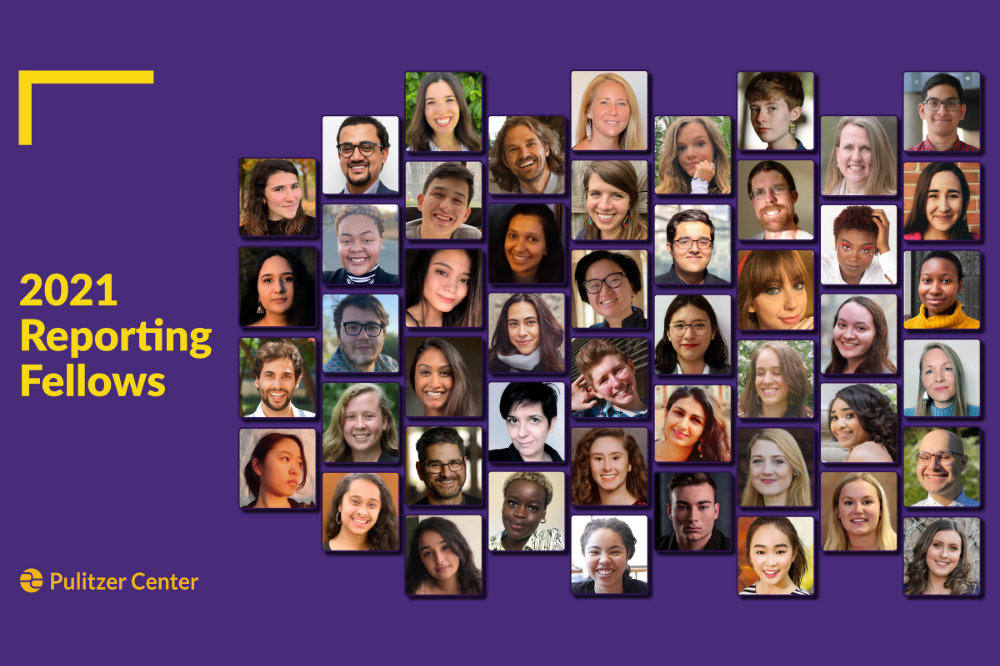 The Pulitzer Center is pleased to announce our 2021 cohort of 48 Reporting Fellows. Their projects address some of the most critical, and underreported, stories in today's world, spanning climate injustice, immigration, and reproductive health.
The COVID-19 pandemic is ongoing, and our Fellows have learned over the past months how to adapt their work to be as safe as possible. With their applications they submitted extensive plans outlining their pandemic precautions and detailing preparations to report remotely if necessary.
The Pulitzer Center awards fellowships to students at our Campus Consortium partners—these include liberal arts colleges, community colleges, state universities, historically Black colleges and universities, and graduate schools of journalism and public health in the U.S., Canada, and Qatar. Each Fellow is paired with an adviser—a Pulitzer Center grantee with special expertise in the Fellow's topic or reporting destination. Pulitzer Center editors also provide mentoring in reporting, writing, and multimedia.
"This year's Fellows have shown great ingenuity and imagination in developing proposals for projects that will shed light on important issues during these historic times," said Kem Knapp Sawyer, who directs the Pulitzer Center's Reporting Fellows Program. And what a diverse range:
On Environment
Irene Vázquez, our Fellow from the Yale School of the Environment, reports on pollution and climate change in coastal Louisiana. She will show how local Black and Indigenous communities organizing together has led to new horizons for activism. At Yale, Vázquez is an Edward A. Bouchet fellow, a two-year position in which she researches connections between French Caribbean poetry, global Blackness, and citizenship.
From the Center for Environmental Journalism at the University of Colorado Boulder, Chris Dunn looks into relations between the U.S. and Greenland in an era of climate change. Dunn, a doctoral student, uses writing and photography, paired with academic research, to tell stories about pressing environmental challenges.
Brett Simpson, our Fellow from the University of California, Berkeley, plans to travel to Norway to report on green grabbing of Indigenous lands for Norwegian Arctic renewable energy projects. Simpson has worked as a metro reporter for the San Francisco Chronicle. Her work has appeared in The New York Times, KQED, and Yale Climate Connections.
For her project based in Greece, Kalli Siringas looks at how an ancient seagrass could be a solution to modern pollution problems. Siringas, a first-generation Greek American, is a senior at Hunter College and works for The Wall Street Journal's digital magazine, Noted.
University of Missouri Fellow Leanne Tippett Mosby focuses on efforts of the Confederated Tribes of the Umatilla Indian Reservation to restore freshwater mussels, one of the most endangered species in North America. Before enrolling in a master's program in journalism, Tippett Mosby graduated with a master's in public administration and worked in environmental affairs for the Missouri government.
Mariel Rodriguez-McGill and Teresa Cebrián Aranda's documentary follows a group of teenagers as they learn to build boats and discover the importance of protecting the Bronx River. Rodriguez-McGill and Cebrián Aranda are master's students of journalism at Columbia University. Cebrián Aranda previously worked as a publications specialist at the Food and Agriculture Organization of the United Nations. Rodriguez-McGill worked as a producer and director at Rocky Mountain PBS in Denver for five years.
From Agriculture to Aquaculture
Mallory Daily's project investigates tensions between industrial agriculture and the outdoor recreation economy in rural America. Daily is a master's student at the University of Missouri in Columbia, where she worked at KOPN Community Radio and produced for the podcast Our Farms, Our Future.
Johns Hopkins School of Public Health Reporting Fellow Josh Voorhees will travel to Florida and California to document how agriculture workers are affected by climate change. Voorhees covers food, labor, and the environment for Modern Farmer and is enrolled in a master's of public health program at Johns Hopkins.
Grace Terry, a senior at Elon University, reports on the growth and sustainability of the oyster aquaculture industry in Maine. Terry is managing editor and a multimedia journalist at Elon News Network and previously interned at the Times-News of Burlington, N.C.
Public Health
Abdul Rahman Abid, Adan Ali, and Iffah Abid Kitchlew, a reporting team from Northwestern University in Qatar, will travel to Pakistan to investigate the health risks faced by those who work in scrap collection and disposal. Abid, Ali, and Kitchlew, now rising seniors, have been working together on projects since their freshman year. They will produce a film highlighting the intersection of public health and environmental justice issues.
As George Washington University Milken Institute School of Public Health's Fellow, medical student Esha Mehta looks into the status of a safe injection site in Washington, D.C., and the active role communities play in fighting the opioid epidemic. At GWU, Mehta has helped develop a substance use disorder education curriculum for professionals across the health care field.
Daphne Mark's project, taking a solutions journalism approach, compares successful mosquito-borne illness interventions in Louisiana to strategies across the globe. Mark is completing a master's degree in journalism at Boston University's College of Communication.
Our Fellow from Westchester Community College, Kyle Cristello, will travel to the Dominican Republic to tell the story of the death of his friend's grandfather, creating a portrait of grief in the time of coronavirus. Cristello's film will be set both in New York and in the DR.
Maiya Mahoney, a rising senior at Flagler College, looks at longevity in Loma Linda, California, where people live a decade longer than most. She plans to examine lifestyle, the role of religion, and the ethics of DNA research. Mahoney is co-editor of Flagler's student paper, the Gargoyle, and has written for The Flagler/Palm Coast News-Tribune in Palm Coast, Florida.
Examining Health Care
Holly Lam and Uma Paithankar, students at Washington University in St. Louis, will travel to Uganda to research community members' knowledge, attitudes, and practices surrounding "helminthic," or parasitic worm, infections. Lam, who studies global health and the environment, and Paithankar, who studies biology, are both participating in Empower Through Health's Global Health Experiential Fellowship, a program started by Washington University Reporting Fellow alum Jae Lee.
University of Wisconsin Fellow Nuha Dolby compares services in public and private hospitals in Bangladesh. Dolby, who speaks Bengali, will look at how differences in the two systems affect patients. In 2020, she worked at the Milwaukee Journal Sentinel as an ElectionSOS reporting fellow.
Alec Regino, our Fellow from McGill University, reports on experiences of Filipino health care workers in Canada during the pandemic. Regino moved to Canada from the Philippines in 2016, has interned for Vancouver Magazine and Western Living Magazine, and has written for The Washington Post and The Diplomat.
Boston University School of Public Health Fellow Rachael Sorcher's project explores pregnancy experiences of trans and nonbinary individuals, shedding light on the interpersonal and systemic challenges they may face, and how some physicians are providing respectful and responsive maternity care. While in Geneva, Switzerland, in 2018, Sorcher researched how a lack of menstrual hygiene management in low-income countries affects adolescents.
Racial Justice
Lucia Geng, this year's Fellow from the University of Chicago, reports on anti-AAPI racism, investigating its long past and exploring systemic solutions. Geng's project is based in Philadelphia, a city she has experience reporting on through internships at The Philadelphia Inquirer and Resolve Philadelphia.
As the Fellow from Hampton University, graduating senior Jamaija Rhoades examines systemic racism in Richmond, Virginia's public schools. While studying journalism at Hampton, Rhoades has written for The Hampton Script and Her Campus magazine on fashion, entertainment, race, and politics.
About Women
Adriana Rozas Rivera's Reporting Fellow project explores menstrual injustice in Puerto Rico and how it is exacerbated by U.S. colonialism, religion, and infrastructure. Rozas Rivera, a master's student in journalism at Syracuse University's S.I. Newhouse School of Public Communications, worked as a bilingual communications assistant for Ed Markey's U.S. senate campaign in 2020.
Spelman College Fellow Kayla Smith researches the legacy of Black women in diplomacy by speaking with former ambassadors. A graduating senior, Smith founded The Blue Record, a podcast from Spelman that discusses intersectional topics through a Black feminist lens. She has been selected as a Charles Rangel Fellow to pursue graduate work at the School of Advanced International Studies, with mentoring from a Foreign Service officer.
As the Fellow from Davidson College, Ruby Zhou will chronicle the complicated legacy of sexual slavery in China under Imperial Japanese Army occupation. Zhou, a rising sophomore, served as a translator at the China Women's Film Festival, which screens work that highlights the challenges women and the LGBTQ+ community face around the world.
On Immigration
Pamela De La Cruz, this year's Fellow from the University of Pennsylvania's Latin America and the Caribbean Initiative, reports on Central American migrants along the U.S.-Mexico border. De La Cruz writes for UPenn's La Vida Magazine and, in 2018, directed Laredos, a documentary about the history of Nuevo Laredo, Mexico, and Laredo, Texas.
Swarthmore College's Reporting Fellow Ramiro Hernandez examines how many immigrants who enlisted in the U.S. armed forces with the promise of being granted citizenship saw that promise go unfulfilled. Hernandez works with the League of United Latin American Citizens, where he is spearheading an initiative to increase the educational attainment of high school students from underrepresented backgrounds.
Amelia Tyson and Jessica Marcy, our Fellows from the Center for Latin American and Latino Studies at American University, will produce a film, tentatively titled Calling in the Spirit, to tell the story of Indigenous community leaders in Guatemala working with faith groups to find solutions to the increasingly urgent environmental issues that drive mass migration. Both have film experience: Tyson was a director of photography for an immersive 360° documentary about Venezuelan refugees. Marcy wrote and produced a documentary on pollutants contaminating the Potomac River and Chesapeake Bay.
Our Fellows from Southern Illinois University, Carbondale, Kallie Cox and Angel Chevrestt, explore the challenges that Mexican LGBTQ+ migrants in Texas face. Cox, a graduating senior, served as the editor-in-chief for SIU's student newspaper, the Daily Egyptian, and has contributed to the Pulitzer Center project Roadblocks to Police Accountability. Chevrestt, a master's student in journalism, has worked as a photojournalist for the New York Post and the New York Daily News.
Valerie Pires plans to report from Greece on humanitarian aid that supports the agency of LGBTQI refugees. Pires is a journalism graduate of LaGuardia Community College, and her photography work has been displayed at the Museum of the City of New York.
From the University of Richmond, Fellow Emma Davis examines refugee assimilation in Copenhagen, Denmark. Davis is a Report for America corps member at Richland Source in Ohio. In 2019, Davis studied disinformation in Denmark and Belgium at the European Union Headquarters.
Reporting on the Diaspora
Emanuella Evans, our Fellow from Northwestern University's Medill School of Journalism, explores mental health among youth in the South Sudanese community in the U.S. In 2019, Evans, whose family is from Juba, South Sudan, grew up in Missouri. She won first place in the Society of Professional Journalists' regional Mark of Excellence Awards in the television general news reporting category.
City Colleges of Chicago's Fellow Imran Mohammad Fazal Hoque documents the challenges faced by the Rohingya diaspora in the U.S. and investigates the mental health consequences of trauma. Fazal Hoque has written about his personal experience as a Rohingya refugee for The Guardian, The Saturday Paper, and other outlets. He was detained at Manus Island in Papua New Guinea for five years before coming to Chicago.
On Identity and Community
This year's Fellow from Howard University, Jaylin Ward, will travel to Panama to report on the resilience Afro-Panamanians present against environmental racism and climate change. As Director of Diaspora Engagement at Generation Green, a youth-led environmental non-profit, Ward examines how environmental liberation can provide a decolonized, anti-racist, just, and regenerative society for historically marginalized groups.
Gopika Ajay and Annick Laurent's documentary, To the Plate, follows a restaurant owner and her girlfriend in Chinatown, New York City, as they try to keep their business alive and start a mutual aid initiative during the pandemic. The two Fellows earned master's degrees in journalism from Columbia University. Before that, Laurent was a reporter and editor at the Georgia-based Maroon Tiger, and Ajay worked as a senior reporter at The News Minute in Kerala, India.
Forsyth Tech's Reporting Fellow Precious Castillo will look at systemic issues that lead to under-representation of Filipino-Americans in research sciences. Castillo serves as the publicity committee co-chair for the Association of Filipino Scientists in America.
Wren Murphy, our Fellow from South Dakota State University, documents the experiences of transgender youth in South Dakota, and explores the reasons why so many choose to leave the state. A graduating senior, Murphy reported for The Collegian, SDSU's award-winning student newspaper, and interned at the Grand Forks Herald.
From Flagler College, Reporting Fellow Hannah Lilley writes about the struggle of the Ati, an Indigenous people, to reclaim ancestral territory in the Philippines. Lilly, a graduating senior, works virtually as an internship coordinator at the United States Department of Energy.
From Kashmir
Two of this year's reporting projects are based in Kashmir. As the School of the Art Institute of Chicago Reporting Fellow, Zainab Ahmed will produce a podcast that features artists living and creating in Jammu and Kashmir amid political turmoil. Ahmed is earning a master's in new arts journalism and is a contributing writer for Youth Ki Awaaz and F Newsmagazine.
Taha Kaleem, from Georgetown University in Qatar, is our Berkley Center for Religion, Peace, and World Affairs Fellow. He will examine the role of Sufi shrines in fostering peace in Kashmir. Kaleem is the Gulf region associate editor for the Journal of Middle Eastern Politics and Policy from Harvard's Kennedy School.
Emery Eisner from Elon University, Emma Johnson from Yale School of the Environment, and Agostino Petroni from Columbia Journalism School, our previously selected 2021 Climate Science Reporting Fellows, also join this cohort.
We are so excited to see these projects unfold. Congratulations to all our 2021 Reporting Fellows!