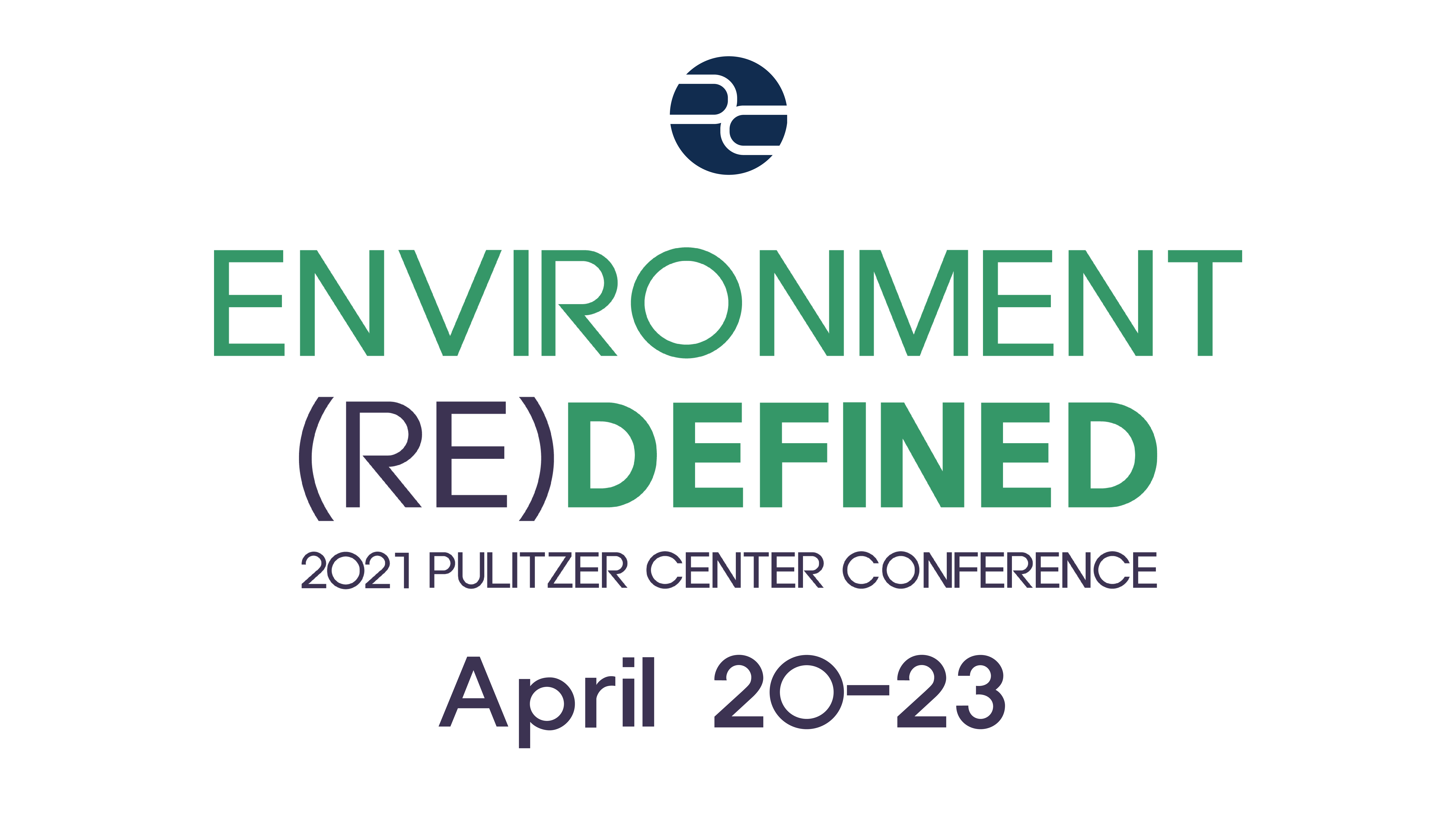 How do we define the term "environment?" Why are some environment stories underreported or misreported? How can journalists better collaborate across regions and languages? What is the future of producing environmental reporting and engaging audiences as journalism models change?
The Pulitzer Center's 2021 conference, Environment (Re)Defined, elevated underreported environmental issues by delving deeply into Pulitzer Center reporting projects, examining emerging trends in journalism, and highlighting innovative approaches to collaboration. 
Explore the on-demand videos from our four-day virtual conference featuring behind-the-scenes looks at some of the most critical environment stories covered by Pulitzer Center grantees, Q&A sessions with leading environmental reporters, and cross-discipline conversations on the most pressing environmental issues.
Photo credit: A road breaks through the Amazon rainforest in the lands of the Indigenous Achuar. Image by Pablo Albarenga. Ecuador, 2019.
Day One: April 20, 2021
Welcome
9:00 am EDT
Join the Pulitzer Center to launch Environment (Re)Defined, our 2021 conference and a virtual global gathering with journalists from every continent. This introductory session guides you through some of the hundreds of reporting projects focused on the environment we've supported over the past 15 years. It provides a window into the work you'll be learning about over the next four days and opens the door to other reporting you can visit on your own.
By the Numbers: Using Data in Environmental Investigations
9:30 am EDT
Existential environmental threats like climate change and deforestation can be difficult to quantify and require ambitious reporting methods to examine. In 2020, Pulitzer Center grantees tackled such issues by collaborating with scientists and utilizing data models. Join grantees to discuss how their data-driven reporting enabled them to analyze how large-scale environmental issues impact populations around the world, from the Guatemalan Highlands to the island of Sumatra.
Featuring:
In Conversation with Rev. Lennox Yearwood Jr.
11:00 am EDT
Climate change is exacerbating long-standing systemic inequities. In North Carolina, after sustained reporting on climate science, a state legislative Climate Risk Assessment and Resilience Plan explicitly explains how already vulnerable communities are disproportionately affected by climate change. Climate change is unequally felt in Inuit communities, where the demand for cheap hydropower continues the cultural and environmental degradation triggered by colonialism. Forms of environmental racism are evident in the overrepresentation of brownfields in Black, brown, and poor communities. Hip Hop Caucus founder Rev. Lennox Yearwood Jr. speaks to the issues of environmental racism and climate justice in a conversation with Leilani Rania Ganser, the Pulitzer Center's grants and impact coordinator.
Rooted in Race and Class: Intersections in Climate Stories
2:00 pm EDT
Climate change has increasingly disrupted life across the globe with hurricanes, floods, and, as Pulitzer Center grantees have recently reported, disease. As we learn more about the science behind these extreme weather events and the destruction of land, it becomes clear that Black, brown, and Indigenous communities are hugely affected by environmental issues. In this panel, Pulitzer Center grantees will explore how stories deeply rooted in race and class issues are also environment stories.

Featuring:
Day Two: April 21, 2021
China's Domestic and Global Environmental Footprint
9:00 am EDT
China's role in global environmental politics is complex, and the way we talk about it matters. The country's food demands are driving deforestation in places like the Amazon. Chinese farmers are being forced to abandon their land as it becomes unusable because of desertification, driving up levels of rural poverty. On the global level, China is a leader in the renewable energy production revolution while exporting carbon emissions elsewhere. This panel explores politics, facts, gaps, and contradictions through storytelling.
Featuring:
In Conversation with Frances Seymour
10:30 am EDT
Frances Seymour, distinguished senior fellow at the World Resources Institute (WRI), is a leading expert on issues related to global forest governance, including access to information and public participation. She will be in a discussion with Madeleine Ngeunga, Rainforest Investigations Network fellow, and Nora Moraga-Lewy, Rainforest Journalism Fund manager at the Pulitzer Center, as part of Environment (Re)Defined, the 2021 Pulitzer Center conference.
Their conversation will be framed with insights about global forest and land use trends recently revealed by WRI and Global Forest Watch. Drawing upon Seymour's experience, the three speakers will  also explore how journalism, education, and civil society at large fit into broader efforts to end deforestation and protect communities.
Beyond "Mother Earth" — Gender and the Environment
12:00 pm EDT
Women are often the most adversely impacted by climate change and environmental degradation. But they are also the ones who demonstrate strength and leadership against the great challenges we face. Explore the intersection of gender and the environment—how climate change pushes girls into early marriage, what forces women to migrate, and the inspiring stories of Indigenous women who protect the forest from miners and loggers.
Please note: Danielle Villasana is replacing Nichole Sobecki for this session.
Featuring:
Workshop: Processing Climate Change through Poetry
2:00 pm EDT
How can poetry be an effective response to current events and underreported stories? How can we use poetry to connect global issues to our local and personal contexts? 
Since 2018, the Pulitzer Center has invited students to explore these questions and make their voices heard during our Fighting Words Poetry Contest. 
Now, we invite our conference audience to discover how poetry can be a means of processing and responding to today's pressing environmental reporting. During this workshop and conversation, we'll explore reporting and poetry from a multitude of sources, including Pulitzer Center projects. Join us on for what we hope will be a creative and  interactive session. 
Day Three: April 22, 2021
When Forests Disappear: Investigating Power & Global Supply Chains
9:00 am EDT
Massive forest fires burn down tropical rainforests in Southeast Asia. Land grabbing in the Nile threatens water access to Africans. Extractive industries are undermining the biodiversity of the Guiana Shield. Who are the forces behind all this? Find out how investigative journalists from Southeast Asia, Africa, and Latin America uncovered the powers behind deforestation, land grabbing, and water contamination.
Featuring:
The State of Environmental Reporting
2:00 pm EDT
As communities across the globe increasingly face the effects of climate change, newsrooms are struggling to find the resources and staff to cover the environment. A new U.S. administration, regional developments, and international negotiations among other considerations point to the need for re-energized coverage of our changing climate as well as government and community responses and solutions-based initiatives. Join Pulitzer Center grantees to discuss the state of environmental reporting and what is needed to sustain this work.
Featuring:
In Conversation with Fiona Lloyd-Davies and Robert Flummerfelt, 'The Cost of Cobalt'
3:30 pm EDT
Most of the world's reserves of cobalt, the mineral we need for electric car batteries, is found in the Katanga province of the Democratic Republic of the Congo. The Cost of Cobalt, a Studio 9 Films production created with support from the Pulitzer Center, shows how the mining process may be poisoning the environment and causing dire health consequences for the population. Join us for a discussion of the film with executive producer Fiona Lloyd-Davies and director Robert Flummerfelt.
Day Four: April 23, 2021
Breaking Native American and Alaska Native Stereotypes
12:30 pm EDT
More than four decades ago, a now-famous PSA featured a man called Iron Eyes Cody paddling up a polluted river and extolling respect for the environment. Cody, who claimed Native ancestry, was later revealed to be Italian-American. However, for many Americans, the commercial created a stereotype of Native Americans as the "first environmentalists." Media informed by these tropes often mischaracterize Indigenous connections to land. This panel discusses how we can tell more honest environmental stories featuring Native peoples.

Featuring:
In Conversation with Dr. Ayana Elizabeth Johnson
2:00 pm EDT
Urban Ocean Lab founder Ayana Elizabeth Johnson will join the Pulitzer Center on the final day of the 2021 Environment (Re)Defined conference. She will bring her expertise as a marine biologist, policy expert and leader of Urban Ocean Lab, a think tank for coastal cities, to explore a range of critical environmental issues for our time.
Dr. Johnson will be in conversation with journalist Alex Blumberg, her co-host of the Spotify/Gimlet podcast How to Save a Planet.
Collaborative Journalism: Addressing Power Dynamics
3:00 pm EDT
In our final conference panel, we consider the power of local reporting partners and the importance of collaboration. How can partnerships and alliances strengthen reporting on the environment and lead to more engaging journalism? What are the power dynamics involved and how can they be shifted? Journalists working in Latin America, Asia, and Africa discuss their strategies for successful collaborations across newsrooms, disciplines, and borders.
Featuring:
Explore Featured Reporting Projects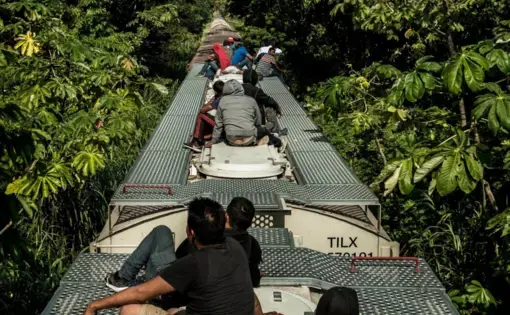 Project
Refugees From the Earth
ProPublica and The New York Times Magazine reported from Central America, Mexico, and the United States to trace the potential impact of an overheating planet on human migration.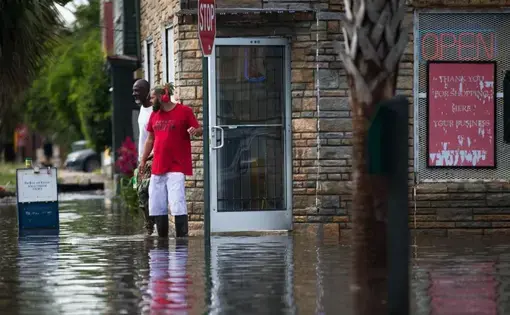 Project
Rising Waters
During the last century, sea levels in Charleston, South Carolina, rose at a rate of an inch every decade. Now it's an inch every two years.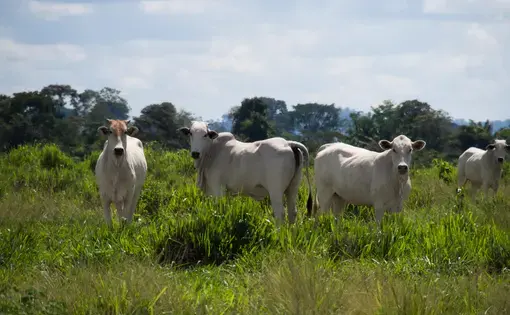 Project
High Stakes: China in the Amazon
Melissa Chan and Heriberto Araújo investigate the impact of the Ferrogrão railroad on the Amazon.
Explore Featured Lesson Plans