Pulitzer Center Update May 31, 2016
Pulitzer Center 2016 Student Fellows Announced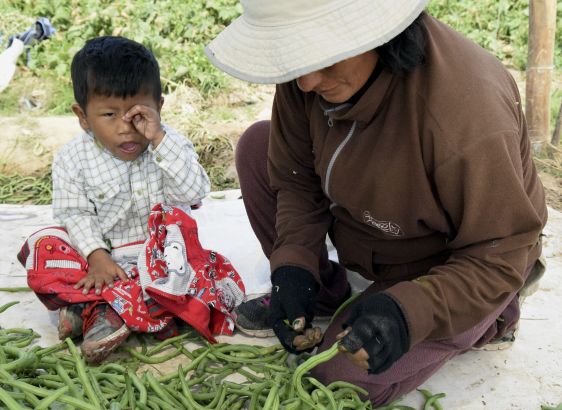 The Pulitzer Center and its Campus Consortium partners are proud to announce the 31 students selected to receive international reporting fellowships in 2016. The recipients will report on a range of complex issues from around the world—from global health and perceptions of identity to environmental degradation and innovation—and will be mentored by Pulitzer Center-supported journalists and staff throughout their projects. The reporting fellowships are awarded to students who attend colleges and universities that are part of the Pulitzer Center's Campus Consortium educational initiative.
An Early Start
Michael Bodley and Meredith Stutz from Elon University traveled to Western Ireland this winter to explore a post-Catholic Ireland in what was once considered the most Catholic country in the world. See their article and broadcast video published in Huffington Post.
Abe Kenmore, a political science and English student at Guilford College focusing on peace and conflict studies, reported from the United Kingdom on the ways in which irregular migrants may be affected by upcoming legislation that can prevent migrants from entering the U.K.
Southern Illinois University Carbondale student Anna Spoerre, double majoring in journalism and geography and environmental resources, reports on education inequality and its effects on migratory youth in Peru.
Kayli Plotner reported on children's homes for abandoned youth in El Salvador, where, more than 20 years after the end of its civil war, communities are plagued by violence and poverty. This spring she received her masters in media management at Southern Illinois University Carbondale.
Behind the Statistics of Global Health
Students across disciplines ranging from journalism to biomedical engineering travel to remote communities to look beyond the statistics of increasing cancer, HIV, infant mortality and child disability rates.
After earning a masters in journalism from Boston University, Caitlin Bawn travels to Botswana to report on increasing cancer rates among HIV-infected individuals.
Jennifer Stephens joined the Peace Corps in 2009 and worked with the Garifuna population of Honduras who were affected by HIV/AIDS. This spring, on a Pulitzer Center fellowship, Stephens traveled to Malawi to explore reproductive health issues and stigmatization associated with with HIV. Stephens is completing Master in Public Health degree in global health program design, monitoring, and evaluation at George Washington University School of Public Health.
Caitlin Cotter trained as a veterinarian at the University of Wisconsin-Madison, completed a medical and surgical internship in Washington State, and practiced emergency medicine in Philadelphia for five years. She now focuses on global public health, zoonotic diseases, and environmental health, at the Johns Hopkins School of Public Health. She has studied the high rate of mental and physical disabilities affecting children in the rural Andean village of La Victoria, Ecuador and travels there this summer to shed light on children affected by the production of ceramic glazes that contain lead.
Isabel Izek, who is earning a Bachelor of Science in biomedical engineering at Washington University in St. Louis, focuses her reporting on prenatal care Uganda. She will travel to remote locations surrounding Iganga, Uganda, to gather stories from mothers, family members and midwives who are involved in cases of infant mortality.
Shifting Landscapes
Environmental degradation as a result of resource extraction or flooding due to climate change threatens the livelihoods of many. Sarah Fahmy flies to the South Pacific this summer to investigate deep underwater mining and extraction of resources within international waters. She is studying politics and international affairs in conjunction with film studies, journalism and anthropology at Wake Forest University and plans to produce a documentary about underwater mining.
Boston University student Nikita Sampath goes to Bangladesh this summer to shed light on the ways people cope with effects of climate change that already threaten life—migrating north, building floating hospitals, and providing boats to and from schools.
Kent Wagner, a graduate student earning a masters in film and electronic media at American University, has studied the far-reaching ecological devastation of Malaysia and Indonesia forests. This summer, Wagner travels to Indonesian Borneo to examine the effects of illegal logging, slash and burn agriculture, palm oil cultivation, all resulting in habitat loss.
Camila DeChalus, majoring in Latin American studies and broadcast journalism at American University, reports on increasing unemployment for those working in coffee production in Colombia, a region especially vulnerable to climate change.
Refugees Strive to Build Communities
In Western European cities such as Prague, Amsterdam, and Dresden, one of the challenges Syrian refugees face is xenophobic sentiment. A senior at Westchester Community College, Brian Ponte travels to Dresden, Germany, where an organization called Patriotic Europeans Against the Islamisation of the West (PEGIDA) originates to report on the effects of its demonstrations on refugees and German citizens.
Studying communications, journalism and entrepreneurship at Wake Forest University, Amanda Ulrich, has learned that the challenges of European refugees are multifaceted. She travels to Rome, Italy to examine the refugee crisis from the perspectives of Italian officials, refugees from Northern Africa, and from Italian citizens. Urlich also sheds light on the the fragmented approaches to working with those seeking asylum in Italy's capital.
Rachel Townzen is earning a masters in social work with a focus on policy and global human rights at the University of Pennsylvania. She has worked in various capacities with refugees and asylees in the U.S. and abroad through different stages of the asylum seeking process. In Jordan she examines community-based, local governmental, and international non-governmental agency actions to address civil documentation issues in Jordan, investigates barriers to registration services, and reports on initiatives that promote awareness and action to both refugees and human service personnel.
The Difference Between Perceptions and Identity
Kate Petcosky, a masters in global health candidate at Boston University, has focused her work on anthropology and food systems among limited-resource populations. She reports on persons with disabilities in India, learning what accounts for the entrenched stigma against disabilities in Indian culture and how those perceptions may exacerbate the social and health status of the abject poor in Mumbai's slums.
Davidson College student Ikra Javed travels to Pakistan to tell the story of transgender women who are still the victims of hate crimes in a nation where genders that disrupt the male-female binary are legally recognized.
Journalism student at High Point University Holly Gambrell travels to Italy to report on the contrast between government regulations regarding Roma communities and that of Syrian refugees.
Amir Hassan, a LaGuardia Community College student, travels to Manchester, England, a city with a large population of Muslims to document their experiences with Islamophobia.
Studying social work at Loyola University in Chicago, Dillon DeWitt, is looking at the social and economic crises facing Oji-Cree youth in the remote northern reserves of Manitoba, Canada. He will report within First Nations reserves in the Island Lakes settlement.
Northwestern University in Qatar students Shakeeb Asrar and Urooj Kamran Azmi investigate execution in Pakistan. They plan to create a documentary following the life of a Christian convict, a Christian executioner, and a Muslim activist fighting for the reformation of Pakistan's blasphemy laws.
Alternative Approaches to Education
University of Michigan student Katelin Toporski, majoring in communications with a focus on community action and social change, travels to Brazil to expand upon her reporting on the Prison Creative Arts Project. She learns how this initiative impacts the community at a time when police and military brutality continue to rise in Brazil.
Daniel Socha, studying global communication at Kent State University, travels to the Democratic Republic of Congo to learn about a project to build a library in the northern Kivu region that will serve as an example for other communities recovering in conflict zones. Click here to read his article for NPR's Goats and Soda.
Innovations in Technology and Development
South Dakota State University journalism student Makenzie Huber follows a non-profit called Solar Oven Partners to the Dominican Republic to report on communities that use solar oven cooking as an alternative to traditional cooking fuel.
Yardain Amron graduates from University of Michigan this spring and embarks on a trip to India this fall. Amron will report on modern slavery through debt bondage by investigating the brick kiln and stone quarry businesses in Varanasi and Allahabad.
University of Chicago philosophy student Christian Belanger takes a comprehensive look at the government's plan for South Africa's Alexandra Renewal Project during his reporting trip to Johannesburg, South Africa.
Natalie Au is studying political science and East Asian area studies with a focus on gender, sexuality and women's studies at the University of Pennsylvania. She travels to India to interview women involved in the technology startup scene, focusing on the organization DevelopHER.
HIV/AIDS Through a Global Lens
This year, we've introduced a new fellowship for students to report on HIV/AIDS issues from a global perspective—with a focus on barriers to ending the epidemic as well as the most promising solutions.
Aditi Kantipuly, a graduate student of molecular biology in the Johns Hopkins University School of Public Health, focuses her studies on challenges marginalized populations face. This led her to report on cytomegalovirus retinitis, a treatable yet opportunistic virus, which has left people blind due to a lack of antiretroviral therapy provided to HIV patients in Southeast Asia. "The importance of social equity within the realm of global healthcare was often emphasized, which helped carve my path to serve as a voice for the most vulnerable members of society," Kantipuly wrote.
Rebecca Sananes, a recent graduate of Boston University's journalism master's program, shared the stories of people who are HIV positive and quarantined in Cuban sanitariums. See her reporting published on NPR.
The two student fellows will attend the 21st International AIDS Conference, July 17-22, 2016, in Durban, South Africa.
Congratulations to all our 2016 student fellows!