Pulitzer Center Update March 23, 2023
N.C.'s Reynolds High School Arts Hall of Fame Honors Pulitzer Center's NewsArts
Jon Sawyer, the Pulitzer Center's founding director and CEO, has been named a member of the Arts Hall of Fame at R.J. Reynolds High School in Winston-Salem, North Carolina. The award honors NewsArts, the Center's initiative exploring the intersections of journalism and the arts.
The Pulitzer Center has often centered the arts in its journalism, from pen ink and watercolor depictions of troops in Ukraine, to the use of poetry in exploring the lives of young women in Afghanistan. The National Black Theatre Festival in Winston-Salem featured two of the Center's video poetry projects on Jamaica and Haiti. The city was also one of 10 in the national End of Isolation Tour of The BOX, grantee Sarah Shourd's searing play on solitary confinement.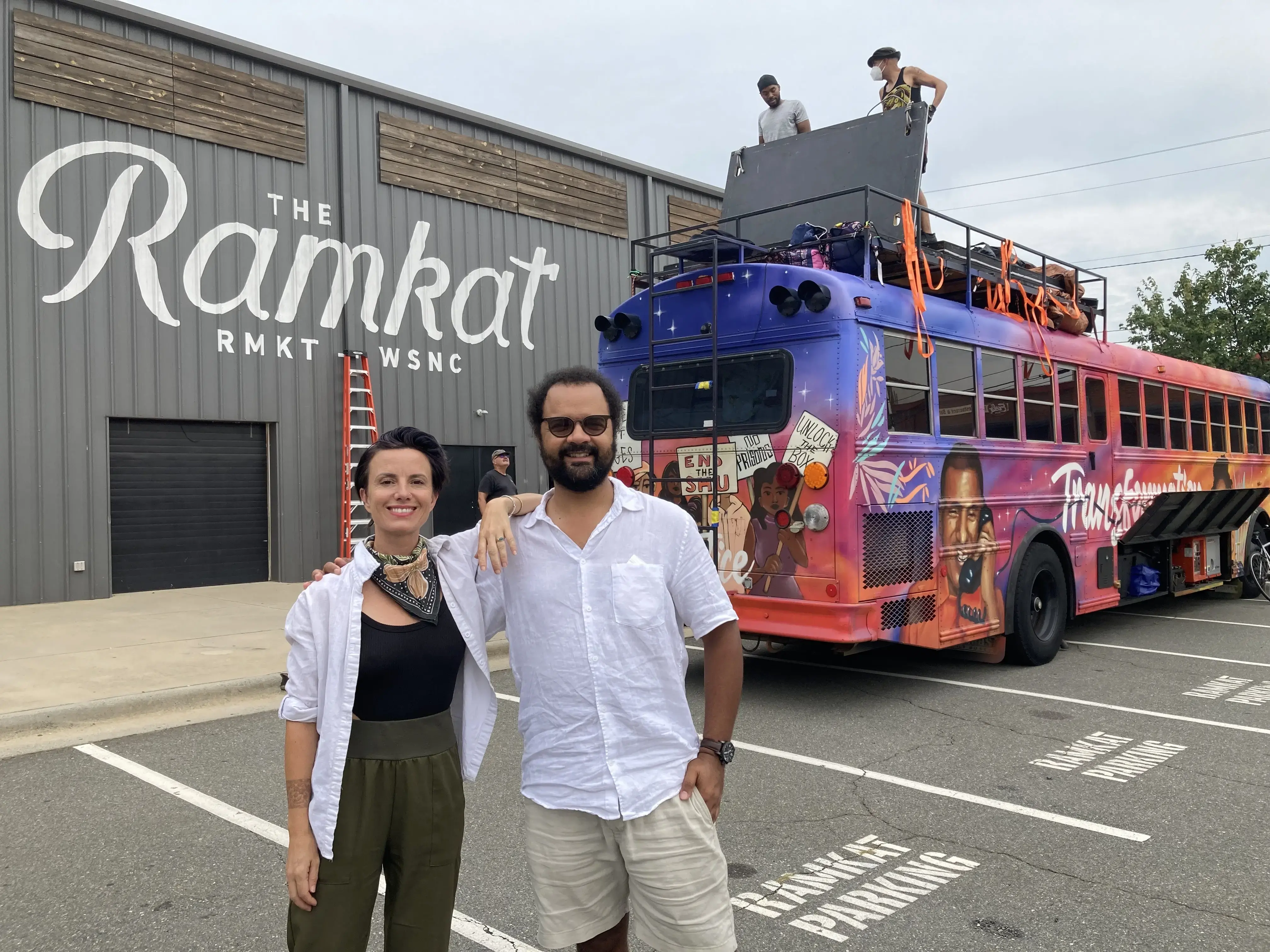 Grantee and End of Isolation Tour creator Sarah Shourd and tour producer Robert Connell are shown outside The Ramkat theater in Winston-Salem, North Carolina, before a performance of Shourd's play The BOX. Image by Ann Peters. United States, 2022.
The NewsArts initiative began in 2016 with a bequest from Sawyer's aunt and uncle, Lucille and Carl Harris, who taught music and Greek to generations of students at Wake Forest University. The initiative has been supported since by individual donors and also by the James G. Hanes Foundation, The Winston-Salem Foundation, Wake Forest's Innovation Quarter, and the Art for Justice Fund.
Over the past seven years, some 7,000 students and community members in Winston-Salem have engaged with NewsArts programs. The lasting impact is evident in the rich partnerships and creative works that have emerged from the initiative.
"It's been an inspiration for so many of us at the Pulitzer Center to work with the talented students and faculty at Reynolds and throughout the Winston-Salem community," Sawyer said. "We are honored to have such an arts-focused city as a hub for our arts activities across the country."
Pulitzer Center staff and journalists have partnered with the social studies, visual arts, English, and performing arts departments in Winston-Salem/Forsyth County Schools nearly every year for professional development workshops. The workshops connect educators with methods for strengthening students' critical thinking and empathy through engagement with underreported news stories.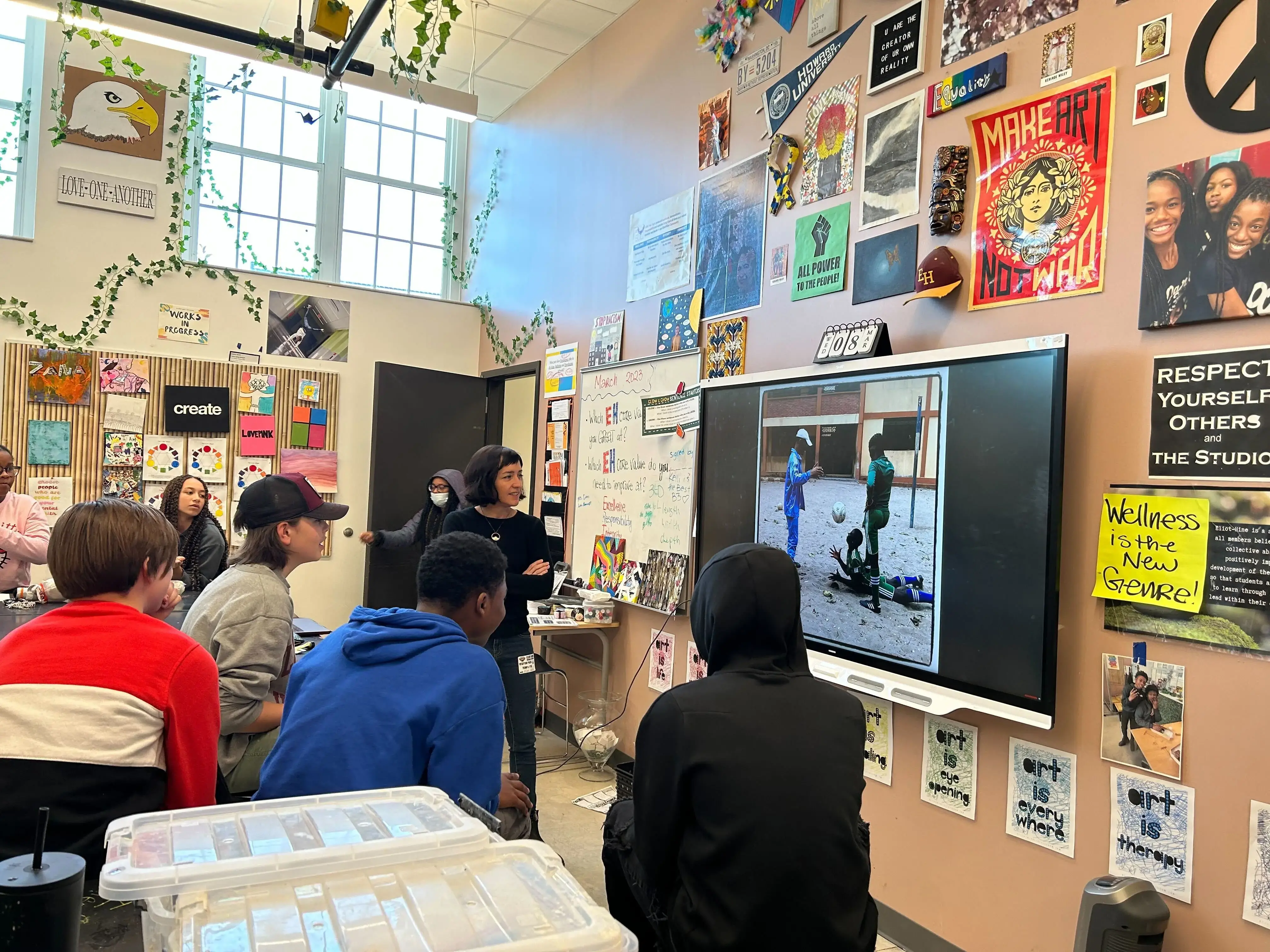 Everyday DC 2023. Image by Fareed Mostoufi. United States, 2023.
Over 45 middle and high school social studies educators started the 2022-2023 school year with workshops led by Pulitzer Center grantees. PBS NewsHour's Simon Ostrovsky and Nick Schifrin spoke with educators about their coverage of the ongoing war in Ukraine. High school social studies educators connected with grantee Ashonti Ford to explore the histories of Black cowboys in Florida and North Carolina.
"Your support of our district is so appreciated," WS/FCS social studies coach Melissa McCready wrote in an email. "Our teachers raved about your sessions."
Educators throughout Winston-Salem have also engaged in workshops analyzing curricular connections to Pulitzer Center reporting presented in local film festivals, museum exhibitions, and theatrical productions. A dozen educators from five schools connected with Center staff and journalists at The Ramkat in August 2022 for a live performance of The BOX, a play inspired by stories in U.S. prisons. In a pre-performance workshop, educators explored the themes and background of the play. After the performance, they examined how the play's themes and structure could support discussions in their classrooms about the impacts of solitary confinement.
"More emotionally impactful than an article, this program inspires deep thinking about what solitary confinement does to both the prisoners and the staff who must treat these people as sub-human," wrote Mary Siebert, arts director at The Arts Based School.
Siebert is one of three dozen educators from over 20 schools in Winston-Salem/Forsyth County who have partnered with the Pulitzer Center to connect Center journalists and reporting with schools. Through presentations and interactive workshops, students have explored reporting on migration, racial justice, global politics, climate change, and more.
One especially powerful engagement revolved around The 1619 Project, the landmark special issue of The New York Times Magazine devoted to the legacy of slavery in modern America. The Pulitzer Center, the education partner for The 1619 Project, helped organize a trip to Winston-Salem by lead 1619 writer Nikole Hannah-Jones. Her visit included an all-school assembly at R.J. Reynolds and student engagement with the work through multiple arts media.
"When I was given the opportunity to partner with the Pulitzer Center and Nikole Hannah-Jones to bring The 1619 Project to Reynolds High School and the greater community, I knew that this was the opportunity we had been looking for," said Pam Henderson Kirkland, arts magnet director at Reynolds. "It was, and continues to be, powerful in the work, internal and external, it produces."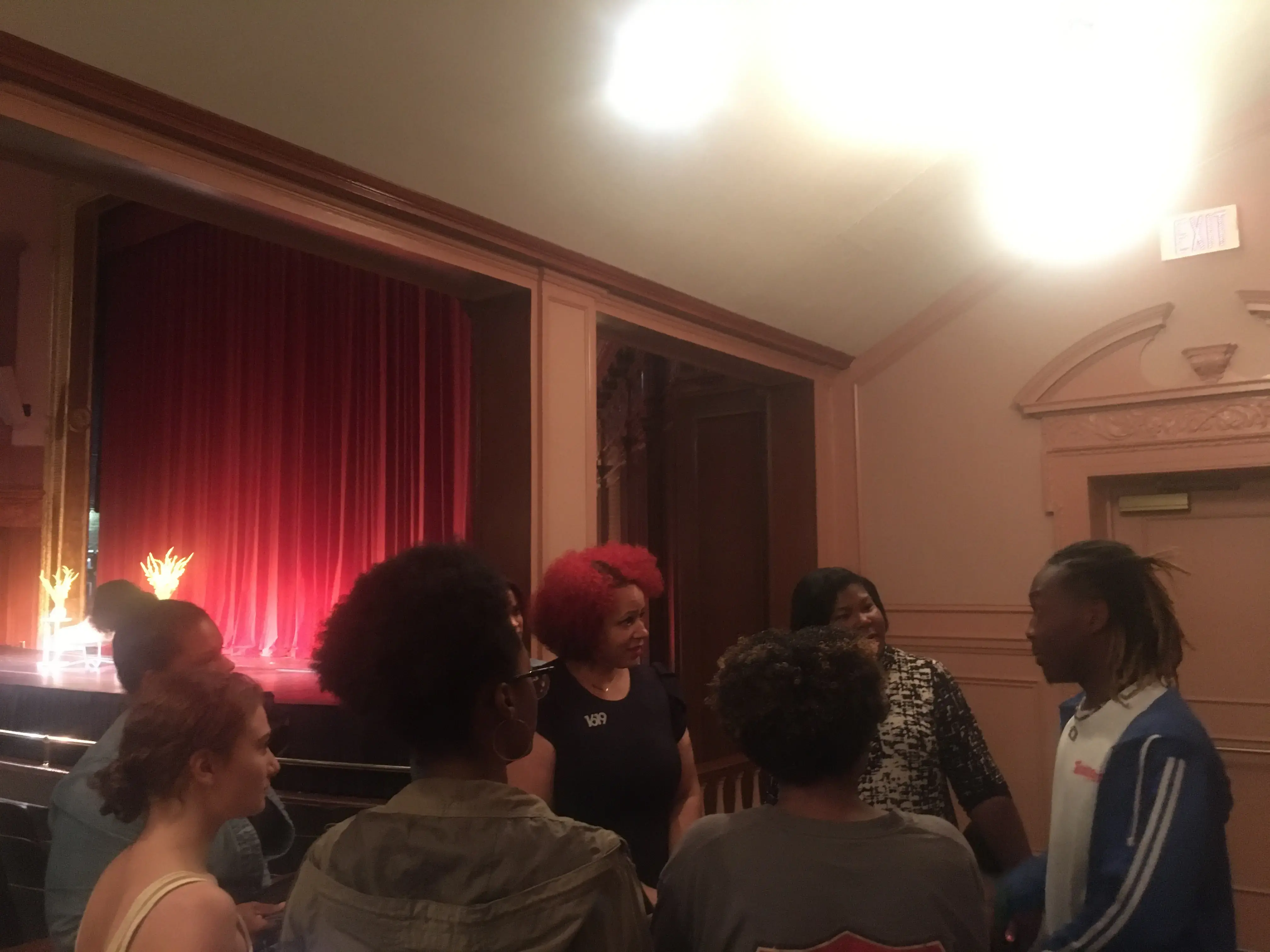 Nikole Hannah-Jones, who created The 1619 Project for The New York Times Magazine, speaks with Reynolds students in Winston-Salem, North Carolina. United States, 2019.
A 2016 visit by Pulitzer Center grantee Tomas van Houtryve featured an exhibit of his photography at the Southeastern Center for Contemporary Arts (SECCA). Van Houtryve's images capture the flow of migrants across Europe. Students at Reynolds reflected on van Houtryve's work via their own photography and an original multimedia dance composition performed for the school.
Pulitzer Center grantee Tomas van Houtryve with elementary students. Image by Fareed Mostoufi. United States, 2016.
As part of NewsArts programs, students have processed their local and personal connections to reporting through creative writing, analytical essays, original dance and theater performances, and visual art. Students have also gone on to create their own photography exhibitions and documentary films that use journalism skills to report on underreported issues in Winston-Salem. Highlights from these partnerships have included:
The Everyday Forsyth photography exhibition, which engaged third-grade students from three elementary schools in strengthening their visual literacy and photojournalism skills. Students analyzed images from Everyday Africa, a collection of photos shot on mobile phones across the continent, and they produced an original photography exhibition.
A workshop for theater students, for high schools in Winston-Salem that resulted in short devised theater performances inspired by Pulitzer Center reporting.
The original films Weaving Connections and Placing Identity, which were produced by journalism students at R.J. Reynolds High School in partnership with artist-educator Diana Greene. Weaving Connections explores the history of the textile industry in Winston-Salem. The film connects to reporting by Pulitzer Center grantee Jason Motlagh on the impacts of globalization on textile workers in Bangladesh. Placing Identity connects themes from reporting by grantee Daniella Zalcman. Her project on the lasting impacts of government-mandated residential schools for Native American children relates to the film's questions about how the place where a person grows up influences their identity.
Year-long partnerships with educators and administrators at R.J. Reynolds that have engaged hundreds of students. Students made projects inspired by reporting on the lasting impact of drone attacks by the U.S. military in the Middle East; migration from Cuba in the mid-2010s; the Paris climate talks; a ballet program in Brazil's favelas; and the lasting impacts of COVID-19 on Black residents in Charlotte, North Carolina.
Staff from R.J. Reynolds High School and the Pulitzer Center presented on the impact of the NewsArts program at the National Conference on Magnet Schools in spring 2019. Click here to visit the Google site the team created for its presentation.
The Pulitzer Center's partnership with R.J. Reynolds continues this year. Many classes are participating in the Center's virtual visit program and student writing contests. Others are continuing to build on their work engaging with The 1619 Project over the past several years.