This unit was created by Neil Cruz, a high school history teacher in Carol Stream, IL, as part of the 2021-2022 Pulitzer Center Teacher Fellowship program. It is designed for facilitation across approximately five class periods.
For more units created by Pulitzer Center Teacher Fellows in this cohort, click here.
Unit Objectives:
Students will be able to…
Use illustration and empathy mapping to describe conflicts and events that spur human migration
Develop a final project of a book sample to engage a reader in students' chosen conflict or event.
Additionally, students will practice skills such as:
Making connections to migration stories in their own lives and communities
Integrating information from diverse sources into a coherent understanding of an event
Introducing a topic and organize ideas, concepts, and information to make important connections
Generating original ideas and products in imaginative ways
Unit Overview:
In this unit, students will analyze how climate change affects migration around the world and the policies that could be effective in addressing the issue. To start, students will investigate what motivates people to move in general. Then students will read "The Great Climate Migration" by Abrahm Lustgarten and Meridith Kohut, where they will be introduced to how climate change may affect migration in the future.  Students will then investigate how climate change is impacting migration by reading and presenting about specific scenarios around the globe.  Finally, students will begin to research how policy can address climate migration to avoid disastrous outcomes in the future.
Performance Task:
Students will:
Choose the story of one individual who has migrated from the country.
Create the cover of a book and develop a title for the book.
Provide a summary on the back cover of the book.
Write the last page of the book, which gives an imagined perspective of how the migrant wishes that their story could end.
Scope and Sequence:
Day 1 Lesson Objective(s) or Essential Question(s)
Students will choose a region of the world where a conflict has driven someone to migrate to a new country. 
Students will watch a short video that provides background on different terms related to migration, and complete a viewing guide. 
Students will watch a short video of how children are coping with violence and displacement in the Ukraine but using art to channel the trauma of their experience.
Students will choose a region/story and create an illustration based on what they read about the individual's story.
Day 2 Lesson Objective(s) or Essential Question(s)
Students will choose a region of the world where a conflict has driven someone to migrate to a new country. 
Students will read the account of the individual's experience of migration. 
Students will complete an empathy map where they can connect more directly with the individual and put themselves in the position of the individual who is going through the experience.
Day 3, 4, and 5 Lesson Objective(s) or Essential Question(s)
Students will connect with a school librarian to see examples of different memoirs and stories of migration, including the styles of artwork and design that are used in book covers.
Students will design their own book cover for their chosen story of migration.
Five-day unit plan, including guiding questions, texts and video resources, activities, graphic organizers, and performance tasks for the unit.
Unit Resources
Ukraine
Millions Displaced in Ukraine amid Russia's Punishing Assaults on Cities and Russia's Push To Capture Major Cities Stalls, but Civilian Costs Grow amid Shelling by Jane Ferguson for PBS NewsHour, Pulitzer Center
Today is the darkest day of the entire war in Ukraine | Le Monde FR and We want to go into a deep sleep and wake up when Ukraine has won the war  by Elisa Mignot for LeMonde FR
Ukraine's Children use Crayons to Channel Trauma from Reuters
Mexico
These Migrants Stranded at the U.S.-Mexico Border Share Why They Fled Their Homelands | Pulitzer Center by Mario Pentón and José Antonio Iglesias for The Miami Herald
Libya and Ethiopia
Unsafe Passage: On Board a Refugee Rescue Ship | Pulitzer Center by Ian Urbina for The Guardian
A Brutal Life for Migrants in Libya: Trafficking, Detention or Death En Route to Europe | Pulitzer Center by Christopher Livesay and Alessandro Pavone for PBS NewsHour
Afghanistan
Afghans in Greece Feel Abandoned After Getting Asylum and 'It's Like My Mother Is Drowning in Front of Me': Afghans Abroad Feel Desperate, Helpless for Those Left Behind by Lawrence Andrea for Balkan Insight, Pulitzer Center
Afghanistan: After the Americans by Jane Ferguson and Eric O'Connor for PBS Newshour, Pulitzer Center
Understanding the Humanitarian Crisis in Afghanistan,  Pulitzer Center Education
Venezuela/Central America/Caribbean
COVID-19 Strikes a Country in Crisis: Dispatches From Venezuela by Ricardo Barbar, Helena Carpio, and  Valentina Oropeza for Prodavinic
Uncertainty Whittles Away Hope for Cuban Migrants Stranded in Panama by Mario Pentón and José Antonio Iglesias for The Miami Herald, Pulitzer Center
Millions of Venezuelans are feeling to the south by Rania Abouzeid and Marcelo Perez del Carpio for National Geographic
SS.IS.4.9-12: Gather and evaluate information from multiple sources while considering the origin, credibility, point of view, authority, structure, context, and corroborative value of the sources.
SS.G.6.9-12: Analyze how historical events and the diffusion of ideas, technologies, and cultural practices have influenced migration patterns and the distribution of human population.
SS.G.7.9-12: Evaluate how economic activities and political decisions impact spatial patterns within and among urban, suburban, and rural regions.
SS.G.8.9-12: Evaluate how short and long term climate variability impacts human migration and settlement patterns, resource use and land uses.
SS.G.1.9-12: Use maps (created using geospatial and related technologies, if possible), satellite images, and photographs to display and explain the spatial patterns of physical, cultural, political, economic and environmental characteristics.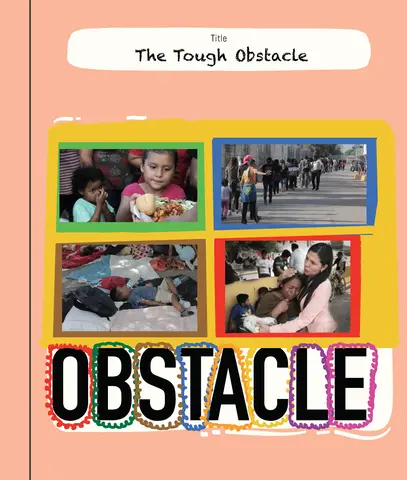 Summative Assessment:
Using the resources, students will create a book cover, back-cover blurb (100-200 words) and final page which includes how they believe the individual would like for their journey to conclude. 
Formative Assessment/Evaluation:
For the performance task, students will use a rubric to self-assess how well they believe they did at:
Creating a front cover to highlight a conflict
Writing the final page to say how the story should end
Summarizing the conflict on the back cover
The teacher will assess students by using the same rubric.
REPORTING FEATURED IN THIS LESSON PLAN
RELATED ISSUES