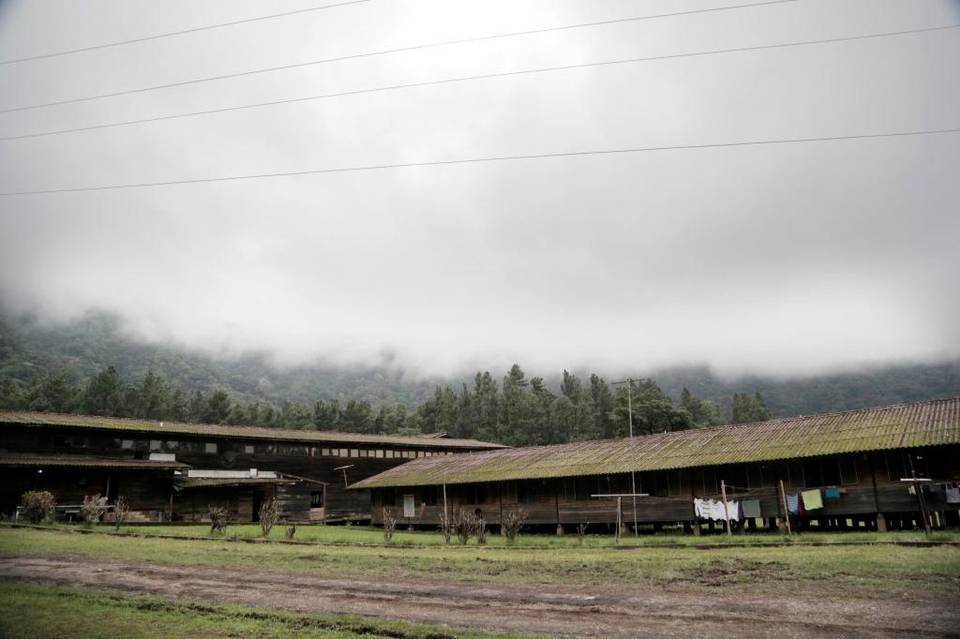 GUALACA, PANAMA—The color green seems to fill everything in Chiriqui, the western province of Panama where the government is holding 124 undocumented Cuban migrants. The morning's quiet amid huge pine trees is broken only by the hum of insects that torture at dawn and dusk.
"This place is beautiful, but everything gets tiresome. Being in limbo is tiresome," said Yosvani López, 30, who arrived in the Gualaca camp after spending three months at a shelter for Cuban migrants in Panama City run by the Catholic Church's Caritas agency.
"Sometimes we start to talk about what we would do if we can get out of here and go to another country. Some relatives tell us that a shelter in Canada is being prepared to take us in. Others tell us that they have everything ready to deport us," López said. "That's how we live, between dreams and fears."
The complex where the Cubans are being held was built by Swiss workers in the 1970s who built the nearby La Fortuna dam. The 103-acre complex is mostly forest, with a stream running through it. Located one hour from the nearest city, the humidity here is so high that mushrooms and other plants grow even on the fiberglass roof tiles.
The wood structures, worn with the passage of time, remain next to old satellite antennas and electric heaters. The migrants say foreign coins are sometimes found buried in the dirt.
López was born in Caibarién, on Cuba's northern coast. He said he had the chance to leave the island on a fast boat for Florida, but preferred to try to reach the United States through Central America to sidestep the Cuban regulation that migrants who leave illegally cannot return for seven years.
"I wanted to be able to return before the seven years," he said. "I have my mother and my sisters in Cuba."
In his homeland, he worked as a chef at a Meliá hotel in the keys north of Villa Clara, earning about $25 per month. With the money from the sale of his mother's house, he traveled to Guyana and from there to Panama, where he was stranded when President Barack Obama ended the so-called "wet foot, dry foot" policy.
"We spend our time here chatting with our relatives in Cuba and the United States, and looking for hints in news reports that will tell us what's going to happen to us," López said.
The Cubans in the Gualaca camp not only are banned from working but cannot leave the shelter except for one day a week to go to a nearby Western Union office, accompanied by officers that run the camp. Some are making a little extra money by selling coffee or cutting hair. Local residents also run a store that sells food and personal hygiene products, paid for with money sent by relatives in the United States.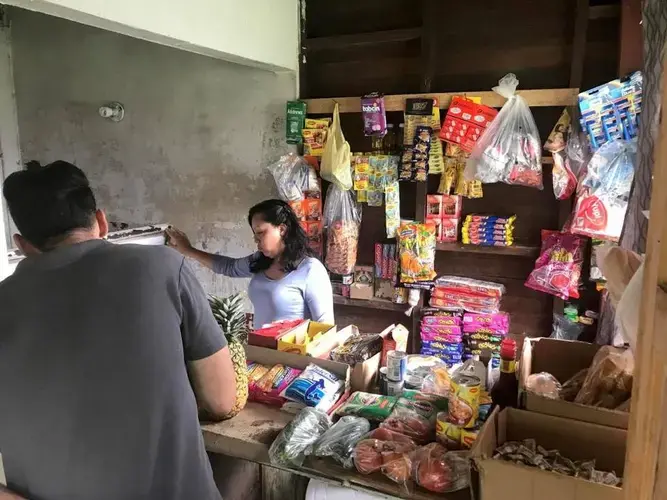 Authorities initially set a 90-day deadline for deciding what will happen to the 124 Cubans who agreed to wait in Gualaca. But two months later, their patience is running out. At least six have fled the shelter since it opened. Most recently, four Cubans fled. Two returned and the other two managed to cross the northern border into Costa Rica.
Alejandro Larrinaga, 13, and his parents have been waiting for weeks for news of their fate. There is only one other child he can play with, Christian Estrada, 11. They have not been to school since they left Havana 18 months ago.
Alejandro said he spent more than 50 days in the jungle before he got to Panama. He became dehydrated several times and suffered from convulsions. "That was quite a trip. It's not easy to tell the story. One thing is to live it, and another is to tell it," he said, the seriousness in his voice making him sound like an adult.
"We had to see dead people, a lot of skulls. I was afraid of losing my mother and father," he recalled. His mother, Addis Torres, cried as the recounted the tale, but he said that he feels safe in Gualaca and spends his days playing chess.
"I want to be a chess master," he said. "Some day I'll get there."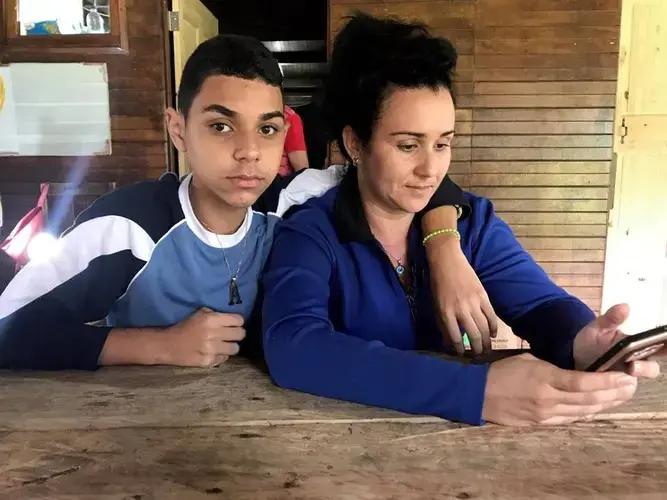 The family does not want to return to Cuba, because they sold everything they owned there in order to pay for the trek to join the boy's grandfather in the United States. Although they applied for family reunification visas at the U.S. embassy in Havana, the family doesn't want to even think about the possibility of returning to Cuba.
They get three meals a day at the shelter, but Torres said "that's no way to live."
"Detained, with no future, afraid of returning to Cuba," she said "We need someone to take pity on us, even if we have to stay here.
Liuber Pérez Expósito is a farmer from the town of Velasco in the eastern province of Holguin, where he grew garlic and corn. After Cuban ruler Raúl Castro opened the doors to more private economic enterprises, he started to buy and sell products and eventually decided to head to the United States to "improve" his life.
Pérez said he feels "desperate" to leave Gualaca and return to his farm, but has put his hopes on a proposal recently offered by Panamanian authorities that would allow them to return voluntarily to the island, become self-employed entrepreneurs known as cuentapropistas and, in exchange, obtain multiple entry visas and even start-up capital — still to be determined — for investment purposes.
"I am here against the wishes of my family. I have my wife, a 9-year-old son and my parents in Cuba. They want me to return, and they are pushing me to do that," he said. "But I am waiting for the opportunity to recover at least part of the $5,000 I spent" getting to Panama.
His mother-in-law, and ophthalmologist who worked in Venezuela, loaned him part of the money he needed for the trip. In debt, without money or hope, he now spends his days thinking about when he might be able to return home.
"During the day, we have nothing to do. Sometimes we play dominoes for a while or we take a walk or we go to the stream, but we have 24 hours to think about this difficult situation and the failure we're facing," he added.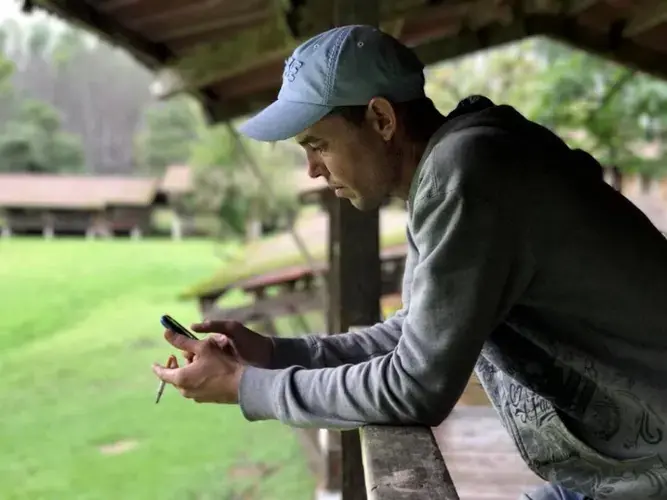 Pérez chats with his relatives in Cuba on Imo, a video chat app popular on the island. "A little while ago they installed wifi in Velasco and they call me as much as they can," he said.
"I hope this nightmare that we are living ends soon," he said. "That whatever has to happen happens, but that it ends now."





RELATED ISSUES