This unit was created by Brittany Goldsby, a high school English Language Arts educator in Hollywood, Florida, as part of the 2022-2023 Pulitzer Center Teacher Fellowship program. It is designed for facilitation across eight class periods, with work outside of class.
For more units created by Pulitzer Center Teacher Fellows in this cohort, click here.
Objectives:
Students will analyze how the use of rhetorical appeals and adequate support can help to strengthen a main idea or claim. 
Students will effectively accomplish a purpose through adequate research and appropriate writing techniques.
Students will become aware of underreported issues that they can identify with and/or passionately advocate for.
Students will synthesize research into an underreported issue and engage rhetorical appeals to write discursive essays describing the degree to which they think nations should assist in correcting the harmful impact of their actions on other countries decades later.
Unit Overview:
This unit will use Pulitzer Center-sourced and student-selected underreported news stories to expose how the actions of the past can directly impact the lives of vulnerable populations even decades later. The unit will also explore how media can serve to either conceal or reveal underreported issues,  as well as how journalism can be used to amplify voices that have been historically marginalized. This discovery will drive our discussions on how rhetoric can be used to inspire empathy, and how journalism/media can be used as a tool for justice and reform. After our guided exploration, students will conduct research on underreported topics from the Pulitzer Center archives that spark their own interests. They will present on these issues to spread awareness and contribute to the enrichment of their peers. Their presentations will also be recorded in order to reach a larger audience.  Students will ultimately write discursive essays that measure the degree to which nations should assist in correcting the harmful impact of their actions on other countries decades later, using  their findings as potential sources for review.
Performance Task(s):
Students will write a discursive essay that explores the following topic: To what extent should nations be held accountable for the impact of their historic actions?
Students are expected to apply the knowledge gathered from their article studies throughout the unit,  as well as their own research, as examples and support for this topic. 
Students will research and report on an underreported issue that relates to the residual effects of historic events on groups that have been historically underprivileged and/or marginalized. They will also examine reporting that amplifies the voice of a group that has been historically marginalized. They will find a news story from the Pulitzer Center website and expand on the topic using outside credible sources. They will then create a multimedia presentation to share their research. Students are expected to employ some of the rhetorical strategies covered in the reading analysis tasks to help engage their audience throughout their presentation. 
Final Project description and rubric [.pdf] [.docx]
Assessment/Evaluation:
AICE essay assignment prompt and rubric [.pdf] [.docx]
Eight-lesson unit plan for teachers, including pacing, texts and multimedia resources, guiding questions for group discussions, performance task instructions, and grading rubric for the unit.
Unit Resources:
ELA.9.R.2.3
Analyze how an author establishes and achieves purpose(s) through rhetorical appeals and/or figurative language.
ELA.9.R.2.2
Evaluate the support an author uses to develop the central idea(s) throughout a text.
ELA.9.C.1.4
Write expository texts to explain and analyze information from multiple sources, using a logical organization, varied purposeful transitions, and a tone appropriate to the task.
ELA.9.C.4.1
Conduct research to answer a question, drawing on multiple reliable and valid sources and refining the scope of the question to align with findings.
ELA.9.C.5.1
Create digital presentations with coherent ideas and a clear perspective.
ELA.9.C.1.3 
Write to argue a position, supporting claims using logical reasoning and credible evidence from multiple sources, rebutting counterclaims with relevant evidence, using a logical organizational structure, elaboration, purposeful transitions, and a tone appropriate to the task.
The following examples capture work by students in Hollywood, Florida who engaged with this unit plan in spring 2023. At the start of the unit, students review rhetorical strategies (ethos, logos, pathos) and create public service announcements that engage at least one rhetorical strategy to communicate a social issue they think has been underreported:
1. At the start of the unit, students review rhetorical strategies (ethos, logos, pathos) and create public service announcements that engage at least one rhetorical strategy to communicate a social issue they think has been underreported: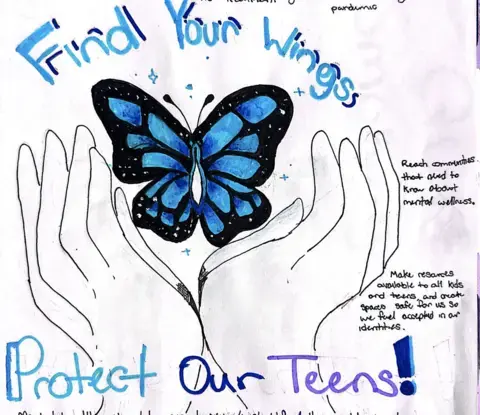 2. After reviewing several reporting projects in small groups, students identify a news story as an anchor text for their own research on an issue that they want to share with their communities. The following are presentations that students who engaged with the unit in spring 2023 created (including their sources):
3. Students also used their research to compose essays in the style of the AICE exam. Here are examples from students who engaged with the the unit in spring 2023:
4. Students prepared for their final projects through guided analysis of the rhetorical strategies used in several Pulitzer Center-supported resources. Here are examples of their analyses:
REPORTING FEATURED IN THIS LESSON PLAN