Pulitzer Center Update June 16, 2022
Announcing the 2022 Pulitzer Center Reporting Fellows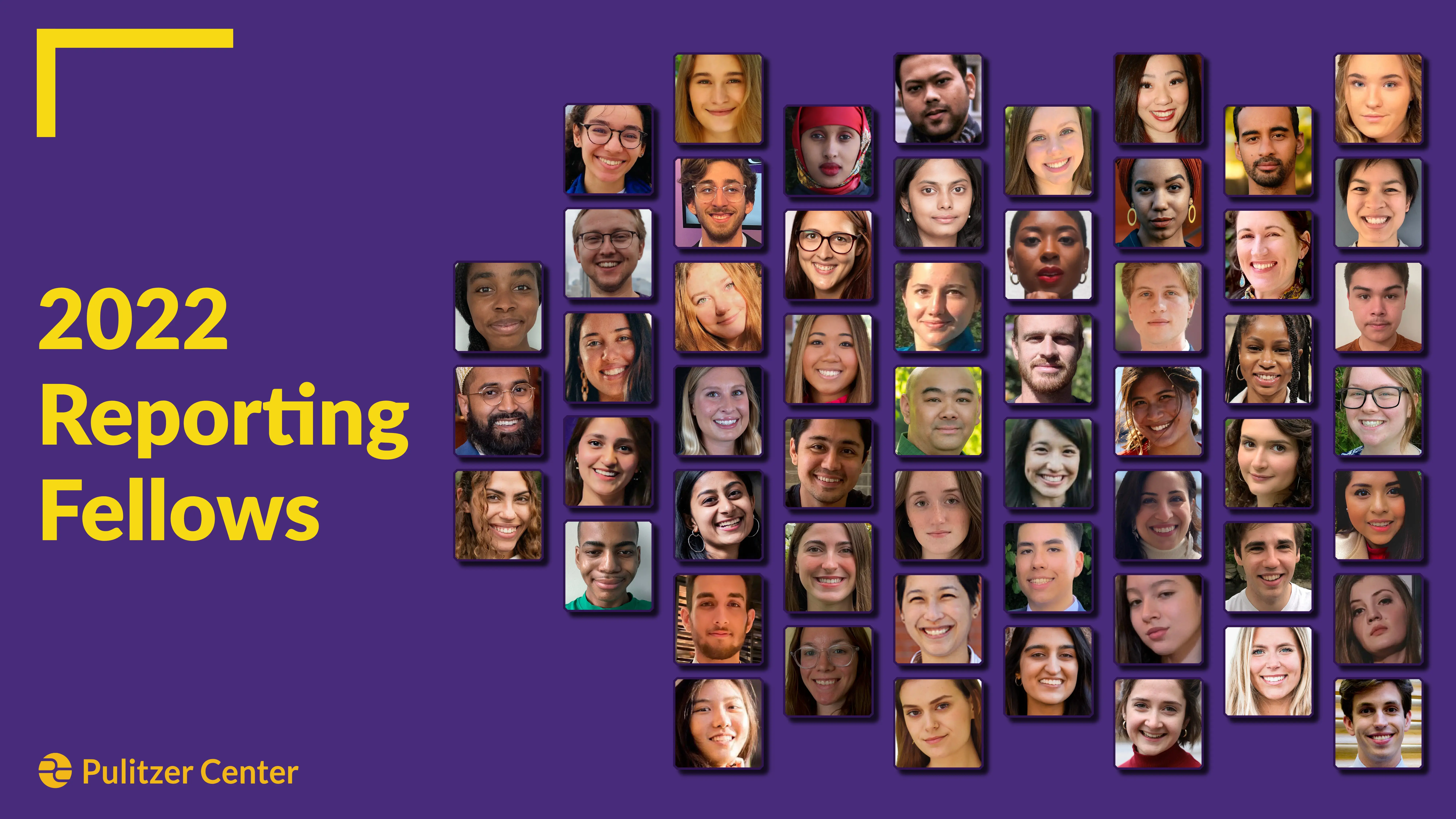 The Pulitzer Center is pleased to announce our 2022 cohort of 54 Reporting Fellows. Their projects address some of the most critical, and underreported, stories in today's world, spanning climate injustice, migration, and reproductive health.
The COVID-19 pandemic is ongoing, and our Fellows have learned over the past years how to adapt their work to be as safe as possible. With their applications, they submitted extensive plans outlining their pandemic precautions and detailing preparations to report remotely if necessary. "Yet many will be reporting from different countries—India, Turkey, Cameroon, Mexico, Zimbabwe... It's thrilling to see them out in the field once again," says Kem Knapp Sawyer, who directs the Pulitzer Center's Reporting Fellows Program. "I've very much enjoyed getting to know our Reporting Fellows virtually as well as meeting several in person at our Climate Conference in June. And, of course, I'm looking forward to bringing all our Fellows together for Washington Weekend in October. They will have amazing stories to tell and make life-long connections with each other and with other journalists."
The Pulitzer Center awards fellowships to students at our Campus Consortium partners—these include liberal arts colleges, community colleges, state universities, historically Black colleges and universities, and graduate schools of journalism and public health in the U.S., Canada, and Qatar.
Each Fellow is paired with an adviser—a Pulitzer Center grantee with special expertise in the Fellow's topic or reporting destination. Pulitzer Center editors also provide mentoring in reporting, writing, and multimedia.
Explore the projects of our 2022 Reporting Fellows below:
Public Health
Eliza Billingham, Fellow from the Boston University College of Communication, will focus on drug addiction and recovery in Vietnam—and its intersection with religion. Billingham is a writing fellow working with both graduate and undergraduate students at the Boston University Writing Center.
A Fellow from the Boston University School of Public Health, Sara Mar will be reporting on public health inequities in Guam and the effects of pollution in Indigenous communities on the island. Prior to attending BUSPH, Mar was a communications coordinator with Academic Public Health Corps, where they supported various health departments throughout the state of Massachusetts.
Diana Rayes, an International Health PhD Student at the Johns Hopkins Bloomberg School of Public Health, will be reporting on the arrival and mental health needs of displaced Ukrainians in Turkey, a country already home to a large refugee population. Her project will seek to renew attention and shed light on the mental and psychological needs of refugees. Before attending Johns Hopkins, Rayes was a senior project associate at the World Refugee and Migration Council.
Reporting Fellow team Wasay Mir and Laiba Mubashar from Northwestern University Qatar will be exploring the impact of COVID-19 on acid attack survivors in Pakistan. Their multimedia project will explore the high rates of acid attacks in Pakistan, legislative attempts to address this, and the stories of the survivors. Mir is currently the executive editor of multimedia for The Daily Q. Mubashar is an outreach manager for Not Your Daily Stories, and a research assistant for the creative writing department at NUQ.
JD Pells, our Fellow from Texas Christian University, will report on the environmental and health impacts of gold mining in Ghana. He will be exploring the presence and damage that Western mining companies have had on communities over a ten year period. Pells is the executive editor of TCU 360, a student-run media organization.
Wake Forest University's Natasha Heisenberg will be reporting on the health and environmental impact of whaling in the Faroe Islands. She will look at advocacy work on the island and efforts to control the impact of whaling on other species that live around the island. Previously, Heisenberg has held an internship with the NOAA Northeastern Fisheries Science Center in Massachusetts working on whale research.
Dylan Ortiz, our Westchester Community College Fellow, will focus on food insecurity in the Lower Ninth Ward in New Orleans. His reporting will look at food resiliency in the community in the form of pantries and markets, and also efforts to address root causes of food insecurity. Ortiz is junior video producer for Bantam Tools producing video storytelling content for promotional and educational use.
Huston-Tillotson University Fellow Marcus Santillanes will travel to Japan to report on the culture of overtime work in Tokyo, also known as "karoshi." Santillanes works as a research assistant and research sociologist at Huston-Tillotson.
Our second John Hopkins Bloomberg School of Public Health Fellow Pranab Chatterjee will report on the Bhopal Gas Tragedy in India, and how its survivors are even more susceptible to the effects of COVID-19. Chatterjee has held multiple postgraduate medical positions including interning and serving as a clinical house officer both in Kolkata, and New Delhi, India.
Indigenous Communities
Jordan Rusche from South Dakota State University will look at Native American education in the state. Her reporting will examine legislative efforts to improve education in tribal communities and also systemic and political barriers faced by tribal nations. Rusche is the editor-in-chief at SDSU's newspaper The Collegian where she manages content and page design.
Our McGill University Global Health Programs Fellow Brendan Ross will be reporting on the growing mental health crises and inequities in Indigenous communities in rural Taiwan. Ross was a Fulbright Research Fellow with the U.S. State Department in Taipei, Taiwan, where he led a public health research project about mental health services in Aborginal communities.
Forsyth Technical Community College Fellow Selena Cecilio will report on Indigenous rights among the Purepecha in Mexico. Her project will focus on the governance and leadership in Indigenous tribes as well as the disconnect between Indigenous groups and the Mexican government. Cecilio is a legal assistant at Kreider Law, where she focuses on civil litigation files and acts as a translator for Spanish-speaking clients.
Land and Property Rights
Our Guttman Community College Fellow Elisa Agosto will focus on gentrification in Puerto Rico. Her reporting will highlight the impact of a law passed in 2019 designed to draw wealthy developers to the island, and how that is affecting local communities. At Guttman, Agosto is involved in extracurriculars including the CUNY Research Scholars Program and Women of Grit.
Fanny Ahman, our American University Fellow from Latin American and Latino Studies, will report on migration of the Guna people. Her project will look at the effects of climate change on Guna people living on Crab Island and the rise of emigration to La Barrida on mainland Panama. Ahman is the social media director at the Nordic Press Center.
Climate Change in the U.S.
Gina Castro, our Northwestern University Medill Fellow, will be reporting on disparities in FEMA aid distribution to Louisiana tribes recovering from natural disasters. Her reporting will focus on the sustained destruction from previous hurricanes and efforts to seek more financial assistance from government agencies. Castro is currently an intern at the Milwaukee Journal Sentinel supporting their investigative team.
Jana Rose Schleis of the Missouri School of Journalism will report on the renewable energy build-out in the Wisconsin town of Two Creeks. The community has long been home to energy infrastructure, including a nuclear power plant. Her reporting will look at major stakeholders, from utility companies to homeowners, and local farmers. Schleis is a reporter at the Missouri News Network covering Missouri legislation, and she has also held multiple producer positions with Wisconsin Public Radio.
Yale School of the Environment Fellow Grace Cajski will examine how fishponds can be used in Hawaii to mitigate climate change. Her reporting will explore the impact of urbanization on fishponds, as well as efforts to restore existing fishponds. She works for the Yale Sustainable Food Program as a communications manager where she supports the newsletter and writes blog posts.
Global Climate Crisis
Danielle Filjon, our Fellow from Flagler College, will travel to South Africa to cover the ongoing conflict between African penguins and Purse-Seine fishers. Her reporting will explore the tension between protecting the livelihood of fishers coming from a historically marginalized group and the loss of food for the African penguins due to the rise in fishing. Filjon is a staff writer at Flagler College newspaper, The Flagler College Gargoyle.
Our Hunter College Fellow Niamh McAuliffe will report on new methods of sustainable energy used in beer production in Ireland. She will explore the shift to biogas in Ireland, and how the beer industry is leading this shift globally. When she's not reporting, McAuliffe is the social media manager at The Athenian.
A Fellow from the Missouri School of Journalism, Tanishka R. will report on the growing threats to India's Thar desert with the increasing impact of climate change as well as heightened development in surrounding areas. Tanishka is a visual reporter at the Columbia Missourian assigning photographers and working on graphics for print and digital.
Colleen Henegan, a PhD candidate at University of Wisconsin studying the environment and resources, will report from Zambia on the impact of climate change on small scale farmers. She will focus on the farming practices of both men and women and explore how these communities use their ecological knowledge of land to support their work.
Hampton University's Sydney Shuler will report on the "City of 1,000 Tanks" initiative in Chennai, India, to build water storage units. Shuler was a senior account executive at the Tag Collective, where she managed a team of junior executives, while also working on press releases and brand reports.
Migration and Human Rights
Our Columbia University Graduate School of Journalism Fellows Gabriella Canal and Michael Fearon produced the documentary Seasons, which tells the story of a Korean woman running a farm outside New York City. Prior to joining the documentary program, Fearon was a producer at Blue Chalk Media in Portland, Oregon, where he produced several episodes of "The Cabin Chronicles." Canal is currently an associate producer for Insignia Films where she is managing post-production on a feature full length documentary about a basic income program in Kenya.
Iqra Salah, our University of California Berkeley Graduate School of Journalism Fellow, will report on statelessness in Zimbabwe. Her project will look at what stateless people in Zimbabwe have access to, the challenges they face, and the hurdles to citizenship legislation in the country. Salah was a reporter and researcher for the BBC in Kenya covering breaking news in Central and East Africa.
University of Richmond Fellow Madeleine Long will report on Ukrainian refugees in Prague and the impact of war on their identity. Her project will specifically look at Russian-speaking Ukranians leaving the country, and Russia's narrative of Ukrainian identity. Long is a reporter at the University of Richmond student newspaper The Collegian.
Michael Flores, Evan Solis, and Fida Yamani, a team from Columbia University Graduate School of Journalism, will produce their film, Philippines: 1000 Guns. The film will document the divisive relationships that exist in the progressive Filipino community as they navigate authoritarianism sympathizing in New York City, and in the Philippines. Flores co-founded and led research at the Veteran Independent Research Organization. Solis previously was an intern and documentarian at Voces Oral History Center. Yamani has a master's degree in South Asian Studies from Columbia, and previously was a graduate research intern with Eurasia Group Foundation.
From Cameroon
Paola Koki Ndombo is our fellow from The George Washington University Milken Institute School of Public Health reporting on innovative healthcare solutions to cervical cancer in Cameroon. Her reporting will explore new technologies introduced to rural Cameroonian communities to help address and identify early signs of cervical cancer. At George Washington University, she is a student research assistant working at HIV Prevention Trials Network Clinic Site.
Zane Irwin, our Swarthmore College Fellow, will report on online media in Cameroon. Irwin's project will focus on media spread in Cameroon and how people receive news via social media versus traditional news outlets. Irwin is a journalist at War News Radio producing and researching for podcast episodes about underreported stories and global conflict.
Our School of the Art Institute of Chicago Fellow Lily Lloyd Burkhalter's project will focus on textile artists in Cameroon and the stories intertwined in these textile projects. Her reporting will center the artists, while also working with researchers to understand the cultural and historical practice of textile production in Cameroon and other surrounding countries. Previously Lloyd Burkhalter was a freelance technical translator working on French to English translations.
Gender
Madeline Hart, our Georgetown University Berkley Center for Religion, Peace, and World Affairs Fellow reported on female genital mutilation in Guinea. Her project centers those working to end FGM in the country, specifically looking at work done by Muslim and Christian groups. Hart was an intern at Voice for America where she produced a variety of articles on domestic and international issues.
Our Glendale Community College Fellow Jacqueline Kamei will report on social media in the feminist movement. Her project will focus on the rise of social media as a tool for education but also one that has led to a heightened awareness of image in young women. Kamei is the editor-in-chief of El Vaquero at Glendale Community College.
Spelman College Fellow Nailah Barnes will travel to Italy to look at the work and lives of Africa-descended women featured at the Venice Biennale. Her reporting will spotlight the stories of Black artists and curators, and also the importance of their work and voice in contemporary art spaces. Barnes is a Mellon Undergraduate Curatorial Fellow at the High Museum of Art in Atlanta, Georgia.
LGBT and Reproductive Rights
Our Fellow from Syracuse University S.I. Newhouse School of Public Communications, Natalia Perez-Gonzalez, will report on the reproductive rights movement in the Dominican Republic. Her stories will feature the work of activists and sex educators as they navigate a conservative and restrictive country. Prior to attending Newhouse, Perez-Gonzalez was the marketing and communications intern for the Chattanooga Chamber of Commerce.
Serena Weiying Wu, our Washington University St. Louis Reporting Fellow, will report on the experience of LGBT Uyghurs in Xinjiang Autonomous Region of China. Prior to her fellowship Wu was an associate editor Intercollegiate U.S.-China Journal managing a bilingual academic journal.
Education
Our Penn in Latin America & the Caribbean (PLAC) Fellow from the University of Pennsylvania Victoria Sousa will focus on the impact of COVID-19 on public education in Argentina. Her reporting will explore efforts around internet equity and computer access at a national level in the country. Previously, Sousa was the lead political beat reporter and deputy news editor at The Daily Pennsylvanian, Inc.
LaGuardia Community College Fellow Vildana Khamidullina will be reporting on the lack of sexual education in Russia. Khamidullina was a reporter and writer with Schneps Media covering a variety of topics about New York City, real estate, business, and more.
Emily Cooper from Southern Illinois University Carbondale will report on the implementation of a new required media literacy initiative in Illinois schools. She will interview teachers in southern Illinois and Chicago as they navigate their first year teaching this curriculum. Cooper is currently the student managing editor at Gateway Journalism Review overseeing magazine production.
Children and Youth
Elon University Fellow Nyah Phengsitthy traveled to Ghana in January to report on the pandemic's impact on orphanages in the country. Phengsitthy has worked as managing editor for The Pendulum, a student publication at Elon University.
Laila Shadid, our University of Pennsylvania Middle East Center Fellow, will report on the impact of Isareli occupation in the West Bank and its effect on children living in the area. Shadid is the co-founder and editor-in-chief of Fenjan: The Middle East Journal.
Our University of Chicago Fellow Kate Mabus will report on Maori children separated from their families by the Oranga Tamariki government agency in New Zealand and efforts to reunite the children with their families. Mabus was a BBC America Production Assistant assisting with BBC World News.
Fellow Safi El-Gamal of Davidson College will focus on emerging Moroccan identity. Her project explores how Moroccan youth are challenging legacies of French colonialism through language and the rise of internet activism. El-Gamal was a project intern with Justice for All in Chicago, working with a faith coalition.
Aquil Kenyatta Starks, Jr., our Howard University Reporting Fellow, will investigate exploitative tactics used by the textile industry to employ child workers in the southern India state Tamil Nadu. Starks currently works as a news desk intern with The Washington Post, and he is actively involved in Howard's Ida B. Wells Society.
Special Initiatives
Eight Reporting Fellows for Climate Science, Justice, and Gender special initiatives were previously selected in late 2021. Fellows Hana Ahmed, Megan Cattel, Kristen Chin, Christian Elliott, Laura Goodfield, Brett Marsh, Cole McCann-Phillips, and Meera Santhanam also join this cohort.
We can't wait to see how these projects unfold. Congratulations to all 2022 Pulitzer Center Reporting Fellows!