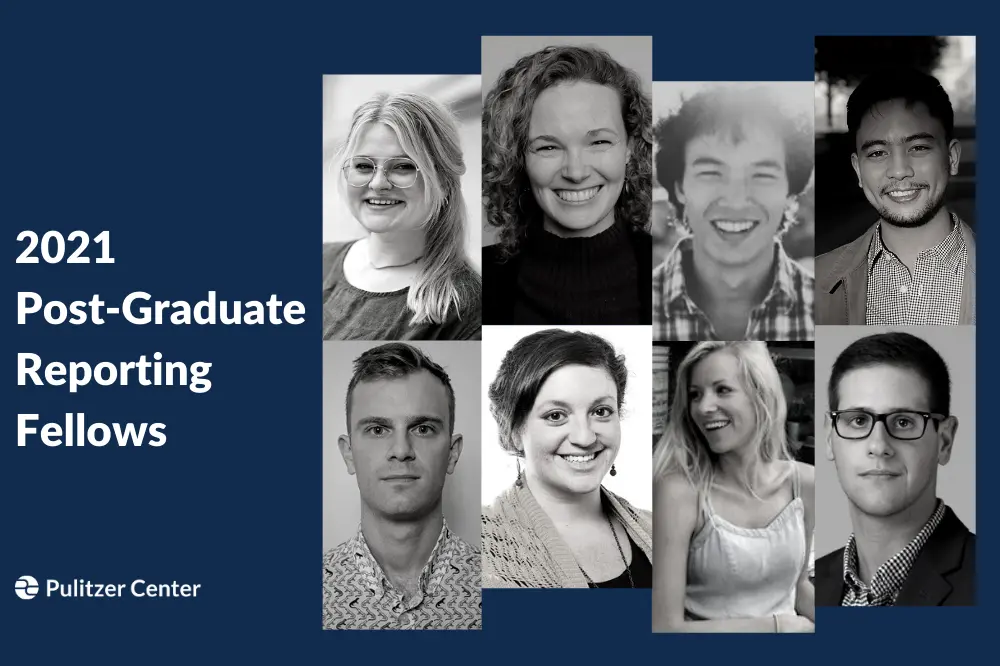 Editor's note on September 27, 2021: This post has been updated to include Post-Graduate Fellows from the Medill School of Journalism.
The Pulitzer Center is pleased to announce the selection of eight journalists from Columbia and Medill journalism schools for its 2021 Post-Graduate Reporting Fellowship Program.
Fellows receive mentorship from the Pulitzer Center team, which will also pair each Fellow with an adviser, a Pulitzer Center Grantee with a particular interest or expertise in the Reporting Fellow's proposed project.
Below is a list of our 2021 Post-Graduate Reporting Fellows, including descriptions of their proposed projects. This list will be updated as more Fellows are announced.
Columbia Post-Graduate Reporting Fellows
Funding for several of the Columbia University Fellows working in the international arena comes from the Li Center for Global Journalism at Columbia.
Rich Brown is a multimedia reporter focusing on international relations and grassroots activism in the Americas. Based in Guatemala from 2013-2019, he was editor-in-chief of Revista EntreMundos and wrote for various Guatemalan outlets to cover social conflict, climate, migration, and U.S. policy in Central America. In 2021, he earned a Master of Arts degree in political reporting from Columbia Journalism School. Brown is returning to Guatemala to report on land and water conflict and criminalization and violence against campesino rights organizations. Brown was selected for a Li Center for Global Journalism Fellowship.
Rebecca Kelliher is an investigative audio and print journalist covering higher education and criminal justice inequities. She will be reporting on halfway houses and accountability for contractors. She is a staff writer at Diverse: Issues in Higher Education, reporting on public policy and university leadership. Before studying journalism, Rebecca worked in higher education for eight years at three institutions, including in the United Arab Emirates. A Barnard College graduate, she recently graduated from Columbia Journalism School, where she investigated halfway house contractors.
Matthew Reysio-Cruz will report on the present-day consequences of the U.S. "Secret War" on Laos and will investigate failures to assist the survivors of accidents involving the leftover U.S. bombs. Reysio-Cruz is completing a dual degree in journalism and international affairs at Columbia University. Born and raised in Manila, he was a reporter for the Philippine Daily Inquirer, where he covered education, courts, and politics. While there, he produced features that probed social and economic injustices under the Duterte administration. He was recently a Stabile investigative reporting fellow at Columbia and a recipient of scholarships from the Overseas Press Club Foundation and ProPublica. Reysio-Cruz was selected for a Li Center for Global Journalism Fellowship.
Catharine Smith is a recent graduate of Columbia Journalism School's master of science program where she focused on audio broadcast production, investigative reporting, and literary journalism. A graduate of Hampshire College, Smith worked at HuffPost for nearly a decade as an editor in technology, business, and impact. For her Pulitzer Center project, she will be reporting on the privatization of water and wastewater infrastructure, with a focus on Pennsylvania, one of the "friendliest" states to water privatization. The title of her project is "Wall Street Is Coming for Your Tap Water."
Medill Post-Graduate Reporting Fellows
"We're so proud of these Medill graduates committed to documenting the human impact of under-covered stories like the recent war and ongoing conflict in Armenia, and the slashing of mental health services in Texas prisons; and of past injustices like the chemical attacks on Iraqi Kurds and the boarding schools forced on Native American youth," said Kari Lydersen, Medill lecturer and director of the Social Justice & Investigative specializations in the Master of Science in Journalism program. "Shedding light on these stories promotes accountability—from chemical companies, government officials and others; and demands that we as readers and global citizens think deeply about these situations rather than looking the other way." Lydersen spearheads the Medill/Pulitzer Center partnership.
Mark Dovich is passionate about stories on Russia and the post-Soviet region, areas of the world often under-reported in American mainstream media, and he has a particular interest in stories with a human rights focus. Dovich holds an M.S. in social justice and investigative reporting from Northwestern University and an M.A. in Russian, East European, and Eurasian studies from the University of Michigan. He will focus his project on post-war life for residents of southern Armenia's "border villages."
Rebecca Holland is a freelance journalist and recent graduate of Medill's graduate program, specializing in social justice and investigative reporting. Her most recent reporting includes a range of topics from food and travel to human rights issues in Chicago. She received bachelor's degrees in journalism and languages and cultures of Asia at the University of Wisconsin, Madison. Holland's reporting will follow survivors of a chemical attack in Iraqi Kurdistan, who are still seeking justice decades later.
Yvonne Krumrey is an MSJ graduate from Medill Journalism School. Prior to moving to Chicago, Krumrey was a producer for Denver radio station KGNU and worked for 5280 Magazine. With a background in geography, Krumrey is interested in reporting at the intersection of landscape, the environment, and human rights. Krumrey's project will focus on the history of Wisconsin's Native American boarding schools.
Michael Murney is a reporting fellow with the Dallas Observer. His reporting will focus on mental health services in Texas county jails and the ongoing mental health crisis already happening in the jails. His previous projects include probes into Chicago's surveillance camera network and private halfway house conditions in Illinois. Much of this work he did while working at The Washington Post as a member of the Medill Investigative Lab.