Pulitzer Center Update November 6, 2018
2018 Student Fellows: Day One of Washington Weekend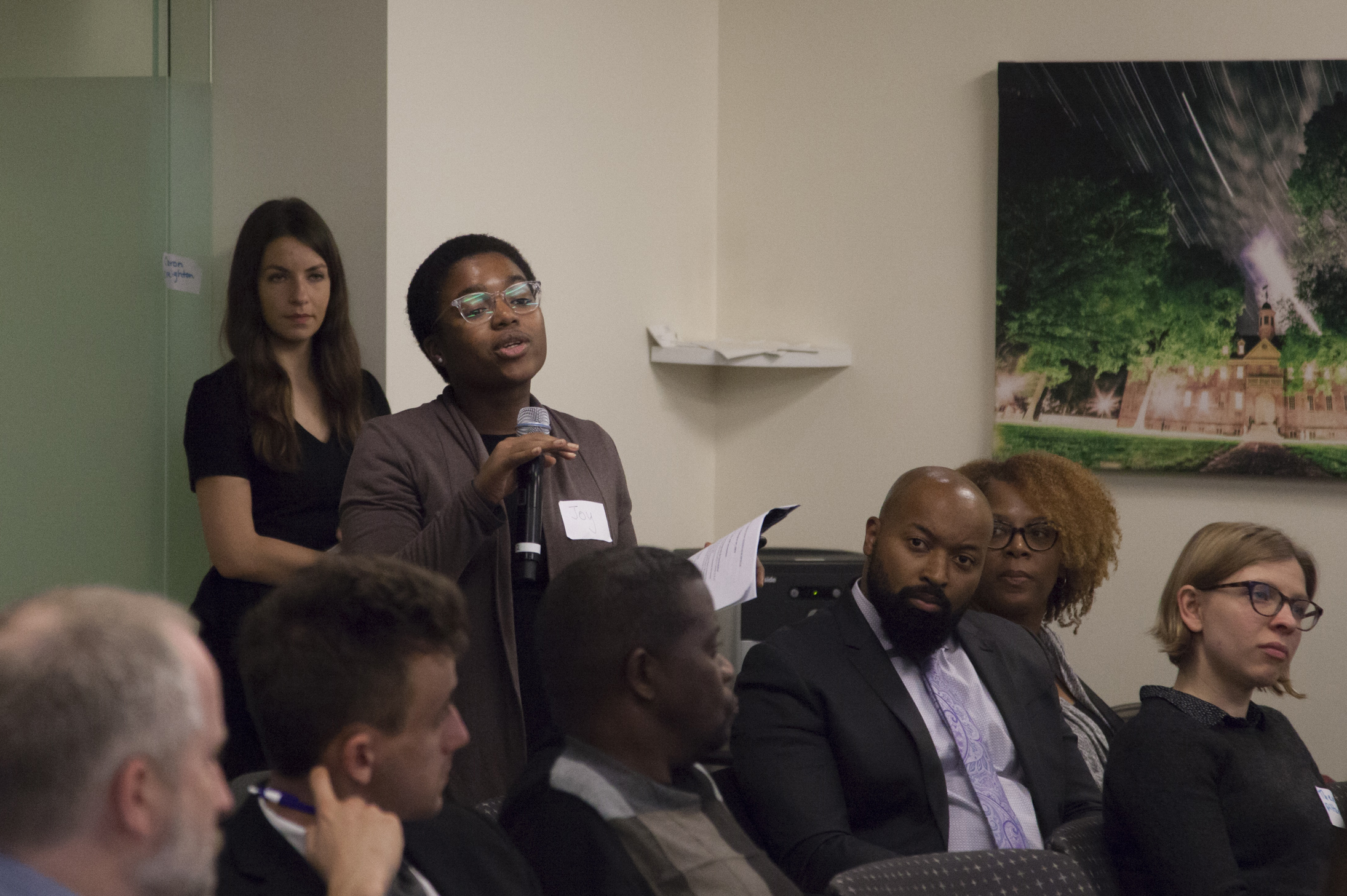 The Pulitzer Center hosted its fifth annual Campus Consortium Student Fellows Washington Weekend on Friday, October 26, and Saturday, October 27, 2018.
In 2018, 42 student fellows traveled across the globe to shed light on some of the world's most overlooked—and important—issues. And on day one the presentations focused on "Climate Change and the Environment," "Global Health," and "Peace and Conflict." Subjects ranged from ecology monks in Thailand to organ transplants in Venezuela; from combating Jihadism in Kosovo to literary reconciliation in Sri Lanka. These are the stories from our 2018 student fellows:
Climate Change and the Environment







A biology major with a passion for protecting the environment, Kiley Price (Wake Forest University) is always on the lookout for creative conservation methods. "I've seen machines that are pulling Co2 from the air and bioacoustic sensors that are monitoring ecosystem health," she said, "but probably the most unique strategy I've ever come in contact with is something called 'tree ordination,'" a ceremony performed as part of the spiritual activism of "ecology monks." In multimedia reporting published in Mongabay, Pacific Standard, and Asian Correspondent, Price showed how Buddhist monks in Thailand are harnessing their influential status to emphasize the moral dimension of conservation.
In Puerto Rico, different forces have arisen in response to climate change: volunteer brigades. The island has been hard-hit by intensifying hurricanes in recent years. "[September 2017's Hurricane Maria] was a very traumatic experience for many people on the island," said Tomas Woodall Posada (Forsyth Technical Community College). "I remember a faculty member at the University of Puerto Rico describing the storm as a bomb going off almost continuously." Federal government provisions were scant. Woodall Posada focused his stories on the people who banded together and volunteered their time, energy, and ingenuity to feed and provide power to the people.
Jacqueline Flynn (Texas Christian University) reported on a more gradually unfolding crisis. With increasing demand caused by rural-urban migration, Cape Town knew well in advance that the city was going to run out of water. "This was an issue that was exhaustively reported on," Flynn noted, "but what I noticed was a lot of the articles were talking about what was going to happen when the taps turned off and not a lot of people were talking about why the taps were turning off, and what we could be doing to prevent this from happening in other places." Flynn's story for Global Health NOW draws lessons for the U.S. and other countries the world over.
Meg Vatterott (University of Missouri) told the story of a different kind of water crisis and the inequitable distribution of its consequences. Forty percent of Mexico City's water supply, she reported, is imported, much of it coming from a water treatment system that has operated for the past 30 years in a rural community outside of the city. While the local water reserves are exhausted and exported, the mostly indigenous Mazahua residents lack running water in their own homes, walk miles to fetch what they need to drink, cook, and bathe, and wage a continuous struggle to gain access to the water system that benefits urbanites while bypassing them. Her article and her documentary introduce some of the people impacted by the water crisis and those working to change the Mazahua's lot.
Rohan Naik (Yale University) closed the panel with an exploration of the history and contemporary challenges of smog in London, a problem leading to about 40,000 premature deaths every year. "Often when we talk about environmental issues, and especially climate change," Naik posited, "we're referring to places in the Global South, but obviously climate change and air pollution are two issues that affect everyone everywhere." Naik's story, published in Pacific Standard, looks at the way smog affects communities of color, the efforts that have been made to address the issue, and what's at stake as Britain faces the reality of leaving the EU and climate change intensifies.
When Kadia Goba applied for her Pulitzer Center grant, she knew she wanted to report on the landslides plaguing Sierra Leone. She zeroed in on a solutions journalism approach, looking at "what people are doing a year after the landslides in 2017." Published in Pacific Standard, Goba's story explores how deforestation and development have led to this series of natural disasters, and how local actors are combating the expansion of these practices.
Global Health





McGill University medical student Julie De Meulemeester traveled to the remote Canadian Arctic town of Nunavut, where 70 percent of preschoolers live in a food insecure household. Her reporting started out with a challenge: extremely high travel costs. "Understanding the barrier of even just visiting," De Meulemeester asserted, "is a step in understanding food insecurity in the north to begin with." Her Global Health NOW story aimed to examine the impact of hunger on health in the region.
Flaviana Sandoval (Boston University) paired her expertise in public health with her strong ties to Venezuela, her home country. "The topic of organ transplants is something that goes massively under-reported," Sandoval explained, "not only in American media, but even in local media." Her reporting exposed how organ transplants have become more dangerous and harder to come by since the government took control of the organ procurement system in 2014. Sandoval told individual stories that demonstrate how "[w]hen you have a government that is not willing to accept wrongdoing, it's actual lives that are at stake."
Amanda Gordon (Westchester Community College) reported from Brazil on the stigma faced by individuals along the autism spectrum in a story for Global Health NOW. While Brazilian law offers strong protections for people along the spectrum, Gordon reports that attitudes across the country continue to lead to ostracization, job loss, and a lack of support services. "There is a belief that if you have autism, you are not able to do anything," Gordon said, "and as someone who has autism and is here today, it is extremely frustrating to hear that anywhere in the world." Gordon ended with a hopeful call for better representation of people with autism in popular media. "If America was to take a stronger stance on being more aware of the autistic community," she said, "I think that would echo, not only to Brazil, but to the rest of the globe."
Also trying to raise awareness about the challenges facing a marginalized community, Alexis Smith (City Colleges of Chicago) traveled to San Juan, Puerto Rico, to document how people with disabilities were affected by Hurricane Maria. Smith introduced a series of individuals who have suffered from the lack of accessibility and those working to fill in the gaps left behind by government services. She shed light on how flooding and fallen trees can be life-threatening for those who rely on power for mobility and everyday activities. Smith also highlighted those working to bring relief, such as Milly, who delivers donated equipment to people with disabilities through the Movement for the Reach of Independent Living (MAVI): "MAVI helps out where FEMA falls short."
Following her passion for women's issues, Merdie Nzanga (Howard University) shared reporting plans for a story about the implementation of the Kenyan government's 2011 law banning female genital mutilation (FGM). Nzanga has found a disconnect between the law's proponents and community elders who favor the traditional practice. She intends to interview not only the lawyers, police, and activists looking to end FGM, but also those on the opposite side of the debate, such as a doctor who "believes that by placing this ban, you are basically taking away women's rights." "Those of us in the West have always looked at FGM as an issue but we don't know that cultural side of it," Nzanga noted.
Peace and Conflict





Beyond War fellow Julia Canney (College of William & Mary), who holds a masters degree in Human Rights from University College Dublin, reported on the legacy of Northern Ireland's Troubles 20 years after the Good Friday Agreement. Her story focuses on the women running vital programs for peacebuilding and mental health, who she says are often written out of history. "These women are holding the country together," Canney declared, "and in the face of Brexit and further delay in the government, they're not going to be able to do it for much longer without a change in resources and the ways that things are run."
As he set out to add nuance to the body of journalism exploring how countries can combat Jihadism, AJ Naddaff (Davidson College) did a lot of self-reflection. "There's been so much probing from the West of 'What is Islam? What is Jihad?'" that Naddaff asked himself: "Am I just going to feed into these narratives?" Through research, dogged reporting, and collaboration with local fixers and sources, however, Naddaff uncovered unique angles on this story, investigating why people in Kosovo join ISIS, and how the state handles reintegration of ex-combatants. His reporting has been published in The Washington Post and World Politics Review.
Jared Olson (Flagler College) spent six weeks reporting from the Zapatista autonomous zone in Chiapas, where "the government obeys and the people command." The 25-year-old movement ran their first presidential candidate in Mexico's 2018 elections, and Olson's stories follow how their ideology and organization has evolved over time. While members of the movement, historically marginalized, were suspicious of his presence at first, Olson found that dedicating a longer period of time to building trust and relationships allowed him to tell a fuller story.
As Colombia moves forward with the 2016 accords closing what was the longest-running civil conflict in the Western Hemisphere, Julia Friedmann (Georgetown University) traveled to report on how religious organizations are involved in the peace process. In her reporting, published by Religion News Service, Friedmann explores the Jesuits' role in the reintegration of members of the Armed Revolutionary Forces of Colombia (FARC), supporting internally displaced people, and building toward reconciliation within communities.
"People usually know one story about Sri Lanka," Beyond War fellow Sarah Hoenicke said at the start of her presentation. "They know that there was a really, really long ethnic conflict there, and that life has been hard for the people as a result. What they don't know is that reconciliation efforts started early and have continued to this day, and have taken some forms that might surprise you." Taking a close look at these lesser-known methods of peacebuilding, Hoenicke plans to focus her reporting on how Sri Lankan youth have been "writing through trauma," bridging linguistic differences and the divides wrought by decades of conflict through literature.
Paul LeBlanc (Elon University) was unable to join us for Washington Weekend. He reported on "De-radicalization Inside London Prisons."
[Note: You can view Kadia Goba's presentation at 55:50 in the Peace and Conflict panel video]
Click the links below to view blogs and videos from Washington Weekend:
Washington Weekend Highlights: http://pulitzercenter.org/blog/2018-student-fellow-washington-weekend-highlights
Day Two: http://pulitzercenter.org/blog/2018-student-fellows-day-two-washington-weekend
Journalist Panels: http://pulitzercenter.org/blog/2018-washington-weekend-panels-coping-trauma-and-pitching