Pulitzer Center Update November 5, 2018
2018 Washington Weekend Panels: On Coping with Trauma and on Pitching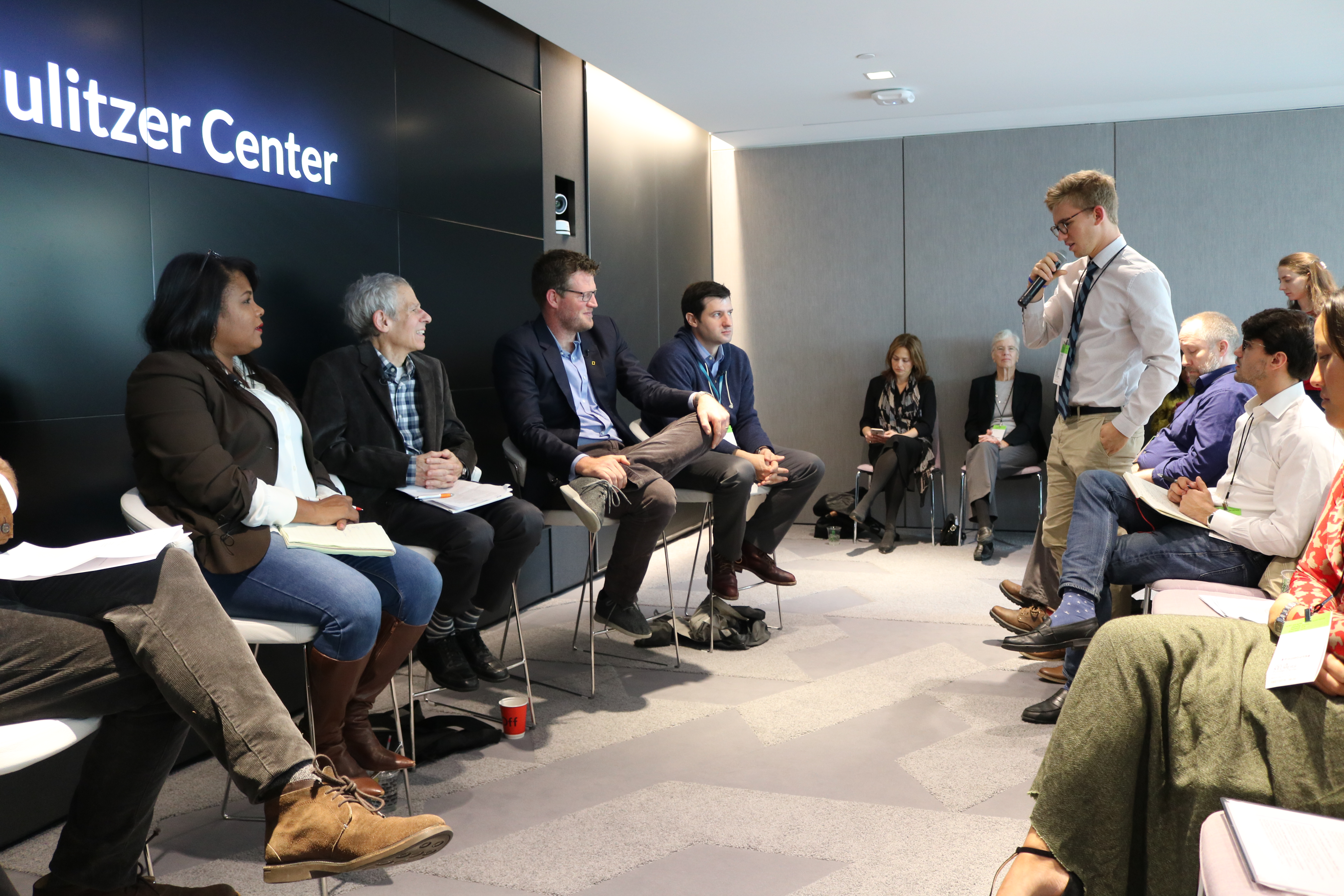 "We're all here in this room for a reason."
A hush fell over the crowd as panelists, student fellows, and Pulitzer Center staff mulled over Professor Bill Gentile's statement. He continued: "I think that one of the reasons is because we don't want to have normal lives. We want to have lives that have meaning and purpose in them—especially those of you who are freelancers… living on the edge without the security, the steady job, the 9-to-5, the regular paycheck."
But as Gentile, who teaches film and media studies at American University, noted, the "meaning and purpose" of a journalist's life comes with challenges. Panels at the 2018 Washington Weekend touched on a few of these: covering sensitive issues, coping with trauma, and pitching stories to media outlets.
On Covering Sensitive Issues and Coping with Trauma
From the drug war in the Philippines to "barrel children" in the Caribbean, covering the world's under-reported stories presents challenges both in the field and afterwards. In a panel moderated by Campus Consortium coordinator Hana Carey, six journalists shared stories of obstacles they faced, both journalistically and emotionally, while reporting on sensitive issues.
"When you're working with people and trying to quickly gain trust from people while you have a camera in your hand… I can fully understand when you're fleeing something terrible and heading towards something uncertain that having a camera in your face is not the dream," said Meghan Dhaliwal, as she recalled her experience covering the migrant caravan. Dhaliwal is a freelance photographer and former student fellow from Boston University,
"Particularly photographers, our craft is extremely intrusive," Gentile said. "We're dealing with people sometimes on the worst day of their lives. To avoid this moral injury, this moral regret that sometimes affects us, you have to be really, really conscious about your actions because they have a tremendous impact on the people you're covering and on you as human beings."
For even the most seasoned reporters, coping with the mental toll of being in the field is a constant struggle.
Both Time For Kids executive editor Jaime Joyce and Politico foreign affairs correspondent Nahal Toosi reassured student fellows that it's okay to cry and show emotion while reporting.
"We are humans," Joyce said. "We are there to do our jobs, but you have to express it. Otherwise it's just going to eat you up. If it's in that moment, that's okay, but then you pull yourself back and continue the work that you're doing."
Toosi advised journalists to take breaks while in the field—in Islamabad, she diligently went to the gym every Saturday and enjoyed a sushi brunch afterwards.
Multimedia journalist Melissa Noel reported on "barrel children" in the Caribbean—those left behind by parents who travel to other countries for better jobs. She practices a similar method of self-care:
"Whatever country I'm in … I go and I enjoy something that is totally just for me because it keeps me sane," Noel said. "You're not trying to remove yourself from what's happening, but you're also making sure that you're okay in the process, and that is imperative."
Holding oneself accountable for accurate and responsible reporting can also help journalists maintain a positive mindset in the field.
"Have a very clear purpose for being there, a story that you want to tell, and be assured in your mind that you are doing the right thing," photojournalist James Whitlow Delano said. "You're not exploiting anyone, you're honest with people—I think that relationship helps me to cope with it."
Joyce, who reported on young children with incarcerated parents, also stressed the importance of building open and authentic relationships with interview subjects.
"Helping them feel comfortable is the main thing," Joyce said. "You don't immediately have to go in with the questions. You want to meet them where they are and spend time with them … so when there's a quiet moment later, you can … ease into it."
Ultimately, practicing responsible and conscientious reporting may help journalists recuperate from difficult reporting projects as well.  
"At the end of the day, we're journalists," Toosi said. "And one of the things we do is comfort the afflicted and afflict the comforted, so find some of that coping in your journalism."
On Pitching
Pitching a story can be a daunting task. From deciding where to pitch to crafting an eye-catching email subject heading, freelancers must consider dozens of factors before attempting to sell their story to an outlet. During the second panel, moderated by Pulitzer Center associate editor Katherine Doyle, editors and freelancers from a range of publications provided guidance to student fellows navigating the process.  
Huffington Post senior enterprise editor Nick Baumann began the panel by dishing out three pitching tips:
Refine your pitch. "If you're pitching cold, I probably haven't seen your writing before. I'm going to be judging your writing skills, your reporting skills, and your understanding of your story from your pitch. First impressions really matter—if your pitch is disorganized or poorly written, I will be less likely to buy it from you."
Remember that you're selling something. "The reaction you're trying to get from an editor is, 'I want to pay this person money to find out what the final version of this story looks like… Imagine that you're walking down the hall with a colleague and you're talking about the story. The reaction you want to get is, if someone's passing you in the hallway and they hear you talking about it, they're like 'oh man, I want to hear more about that.'"
Differentiate between a topic and a story. "A story has characters and plot, much like if you're writing a fiction story—I want to know who you're going to be talking to, who the central character in the piece is, and what they do."
Erik Vance, a science writer and reporter, provided a freelancer's perspective on pitching. He joked that he often says that he's better at pitching than writing, but added that "if you have to choose, honestly, that's the way you want to be because that's how we make our money."
When pitching, he stressed that "you have to understand the media environment as well as you understand your topic." Sending in a story that doesn't fit the media outlet may be deemed insulting, as it shows that the reporter hasn't read the publication.
"Those first pitches, they're looking for reasons to say no," Vance said. "The only thing that's going to make them say yes is if you can get them to the point where they're reading it and saying, 'oh man, this is so us, we have to take this.'"
Marc Silver, the editor of the Goats and Soda blog at NPR, countered, "Erik, I want to say yes all the time, but all these pitches just keep me from saying yes."
For Silver, the essence of the pitch is: "Why should I do this story? ... Why this one and why now?" He also stressed the importance of conducting adequate research to ensure that the same story hasn't been reported on before.
NPR supervising editor Stacey Samuel recommends that first-time pitchers "build a relationship with the editors you most want to work with and start small. ... If you are building a relationship, know that if you want to go to a place that's very dangerous, you're not likely to get it."
Building a relationship requires making a strong first impression, which often is dependent on the first email.
"When an email isn't direct, when it doesn't get right to the point … it lingers and sometimes it falls off," said Dan Ephron, the Foreign Policy executive editor for news. "Your pitches should tell me what you're going to tell me in your story, how you're going to tell me, and why you're going to tell me—and I need all that in the first paragraph."
Effectively communicating a unique idea is especially important for prospective breaking news stories.
"When there is breaking news, it's obvious that it is going to be told to death," said Yolanda Lopez, director of News Center at Voice of America. "What is it that you can pitch that is totally different? How do you help editors get value out of that story?
Dayna Myers, news writer/editor for Global Health NOW, agreed: "Boring is your enemy." Journalists need to explicitly state what regional expertise they can bring to the table, which is especially valuable for small news outlets who don't have bureaus overseas.
"The best people to write about countries or regions are the people who are simultaneously an insider and an outsider," Ephron said. "Someone who knows the society really well and speaks the language, but is removed enough from the society that they have perspective."
Last, but not least, freelancers need to learn how to negotiate payment. Samuel advised freelancers to ask editors about ranges for different levels of expertise,
"You have to push on this," Vance said. "If someone says, 'we like your writing, we want to publish you, we don't want to pay you very much,' that's not good enough. … You have to think: is this enough to make a living?"
Baumann told the group, "You should never feel bad for being the first advocate for your own career. No one else is going to do it for you." He recommends talking with others in the field to gather information on payment from various outlets.
While pitching may be challenging and initially disheartening, Silver urged journalists to remain optimistic.
"It's okay to persist, just don't overpersist," he said. "Be grateful for a no, but hope for a yes."
Click the links below to view blogs and videos from Washington Weekend:
Washington Weekend Highlights: http://pulitzercenter.org/blog/2018-student-fellow-washington-weekend-highlights
Day One: http://pulitzercenter.org/blog/2018-student-fellows-day-one-washington-weekend
Day Two: http://pulitzercenter.org/blog/2018-student-fellows-day-two-washington-weekend