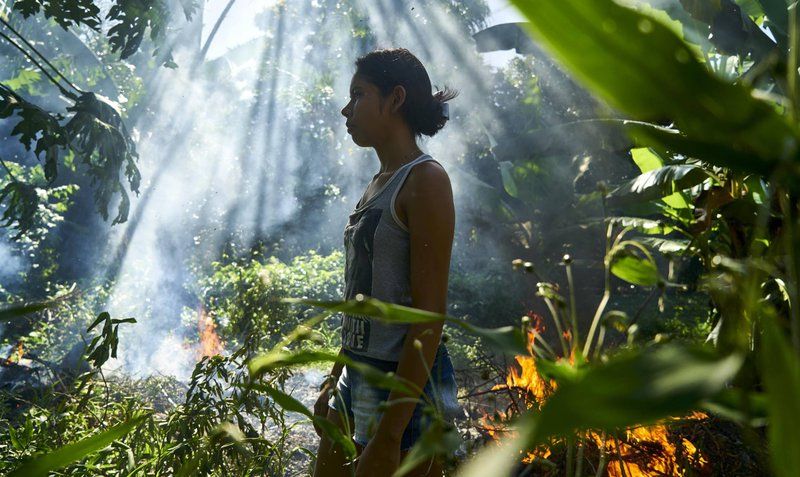 Update: this event has been canceled due to concerns related to COVID-19, along with other CUGH 2020 events. For more information, please refer to the CUGH 2020 website. 
Join us on Sunday, April 19, 2020, at the 2020 Consortium of Universities for Global Health (CUGH) Conference in Washington, DC, for a screening of Pulitzer Center-supported films by journalists, documentarians and international reporting fellows.
These short documentaries address a range of global challenges including climate change, mental health, gender violence, and communicable diseases.
Films in this year's festival include:
Losing Earth from the Air
Directors: George Steinmetz and Claire Seaton
Summary: "Losing Earth: From the Air," which debuted at the 2019 Environmental Film Festival in the Nation's Capital, takes viewers behind the scenes of Pulitzer Center grantee photographer George Steinmetz's travels. Steinmetz, a National Geographic magazine contributor, and Claire Seaton, Pulitzer Center multimedia coordinator, produced this original film, offering a panoramic view of humanity's impact on the earth, for better or for worse.
Joane: Plastic is Killing Us in the Amazon - Part 4 of the "Rainforest Defenders" Series 
Directors: Francesc Badi I Dalmases and Pablo Albarenga 
Summary: Part 4 of the "Rainforest Defenders" series follows Joane, a young activist from the Brazilian Amazon who is fighting to save the environment from plastic pollution. Joane's community illustrates how a coherent community policy, applied consistently over time, has far-reaching transformative effects. Produced by Democracia Abierta/Open Democracy, this film highlights the grassroots efforts working towards seeing an Amazon Rainforest free of plastic waste and deadly fires while showcasing the youth fighting to protect their home, no matter what.
End of AIDS: Far from Over, Russia
Directors: Jon Cohen, William Brangham, and Jason Kane 
Summary: Central Asia and Eastern Europe have the world's fastest-growing HIV epidemic, and Russia accounts for more than 80 percent of those infections. As at-risk groups like injection drug users are stigmatized and ignored, health officials say the death toll will soon top 30,000 lives per year. As part of the PBS NewsHour series, this documentary reports on the under-acknowledged HIV crisis in Russia. 
She's Not a Boy 
Directors: Robert Tokanel and Yuhong Pang
Summary: "I just knew it. I felt it in my gut. I'm a girl," Tatenda, an intersex woman from Zimbabwe now living in the United States, says in "She's Not a Boy." This film, which premiered on The Atlantic in June 2019 and produced by two Pulitzer Center reporting fellows, provides a glimpse into the experiences of an intersex woman in an effort to showcase the courage and resilience it takes to live true to one's identity and to empower other intersex people who are in similar situations.
Stranded Migrants Share Why They Fled Their Homelands
Directors: Mario J. Pentón and Jose Antonio Iglesias
Summary: The Mexican city of Matamoros has become a forced shelter for thousands of immigrants who wait more than a month for a meeting to ask for asylum in the United States. This film, created by a team from the Miami Herald, shines a light on the volunteers and church groups who care for migrants stranded at the U.S.-Mexico border while also showing the challenges faced by migrant families as they search for a better life.
In El Salvador, Violence is Driving Girls to Kill Themselves
Directors: Patricia Clarembaux and Almudena Toral
Summary: In El Salvador, the country with the highest rate of femicides in the most violent region in the world, young girls are taking their own lives. And the victims are getting younger. In the midst of poverty and violence, where gangs operate with a brutality that's become normalized, those who manage to flee do so only after escaping to every possible corner of the country. This short documentary is part of a Univision News reporting project.
Guanajuato Norte 
Directors: Sana Malik and Ingrid Holmquist
Summary: Produced by Pulitzer Center reporting fellows Sana Malik and Ingrid Holmquist, Guanajuato Norte follows the life of Winny Contreras, a migrant farm worker who has lived in Connecticut working on Rose's Berry Farm for over two decades so he can send money to his family back in Mexico. The sacrifices Winny has made to ensure a better future for his family in Guanajuato, Mexico, are highlighted in this trailer for the longer award-winning documentary created by Malik and Holmquist. 
India's Health Care Crisis
Directors: Michael Edison Hayden and Sami Siva
Summary: Journalist Michael Edison Hayden and photojournalist Sami Siva report on a broad cross-section of urban and rural healthcare issues in West Bengal, Gujarat and Andhra Pradesh, including the routine discrimination against patients with HIV/AIDS in state hospitals, a promising public health insurance program and the country's high infant mortality rates. In this video, Hayden discusses their Pulitzer Center-supported reporting project.
Click here to register for the event. The program begins at 6:30 pm.