Pulitzer Center Update October 21, 2020
Announcing the Pulitzer Post-Graduate Reporting Fellowship Program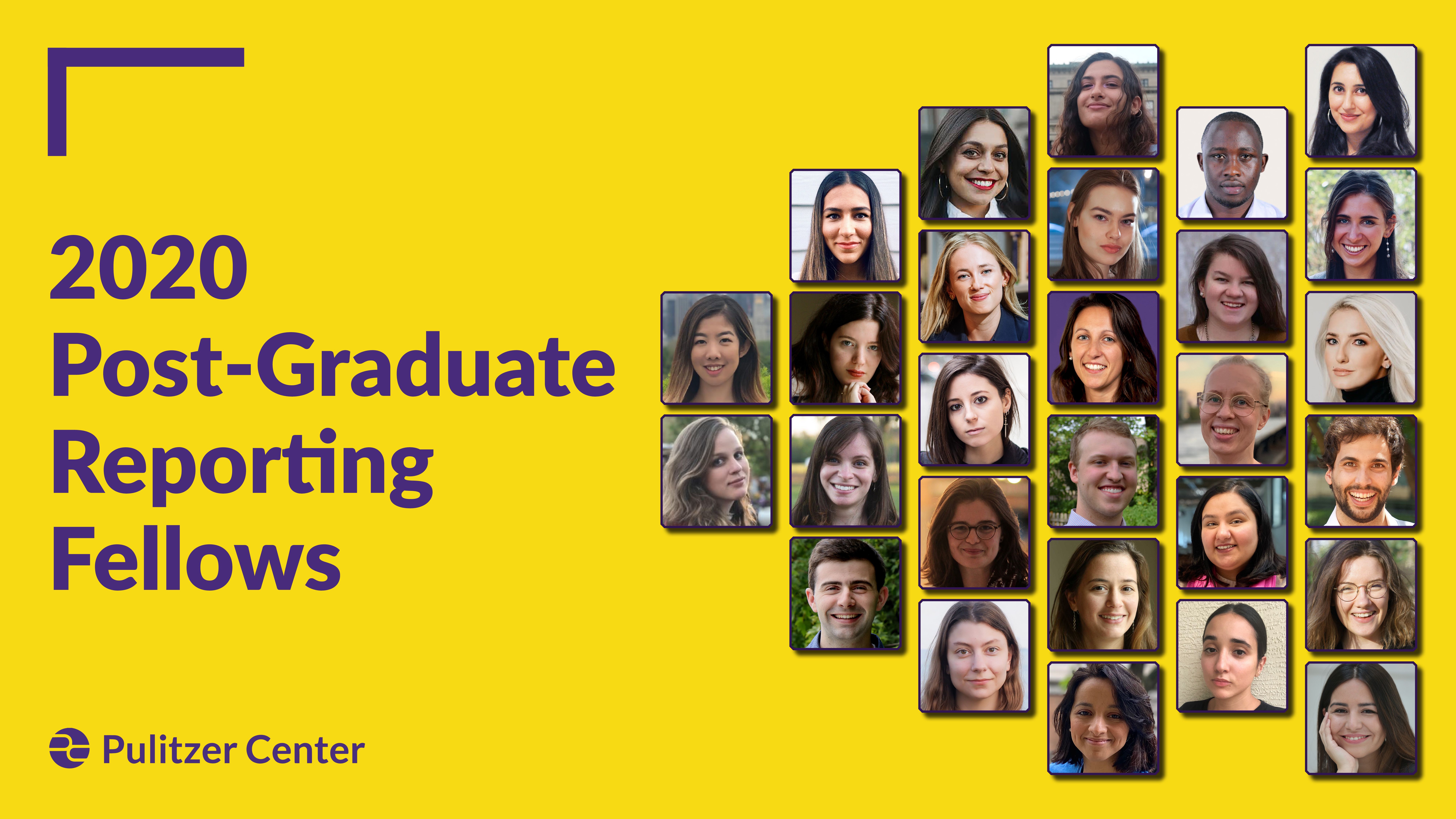 Editor's note on October 21, 2020: This post has been updated to include the third Columbia Journalism School Post-Graduate Reporting Fellows cohort.
Editor's note on October 1, 2020: This post has been updated to include the second Medill Journalism School Post-Graduate Reporting Fellows cohort.
Editor's note on August 10, 2020: This post has been updated to include the second Columbia Journalism School Post-Graduate Reporting Fellows cohort.
The Pulitzer Center Campus Consortium is pleased to announce a new joint initiative: The Post-Graduate Reporting Fellowship Program for Columbia and Medill Journalism Schools.
With funding from both journalism schools, the Pulitzer Center will offer fellowships to recent graduates. Fellowships for at least 10 students at each school have been made available. Reporting Fellow selections will be made jointly by the university and the Pulitzer Center based on applications that include project proposals.
"We are very pleased to be working with the Pulitzer Center to support ambitious reporting in the public interest by graduates from the Class of 2020," said Columbia Journalism School Dean of Academic Affairs Sheila S. Coronel.
"The work of journalists is especially important right now, and we are grateful that the Pulitzer Center supports the work of Medill students as they report and share underreported stories through the post-graduate program," Assistant Professor and Director of Global Journalism Learning at Medill Ceci Rodgers commented.
Fellows receive mentorship from the Pulitzer Center team, which will also pair each Fellow with an adviser who has a particular interest or expertise in the Reporting Fellow's proposed project.
Kem Knapp Sawyer, Pulitzer Center Contributing Editor who heads the Reporting Fellow Program, said, "We're excited to work with Columbia and Medill Journalism Schools and to provide reporting opportunities for graduates, especially given the pandemic. All the Fellows have chosen fascinating topics—on stories that need to be heard. They're looking for creative, practical, and safe ways to report during challenging times."
Below is a list of our 2020 Post-Graduate Reporting Fellows, including descriptions of their proposed projects. This list will be updated as more Fellows are announced.
Columbia Journalism School Post-Graduate Reporting Fellowships
Amel Brahmi will explore the rise of female imams in the U.S., focusing especially on an aspiring female imam at the Women's Mosque of America in Los Angeles. There are only a handful of female imams throughout the world, most of them located in the U.S.
Zoe Chevalier plans to report on non-unanimous jury convictions in Louisiana, delving into the case of Ricky Davis. Despite the fact the Supreme Court ruled such convictions unconstitutional in 2020, individuals sentenced before the ruling, such as Davis, do not qualify for appeals.
Chloé Lula will examine the struggle for transgender rights in Tbilisi, Georgia, as the country's ruling Georgian Dream party denies the transgender community COVID-19 coverage. Her project focuses on this issue through the lens of Madona Kiparoidze, a transgender woman who set herself on fire to protest the Georgian government's policy.
Agostino Petroni will document the massive die-off of olive trees in Puglia, Italy, due to the bacteria Xylella fastidiosa. Since 2012, the region has lost roughly one third of its 60 million olive trees as residents and the government refused to take drastic containment measures recommended by scientists.
Sara Sheridan's reporting project will follow the pandemic struggles of two restaurants, an award-winning establishment in rural Virginia with deep ties to Appalachia and a Black-owned, tasting menu-only restaurant in Harlem. Through these two narratives, she examines how the trillion-dollar restaurant industry is grappling with questions related to class, race, and structural power.
---
The following fellowships for Columbia Journalism School post-graduates were announced on August 10, 2020.
Muriel Alarcon will report on how community organizations are promoting nutrition and healthy eating habits across New York City's Latino neighborhoods. In addition to combatting food deserts, these efforts help build up immune systems amongst a population hit disproportionately hard by COVID-19.
Musinguzi Blanshe's project will focus on Uganda's Local Defense Units (LDUs), a new security force that was recruited to stem insecurity in urban areas but is now implicated in torturing citizens. In addition to torture, LDUs have killed at least seven Ugandans while enforcing COVID-19 curfew orders.
Bianca Fortis will examine the effects of phosphate mining on local communities and wildlife in Central Florida. Despite generating $12.2 billion for the region in 2016, phosphate is radioactive and potentially linked to rising local cases of Leukemia, Parkinson's, and other diseases.
Anastassia Gliadkovskaya will document how social media posts influence Russian-American voters in New York City. A native-Russian speaker, Gliadkovskaya plans to investigate what kinds of messages are being shared by voters and if they mimic those being spread in Russia.
Aryana Noroozi's reporting project will follow refugees affected by the 100-day closure of most U.S. immigration courts that began in March 2020. The COVID-19-induced closures created a backlog of thousands of asylum hearings and put some minors at risk of losing their Special Immigrant Juvenile Status.
Sadia Rafiquddin will trace the story of Franca Panettone, a 46-year-old with Down syndrome who became Hernando County, Florida's first COVID-19 death. Panettone had never spent a moment without her sisters or mother by her side, yet she did not obtain a patient advocate once hospitalized and her family was denied visitation.
Isobel Thompson's project will center on the O'Reilly sisters, seven Irish Traveller siblings who were sexually abused by their father over the course of 23 years. Irish Travellers, particularly women in the community, face racism, neglect, and health issues as well as a corresponding lack of intervention by the U.K. and Irish governments.
---
The following fellowships for Columbia Journalism School post-graduates were announced on October 21, 2020.
Sarah Gelbard will report on housing insecurity in Chicago amid the pandemic. As some 1,250 public housing units sit empty in the city, homeless and unemployed Chicagoans with disabilities must deal with a lack of accessibility and a fear of contracting the virus in shelters.
Sarah Hurtes plans to document COVID-19's impact on the supply chain of abortion pills in the U.K., the role of telemedicine services, and the challenges posed by opposition groups.
Kirsti Karttunen will follow the ongoing effort to create the first credit union in the U.S. designed to serve formerly incarcerated people. The nonprofit coalition in New York hopes to help the 20 million Americans with past felonies overcome financial obstacles presented by traditional banks.
Astrid Landon will look into the use of electroconvulsive therapy (ECT) to treat autistic children suffering from catatonia. She will report on the efficacy of the treatment and also investigate the connections between ECT device manufacturers and the doctors who may have a financial stake in their use.
Sofia Moutinho will chronicle Indigenous cartographers' efforts to map their lands in Panama using GPS and drones. While the mapping project originally combatted threats like illegal logging and drug cartels, it is now being utilized to track the pandemic among particularly vulnerable Indigenous communities.
Syra Ortiz-Blanes will detail the movement to build climate-resilient farms in Puerto Rico as tropical storms continue to cause major agricultural losses. Scant media attention has been paid to the young agronomists spearheading this push for resiliency on the island's farms.
Medill Post-Graduate Reporting Fellowships
Elena Bruess will report on the impact of COVID-19 on the Little Village neighborhood of Chicago, a primarily Mexican-American community that had the highest positive coronavirus rates in the city in June. She focuses her project on the neighborhood's Esperanza Health Center, an organization providing healthcare for underserved Latinx communities, in order to tell stories of disparities but also resilience.
Jack Kelly will detail the mental health crisis confronting Wisconsin's dairy farmers. Already faced with financial difficulties, America's Dairyland was hit especially hard by the pandemic, and suicides and other mental health challenges have risen at alarming rates within the community.
Areeba Shah's project will highlight the mental and physical toll the pandemic has taken on migrant farmworkers in Michigan and Ohio. These workers often experience overcrowded living conditions, limited healthcare, and exploitive labor practices that put them at increased risk of COVID-19.
---
The following fellowships for Medill Journalism School post-graduates were announced on October 1, 2020.
Aishwarya Airy will investigate how the U.S. military plans to withdraw advanced armaments from Afghanistan. While previous reporting has focused on troop reductions, Airy's project will assess contract records and the risks posed if more American weapons fall into the hands of the Taliban and terror groups.
Sarah Cahalan's project will delve into the American Catholic Church's neglect of predominantly Black parishes on the South Side of Chicago. Despite the Archdiocese of Chicago's expensive campaign to have Black priest Augustus Tolton canonized, the very community Tolton served faces dwindling budgets exacerbated by COVID-19.
Kelly Cannon's reporting will focus on the politicization of COVID-19 vaccines, especially as trials roll out across Indigenous communities. She will travel to Arizona, Utah, and South Dakota to understand the pandemic's disproportionate impact on tribal nations and whether these disparities will also mark the immunization process.
Hannah Farrow will explore the proliferation of "learning pods" in Tampa Bay, Florida, amid the pandemic. Considering factors such as race and income inequality, the project will examine how these pods and private household teachers have exacerbated the local learning gap.
Curtis Franklin will follow the months-long fight to remove the statue of Robert E. Lee that looms over downtown Murray, Kentucky. Franklin's story will focus on Sherman Neal II, a Black Marine veteran whose letter to the mayor ignited the fierce local debate and legal battle.
Annie Lin's project will trace COVID-19's impact on undocumented communities and Indigenous populations, particularly within Long Island, New York. She will tell stories of individual struggle and report on how local artists and creatives formed mutual aid funds to help these vulnerable groups.
Silvia Martelli will look at the United Kingdom's growing food insecurity crisis and the government's failure to seriously address it. Even before COVID-19 struck, one in five children faced food insecurity in the country, and spiking unemployment will likely make these numbers worse.
Congratulations to our inaugural class of 2020 Post-Graduate Reporting Fellows!