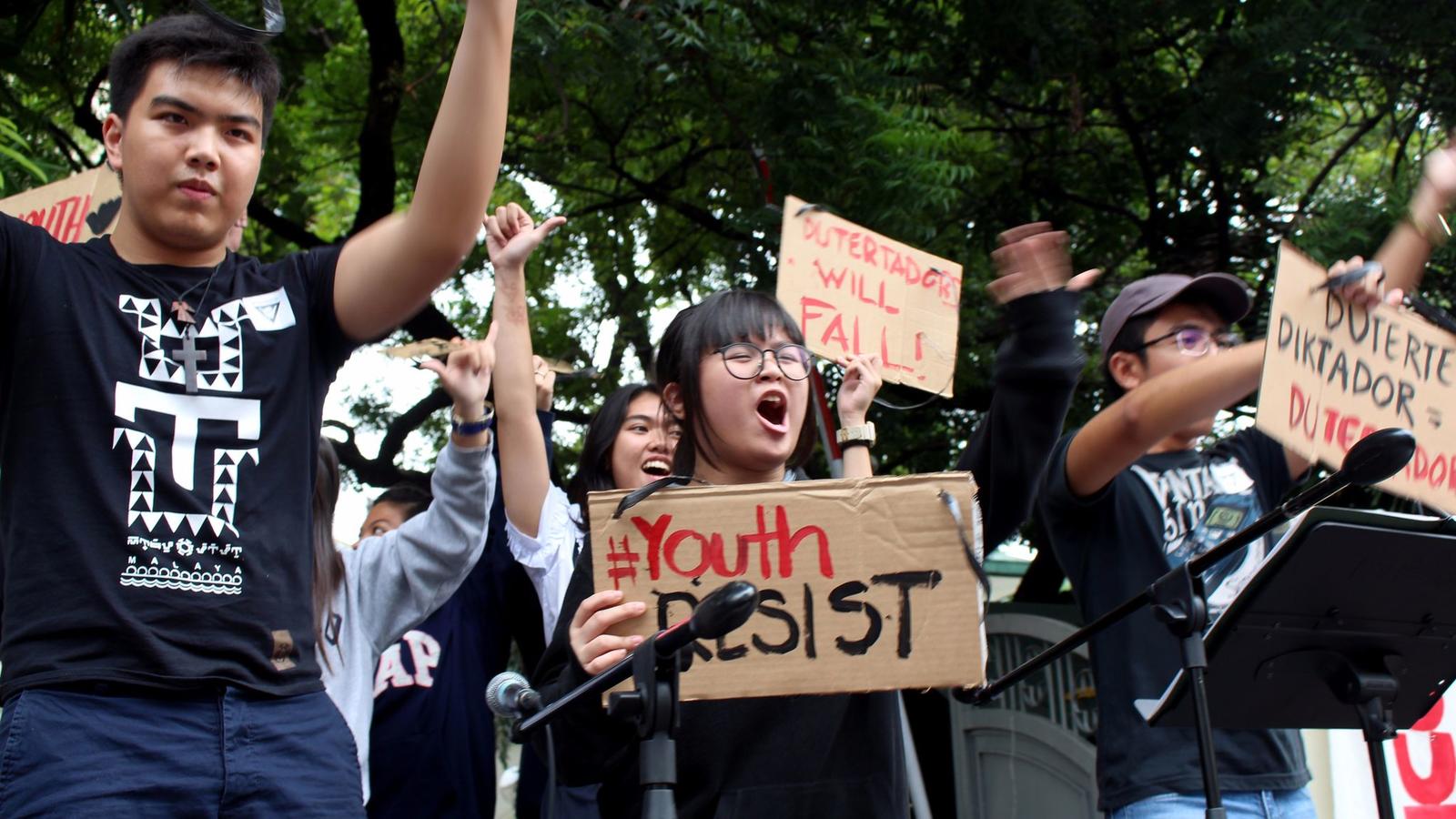 Philippine President Rodrigo Duterte has cursed world leaders, threatened to kill criminals and promised to eat the livers of terrorists, but Shibby de Guzman and her friends don't seem intimidated.
Shibby, a 13-year-old ninth-grader, and other young activists are calling for the end of extrajudicial killings of suspected drug dealers and other aggressive policies by Duterte, a tough-on-crime leader who wants to extend martial law in part of the country because of rebellion.
"We are being called to make a stand against extrajudicial killings, creeping authoritarianism and emerging dictatorship," Shibby said this week in an impassioned speech at her Manila school.
After the speech, about 200 students and others marched through the streets of the capital to make their point. The youths are among many Filipinos concerned about the autocratic tendencies of Duterte, who was elected president last year and is scheduled to give a State of the Nation address Monday.
The president's spokesman said Duterte on Tuesday asked legislators to extend martial law, which began in the south of the country May 23, until the end of the year because of security concerns caused by Islamic State-affiliated militants.
The Maute extremist group in May seized the city of Marawi. Hundreds of people, most of them militants, have been killed in the fighting, and more than 200,000 residents have fled the city, which is on the island of Mindanao.
Duterte called for a special session of Congress to deal with the issue of martial law before the planned opening of the new regular legislative session Monday.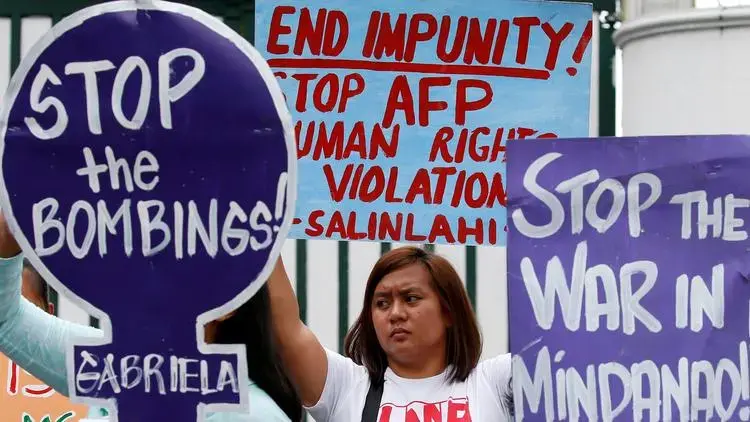 In the meantime, Shibby and her classmates at St. Scholastica's College, a Catholic private school, as well as members of Millennials Against Dictators, a coalition of youth groups and student council alliances, and others, plan to keep pressuring the government on human rights issues and hold Duterte accountable for violent deaths during his presidency.
Millennials Against Dictators plans to hold a vigil Sunday that organizers say will run until Duterte's address the next day. It also plans outreach programs for families who have lost loved ones to violence.
"We want to empower families to speak up for themselves," said 22-year-old Shamah Bulangis from Akbayan Youth, one of the coalition members.
Despite the concerns, Duterte remains a wildly popular president, with ratings at 82% and trust ratings at "excellent." Few are willing to speak against him or publicly oppose him. There is online backlash to contend with, and officials this year jailed one of his fiercest critics, Sen. Leila de Lima.
Salvador Panelo, the president's chief legal counsel, said the drug-related killings largely pertain to disputes among people involved in illegal activities.
"They are simply killing each other," Panelo said.
Shibby and others emerged as activists last year during protests opposing the burial of former dictator Ferdinand Marcos at the Heroes' Cemetery. Duterte had pushed to transfer Marcos' remains to the cemetery from his home province of Ilocos Norte, where they were on display in a glass coffin, arguing that Marcos deserved it. The Philippine Supreme Court approved the burial.
A photo of the students protesting attracted substantial Internet attention, but some of the response was not supportive.
Mocha Uson, an influential Duterte supporter with more than 5 million online followers, called it "child abuse."
Duterte's other supporters and Marcos loyalists took the accusations further, saying the youths were brainwashed and too young to know why they were protesting. Some said the youths were being used to destabilize the government — insinuating they had been paid.
Shibby's mother, Melay Lapeña, was worried and anxious but was promptly mollified by her daughter.
"She showed me her inbox. There were hate mails, but also many messages of support and love," Lapeña said.
Sister Mary John Mananzan, former president of St. Scholastica's College, said the protest made her feel happy that young people were taking a stand.
"That is what is happening to our country now — insanity. In just one year, there has been an erosion of moral fiber. A culture of death has been perpetuated," Mananzan said.
At the protest this week, Shibby remained firm, polite and pragmatic while answering questions from reporters.
"We are protesting against extrajudicial killings and violations of civil liberties. The only thing that matters now is the country," she said. "Engage in conversations, not fights. Don't approach someone aggressively if you're looking to make a change."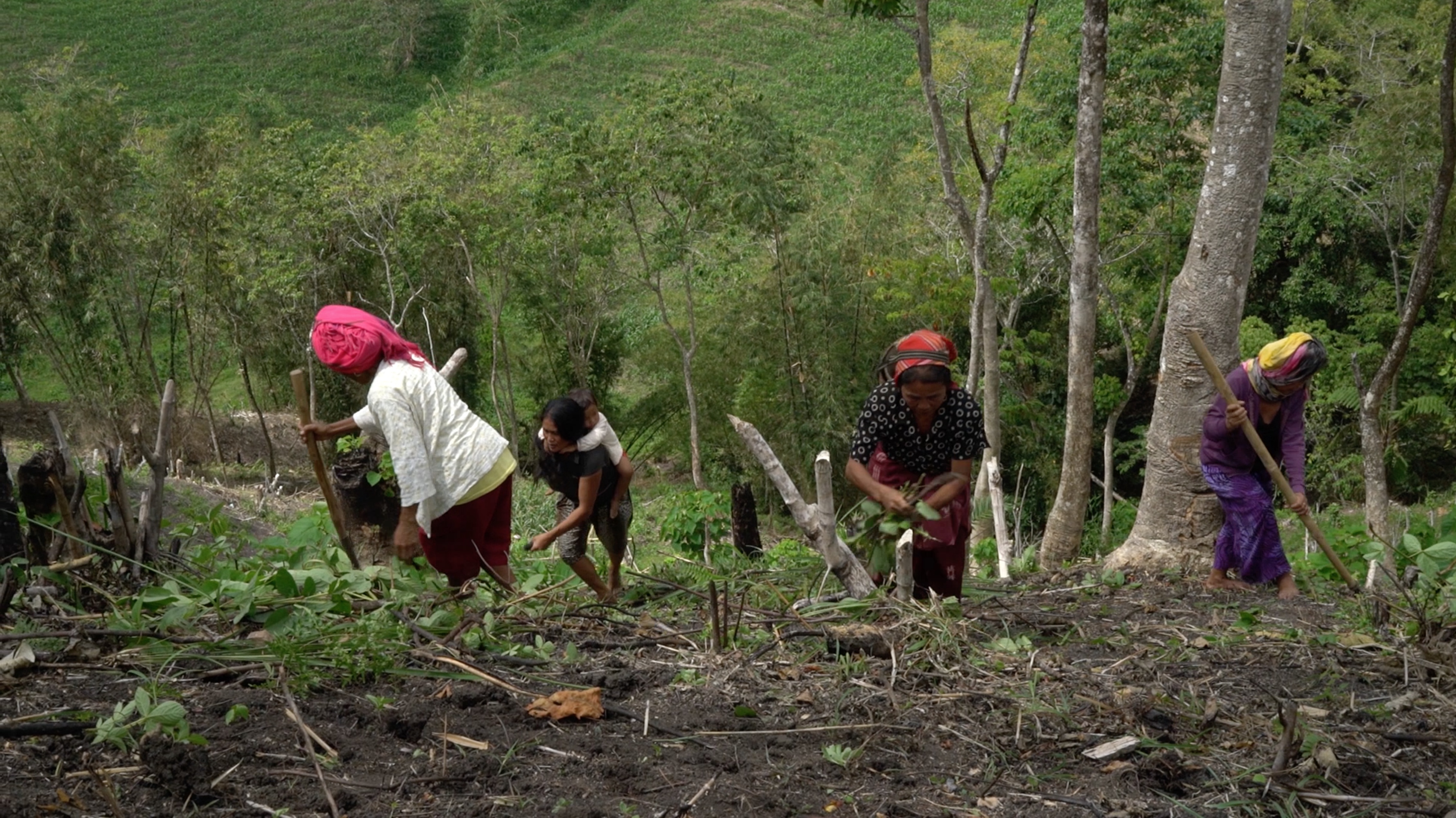 A half-century ago the Lumad people were the largest ethnic group on Mindanao, the largest island in...
RELATED ISSUES