Lake Urmia, in the mountains of northwestern Iran, was once a source of national pride and one of the country's top tourism destinations. It's emerging now as something else entirely: Iran's most visible symbol of the damage being wrought by global climate change.
The lake has lost more than 90 percent of its surface water since the 1970s as agriculture in the region has boomed and farmers have tapped the lake and many of the sources that feed it for irrigation. Warming temperatures have also played an important role, and the receding water has left behind what looks like a post-apocalyptic landscape of rusting ships half-buried in the sand and piers that lead to nowhere. The flamingos and pelicans that once stopped at the lake have ceased visiting, and its tourism industry has disappeared.
Scientists who study the lake also point to Iran's inefficient system of dams. And a study published in the journal Science of the Total Environment in April concluded that even efforts that succeeded in reducing how much of the lake's water was used could have a limited impact because of climate change.
Donald Trump and many of his fellow Republicans doubt the existence of climate change. The clerical leaders of Iran, widely derided in the US as a backward theocracy, accept that climate change is real — and that concrete measures need to be taken to fight it.
Last November, Iran's supreme leader, Ayatollah Ali Khamenei, released a letter calling for the country to focus on how to "manage climate change" and grow its "green economy." Earlier this year, Tehran formally signed the sweeping Paris climate agreement, pledging to reduce its overall emissions by 12 percent in coming years. (The U.S. has signed the accord, but Trump has promised to tear up the agreement if elected president.)
Iranian President Hassan Rouhani has pledged to spend $5 billion on conservation efforts there, and Tehran is working with the United Nations and the Japanese government on a variety of efforts to help local farmers and gradually restore water levels.
It's not clear, though, that any of the moves will take effect quickly enough to save Lake Urmia.
The pictures above were taken by Ako Salemi, a 35-year-old Iranian photographer whose work has appeared in The Guardian, The New York Times, and Time LightBox. Working with a grant from the Pulitzer Center on Crisis Reporting, his new photos shows what happens when climate change makes a lake disappear—and what is left behind as the waters recede.
Pulitzer Center grantee Simeon Tegel is a British journalist based in Lima, Peru. He covers a broad...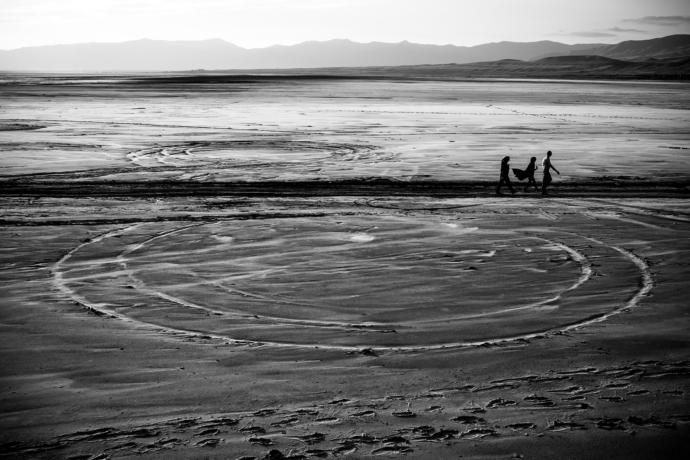 In this video, Ako Salemi discusses reporting on the impact of climate change on people's lives in...
RELATED ISSUES