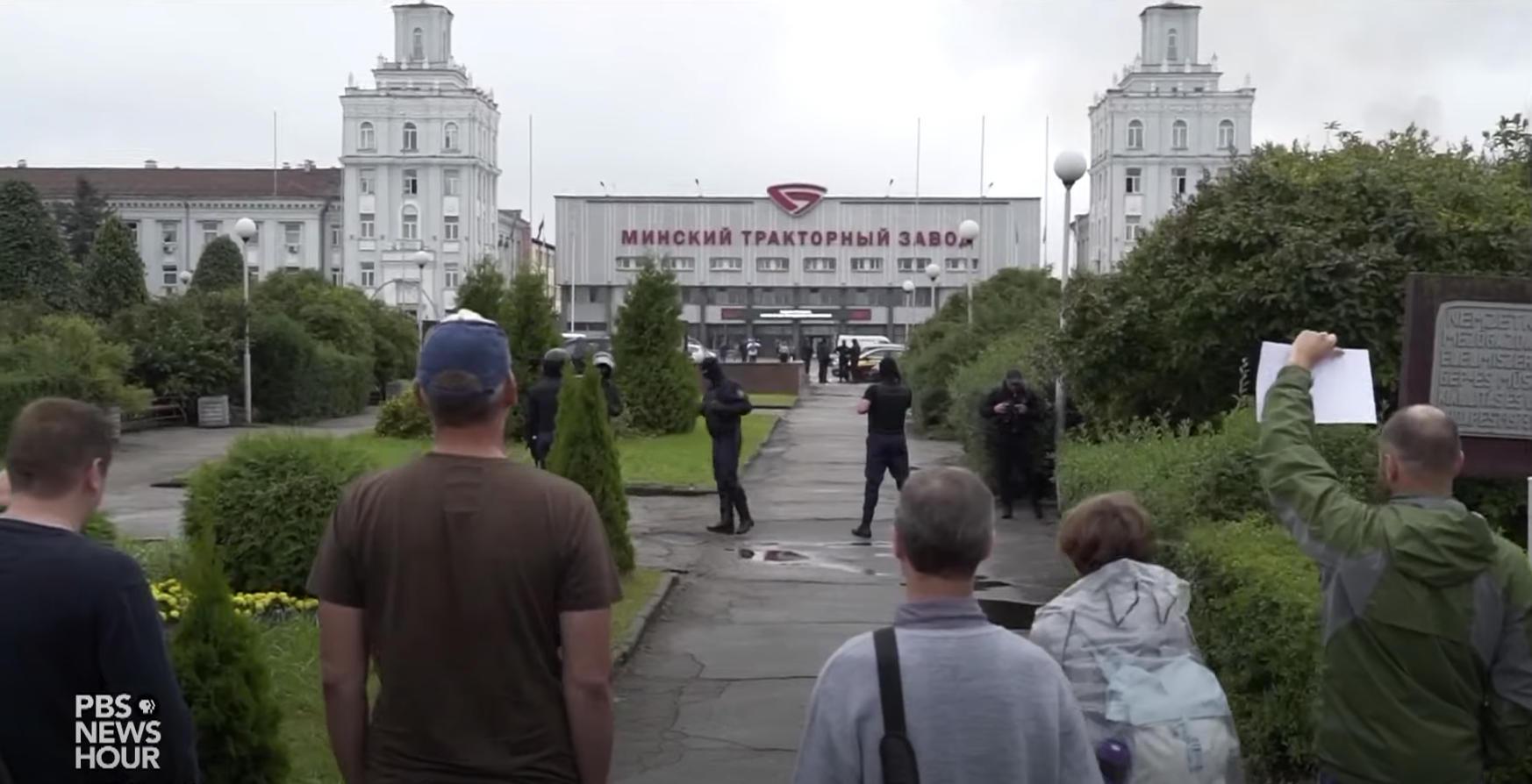 In Belarus, riot police dispersed protesters from the streets of Minsk Wednesday in a show of force, albeit a less brutal one than they were met with after last week's disputed presidential election. Exiled opposition leader Sviatlana Tsikhanouskaya is calling for a new vote—but the country's workers are divided over whether to strike in protest. Special correspondent Simon Ostrovsky reports.
Read the following transcript:
Stephanie Sy:
Riot police in Belarus dispersed protesters today off the streets of the capital, Minsk, in a show of force. But demonstrators weren't met with the same violence that propelled thousands into the streets last week after the disputed presidential election.
With the support of the Pulitzer Center, special correspondent Simon Ostrovsky reports.
Man (through translator):
Respected citizens, you are violating the regulations on mass assembly. Please cease your activities and disperse.
Man (through translator):
What activities? We're not allowed to stand up, or what?
Simon Ostrovsky:
As partial shutdowns at several large manufacturing plants across Belarus continue, Alexander Lukashenko renewed his crackdown on a protest movement that continues to threaten his rule.
Disputes between workers and management across the country continued to simmer in the aftermath of the contested August 9 presidential poll. Lukashenko claimed he won a less-than-credible 80 percent.
There's a tense standoff outside the main state-owned national theater in Minsk, because the culture minister recently fired the director over his support for the protests. Standoffs like this are taking place all across the country in the last few days.
The culture minister wants to talk to the actors about the theater's program for the upcoming 100th Jubilee season. But the theater's employees have something else on the agenda.
Man (through translator):
There has to be order in cultural institutions.
Man (through translator):
We can't work in a country where people are humiliated and beaten.
Simon Ostrovsky:
One by one, they lay their resignation letters at the minister's feet.
Men and Women (through translator):
Go away! Go away! Go away!
Simon Ostrovsky:
It looks like the upcoming season has been canceled.
Mikhail Zuy is one of the actors who resigned.
Mikhail Zuy (through translator):
I told the minister my kids were afraid of the police and wanted to know if they'd be taken away. My wife is too scared to fall asleep. So, this is the only way we could stand up for what we believe in.
Simon Ostrovsky:
I asked the culture minister if he supported the idea of holding a new presidential election in Belarus.
Man (through translator):
Everything must take place within the framework of the constitution of the Belarus republic and only within the legal parameters, because you are going to bring chaos to the country. We're heading in that direction by leaps and bounds.
Simon Ostrovsky:
The situation at this massive refrigerator factory in Minsk is an example of why things aren't exactly straightforward in Belarus right now. Protesters here are calling on the thousands of workers who work here to go on strike, but only a handful have actually downed tools.
Danil Shtykhnov (through translator):
We can tell that people support us, and we really want to support the people as well, and join the resistance against our country's regime, and stop feeding the riot police.
I was detained for two days myself. And I just don't want people to be hurt like they are being hurt in our country right now.
Simon Ostrovsky:
Vika Balutenko is among the majority of workers at this plant who have decided to continue working through the crisis, despite calls from protesters to help choke the regime of tax revenue.
Vika Balutenko (through translator):
This is my work time. We can't shut the factory down. This would be a terrible blow to the budget.
Man (through translator):
That's exactly what we want to happen.
Simon Ostrovsky:
The director of the factory, Dmitry Sokolovsky, stands outside the plant all day to oversee the arrival of workers coming to their shifts.
Dmitry Sokolovsky (through translator):
The factory is operating. I am categorically against halting production. If we don't produce goods now, then we won't be able to continue operating in the winter. My position is that enterprises should not get involved in politics.
Simon Ostrovsky:
It's a sentiment that Belarus' opposition certainly doesn't share.
Sviatlana Tsikhanouskaya is in exile in Lithuania and declared herself the winner of the presidential election and addressed an emergency European Union leadership meeting today.
Sviatlana Tsikhanouskaya:
I call on you not to recognize these fraudulent elections.
Simon Ostrovsky:
The E.U. complied, saying it would levy sanctions and made it clear it didn't want foreign interference in Belarus.
That's a warning shot at Russia. Despite recent tensions with Moscow, Lukashenko has discussed military support with Vladimir Putin. And Foreign Minister Sergei Lavrov picked up Lukashenko's charge today against the uprising, that it's the work of foreign powers.
Sergei Lavrov (through translator):
We are concerned with an attempt to use internal difficulties which Belarus is facing now in order to meddle in these events in this process from outside.
Simon Ostrovsky:
Tsikhanouskaya's representative in Minsk, Olga Kovalkova, said she expects the opposition candidate to return to the country imminently to take over from Lukashenko and organize new clean elections.
Olga Kovalkova (through translator):
It's clear that the acting president, Alexander Lukashenko, does not have the trust and support of society. And the people who are coming out into the streets are striking at manufacturers. They are ready to fight for their voices.
Alexander Lukashenko (through translator):
We definitely consider this as an attempt to seize power.
Simon Ostrovsky:
But Lukashenko has not shown signs of readiness for dialogue, instead lambasting the opposition as coup plotters on state TV and sending riot police back into the streets of Minsk.
And, today, his spokesman announced Lukashenko would be inaugurated again within two months.
For the "PBS NewsHour," I'm Simon Ostrovsky in Minsk.
RELATED ISSUES