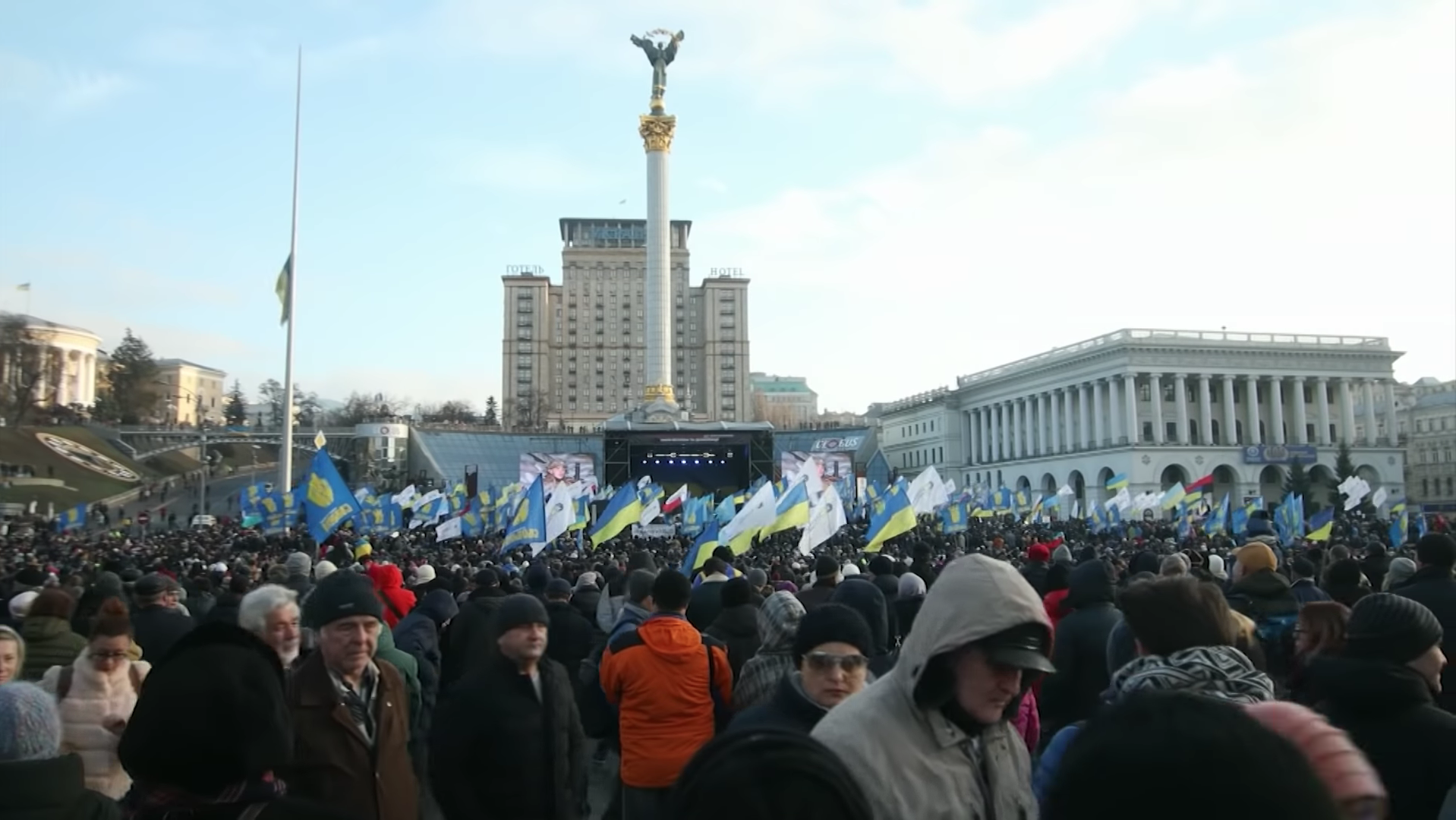 After nearly six years of war, the Ukrainian and Russian presidents are preparing to meet this week for the first time. The historic peace talks come as impeachment hearings continue in the U.S. Simon Ostrovsky reports from the frontlines of eastern Ukraine with a look ahead at the negotiations that could change the fate of those living in conflict. This report is supported by the Pulitzer Center.
Hari Sreenivasan:
Ukraine's nearly six-year old war with Russia has reached a stalemate.
In a major test of his diplomatic mettle, Ukraine's comedian-turned-president Volodymyr Zelenskiy will sit down with Russian President Vladimir Putin for the first time. Meanwhile, those in the conflict zone itself can only await the outcome.
NewsHour Weekend Special Correspondent Simon Ostrovsky visited them this week and has our report, produced with support from the Pulitzer Center.
Simon Ostrovsky:
This is how the battle lines in the war in Ukraine are being redrawn ahead of peace talks between Moscow and Kyiv, tomorrow. These trenches are freshly dug and there is a reason for that. They're part of a set of confidence building measures that both sides have been enacting ahead of the peace talks. It might sound strange that making new trenches is a confidence building measure, but the idea is, is that both sides are abandoning old trenches that were very close to each other and now they're moving further apart to de-escalate hostilities.
Simon Ostrovsky:
These new fortifications are part of an effort championed by Ukraine's President Volodymyr Zelensky to tamp down hostilities in a conflict that has not only taken more than 13,000 lives, but has become the focus of a domestic, American political fight.
Simon Ostrovsky:
The background is this: In 2014 Russia invaded Ukraine's Crimea Peninsula without much resistance and declared it a part of Russia. Then together with local seperatist forces it began to battle Ukrainian troops for control over a large chunk of eastern Ukraine. That fight continues in this area to this day.
Simon Ostrovsky:
Since the start of the war, America has assisted Ukraine in its battle with its much more powerful neighbor. But this summer – as an array of American diplomats and Trump associates pressured Ukraine to open an investigation into the son of Trump's political rival Joe Biden, the White House considered withholding its military aid.
Simon Ostrovsky:
The commander at this new position told Newshour Weekend how he felt when he heard that his country's main military ally could withdraw its support.
Oleh:
Our men were saddened by this, it's bad news. Especially since we participated in joint exercises with Canadian and American instructors last spring and there was this spirit of brotherhood with them.
Simon Ostrovsky:
So do you think that it influences Zelensky's position in the negotiations with Putin, the fact that now the Russians know that American assistance isn't guaranteed one hundred percent?
Oleh:
I'm no diplomat so I can't say but it certainly doesn't strengthen our hand.
Simon Ostrovsky:
The peace talks, which are to be held in Paris will feature Zelensky's first ever face-to-face meeting with Russian President Vladimir Putin, whose spokesman lowered expectations for the summit earlier this week saying he didn't expect it to result in an agreement.
Dmitry Peskov:
It's obvious that there will be no agreement and no one expects any agreement.
Simon Ostrovsky:
The Ukrainian officer has low expectations as well.
Oleh:
Since the start of this conflict, there have been so many negotiations with Russia, I don't feel that something will come out of it. I hope something good will come of it, but I don't have any illusions. We don't trust the other side at all because this isn't the first ceasefire, and I can't recall an instance where a ceasefire ended in peace.
Simon Ostrovsky:
Besides an end to hostilities, Ukrainian officials have said they want a prisoner exchange and crucially, their territories returned. But Ukraine's faltering relationship with the United States is making those goals harder to achieve, as several career US diplomats pointed out during the impeachment hearings currently roiling Washington.
William Taylor:
Part of the ability of the Ukrainians to negotiate against the Russians with the Russians for an end to the war in Donbass depends on the United States and other international support. If we withdraw, or suspend, or threaten to withdraw our security assistance, that's a message to the Ukrainians, but it's at least as important, as your question indicates Mr. Chairman, to the Russians who are looking for any sign of weakness or any sign that we are withdrawing our support for Ukraine.
Simon Ostrovsky:
Ukrainian Inna Rudyuk's home was once on the Ukrainian side of the frontline. Now her village has ended up in one of the newly established demilitarized zones, hemmed in between Ukrainian troops and Russia-aligned forces. The outcome of the talks is a matter of life and death for her town. She was concerned when she saw Ukrainian troops pull back from their forward positions a few weeks ago.
Inna Rudyuk:
Personally I was worried. I was afraid, our defenders were pulling out so I was uneasy. The most important thing is that it's quiet and there's no shooting. We hope it stays that way, that the peace talks are enforced and result in something.
Simon Ostrovsky:
Although the fighting has quieted in recent months, the war is far from over. Since July 18th when it became known throughout the Trump Administration that the President had ordered a halt on military aid, at least 46 Ukrainian soldiers have died. And although aid was reinstated after congress opened its investigation, the political damage to the US-Ukraine alliance had already been done.
Simon Ostrovsky:
On the other side of this bridge are areas occupied by Russia and its seperatist proxies known as the "Luhansk People's Republic." Like many Western journalists, I'm not allowed to go on the other side. But I've come to this crossing point today to speak with people living under the occupation to find out what their hopes are for the talks between Volodymyr Zelensky and Vladimir Putin.
Simon Ostrovsky:
This crossing is located in another currently demilitarized zone, and the bridge, which was opened last month, is another confidence building measure enacted ahead of negotiations. If both sides are able to respect a ceasefire here and in two other locations, there are plans to extend the neutral zone along most of the 250-mile long frontline.
Woman:
We want to be back in Ukraine, what is there to say? Everyone wants peace and quiet. We are not enemies.
Man:
Federalization. That means in Ukraine but with self-rule.
Simon Ostrovsky:
Life is difficult in the self-declared "people's republic." It's a military-run area where leaders are appointed, not elected. Since Russia established seperatist entities in the occupied territories it has introduced the Russian currency, the ruble, blocked Ukrainian language broadcasts, and quashed any form of dissent. Ukraine still considers the population there to be its own citizens. In order for them to receive social security payments and pensions they must cross through the demilitarized zone on foot and stand in long lines like this one. Of all the people I spoke with only this man told us he wanted to see the occupied territories remain outside of Ukrainian jurisdiction permanently.
Man:
Who the hell wants to walk back and forth like this with bad legs? I should be able to get my pension at home. We want to separate and that's it. We can't live together anymore.
Simon Ostrovsky:
Because reprisals are a fact of life in a conflict zone, only a few people agreed to speak on camera.
Woman:
I'm hoping that the Donbass returns to Ukraine. I liked living in Ukraine. I don't like it in Luhansk. There's food and everything, but it's not like it used to be before the war. I don't like the way they treat people. Let's be honest, things were much better under Ukraine.
Simon Ostrovsky:
Ukraine's President won an election earlier this year on a platform of ending the war and has made it his administration's top priority.
Woman:
We need peace!
Zelensky:
We're working on it.
Woman:
We want a peaceful life.
Simon Ostrovsky:
Zelensky, a former TV star, took to social media this week in a video filmed on a treadmill touting the mere fact that talks were taking place.
Volodymyr Zelensky:
This meeting is already a victory for us.
Simon Ostrovsky:
But with approval ratings slipping, some observers worry his enthusiasm for results means he's willing to recognize Russia's claims to territory in exchange for peace, something he's repeatedly denied. At the end of the day, the cards are in this man's hands. After all, it's men loyal to him that Ukraine has been unable to push off of its territory in nearly six years of war. Has he tired of shedding blood on the other side of his southern border? So far, he's kept quiet on that question.
RELATED ISSUES
RELATED INITIATIVES