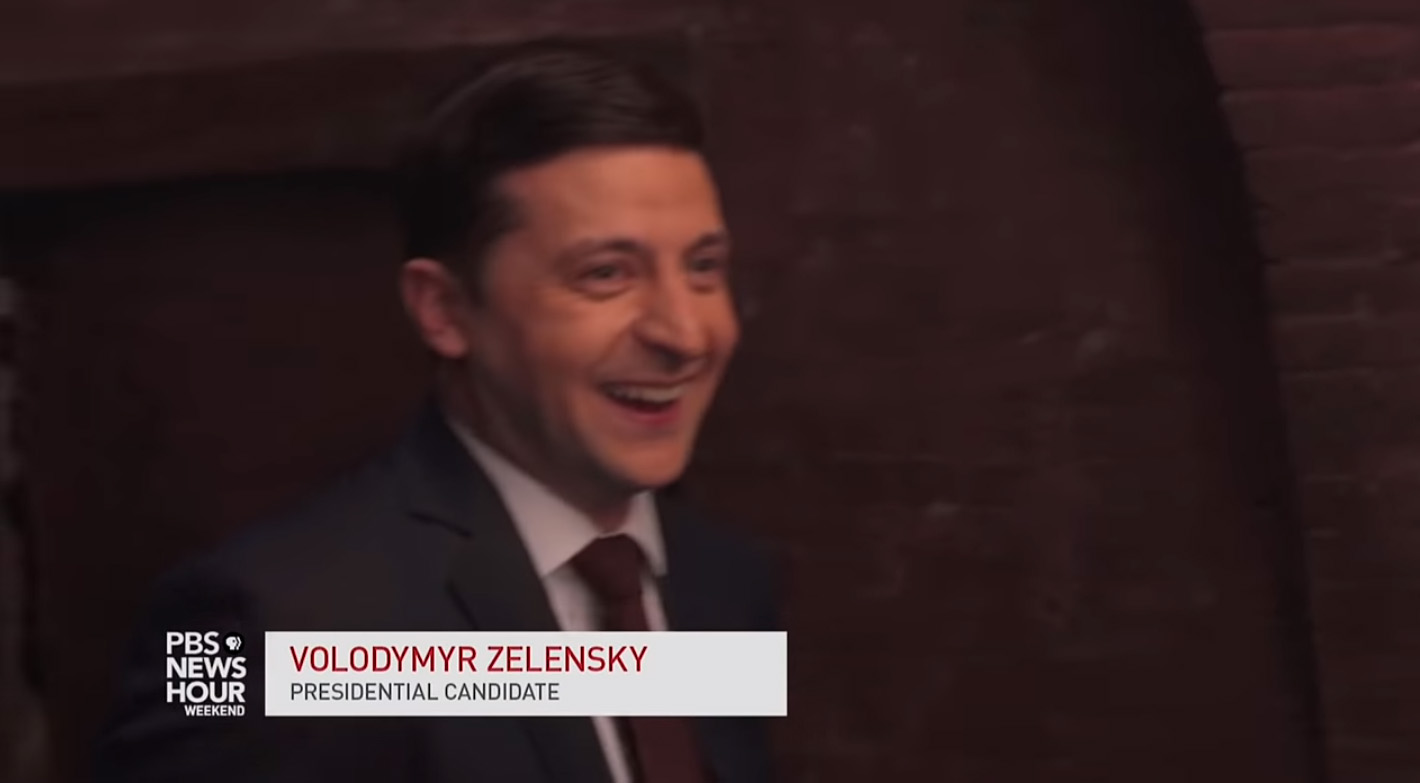 Ukrainians are heading to the polls Sunday to select their next president. But in a tight race that has consumed a country after years of war with Russia, one candidate, a political newcomer known for parodying government corruption as an actor, has pundits worrying about his potential leadership. NewsHour Weekend Special Correspondent Simon Ostrovsky reports with support from the Pulitzer Center.
Read the Full Transcript
Hari Sreenivasan:
Ukraine has been in tumult since 2014, locked in a territorial war with Russia, and rocked by corruption allegations within its own government.
Its citizens are voting tomorrow in a tight three way presidential race that is likely to result in a two-person run-off next month. While there's nothing extraordinary about that …what is unusual is the candidate who is leading in the polls.
NewsHour Weekend Special Correspondent Simon Ostrovsky filed this report from Ukraine. It was supported by a grant from the Pulitzer Center.
Man:
Let's rehearse.
Woman:
Rehearsal. Ready everyone. Silence on the set…
Simon Ostrovsky:
Could this man be Ukraine's next president? Meet Volodymyr Zelensky. Actor, comedian, and heading into tomorrow's election, the most popular candidate in the polls.
Here he is filming his hit TV show "Servant of the People" in which he plays – you guessed it – the President of Ukraine. Zelensky's character starts out as an ordinary history teacher
Zelensky playing Vasily Holoborodko: What's going on here? Everyone, calm. Everyone! Sit down.
Simon Ostrovsky:
But he accidentally wins the presidential election after his angry rant about government corruption gets uploaded by a pupil and goes viral.
Zelensky playing Vasily Holoborodko: Hello.
Prime Minister:
Vasily Petrovich Holoborodko?
Zelensky playing Vasily Holoborodko:
Yes.
Prime Minister:
Good Morning, Mr. President.
Simon Ostrovsky:
Now, not only is he running to be the real thing, he's named his political party "Servant of the People" as well. It's as if Martin Sheen ran for president and registered a party called "The West Wing."
Like his character, Zelensky is mostly waging his campaign online, and avoiding debates with his opponents. It's a departure from the methods of the party bosses and oligarchs that have run this country since independence from the Soviet Union.
Volodymyr Zelensky [talking into smartphone]: I'm taking a swing at the elites and running for president so they're calling me a clown. I am a clown and I'm very proud of it.
Simon Ostrovsky:
A candidacy like Zelensky's would have been unimaginable just five years ago. Then, an anti-corruption protest turned into a revolution that led to the election of a former government minister and powerful oligarch, Petro Poroshenko. Poroshenko now faces corruption allegations of his own.
Cut back to the fictional president. He's about to take the oath of office when he has a vision: the philosopher Plato and other historical figures are giving this inexperienced everyman advice on how to run a country.
Plato:
Power is the art of management.
Simon Ostrovsky:
It's a little on the nose for a candidate whose critics say lack of political experience is his biggest weakness.
The scene you're filming today makes me think that maybe you're worried that you actually might become president.
Volodymyr Zelensky, Presidential Candidate (translated from Ukrainian):
No. I'm not worried. Why shouldn't I win? I will.
Simon Ostrovsky:
To many, the prospect of a political novice in the presidency is no laughing matter.
You're an actor with no political experience, your country is at war with Russia. Vladimir Putin, 20 years at the helm. How are you going to deal with Vladimir Putin?
Volodymyr Zelensky:
First of all, we will do everything to make sure that Vladimir Putin never ends up at the helm of our country. The main problem in our relationship with Russia is the war. No one has a real answer, how to stop Putin. All we can do is continue talks to achieve a ceasefire.
Simon Ostrovsky:
Achieve a ceasefire and rely on assistance from ukraine's allies in the West. In that, his platform doesn't differ from those of the other main candidates, and the polling is close.
Until recently, it was supposed to be a two-person battle between the current president and Yulia Tymoshenko, whose candidacy represents a remarkable comeback.
Woman (in Ukrainian):
Yulia is our president!
Simon Ostrovsky:
Before the 2014 revolution she served as prime minister. But in 2011, she was imprisoned under Ukraine's pro-Russia President Viktor Yanukovych on charges of exceeding her authority in signing a gas supply deal with Russia. She says the charges were politically motivated.
Crowd:
Tymoshenko! Tymoshenko!
Simon Ostrovsky:
But her message to Ukrainian voters doesn't focus on the past president. It focuses on the alleged corruption of the current president, Poroshenko .
His associates were recently accused of overcharging the government to the tune of tens of millions of dollars worth of military equipment and pocketing the proceeds. Under the alleged scheme, a former director of a Poroshenko-owned company was put in a government position that allowed him to approve purchases of components for military equipment. His son then created an intermediary company which sold the parts to state-owned defense manufacturers at sometimes quadruple their market value. Some of the parts were reportedly defective.
Yulia Tymoshenko, Presidential Candidate:
The kickbacks, the laundering and most importantly, the damage to our defense capability – have all been documented. The whole world is shocked and scandalized!
Poroshenko refused a Newshour Weekend interview request. He responded to the scandal by firing the official implicated and promised a transparent investigation.
President Petro Poroshenko, Ukraine, March 4 (translated from Ukrainian): If guilt is proven, neither your position, your connections, your last name nor even your old friendship with the president will save you.
Simon Ostrovsky:
So where does the United States stand on the Ukrainian election? U.S. Special Envoy Kurt Volker insists Washington isn't backing a candidate to win. He does, though, point out who Russia would like to see lose.
Kurt Volker, U.S. Special Representative for Ukraine, March 18: I think it is true – in fact, it's not only true, it's something that Russia itself has said – that they want to see Poroshenko defeated, and that's simply a fact. I think that there has just been a development of personal animosity between President Putin and President Poroshenko, and so he's just looking for a change.
Simon Ostrovsky:
And the change candidate in this election cycle is represented by the newcomer: Zelensky. When he's not getting advice from Plato he's talking to informal advisors like Serhiy Leshchenko, a former investigative journalist turned reformist lawmaker. He says Zelensky's inexperience is his greatest asset.
Serhiy Leshchenko:
This is not a black and white situation when his lack of experience is a problem. People wait [for] him to behave as his protagonist in the movie and if he behaves as his protagonist he can be successful as a president.
Simon Ostrovsky:
In the TV show, Zelensky's protagonist takes on Ukraine's notoriously powerful coterie of oligarchs.
Zelensky playing Vasily Holoborodko: Instead of serving the people, you're serving the oligarchs!
Simon Ostrovsky:
But real life is a little different. "Servant of the People" is broadcast on a channel owned by Ihor Kolomoyskyi, one of the country's most influential oligarchs.
Your TV show appears on a channel owned by one of the oligarchs running Ukraine. Can you really pretend to voters that you're as independent as your character is in the show?
Volodymyr Zelensky:
There is not a single TV channel that doesn't belong to one oligarchic group or another. But the channel doesn't even have exclusive use of my face.
Simon Ostrovsky:
Zelensky's character in "Servant of the People" faces a choice just as he's about to take the oath of office. His choices are to rule either through trickery and deceit – or – take the path of honesty and decency. The campaign is banking on Ukraine's people believing the real Zelensky will choose option two.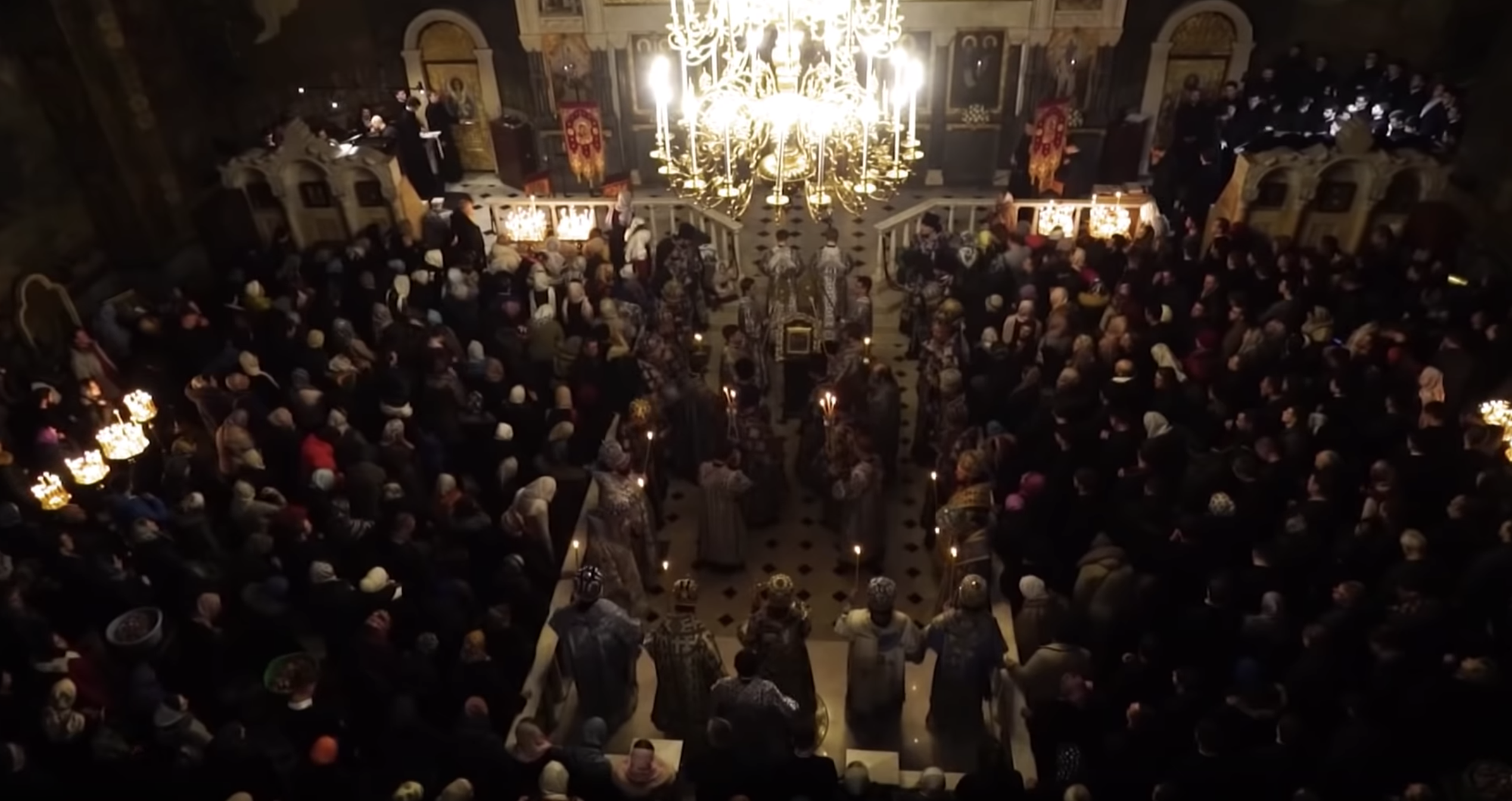 Simon Ostrovsky of PBS NewsHour Weekend talks about being one of the few foreign reporters to speak...
RELATED ISSUES
RELATED INITIATIVES