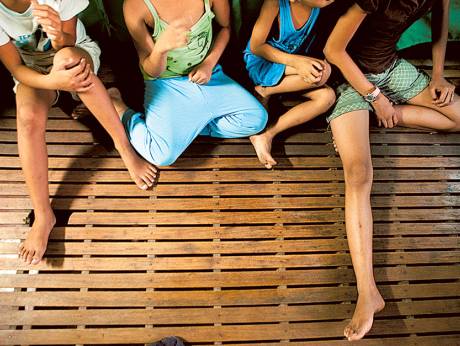 Maryknoll Gunio was old enough to remember when her mother left to work in Malaysia and old enough to heed her mother's instructions to take care of her younger brothers and father. "I get up at 5.35 every morning to cook. Then I wake up my brothers, feed them and bathe them before school starts at 7.30am," said the 15-year-old, the responsibility evident on her frail shoulders.

In the evening, it's the same routine, with the addition of cleaning the house and washing clothes. "I get so tired. When I put my brothers to sleep, I fall asleep, too," said Maryknoll.

On some days, she is too tired to go to school and stays home where there are enough chores to keep her busy. "The girls in the family take on a lot of the responsibility," said Mai Añonuevo, executive director of Atikha, an NGO that helps migrant families with financial planning.

"It doesn't matter if the girl is the eldest or the youngest in the family. As the girl, it is her who will be expected to care for the family and manage the home — to take on the responsibilities of the mother," added Añonuevo.

In the 1970s, when the Philippines began a labour migration policy to address the growing unemployment in the country, it was the Filipino men who packed their bags and set off for the Middle East. The women stayed behind and held the family together, acting as both father and mother.

In the 1990s, the labour market demands changed. The demographic winter of developed countries called for more caregivers and the increasing number of women entering the workforce needed nannies to look after their children. The tides of labour migration changed, carrying over women to fill in vacancies in child and elderly care.

Boys are not immune to feeling the absence of their mother. Mark Gitlong, 16, has already planned to study Hotel Restaurant Management when he finishes high school. This way, he can get a job in Dubai to be with his mother who works as a nanny. "I miss her. Even those times when she shouts at me and gets mad at me for not doing what she says — I especially miss those times," said Mark.

There are no hard statistics on the number of children orphaned by migration. Employment applications do not require stating the number of children and even if they did, updating of information is sporadic and irregular.

However, non-government agencies estimate that there are more than 9 million Filipino children who have one or both parents working abroad as labour migrants.

RELATED ISSUES

Issue
Migration and Refugees
Migration and Refugees

Women