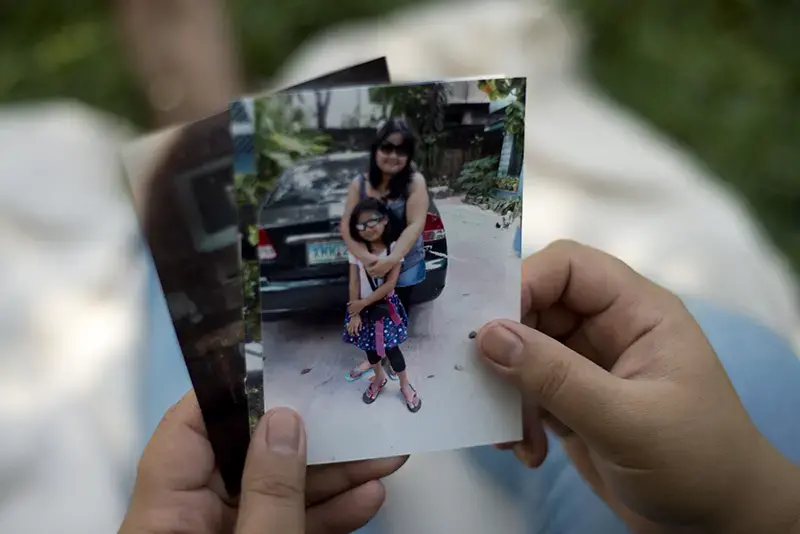 Loraine has left her daughter, Mai-Mai, in the care of her aunt and uncle. Mai-Mai thinks of them as her parents and Loraine as her big sister. Image by Jo Kearney. U.A.E., 2014.


At the park inside the gated community lined with sprawling villas, a group of small children gathered around for cake and ice cream. In as much unison as could be expected of toddlers and young children, they cheerfully sang, "Happy birthday!" to Mai-Mai who is turning seven years old.

None of the children had ever met Mai-Mai, the birthday celebrant who lives in the Philippines, but they did know her mother, Loraine Sumalinog.

Loraine is somewhat of a mother to these children, too. She is one of the Filipino nannies in the village and among the estimated 100,000 Filipino household service workers who work in Dubai.

"I wanted Mai-Mai to know that I am thinking of her and celebrating her birthday, too, even if I can't be there with her," explained Loraine, who videoed the celebrations and later played it for Mai-Mai during a Skype session. "They say that the seventh birthday is an important one," Loraine added.

Mai-Mai's seventh birthday is just one of the many birthdays that Loraine has missed working as a nanny overseas.

Teenage mother

At 15, Loraine escaped what she describes as an oppressive, loveless and painfully destitute family life the only way she knew how—she moved in with her then-boyfriend.

Things moved hard and fast when at 17, Loraine got pregnant and began experiencing physical abuse. Too proud to go back to her parents, she borrowed money to seek the help of a "recruiter" who falsified her papers and found her work as a nanny in Jordan.

Mai-Mai was just two-years-old when Loraine left her in the care of her uncle and his wife.

Now, Loraine is a 26-year-old single mother who supports Mai-Mai on her own. Since she left the Philippines to work overseas seven years ago, she has seen Mai-Mai only twice.

The first time, Mai-Mai was about four-years-old and saw Loraine as a stranger.

"It was very painful, like she did not know me. She did not want to sleep beside me and thought my uncle and his wife were her parents."

It made her think twice about leaving her child. Loraine tried to look for work in the Philippines, but with no college degree, her options were limited—and so was her earning capacity.

It made no economic sense to stay so Loraine left again, this time for Dubai where she has been working as a nanny for the last four years.

Playing mother

Most OFWs view emigration as a stopgap measure and think of their employment contract (usually two to three years) as a timeline to save up enough money to send their children to school.

What is supposed to be a temporary measure usually becomes a cycle of migration—OFWs come back to the Philippines when a labor contract ends and then leave again. Where does not usually matter, the OFW will go wherever the jobs are and where the money is.

A study on OFW migration trends over the years point to "limited wage-competitive opportunities" in the Philippines as a harsh reality that makes coming home and staying less appealing.

As a nanny in Dubai, Loraine makes the equivalent of about Php 22,000 or USD $500 a month—twice the amount she would be making in the Philippines working a minimum wage job. She counts her free board and lodging as the perks of her job. "My salary is just for me and whatever I want to buy for Mai-Mai." A portion of it also goes to her uncle and his family, for taking care of Mai-Mai.

It is also more than the $400 a month minimum salary that the Philippine government has tried to lobby the UAE for household domestic workers. As it stands, it is a wish more than a diplomatic negotiation between two governments.

As Michael Barney Almazar, a lawyer who works with the Philippine Consulate in Dubai puts it, "The absence of minimum wage laws and with domestic helpers not being covered by UAE Labor Laws, the Philippine government can do little to enforce the $400 minimum monthly wage."

Since the state-sponsored labor migration began in the '70s, the Philippines has become one of the top labor exporters in the world. The Gulf countries continue to be the top destination for OFWs, with more than 900,000 Filipinos working in the UAE. The labor export market was once a man's world; men were deployed to work in oil rigs and construction sites. Now, more and more Filipino women are leaving the country to fill the vacancies for nannies, adult caregivers, nurses and, in a country like the UAE, lady drivers.

Loraine considers herself lucky with her job and her working conditions. With her earnings, she has been able to buy Mai-Mai a tablet and secure the family's Internet connection. Technology has made it easier for mother and daughter to stay in touch usually through Skype and Facebook.

"It's still not the same," said Loraine. "In the mornings, when I prepare my wards for school, I make sure everything is in order: their hair, their clothes, their snacks. I think of Mai-Mai and wonder who does this for her? Are they doing it like I would if I were there?"

Even in moments of wistfulness and longing, Loraine is careful not to delude herself. In Dubai, she is merely playing mother to her wards. But she is mother only on paper to her child in the Philippines.

One of her wards whom she started taking care of as a child, just entered the "tween" years and has become distant and cold towards her. The other eight-year-old is following the same path. The youngest, a three-year-old dotes on her and adores her, but Loraine knows it won't be long before he too will grow up and yearn for his own mother.

"When Mai-Mai goes through that (teen) stage, who will she turn to then?" voicing out her deepest fear that Mai-Mai would feel the same hollowness she did many years ago and will look for a love she did not feel at home in a boyfriend.

"Sometimes I feel like Mai-Mai only sees me as someone who can send her money and buy her things. But that's my fault isn't it? That's the price I have to pay for leaving her?" Loraine asks, already knowing the answer.
RELATED ISSUES

Issue
Migration and Refugees
Migration and Refugees

Women