Stepping into the sleek Crane Chinatown Community Center in Philadelphia on June 21, I was both excited and nervous to observe an in-person event as a reporter for the first time since the onset of the COVID-19 pandemic. 
The occasion? Philly Solidarity, a grassroots group of organizers founded with the mission of amplifying Asian American and Pacific Islander (AAPI) voices, was co-presenting a workshop entitled "Safe and Strong" designed to teach participants how to use pepper spray correctly for self-defense purposes.
I headed up to the second-floor meeting room where the workshop was taking place and took a seat among the event's organizers and attendees. The crowd was a small, tight-knit one; there were around 16 people in the room at the event's peak, nine of whom were affiliated with the event's organizers.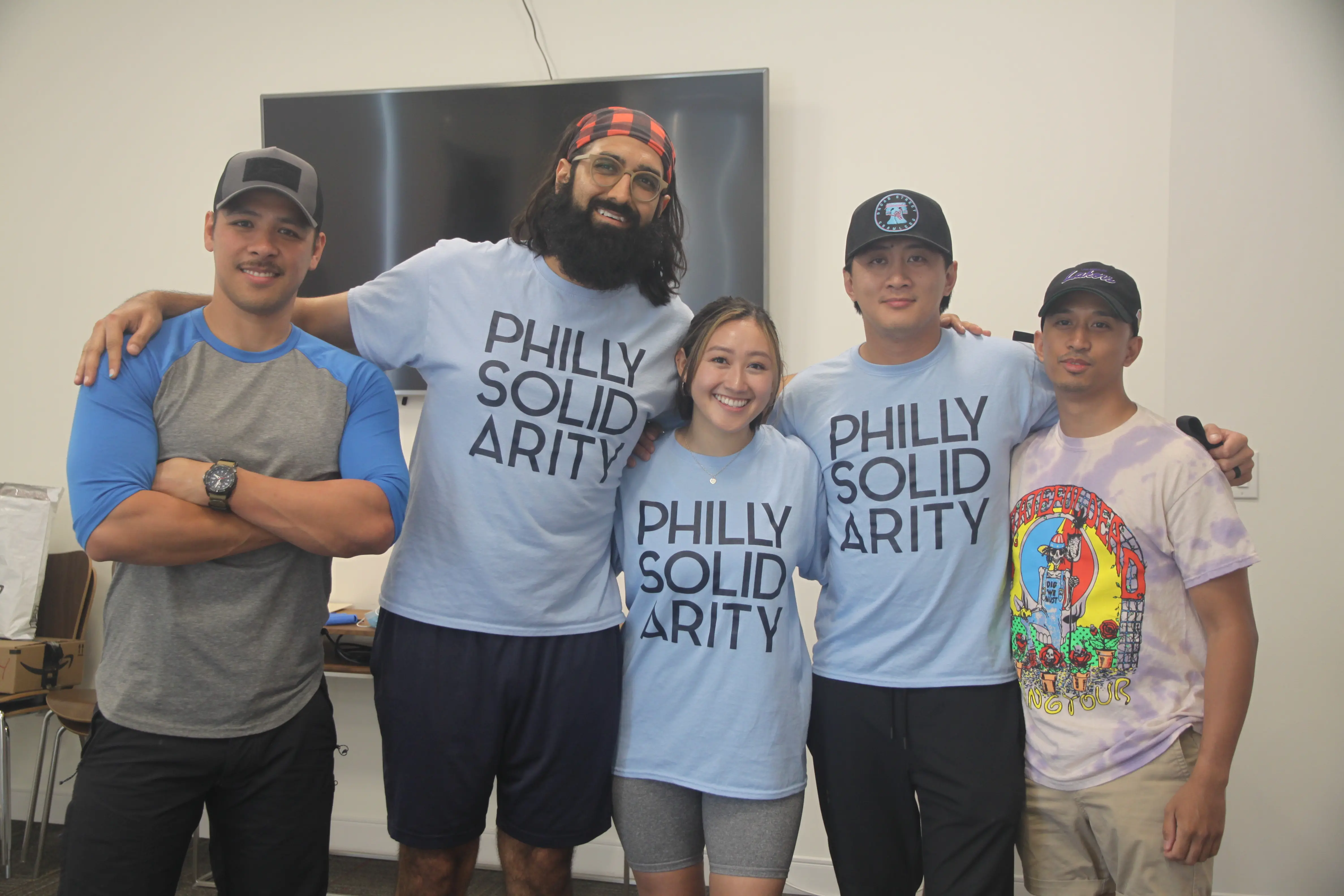 The workshop kicked off with an introduction to how the event came about, followed by a crash course in the mechanics of using pepper spray, and concluded with a hands-on segment during which attendees were allowed to handle a test pepper spray can filled with water and encouraged to practice spraying at a target on the wall. 
The first part of the workshop was facilitated by two of its organizers, who encouraged everyone in the room to introduce themselves and share with the group why they came.
Esther Castillo, a sociologist, educator, and project manager with the Chinese Immigrant Family Wellness initiative—a program of the Philadelphia Chinatown Development Corporation (PCDC), which co-presented the workshop—began by introducing herself. She served as her own interpreter, delivering information in both English and Cantonese after checking to see if any participants preferred Mandarin.
Castillo shared some findings from a survey on anti-Asian racism that she and PCDC helped facilitate. One in seven respondents to the survey said that they'd personally experienced an anti-Asian racism incident. 
Sharlene Cubelo, an organizer with Philly Solidarity, thanked attendees for coming. She acknowledged the March shootings in Atlanta of eight people, six of whom were women of Asian descent, and recognized that the shootings may have encouraged attendees to come.
Cubelo also noted that most people in the room were women, and that Asian women are often seen as weak. "You guys being here today already stomps on that false stigma," she said.
Cubelo, a survivor of an abusive relationship, also reminded attendees that they should not feel guilty for the circumstances that led them to be curious about self-defense techniques.
"Whatever choice that you make... you are never to blame for violence," she said. She repeated the sentiment no fewer than three times during the workshop.
The second part of the workshop was led by Tam Dang, who, as a current member of the military, had experience with instructional efforts within the military—he'd undergone being pepper sprayed to prepare himself for those efforts. The husband of Philly Solidarity organizer Raquel Villanueva, Dang got involved with the event after the group approached him about conducting a self-defense workshop.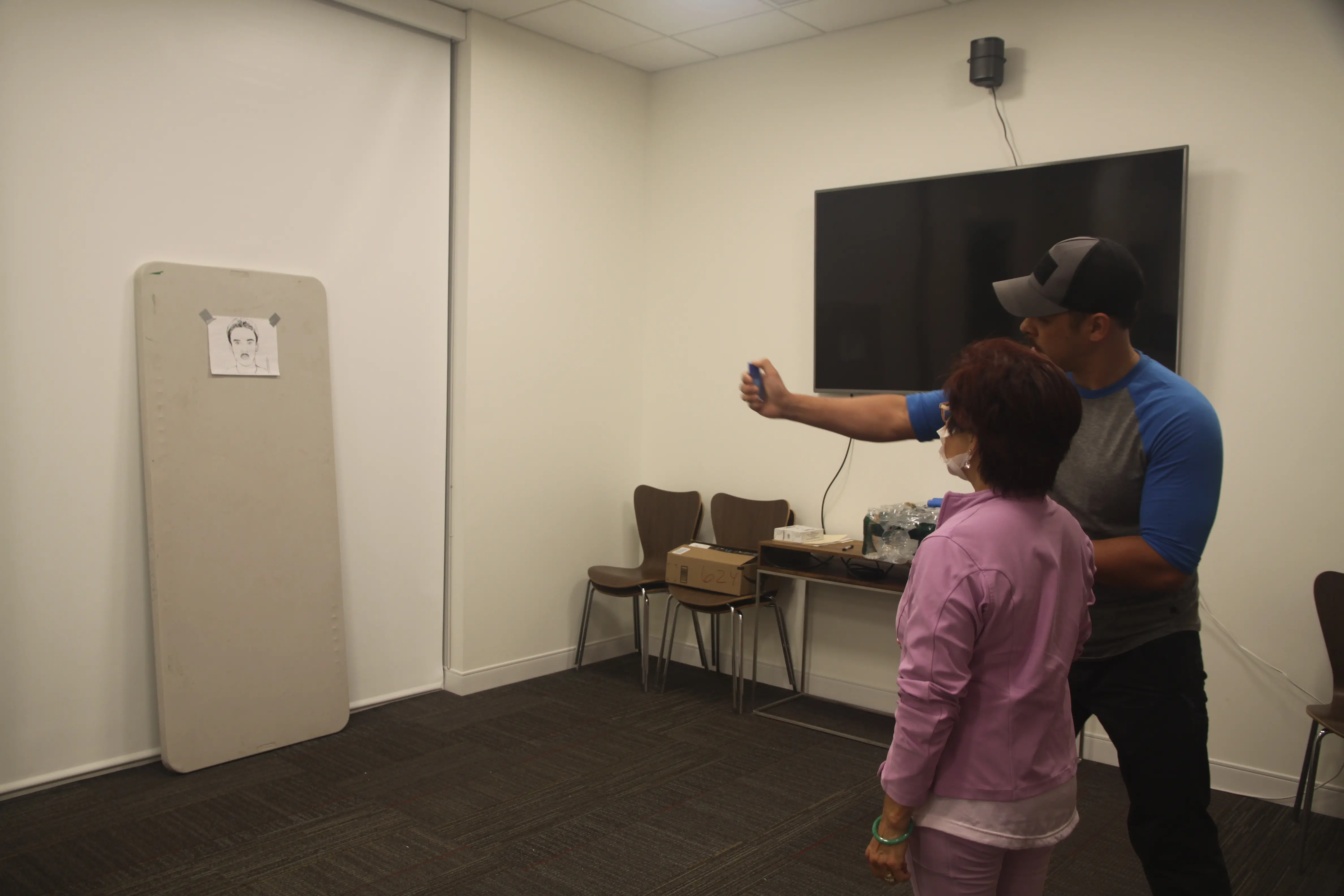 Dang kicked off his segment by giving us a rundown of the four different kinds of pepper spray: gas, fog, foam, and stream. He told us that the pepper spray cans that would be available for us to take home after the workshop would be of the stream variety.
Next, Dang moved on to counseling us on some considerations to keep in mind when getting ready to use pepper spray: Don't attach the spray to your keychain, because then it's difficult to reach; don't wrap your thumb around the spray, but instead hold the spray with a fist and keep your thumb free so you can activate the spray more quickly; and don't use the pepper spray unless you're physically harmed or there's a show of force from someone else, because then you'd be making yourself the aggressor in the situation.
More of Dang's recommendations: Do stand up straight and be alert, because your stance can deter potential perpetrators from attacking you. (Maybe even hold the spray in your hand as you walk down the street if you're worried.) Do move the spray in a T shape when you use it, because then the capsaicin in the spray—which makes someone's skin sting—can still get into an attacker's nose or ears if they close their eyes. And do be aware of how much pepper spray you have left in your device: especially in a moment of fear, you don't want to try to use an empty pepper spray can.
Though the content discussed during the workshop was serious, jokes and laughs abounded. After Dang wrapped up his instruction, each participant was offered a chance to use a pepper spray can filled with water to spray a piece of paper with a face drawn on it from a short distance. As each participant finished taking their turn spraying the paper dummy, other people in the room clapped for them.
After the workshop ended, I stuck around to chat with one of the participants: Shirley Guan, a woman who asked Dang multiple questions during the workshop about the legal aspects of using pepper spray. I was curious about what Guan gained from the event, if anything, and what had inspired her to attend it.
"We need to learn how to protect ourselves in America," Guan told me in Mandarin. "Asian people often don't speak up because they feel like it's useless."  
A small business owner who lives in Northeast Philly, Guan previously bought a gun for self-defense purposes. She came to the workshop because she was curious about the legality of certain forms of self-defense. Previously, when she'd asked police whether she could pull out her gun to scare someone, they told her no.
Guan, who learned about PCDC from WeChat, began attending its virtual events after the COVID-19 pandemic reached the United States in full force in March 2020. "PCDC has given me a lot of knowledge," Guan said.
"More Chinese people should learn what was taught here," Guan said. "In China, you just yell 'help', or run away."
When I asked Guan if she feared for her safety more or less after the pandemic started, she responded "chàbùduō" (差不多)—"more or less the same." 
Though the workshop had ended, the organizers' work for the day wasn't done. In the evening, they hosted another Safe and Strong workshop. The organizers intended to host the event outdoors, in a plaza rich with historical meaning outside the Community Center, but the threat of rain forced them back indoors.
In an interview a few days before the workshops, Villanueva had told me that Philly Solidarity planned to host the event in a public gathering space so they could make themselves visible to community members passing by.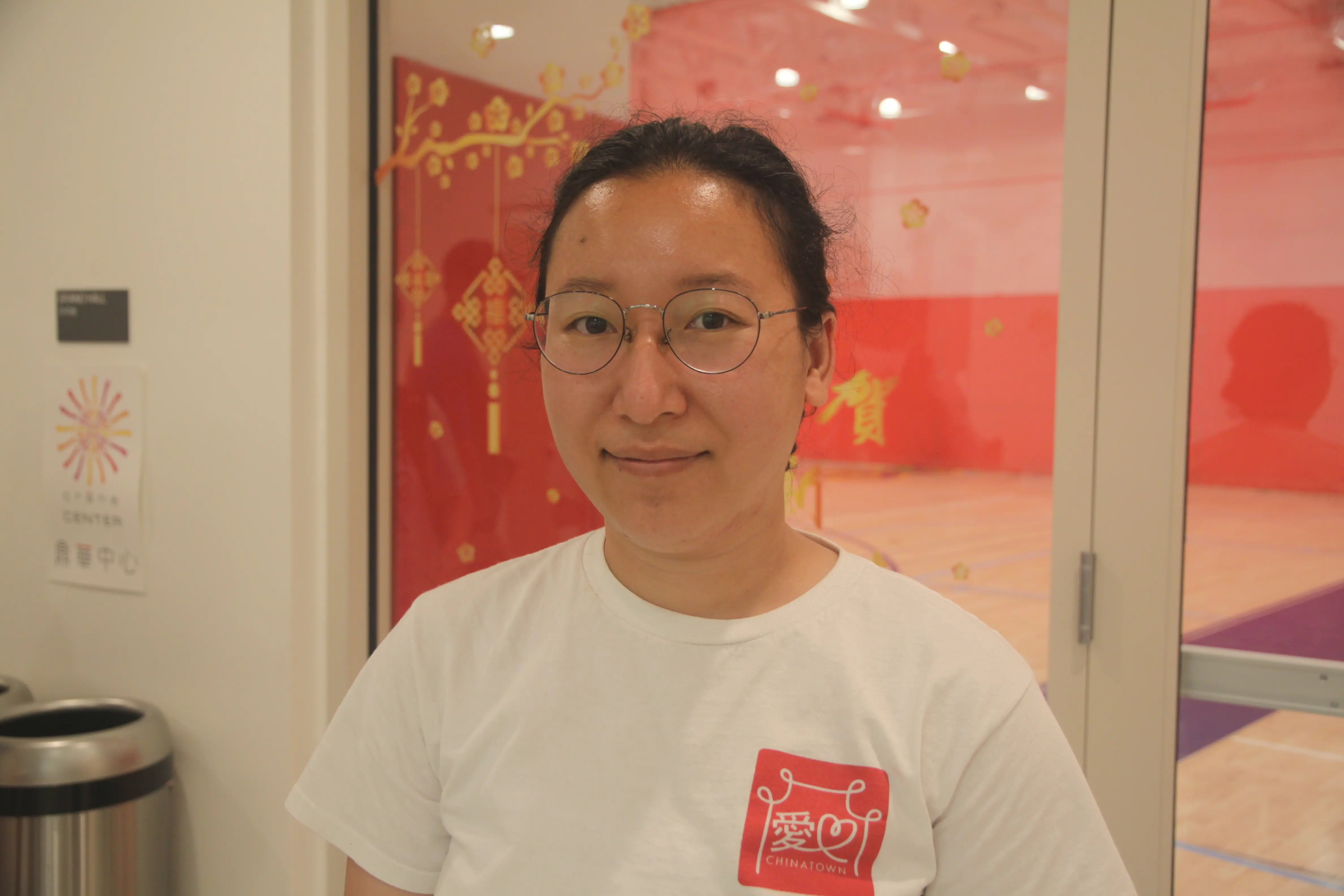 If you imagine the act of defending yourself by using pepper spray, you might have a visceral reaction or conjure up feelings of adrenaline in your head. Before I attended the event, I certainly thought that way. 
I also expected, given the nature of self-defense, that an environment of tension would permeate the event space. I feared that during the event, people might make the most of an opportunity to release their pent-up aggression via pepper spray, and in the process, conclude that self-defense tactics were a silver bullet solution to the problem that is anti-Asian racism.
That couldn't be farther from the truth. The organizers had put much care into the planning of the event and made clear that the workshop was about psychological ties between people as much as it was about physical methods to protect yourself.
"The pepper spray is important, but to use that confidently, we need community," Villanueva said to the room when she introduced herself.
Dang harbored no illusions about the impact of teaching participants the skill of pepper-spraying someone with the correct technique. "There is no good opportunity to use pepper spray," he mentioned during his workshop segment.
At the beginning of the event, Cubelo had told the participants that their choice to show up helped to fight the false notion that some people have of Asian women as weak. After attending Philly Solidarity's two workshops, I realized that doing so taught me to fight some preconceived false notions of my own. Workshop participants and organizers weren't just interested in easy solutions. And self-defense and community healing are, in fact, not mutually exclusive.
RELATED ISSUES

COVID-19

Racial Justice