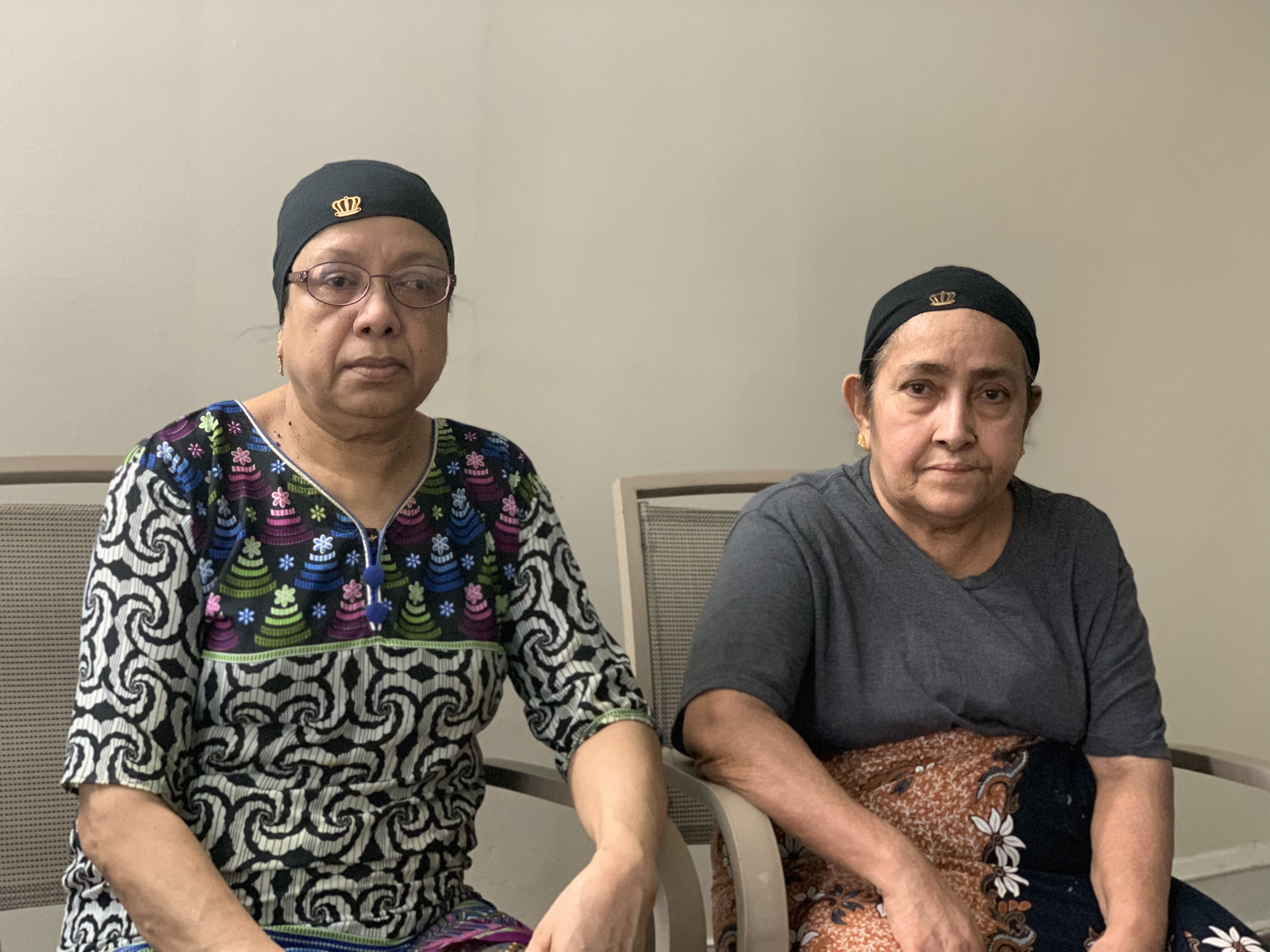 Nur Jan and Noor Jahan opened the door of their apartment with a heartwarming smile. They called me "son" and hugged me generously. Their tears started dropping on my shoulder. 
"No one has come to visit us for years," Jan and Jahan said. "Seeing you and talking to you in Rohingya is very heartwarming."
Being Rohingya myself was comforting for Jan and Jahan as they haven't seen their families for years.
---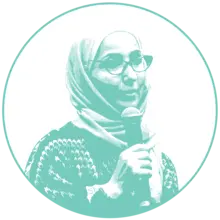 As a non-profit journalism organization, we depend on your support to fund more than 170 reporting projects every year on critical global and local issues. Donate any amount today to become a Pulitzer Center Champion and receive exclusive benefits!
---
Jan and Jahan welcomed me to their very clean living room as I took off my shoes. It is an empty room with only four chairs, a small tea table, and prayer mats in a corner. Verses of the Quran hang on the wall. 
Jan and Jahan were in their traditional dress wearing sarong and blouse on top and covering their hair with a piece of cloth. For Rohingya, holding on to their beliefs and traditions, such as praying five times a day and adhering to a dress code in a social setting, are important because they have been persecuted for these practices. Following their customs helps them assert the identity they have lost through oppression.
I was offered a chair and Jan and Jahan sat around me. We started sharing memories of our home country, Myanmar.
All of a sudden, Jan said, "I am going to get you something to eat, son." She went to the kitchen and prepared some sweet tea. Jan served it with some cookies and resumed the conversation.
Jan was born in 1958 in Sittwe, Myanmar. "My father was killed when I was in my mother's womb," she told me, followed by a long pause. "When I was around two, my mother carried me on her back and, holding my other two siblings, left the town to go to Yangon on boats and through mountains."
Jan's mother and siblings died when she was very young. "I was brought up by an old lady who lived next to our home," she said. "There was never enough food to eat for us but she cuddled and hugged me when we were hungry.
"I got married when I was around 15 and had five children," Jan said. "The situation got worse in Yangon for Rohingya Muslims and other minorities as the country struggled with the military power. I decided to go to Malaysia for my children's safety."
Jan's eyes blinked constantly. "I didn't think I could cross the mountains of Myanmar and Thailand and go on the boat journeys with my five young children," she told me. "We arrived, but I was desperate as hunger took over my life and I had nothing to feed my children.
"The next day, I left my children at a Rohingya's house and did whatever work I could find with other Rohingya people from cleaning toilets, street, and people's houses," Jan said.
All her children grew up without any formal education because they didn't have any legal papers. They managed to obtain their refugee status but they were not allowed to work. Jan said, "Oh fut, Fuien dor muk dekile, ei r kichu no bafi ham goron ki legal naki illegal" meaning 'son, when I looked at my children's faces, I couldn't think if work was legal or illegal.'"
Jan lived in Malaysia for almost 30 years. Her four daughters got married, and three of them went to Australia by boat. Jan came to the U.S. alone through the refugee resettlement process in November 2013. She was welcomed by a refugee agency called Heartland Alliance in Chicago. "It was the first journey in my life that I didn't go hungry during my travel to the U.S.," Jan told me.
Heartland Alliance wanted to place Jan with another single elderly Rohingya woman as she could not afford to live by herself. Heartland Alliance contacted Noor Jahan who was sharing an apartment with a young Rohingya man. Jahan had met him in Malaysia. She was reunited with him when she came to the U.S. and has been living with him ever since.
"Jahan welcomed me and took me straight to eat lunch," Jan said with a happy simile. "Jahan knew if I was hungry, it might remind me of my past journeys. Jahan piled my plate with food and I ate so much on that day."
The memory brought a moment of bliss to their faces. Jahan's eyes twinkled as she was enjoying her mouthful of betel nut—a combination of betel leaf, chopped betel nut, and slaked lime. Chewing them all together is a part of the Rohingya culture.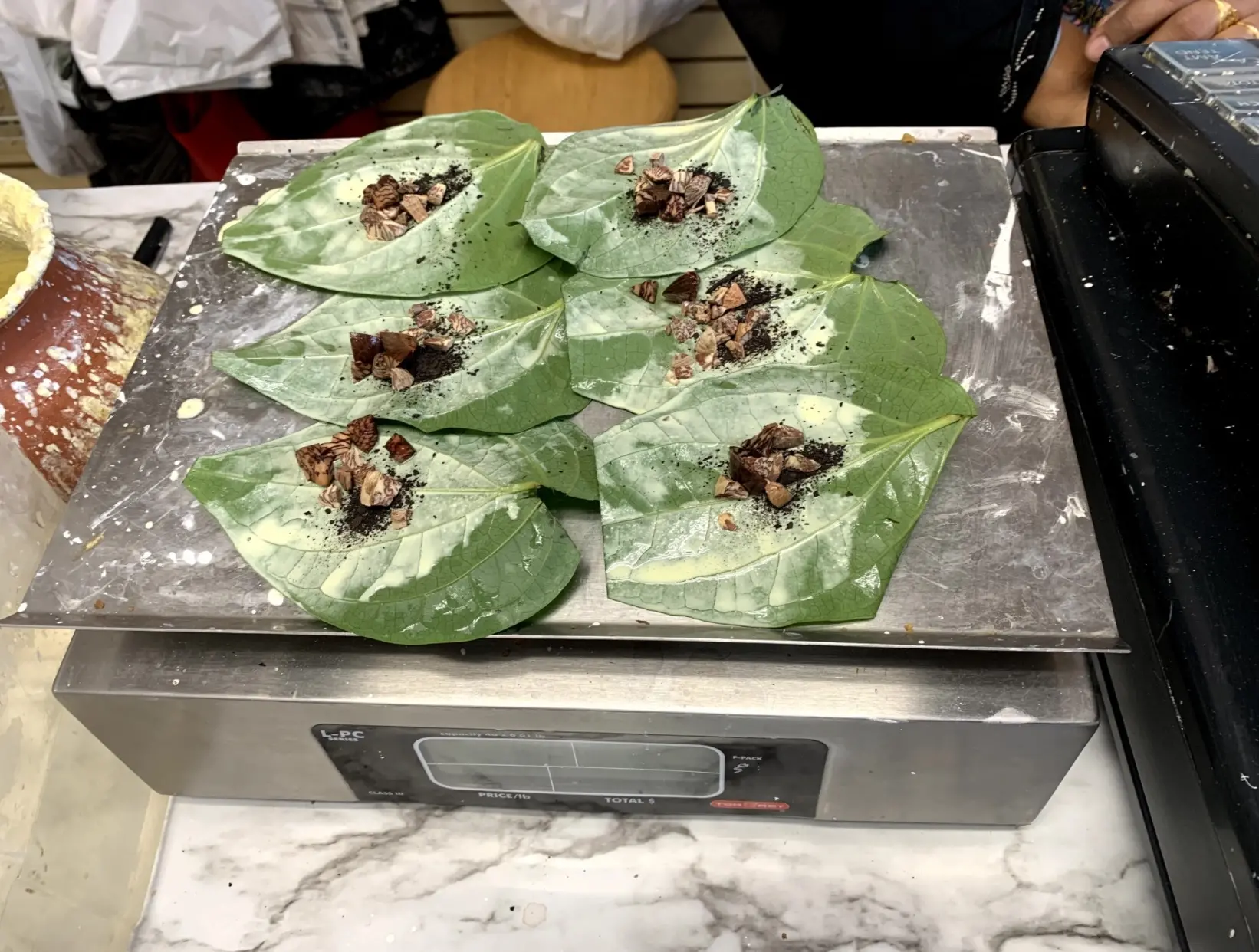 Jahan was quiet at first and not sure where to start. Then she began:
"I was born in Maungdaw, Rakhine State, Myanmar in 1955. All my family members were killed when I was about 8 years old because of my father's political involvement," Jahan said. "One of my relatives took me to Yangon to protect my life."
Jahan lived with her relatives in Yangon before she got married. She realized that she was infertile, and this broke her heart. She was around 35 when her husband was killed; she left with one of her girlfriends to save her life.
"Crossing Myanmar's and Thailand's borders was a shock because Rohingya girls were constantly raped by people—smugglers—for not being able to make the payment," Jahan told me. "I never talked about it as it would bring shame on me, but I am old now.
"My life wasn't safe in Malaysia but I had to work in many dangerous places such as in construction areas full of men as I didn't have anyone to support me," Jahan recalled. "I was able to come to the U.S. in March 2013, and it was the day when I thought my life's struggle would end."
Jahan was close to 60 years old when she arrived, and she had a lot of health issues. She felt she couldn't do anything. Refugee One, a refugee resettlement agency in Chicago, helped her to apply for her documentation, government health insurance, and food stamps.
"When Jan joined me in my apartment, it was like Allah offered a new life," Jahan said. "We have been living together for almost eight years with the young Rohingya man. He is like our son and we have become like sisters."
"I wish we came here when we were a bit younger," Jahan said. "We took so many citizenship classes to be a citizen of the United States. "Mor huillah matie nohaibo jodi ai mori jaigoi citizenship cara," she said, meaning 'My heart cannot return to the soil if I die without being a citizen.'"
To become a U.S. citizen through the naturalization process, an applicant needs to be able to read, write, and speak basic English. The applicant is also required to demonstrate a knowledge and understanding of U.S. history and government. This is almost impossible for elderly Rohingya like Jan and Jahan because they were deprived of education all their lives. 
"We never had a chance to hold a pen; at this stage of our lives, we try to learn but we forget everything when we leave the class," Jan and Jahan said. "We applied for our citizenship twice but we were not successful."
Rohingya were not allowed to have a written language, which has created the literacy crisis for the Rohingya population. Going to school in Myanmar for Rohingya is a dream. To avoid conflict and mistreatment with Buddhists and the military, Rohingya parents only try to send their kids to Madrasa (Islamic school).
The Rohingya Cultural Center of Chicago wrote a petition for Rohingya seniors urging immigration officers to take doctors' notes into account and allow seniors to have access to interpreters during their citizenship application and interview. Still, nothing has changed. 
Jan and Jahan have survived on Supplemental Security Income (SSI) which has allowed them to pay their rent. The payments began at $400-750 a month but stopped a year ago because they haven't managed to obtain their citizenship.
"We are back to where we started," Jan and Jahan said. "When we hear the sound of an ambulance, we feel like we will be evicted from our home. We want to cry and knock on the doors but sadly, we don't even have the language to say what we want to say."
According to the Social Security Administration, some non-citizens can receive SSI for up to seven years. If they don't have their citizenship within seven years, the payment will stop. Jan and Jahan are extremely vulnerable seniors because they are not eligible for Social Security benefits. They were old when they arrived in the U.S. and couldn't earn the necessary 40 work credits. Because individuals can only earn four credits a year, they would have to work 10 years.
"We are beyond grateful to be in the U.S. and still receive food stamps and health insurance," Jan said. "Nowadays, we live with anxiety, and stress piles up at end of every month because we can't pay our rent."
"We don't know how long we will live, and our last wish is that we die in our home so that we can continue to practice our beliefs and tradition that define our existence." Jan and Jahan have tears in their eyes.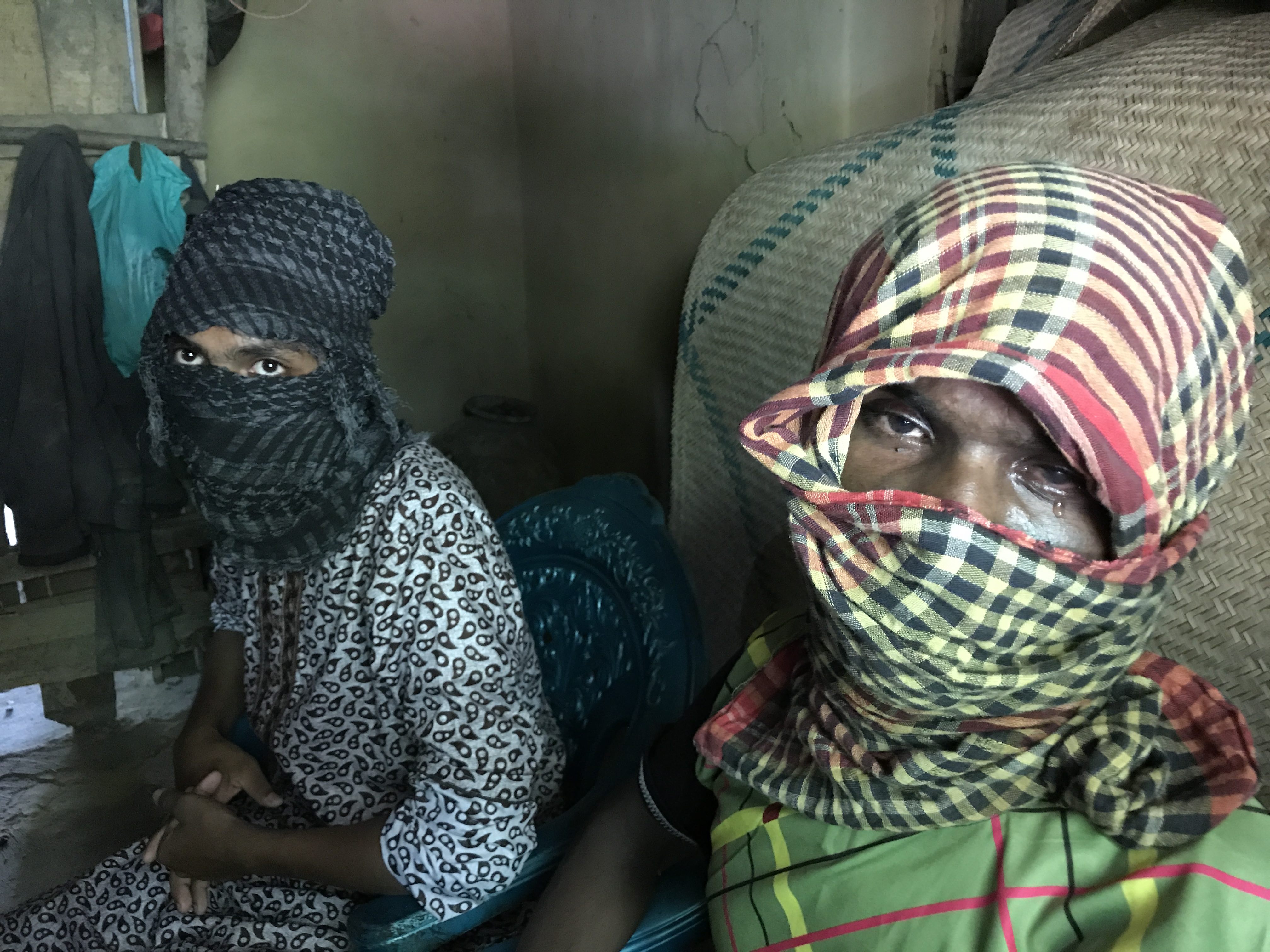 Pulitzer Center grantees Nahal Toosi and Jason Motlagh visit the University of Chicago's Institute...
RELATED ISSUES

Issue
Migration and Refugees
Migration and Refugees

Religion