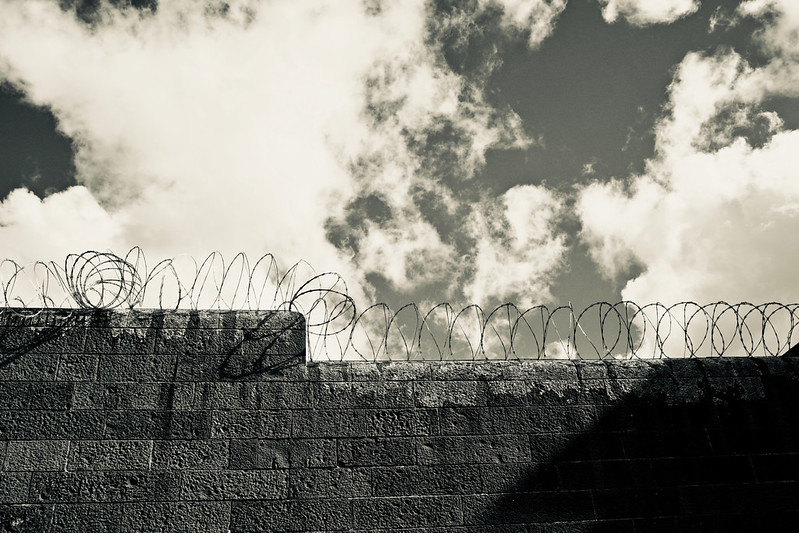 Around when I was setting up a trip to Australia to report on a private prison there, things were not looking good for the industry in my home state of Colorado. Politicians were talking about phasing them out entirely. And the GEO Group, a private prison company, announced it would close its one Colorado prison, amid concerns about staff shortages and lack of services for inmates. The state's head of corrections was talking about the need to move away from prisons that are "stark and idle places without purpose [or] hope."
But over on the other side of the world, there was Ravenhall, a prison run by the Australian subsidiary of that very same company, GEO. And everything about it flew in the face of the narrative I was hearing.
As I wrote in the preceding part of this series, the whole place was set up to help people transition back to regular life, smoothly enough that they wouldn't end up back behind bars. The contract even included a yearly bonus if the place could show its recidivism rates were lower than at other facilities.
So, I went to Melbourne.
I talked with Ravenhall's general manager, Col Caskie, for about an hour. And then, very cordially, he asked me if I might want to take a "quick look," as if Ravenhall, the state corrections department and GEO hadn't agreed weeks before to let me go on a tour -- and record it.
After some hemming and hawing, finally, he said I could bring the equipment. But I was only allowed to record in short bursts after clearing it with the guard giving me the tour, and I wasn't allowed to record any humans, not even when the tour guide said something like, "Here's the soccer field."
It's hard to report on an interesting, new idea when you can't actually show the interesting, new idea -- like the staff and inmates interacting in a non-hierarchical way, or inmates cooking their own lunch. Squeaky gate sounds only go so far.
But then, there was another issue. The contract is central to why this place is different. When I asked Col Caskie what he thought was the main advantage of a private prison over a public one, the first thing he said was: the contract.
"And what that does is sets up accountability. We are held very much accountable to everything that we do," he said, referring to quarterly performance reviews from the state. "And it's an open book. So there's no hidden figures. I feel like I live in a glass bowl sometimes."
But when I asked to see the contract -- which is online, but redacted in key parts -- he replied that contracts aren't available because they're "commercial-in-confidence." When I asked basic questions about cost and payment, I was met with the same answer every time: "Commercial-in-confidence." It basically means "trade secret."
Now, it is possible to get some of the details. For example, the contract lasts until the year 2042 and is worth about $2.5 billion -- more than half a billion dollars cheaper than the state's estimate of how much it would cost to run a public facility. An ombudsman report said GEO could get $2 million per year if it can show its recidivism rates are 12% lower than public prisons, and another undisclosed bonus if it can reduce recidivism even more among indigenous inmates. And the state auditor has an upcoming report looking at whether Ravenhall is doing what it has set out to do: rehabilitate and reintegrate people who come through.
But Graeme Hodge, a law professor at Monash University in Australia, said that term that kept popping up -- commercial-in-confidence -- is a "fig leaf," and a problematic one.
"There is this underlying concern about the legitimacy and therefore the credibility of this whole reform process because politicians and bureaucrats hide behind these commercial-in-confidence claims," he said.
As Hodge and his colleagues have written, that lack of transparency "thwart[s] the public's ability" to understand if a private prison company is violating its contract, and if it's doing anything to fix that -- like the "chronic staff shortages" and "compromised care" cited in a consultant's review of Ravenhall that was uncovered by local journalists. And while people like Caskie might feel like they're living in a glass bowl, the number of people who can actually see into that bowl is fairly limited.
"We've got a director general of prisons who sits -- not as an independent regulator as we'd expect from financial regulators and utility regulators -- [but] tucked away under a government ministry," said Hodge. "So one would immediately cry, you know, conflict of interest."
There are other issues, too. Jane Andrew is an associate professor of accounting at the University of Sydney. For one, she said, private prison contracts are often for very long periods of time -- 25, 30, even 35 years.
"And what that means is, effectively, we as a community are locked into a particular way of delivering services," she said. "For what? We're told, 'Because it's going to be cheaper, because they're going to perform better and they're going to be more publicly accountable.' And across the board, we don't see any evidence of that."
Even with Ravenhall. As Andrew and her colleagues calculate in the book Wrong Way: How Privatisation and Economic Reform Backfired, Ravenhall could cost about $220 million a year to run, bringing the total cost over the lifetime of the contract closer to $5.5 billion, more than double the official estimate. (It's still too early to tell whether it's performing better in terms of recidivism rates).
Andrew said she frequently encounters the "commercial-in-confidence" obstacle in her research, making it hard to know if prison operators are being rewarded financially despite failing to meet their performance goals.
"One of the quandaries for us has been: 'Who is actually responsible for blocking access to the information around these contracts?'" she said, pointing out that in another state, private prison contracts are in the public domain. "So it's not a market logic that's explaining that. It's something else."
The lack of transparency is a big reason why Amy Fettig, director of the ACLU's National Prison Project, is skeptical Ravenhall will change her perception of the private prison industry, despite its performance-based contract and radical layout.
"I think it sounds too good to be true," said Fettig. "The monitoring and accountability for private prisons is just nonexistent in this country, so I think it's a huge risk to believe any of that will ever happen."
But about 1,600 miles away, New Zealand is trying to do something very similar to Ravenhall, and information on that private prison, Kohuora Auckland South Corrections Facility, is easily available online.
An easy-to-find tab on the New Zealand corrections department website navigates to an unredacted copy of the contract, including the formulas used for calculating the recidivism bonuses. Another page clearly breaks down one of the prison's performance reviews, including good and bad: incidents and assaults at the prison leading to an almost $400,000 loss to the company, a million-dollar bonus for successfully reducing recidivism, and even the number of kilograms of fresh vegetables that inmates produced in the prison gardens (it's 649). Information on other years is available in the department's annual reports.
This story was produced by the Mountain West News Bureau, a collaboration between Wyoming Public Media, Boise State Public Radio in Idaho, KUER in Salt Lake City, KUNR in Nevada, the O'Connor Center for the Rocky Mountain West in Montana, and KRCC and KUNC in Colorado.
RELATED ISSUES

Issue
Bringing Stories Home
Bringing Stories Home

Criminal Justice
RELATED INITIATIVES