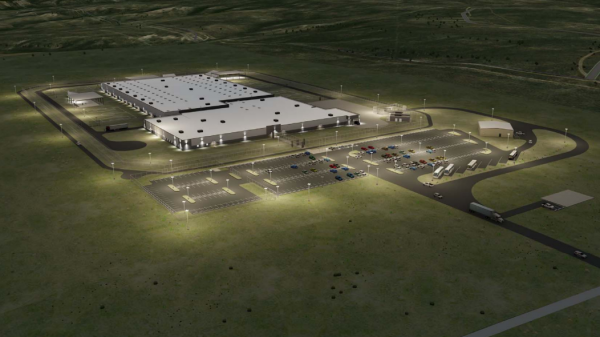 It's a recent weekday afternoon and Evanston, Wyo. is pretty quiet. There are a few pickup trucks parked along main street and outdoor loudspeakers are softly playing Irene Cara's 1983 hit song "What A Feeling." But the sidewalks are mostly empty.
Most of Evanston's oil and gas jobs have disappeared over the past two decades and now Wyoming's once-mighty coal industry is dying. The town is struggling to thrive in the state's boom and bust economy. All of this has Uinta County Commissioner Craig Welling on edge.
"I worry about a lot of things," Welling said in his office overlooking downtown.
He has gray hair, glasses and has lived here for most of his life. Welling has eight children and 32 grandchildren, but said most of them have left town because of the economy.
"There's not enough good jobs for kids like mine to stay here and be a part of their family where they're raised," he said.
But a private prison company could give the community an economic boost. Industry giant CoreCivic has proposed building a new, federally funded immigration detention center in Evanston. It would hold up to 1,000 detainees who are currently scattered across Utah and Wyoming in Immigration and Customs Enforcement-contracted county and city jails.
And it's sparked a bitter debate among locals.
Welling believes it's immoral and inhumane to treat ICE detainees like prisoners.
"They're here illegally but they haven't broken a law like raping someone or something like that," he said.
He views the detention center proposed for Evanston as a place where these detainees could receive better treatment. It could also pump millions of dollars into the county economy, and promises 300 jobs with good wages and benefits. Welling said that new cash will trickle down to Main Street and revive restaurants and other businesses.
"If one dollar is spent in a community, it circulates five times," he said. "So if a person spends a dollar at a restaurant, there's somebody working at the restaurant that gets paid a wage. They take part of that wage and they go to the parts store, they buy a part. And so on and so on."
Welling sees a rare economic opportunity in a town that doesn't get a lot of business knocking at its door. But other locals argue this opportunity comes at a steep cost.
"We're cutting off our nose to spite our face," said Evanston resident Amanda Manchester, a member of the grassroots opposition group WyoSayNo. "I mean, if you were starting a big tech company or marketing company or a retail company, would you want to be located in a prison city?"
Manchester believes that ICE detention centers are terrible and would scare away prospective businesses. Images of separated families or kids in cages swirl through her mind. Her friend, Evanston resident Rosa Saavedra, said some of those images are personal — she's had family placed in detention centers.
"You go there and they treat you like you're nothing," she said. "They don't provide any medical care. They don't provide attorneys or everything else they promise. Nothing is the way they say it."
Some immigrants in detention centers are subjected to sexual assaults, hazing and other inhumane conditions that result in a higher suicide rate, according to John Eason, a sociology professor at the University of Wisconsin who studies prisons and detention centers in rural America.
"These are morally reprehensible places," he said.
But Eason also said there's no question about it — a privately contracted immigration detention center could help boost Evanston's economy.
"It can help not only slow down an economic downturn, but also help reverse that trend in towns that get these facilities," he said. "It is an economic positive."
The whole controversy around Evanston's proposed detention center pits two moral dilemmas against each other, according to Eason. On one hand, there's a high moral cost of making money by holding detainees in potentially dangerous environments. On the other hand, there's a high moral cost to poverty and underdevelopment.
"If these areas often suffer from years of underdevelopment, they need other and better options," Eason said.
Evanston has tried to attract other big businesses but it hasn't had much luck, according to Welling. Meanwhile, the Uinta County Herald reports that CoreCivic has submitted paperwork to ICE to build the immigration center and county commissioners have begun the process of selling county land to the company to construct it.
A spokesman for the company said its detention centers are held to national standards with U.S. Immigration and Customs Enforcement staff who monitor conditions.
"CoreCivic cares deeply about every person in our care, and we work hard to ensure those in our facilities are treated with respect and dignity," said CoreCivic spokesman Ryan Gustin in an email.
Welling said he's taken tours of some privately managed immigration detention centers. The people there appeared in good spirits and had access to medical care and lawyers. He said won't lose any sleep over having one in Evanston.
This story was produced by the Mountain West News Bureau, a collaboration between Wyoming Public Media, Boise State Public Radio in Idaho, KUER in Salt Lake City, KUNR in Nevada, the O'Connor Center For the Rocky Mountain West in Montana, and KRCC and KUNC in Colorado.
RELATED ISSUES

Issue
Bringing Stories Home
Bringing Stories Home

Criminal Justice

Issue
Migration and Refugees
Migration and Refugees
RELATED INITIATIVES