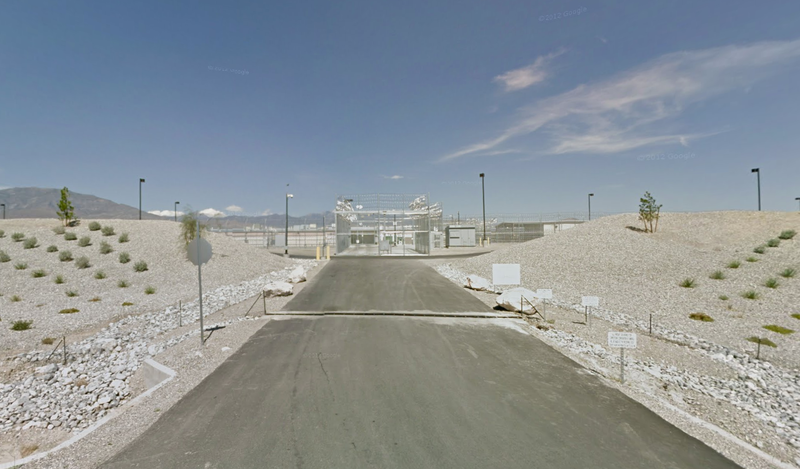 Let's get this out of the way: Finding employees in private prisons who could talk about their job wasn't exactly easy. So I had to expand my search a bit.
"There's very clearly a transparency issue in private prisons," said Ashley Dixon, who worked as a correctional officer for seven months in 2017 at the Trousdale Turner Correctional Facility, a private prison about an hour outside of Nashville, Tennessee.
"It was one of the hardest experiences of my life, the most difficult periods of my life, and I still feel like I'm recovering from it in a lot of ways," she said.
Since Dixon left, she's been outspoken against the facility and the company running it, CoreCivic. That's how I found her. She was testifying at a meeting of the Tennessee General Assembly in late 2017.
"It is an unhealthy and unsafe environment for everyone, both prisoners and staff," she said during the hearing.
For Dixon, one of the big issues was chronic understaffing. Fewer people meant longer shifts that regularly went up to 16 or 20 hours. And that led to some dangerous situations, like nodding off on her drive home — or when making hospital runs for sick inmates.
"There was also a problem with people falling asleep on their shift in the prison, at the hospital, with their gun at their side," she told me.
CoreCivic is one of two major private prison operators in the country, with multiple facilities across the Mountain West — and more in the planning stages.
CoreCivic declined an interview, but in a statement, a spokesperson said an internal investigation was conducted and found that staffing was an issue. The company said since then, it has raised its starting wages to the highest level in the state.
Federal data seems to support a problem with staff levels in private facilities. The Bureau of Justice Statistics found that public prisons had five inmates per officer. That number jumped to nearly seven inmates per officer in private prisons.
But those numbers are from 2005 and haven't been updated since.
Current pay differences, however, are a little easier to track. On average, officers in public facilities make nearly $6,000 more a year.

Dr. Karen Gedney, who worked as a public prison physician for 30 years and wrote a book about her experience, said that while officers tend to make less in the private sector, prisons overall still offer people with just a high school diploma a job with good wages and benefits.
"Prisons, in terms of their pay and their benefits, are not all that bad compared to the outside world," Gedney said.
Nationwide, prison workers can make somewhere between roughly $30,000 and $80,000 a year depending on location and experience. Gedney said there's also opportunity for advancement.
"You can slowly climb up the ranks," she said. "I have seen individuals who were custody officers who ultimately became wardens, custody officers who even became the prison director."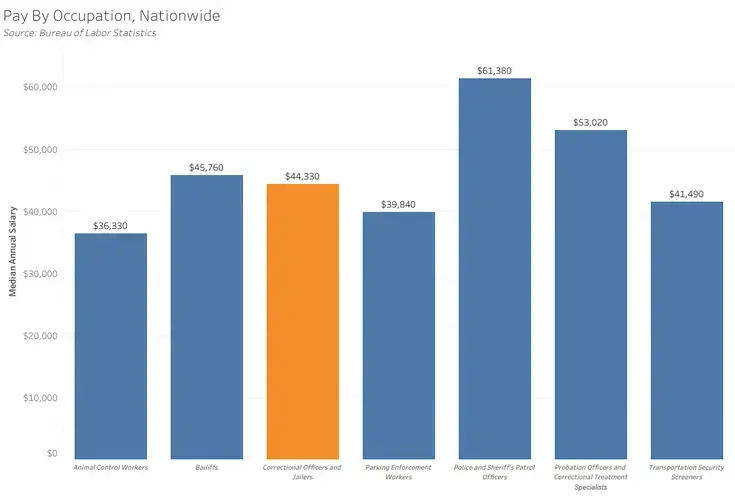 Still, Gedney knows all too well the challenges of working in a prison, especially when it comes to safety. Early in her career, an inmate held her hostage.
"And then he assaulted and raped me out of frustration and anger of all the things he would never have in life," she said.
Gedney's assault happened in the medical center at a publicly run prison in Nevada. A 2016 report from the Office of Inspector General showed the rate of assaults against prison staff was about three times higher in private prisons.
Overall, Lauren-Brooke Eisen, director of the Brennan Center for Justice at the New York University School of Law, said it's difficult to compare the employee experience at public and private prisons.
"That's because every prison really is different," Eisen said, pointing out a few of the many variables: Is it a men's or women's prison? What state and local laws apply? What's the security level and how many inmates are there?
But one way private prisons typically cut costs affects employees.
"Often, correctional officers who work in private prisons are not part of a union, and the reason so many corrections officers in the private sector are not unionized is because it's cheaper to hire individuals who don't necessarily need pensions," Eisen said. "It's actually easier to fire people who are not unionized."
Ultimately, Eisen said there's one common thread in both public and private prisons: both are driving mass incarceration across the country.
"Whether it's corrections unions, whether it's private prisons, those are both special interest groups that do have a reason to ensure that prisons are full," Eisen said.
She believes the ultimate solution to the debate over public and private prisons is to reduce the number of prisons overall and invest more in rehabilitation programs.
This story was produced by the Mountain West News Bureau, a collaboration between Wyoming Public Media, Boise State Public Radio in Idaho, KUER in Salt Lake City, KUNR in Nevada, the O'Connor Center for the Rocky Mountain West in Montana, and KRCC and KUNC in Colorado.
Join Pulitzer Center grantee Lauren-Brooke Eisen on Wednesday, May 22 2019, at Busboys and Poets...
RELATED ISSUES

Issue
Bringing Stories Home
Bringing Stories Home

Criminal Justice
RELATED INITIATIVES