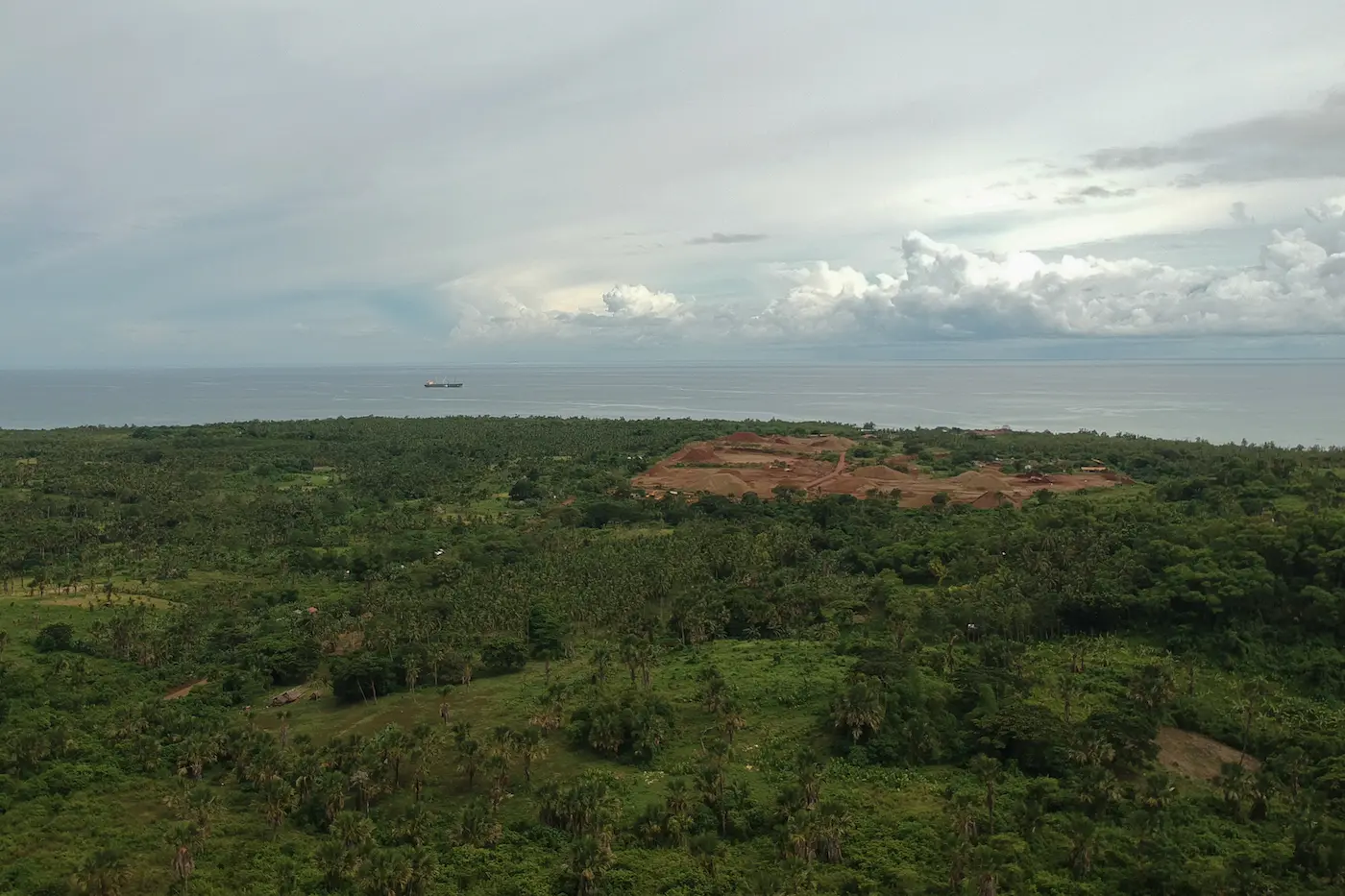 Just before the Philippines welcomed 2022, the Department of Environment and Natural Resources (DENR) lifted the ban on open-pit mining, reversing the previous order of Secretary Gina Lopez in 2017, and ultimately, President Rodrigo Duterte's rhetoric on the industry. 

The release of DENR Administrative Order (DAO) 2021-40 was the final nail in the coffin of the Duterte administration's once anti-mining stance. 
---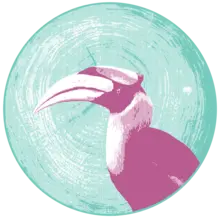 Whistleblowers and others in possession of sensitive information of public concern can now securely and confidentially share tips, documents, and data with the Pulitzer Center's Rainforest Investigations Network (RIN), its editors, and journalists.
---
In April last year, the president signed Executive Order (EO) 130, which lifted a nine-year moratorium on new mining agreements and overturned an Aquino order that called for the passage of a law that would correct existing revenue-sharing schemes and mechanisms.

The move came as the country went through a second round of enhanced community quarantine measures, more than a year after the administration first imposed one of the strictest lockdowns in the world. By then, the economy had further slowed by 4.2 percent, and four million people were jobless. 
Miners welcomed these developments with open arms. "As most mining applications propose the use of the open-pit method, this decision will enable the industry to contribute more to our country's economic recovery," Chamber of Mines of the Philippines spokesperson Rocky Dimaculangan said in news reports.
Civil society organizations criticized the decision, calling it a "betrayal." "Once again, the Duterte regime puts more premium to its flawed economic agenda categorizing destructive mining as an 'essential industry' as part of the pandemic recovery," nonprofit organization Alyansa Tigil Mina (ATM) said in a statement.
Others are not convinced that it will help the country's economic recovery without a fair revenue-sharing scheme. They called for a new law that would define government and community shares from mining profits. 
Records showed that most exploration permit applications submitted to the Mines and Geosciences Bureau (MGB) in the past three years sought to explore areas to mine limestone, rocks, and aggregates, which require open-pit mining. From August 2018 to December 2021, the MGB received a total of 139 exploration permit applications, covering a total of 354,871 hectares in 14 of the country's 18 regions.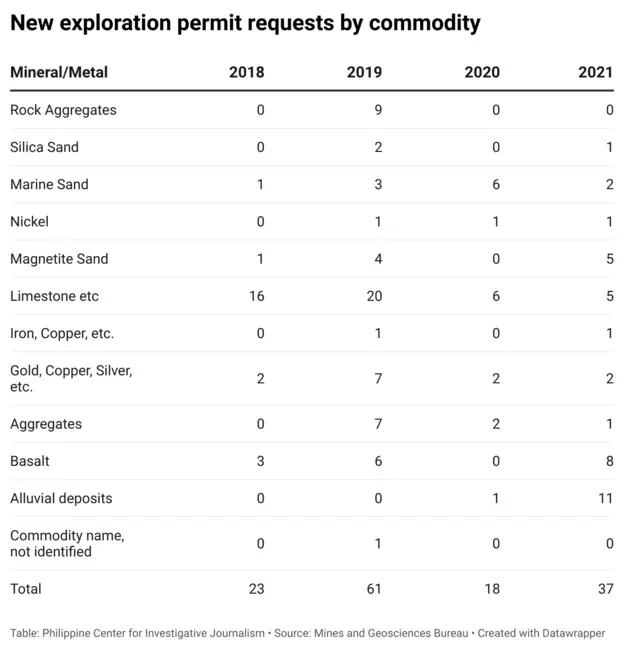 Any mining company that wishes to operate in the country has to apply for an exploration permit first. The permit, good for two years, allows the applicant to determine if an area has enough resources to be the site of a viable mining operation. If the site is found to be suitable for mining, the operator can then apply for a mineral agreement permit. Under the Mining Act, four types of agreements are available, but most miners have applied for two: the Mineral Production Sharing Agreement and the Financial and Technical Assistance Agreement. 

According to MGB Mining Tenements Management Division Chief Danilo Deleña, exploration permit applications continued to flow into their office even before EO 130 was lifted as the latter only banned the approval of new mineral agreements anyway. If approved, exploration permit applicants could choose to partner with a mining firm that has an existing mining agreement. 

By land area, the top three companies seeking exploration permits are Avalar Mining Corp., MYED-NIKKEL Resources Corp., and Olympus Builders and Mining Corp. They seek to explore 26,663 hectares, 19,253 hectares, and 16,116 hectares respectively to mine either magnetite sand or marine sand. This requires offshore mining, which involves extraction of minerals off the coast and from the sea floor.  
Erring firms seek to mine new areas 
The list of applicants also include Techiron Resources Inc., which was ordered by Environment Secretary Regina "Gina" Lopez closed in 2017 after a controversial mining audit, "for siltation of coastal waters and destruction of functional watershed," according to a press release of the agency. Techiron seeks to explore a site in the Cagayan province to mine magnetite sand. It operates a chromite mine site in Guian, Eastern Samar. 
Filminera Resources Corp., whose suspension was "deferred" by the audit pending further investigation, also applied for a new exploration permit to mine gold in the same area it is operating in: Aroroy, Masbate. Documents obtained by PCIJ revealed that Filminera was found by the audit to have been inconsistent in submitting technical reports to MGB, and had failed to pay over P1 million in mine waste fees, among other violations. 
Despite their poor performance in Lopez's mining audit, these firms may still apply for an exploration permit, the MGB maintained. 
"There's no problem with that. The [results of the mining audit] are still not final… They [companies] are still working it [audit findings] out," Deleña told PCIJ. 
The MGB added that ultimately, mining firms would need a Certificate of Environmental and Management and Community Relations Record (CEMCRR) for its exploration permit to be processed. Under DENR Administrative Order 2005-09, this refers to a firm's "high regard for the environment in its past and/or present mineral resource use… and proof of its financial capability to undertake resource protection." 
MGB noted that some companies' exploration permit applications had been denied for their failure to procure a CEMCRR. MGB Mine Safety, Environment and Social Development Division Chief Marcial Mateo said Marcopper Mining Corp., was one of these firms. The Canadian company was blamed for the country's worst mining disaster, after its mining pit in Marinduque burst and spilled 1.6 million cubic meters of toxic mine tailings. Residents in the area still bear the brunt of the mine disaster's effects. 
PCIJ wrote to Techiron and Filminera asking for information about how each company addressed the findings of the DENR audit. PCIJ has not received a response as of this writing.
Central Visayas has the most number of applications for exploration with 40, following Central Luzon with 30. Overall, the permits covered 354,871 hectares of land or about 6,118 times the size of Rizal Park.
The audit was part of Duterte's previously aggressive campaign against the industry because of its destructive nature. He called it a "monster" in public speeches. He walked the talk in appointing Lopez, a staunch environmentalist, as his first environment secretary. In less than a year, Lopez sought an audit of some of the largest mining sites in the country, with the signing of an administrative order banning open-pit mining nationwide. But the achievements were short-lived. Lopez was not confirmed by lawmakers as environment secretary, and Duterte, five years later, took a 180-degree turn. Lopez succumbed to cancer in 2019.
How the industry will be handled by the next administration is one of the crucial issues in the upcoming elections. ATM said environmentalists must be active in the 2022 elections, to reject "Dutertismo" and prevent "the return of a Marcos who will push for more policies that will… plunder our natural resources." 
Mining money 
The industry has historically been generous during the election season. PCIJ's analysis of campaign finance records showed that mining operators had consistently donated to the campaigns of national candidates from 1998 to 2016, except in the 2001 and 2010 elections. Some of these past donors owned companies with exploration permit requests pending before the MGB.

The presidential campaign of Joseph Estrada, for example, got support from at least one mining operator who submitted an exploration permit application in 2018.

Ramon Ang of Northern Cement Corp., whose company applied in 2018 to explore areas in seven barangays in Pangasinan to mine limestone, donated P2 million to Estrada's campaign in 1998.

Evaristo Narvaez of Blue Core Aggregates Inc., whose company applied to explore basalt sites in Norzagaray and San Jose del Monte in Bulacan in 2018, bears the same name as a donor to Estrada's campaign. 

George Go of Gruppo International Mining Company, whose company applied for an exploration permit for offshore mining in Aurora last year, also has the same name as a campaign donor.

Former presidential aspirant and senator Manuel "Mar" Roxas II also got donations each time he ran for public office since 2004 from Jorge Araneta of Progressive Development Corp., except in 2013, when the latter donated to the Liberal Party. The Araneta executive's mining firm Progressive Development Corp. applied for a permit to explore a site in Rodriguez, Rizal in 2019. 
Section 95 of the Omnibus Election Code prohibits "natural and juridical persons operating a public utility or in possession of or exploiting any natural resources of the nation" from making election donations. PCIJ's campaign finance coverage however shows that this has not been enforced over the years, as business tycoons with vested interests continue to populate the list of election campaign donors.

In some parts of the country, mining operators are closer to those in power, with their family members sitting as local officials. For example, Verion Global Mining Inc. President Victor Anthony Silverio is the son of Rep. Lorna Silverio of Bulacan's third district. Verion applied for two exploration permits to mine sand and mountain rocks aggregates in Doña Remedios Trinidad, which is part of the Silverio matriarch's jurisdiction. 

PCIJ wrote to Ang, Narvaez and Go seeking comment. PCIJ has not received a response as of this writing. 
This article was produced in partnership with the Pulitzer Center's Rainforest Investigations Network (RIN). To learn more about forest stories across the globe, visit the RIN fellows' page here.

Photograph: Kimberly dela Cruz
Infographics: Elyssa Lopez
RELATED ISSUES
RELATED INITIATIVES