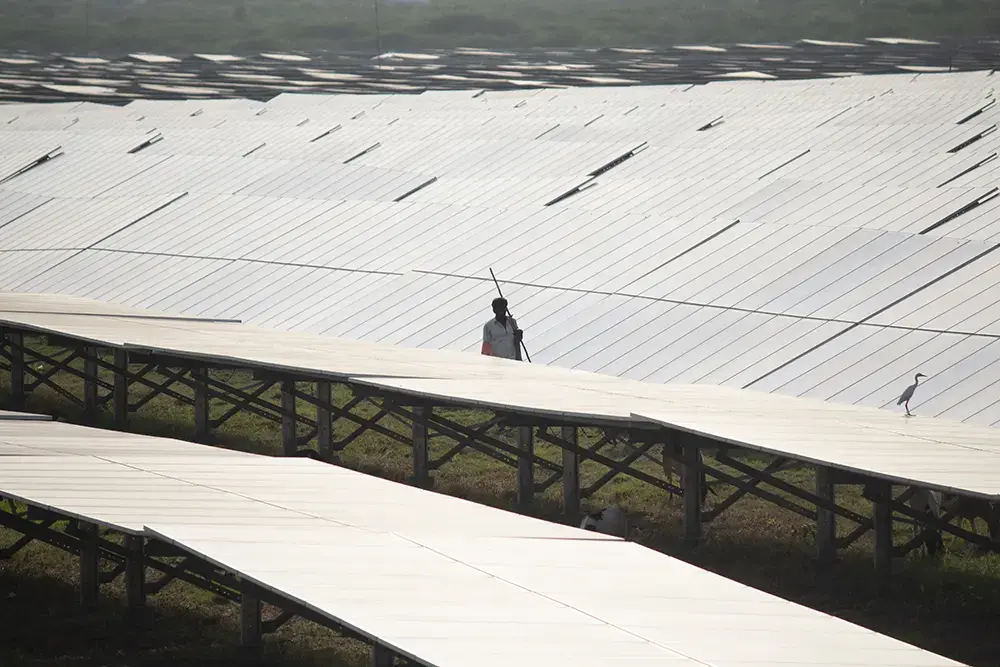 The park, one of the world's largest, has failed to transcend caste and gender barriers in bringing jobs and other economic benefits for the locals.
---
Back in 2015, Muthyallappa Venkatesh and his fellow villagers from Karnataka's Vollur village received a lucrative offer. They could earn Rs 21,000 per acre every year in exchange for covering their land with solar panels.  For a long time, Venkatesh had yearned for some kind of relief, working as an agricultural labourer in rich farmers' lands for much of his life. His three-acre farm barely produced enough to feed his 17-member family amid prolonged spells of drought in the region. By 31, he was already deemed a "Naxalite" by the state, with several cases registered against him, and had served a six-year prison sentence for "simply demanding a wage hike from his employer". 
A solar park in the village meant two things for him: Jobs and justice.
"We saw what those salaries had done for our upper-caste Gowda neighbours," says 49-year-old Venkatesh, who belongs to Adi Karnataka, a scheduled caste community. "This made us realize the importance of a steady job with a stable income for us to get out of this poverty."
Seven years on, the park has delivered little. 
---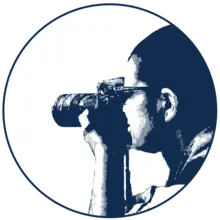 As a nonprofit journalism organization, we depend on your support to fund more than 170 reporting projects every year on critical global and local issues. Donate any amount today to become a Pulitzer Center Champion and receive exclusive benefits!
---
Venkatesh's is among the nearly 2,000 families from five revenue villages of Pavagada taluk (administrative unit) that gave their land to the state government to set up the 2,000 megawatt solar park. Then deemed India's biggest and among the world's largest, it was spread across 13,000 acres of farmland. In exchange, the villagers were promised an annual rent and opportunities like jobs and local infrastructure. While the rent has come in regularly, many who once relied on agriculture have lost their source of livelihood to swathes of solar panels. Villagers we spoke with say that about 12,000 people now remain unemployed in Pavagada, and only around 2,000 could secure jobs in the park, which is further skewed by caste and gender.
But the state government seems to be looking the other way. In June, it expressed its intention to expand the park by another 10,000 acres to boost solar power generation. 
To its credit, India currently boasts a solar capacity of 64.38 gigawatts. Setting up large-scale solar parks has emerged as a key pursuit for the Indian government, driven by the country's commitment to the 2015 Paris Agreement and leveraging the vast land resource as well as abundant sunlight. But the industry has also been hyped for its economic potential and as a significant source of job creation. In 2017, Karnataka deputy chief minister D.K. Shivakumar (energy minister at the time) said the Pavagada project would be a "boon to the people as it is providing employment and other business opportunities".
However, the Pavagada solar park is a telling example of how India's solar energy sector seems to have fallen short on a key promise. The solar sector employed 85,900 workers in the 2020-21 fiscal, but a closer look paints a different picture. "The [solar] sector is likely to be an employment-intensive sector, but the quality of jobs in here could be worse and mainly related to construction or informal jobs," says Shouvik Chakraborty, an assistant research professor at the Political Economy Research Institute at the University of Massachusetts. 
A report by government think-tank NITI Aayog says the transition to a low-carbon energy future must address "alternate options for employment, such as retraining and reskilling of affected populations, restoration of traditional livelihoods, and identifying new employment and entrepreneurship opportunities". Countries across the world are increasingly focusing on improving the socio-economic conditions of local communities as part of a "just transition".
Meanwhile, in the sun-drenched villages of Pavagada, locals like Venkatesh find themselves adrift because of a shortage of quality jobs at the park even as agricultural livelihoods face a threat. After all, the park was supposed to be their ticket to a better life—away from economic uncertainty that had long plagued the region.
A promise
The 34-kilometre drive from the town area of Pavagada to Vollur village traverses semi-arid landscapes. Snippets of conversations in both Telugu and Kannada can be heard; the region straddles eastern Karnataka and western Andhra Pradesh.
In the absence of gainful employment, men idling away afternoons sitting under the shade of trees are a common sight. One of them is Jayaram Reddy. The 68-year-old's family owns 20 acres of land divided among three brothers near Vollur. Before the park, they used to cultivate drought-resilient crops like groundnuts as well as peas and pulses. Most years, Reddy says, erratic rains would wreck the harvest.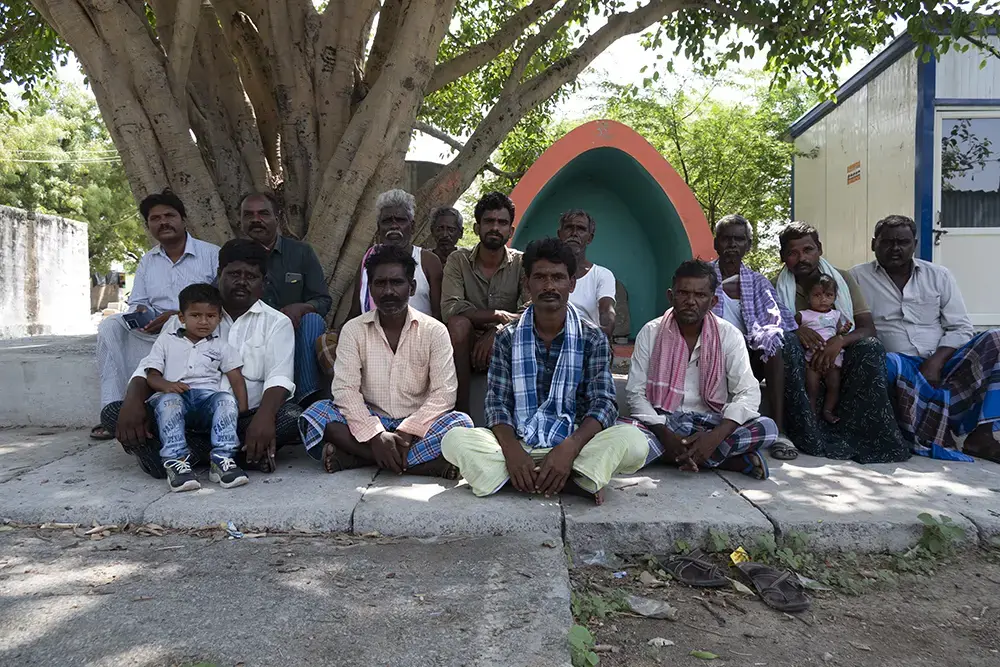 "We invested in groundwater and dug borewells, but still there was no water. Even if we worked hard day and night, the harvest wouldn't be sufficient to feed our family," he notes, adding that the market prices of these crops were relatively low. "We were unable to construct houses or marry off our children, and had to take on loans to survive." 
In 2014, Pavagada was also listed among the most "backward" taluks in Karnataka in a report by the state government, which had also declared the region drought-hit 54 times in a 60-year period.
Apart from insufficient harvest, Pavagada was grappling with another challenge. The taluk is home to several communities, including the Vokkaligas, Kammas and Kurubas, scheduled castes (Dalits) and scheduled tribes. However, the majority of the large landholdings (10 acres and more) are owned by the dominant Vokkaliga community. The SC and ST communities, on the other hand, only farmed on these lands.
By the 1970s, this unequal distribution of landholdings had given rise to left-wing extremism. 
"In those days, the Dalits and Valmiki [ST] community members were sought by rich farmers to do their menial tasks, including clearing of animal carcasses. To remedy their plight, the government ensured that these families had lands of their own, to propel some form of social or economic mobility," says Venkatesh. Under the Karnataka Land Reforms Act, 1961, 10 households from his community received 30 acres of land by the state government. The number shot up to 200 and the landholdings fragmented further, rendering these small farms inadequate to feed their families, according to Venkatesh.
In the 1990s, Venkatesh, then a teenager, worked as a basket weaver for a measly Rs 5 a day, which became Rs 20 over the years. "But this was still less because in the surrounding villages the wage was Rs 50," he recalls. When the weavers protested, they were branded as "Naxalities" and slapped with several cases, says Venkatesh. But following a police official's intervention, the charges against them were dropped and the official ensured access to borewells and small loans to remedy their poverty-stricken life. 
But there was no respite from insurgency. By 2005, the state government had deployed anti-Naxal squads in the villages. However, despite successive governments announcing development packages, the region continued to face neglect.
Then the state government came up with a plan. 
In March 2015, state-owned Solar Energy Corporation of India and Karnataka Renewable Energy Development Ltd set up a joint venture. Karnataka Solar Power Development Corporation Ltd, or KSPDCL, was to serve as an intermediary between the locals and solar developers, facilitating land acquisitions.
The farmers were promised Rs 21,000 per acre for leasing their land for the first five years, with a 5% increase every two years. In February 2016, the market value of the land was estimated to be Rs 35,000 per acre.
"Before the park, Pavagada had very low agricultural income and there was social unrest. So the park was envisaged as a socio-economic model to develop the region," says N. Amarnath, general manager of KSPDCL.  But things haven't panned out as expected.
Where are the jobs?
Between 2016 and 2019, as KSPDCL converted swathes of agricultural land into concrete spaces, the Pavagada villages saw the return of locals who had migrated elsewhere and now hoped to get jobs in the solar economy closer to home.
"They assured us 8,000 jobs in the park, which is less than one job per acre," says Konappa, an MBA graduate in his 30s who hails from Thirumani village and had left his banking job in Bengaluru when the park project was announced.
The Pavagada solar park essentially offers two kinds of jobs. A site manager oversees multiple solar plants, looking after day-to-day management at the park. The manager has a team of engineers, who look after the electrical systems and necessary grid connections. Jobs concerning maintenance and monitoring are delegated to technicians, electricians, monitoring specialists, and operations and maintenance staff.
Then there are "manual" jobs, such as security personnel, which are outsourced. To ensure proper landscaping, vegetation control and cleaning of solar panels, grass cutters and panel cleaners are also hired through contractors. Each of the 40 blocks at the solar park employs at least four grass cutters and panel cleaners.
Initially, says Konappa, the locals were given odd jobs at construction sites to lure others to give up their land and find work at the park. "But this changed soon," he notes, stating how technical jobs were only reserved for engineering degree holders, who were mostly migrants. This left "manual" or "unskilled" jobs for the locals, thus yielding negligible job benefits.
"We are not people who do security jobs; we are entrepreneurs," says Konappa, implying how the jobs offered do not align with their educational backgrounds. 
Young graduates in Pavagada are still keen on finding work at the park. Chandra Babu Naidu, a 32-year-old business management graduate, says most people are opting for industrial training diplomas as it is valued in the local job market. However, hiring at KSPDCL is competitive and those with industrial training do not qualify for most of the technical jobs, says an employee, requesting anonymity. "They prefer applicants with engineering degrees."
Today, young men frequent the KSPDCL labour office in Thirumani village, where piles of resumes lie discarded. A kilometer away stands a newly built, swanky KSPDCL office, which sometimes plays host to foreign delegates.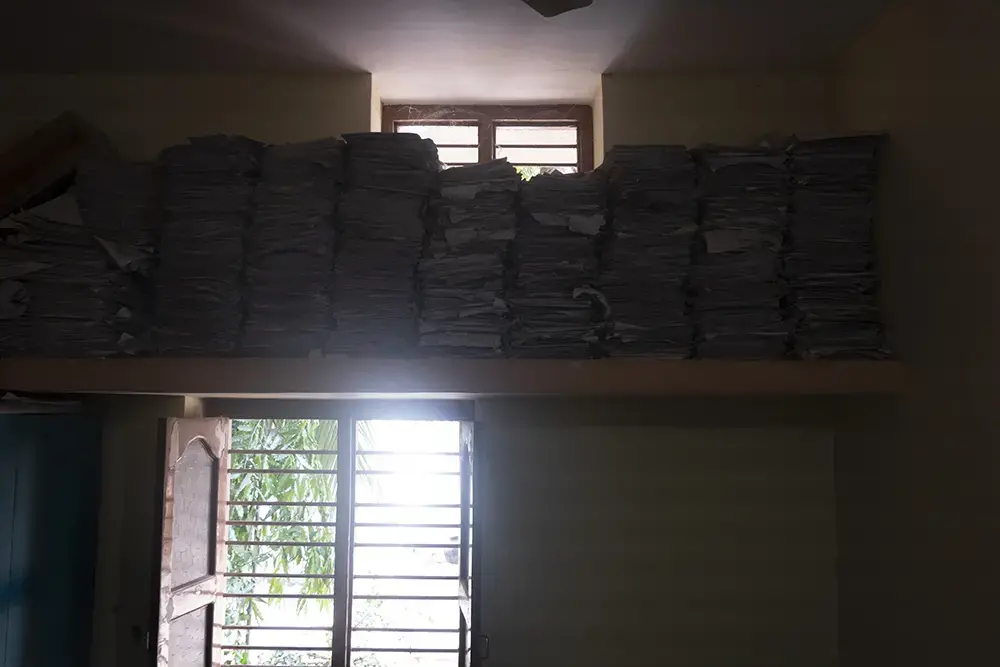 "Our responsibility was only to create a land bank, where we went into consultation with the landowners and got around 13,000 acres of land," says Amarnath, the general manager. "We are just a facilitator who collects lease charges from private entrepreneurs and distributes it to the landowners."
"We know most of the park work and the substation operation is unmanned, but we want to generate work, which is why we still hire people," says Mahesh R., an assistant executive engineer at KSPDCL. However, an assistant engineer, on condition of anonymity, says plans are made to ensure that the blocks at the solar park require minimal human interaction.
Not everyone is complaining though. For Ashok Naidu, a 29-year-old high-school graduate, his limited education hasn't got in the way of making money. Soon after the construction of the park was announced, he bought lorries and excavators. A member of the affluent Naidu community, he currently works as a contractor, cashing in on the "green" opportunity.
The new green economy developing within India's labour market is plagued by the same systemic inequalities, says Chakraborty, from the University of Massachusetts. "There has been little to no effort to address this." 
Such inequalities are indeed hard to miss.
Reinforcing inequality
Solar park development is fraught with "elite capture", argues Ryan Stock, an assistant professor at Northern Michigan University, in a 2019 paper. The study talks about how large landholders with social capital are able to take advantage of the new development, while marginal farmers or landless are denied wage-labour opportunities as the land they cultivated is now transformed into solar parks.
"We didn't know how one earns a livelihood in a solar economy or what kind of agreements to consent to," says Venkatesh, admitting that he and the others under-negotiated the worth of their lands but it was too late until they realized what had happened. "[KSPDCL] had already made away with our lands," he says. In 2017, tenders were issued for solar developers. The Adani group, the Tata group and Finnish power company Fortum were among the developers that bagged the contracts.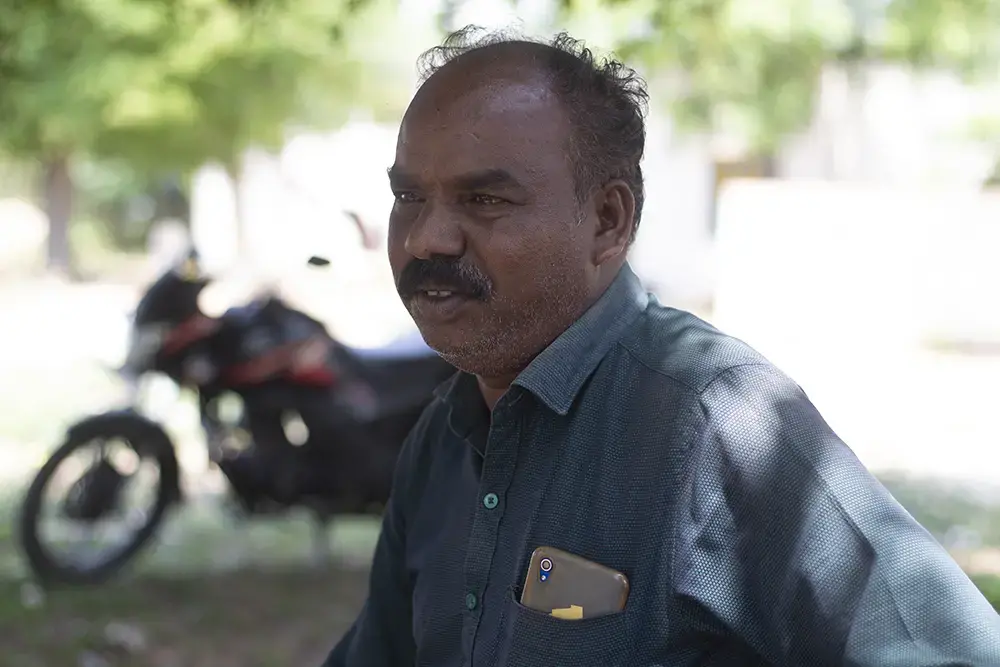 Akalappa, 50, is a farmer from Thirumani who was present at some of the meetings between KSPDCL officials and the farmers in early 2016. "During the first meeting, in the presence of D.K. Shivakumar, I had mentioned that the annual lease rent would not be sufficient for the farmers," he recalls. But KSPDCL officials, he says, refuted this claim and asked him to prove that he was making more profits on his agricultural land than the agreed rent. "We did not have any proof," he says.
Several villagers we spoke with say large landholders parted with their land willingly, while small and marginal landholders had to be persuaded to lease their land by retired revenue officials who would visit their homes. The assistant engineer at KSPDCL quoted above explains the strategy used by their employer. "We prefer large landholdings because we can set up the project at a stretch. This is also used to isolate small landowners to give up their land."
A 2019 paper assessing the land-leasing model adopted by KSPDCL says the mechanism allowed the corporation to circumvent "cumbersome" processes such as social impact assessments, which are mandated under the Right to Fair Compensation and Transparency in Land Acquisition, Rehabilitation and Resettlement Act, 2013. The authors argue that, because the land is leased, it "eliminates the need for farmers to part with their lands permanently and migrate to urban areas for livelihoods".
The outcomes have been worse for people belonging to disadvantaged castes, like Venkatesh. 
While economic opportunities are supposed to aid their quest in battling discrimination and attaining social mobility, the park has done little to blur caste lines through employment.
His immediate family of four earns Rs 23,000 per acre a year in rent from leasing their land, barely enough to get by. His wife makes Rs 6,000 a month working on somebody else's farm. The family's monthly expenses are Rs 6,000, while they shell out Rs 1 lakh a year for both their children's education.
"If a rich landowner has leased land for the park, they demand that they be employed first," he says. The 150 households that inhabit his neighborhood—mostly the SC community—have given a total of 30 acres of land to the park; one dominant-caste family would generally lease an area this size.
The skilled and high-income jobs, says Chakraborty, would continue to be dominated by dominant castes in the "new" economy. 
One such job is that of contractors. Venkatesh says it is not uncommon for large landowning farmers to be contracted by KSPDCL to arrange for labourers who would work as grass cutters and panel cleaners on their land parcels.
"Gowda, Reddy, Naidu farmers have huge amounts of land and have leadership, so they usually secure these contracts. They are also the farmers who have given 30 to 50 acres or above of land, who further contract unskilled labourers in the park," says Venkatesh. He also points out that this allows the landowners to ensure jobs for people within their social or caste networks, further excluding the economically disadvantaged communities.
Then there are security jobs, which are also dominated by rich landowners. "They have it easier, with a relaxed workload and shift timings," says Naresh N., another villager from the Adi Karnataka community. "But if it rains, it's the panel cleaners who will lose out on work for 20 days, sometimes a month."
A visit to the park also revealed that some solar developers were trying out machines to carry out panel cleaning, indicating how most jobs performed by the SC and ST communities are, in Naresh's words, "replaceable".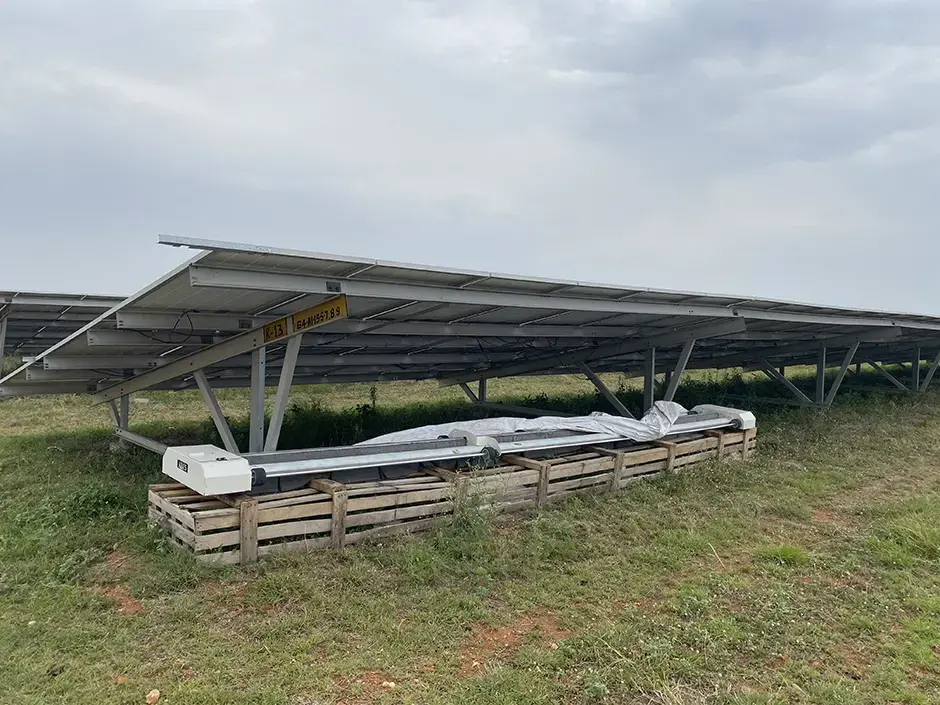 Trials are underway to replace workers with devices for cleaning solar panels.
The lack of regular salaries has also resulted in a vicious cycle of debt for villagers from the marginalized communities. Since they have to wait for the lease rent to be deposited annually, they take short-term loans from local landlords.
There is another segment that has been left out of Pavagada's "green" development: Women.
One of the reasons is that there are no "ladies' jobs available there," says Yashodamma, 30, who belongs to the Bovi community (SC). "For us to find work, we need factories in our midst."
In fact, this seems to be the case with several solar parks in the country.
Dharani Naidu, a business administration graduate, and Padmavati Naidu, a B.Tech degree holder—both from Thirumani village—say they ended up being homemakers because their job applications were rejected by the park management. It is important to note that both belong to dominant castes and enjoy financial security derived from leasing vast tracts of land, as against their peers from the marginalized communities who are forced to look for work because the negligible rent from their small land parcels is not enough.
Another section whose livelihood has suffered at the hands of the solar park is cattle herders. Cattle often graze on lands that the Centre classifies as "wastelands". Several solar parks in India have been built on these "wastelands". 
In Pavagada, 65-year-old Lakshmi Narayan, who once owned a herd of 200 cattle, says it has now reduced to a little over 50. He had to sell them off after the solar park emerged on several grazing sites.
The socio-economic challenges posed by the park don't end here.
A bleak future
While people like Konappa, who belong to the dominant Vokkaliga community, have refused to take on low-skill jobs, those from the marginalized sections cannot afford to do so. Economists have assessed how the dominant caste members "avoid working in occupations other than that of their own, and would face unemployment voluntarily".
"The kind of menial jobs that we used to do in the fields, our people do the same in the parks now as grass cutters and panel cleaners," says Venkatesh. 
On its part, the central government offers skill development programmes such as Suryamitra to encourage women and the SC/ST communities to apply. Suryamitras are trained and equipped with the necessary skills to navigate the installation, commissioning, sales and service of renewable energy devices in the solar economy. The state government promises them "vast opportunities for employment in the growing Solar Energy Power project's installation, operation & maintenance in Karnataka".
But there's a catch. The applicants are required to have finished 10th grade. "In an agro-pastoral village like Pavagada, very few people have passed the 10th grade, hence this excludes the local community," says Bhargavi S. Rao, a trustee and a senior fellow at Environment Support Group, a Bengaluru-based non-profit. A 2022 report by the Council for Energy, Environment and Water, a think-tank based in New Delhi, says the significant jump in Karnataka's solar capacity installed from 2016-17 onwards was not accompanied by a proportional jump in the number of Suryamitras trained.
Such schemes, then, are little more than a Band-Aid solution to boosting solar jobs in a region like Pavagada, which is already rife with social inequality. It's fair to assume that the development associated with the park has not permeated proportionately. This, in turn, has robbed people like Venkatesh of the opportunity to move up the social ladder.
"We don't want our children to follow in our footsteps, but if these conditions persist, they will have no other option," he says, looking on as the sun sets against the solar panels. "We were born in poverty; we will die in it as well."
RELATED ISSUES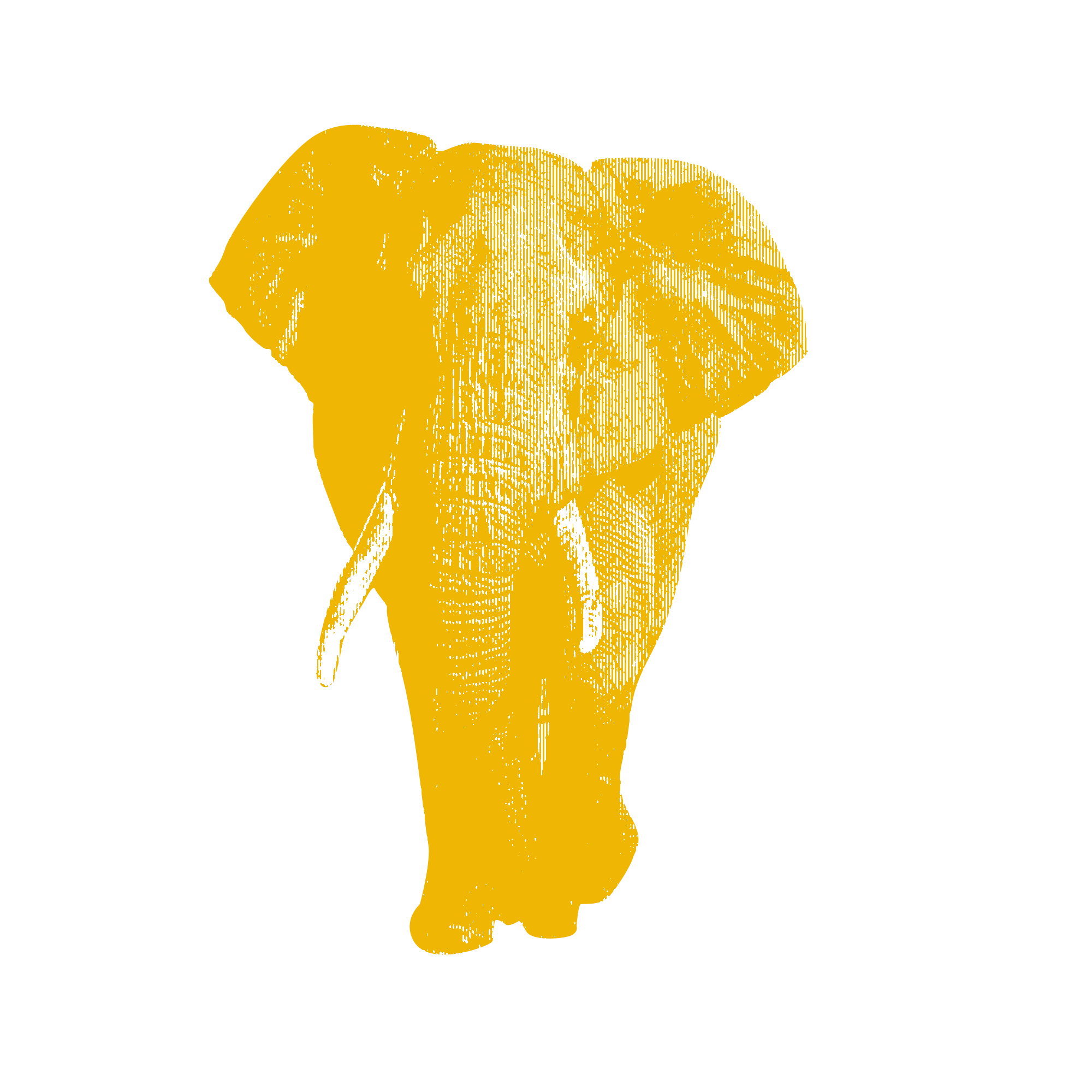 Issue
Environment and Climate Change
Environment and Climate Change

Governance