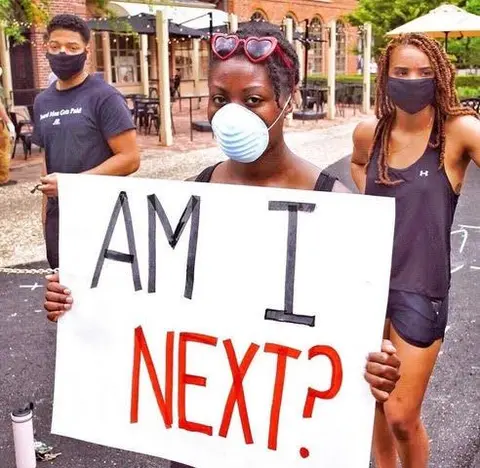 More than 200 people lined the brick path at the corner of Richmond and Jamestown, the edge of Colonial Williamsburg's boutique and restaurant plaza.
But this crowd was not here for a shopping spree.
Instead, they were there to "stand against the blatant, systematic, and institutional racism in all of our communities," according to the flyer that promoted the gathering.
While the first protests after the killing of George Floyd erupted several months earlier in Minnesota, this Saturday in November 2020 marked the 26th consecutive week of a "unity march," a protest started and led by College of William & Mary track athlete Felecia Hayes.
Hayes, a redshirt junior, felt the pain in the black community after Floyd's death and decided she was tired of being silent.
"So on May 30th, I just woke up feeling like I need to do something and not just be sad about the situation. I need to make my voice heard in some way. So I went to Rite Aid, made some signs, and I said, I'm just going to stand out there and I'm going to speak on a lot of the things that I'm feeling right now."
While only five people joined her protest that day, Hayes kept coming back week after week. Her consistency led to significant growth in turnout. Five people turned into 20, 20 turned into 50, and after the Breonna Taylor grand jury decision, 50 turned into 200.
Hayes admits her status as an athlete may have helped facilitate the growth of the protests. She credits working with other athletes as one of the keys to spreading the message.
"Working with other athletes and trying to create change on campus," Hayes says. "There was one point where my coach had never missed a protest. There were also my teammates and other athletes."
What was seen on the William & Mary campus is a microcosm of a nationwide trend. 
The recent rise in social activism in athletics is unlike anything the country has seen before. From high school athletes posting on social media, to college athletes organizing protests, to professional sports stars creating social justice organizations, Black athletes on all levels are using their platforms to promote change. Despite the risks of lost contracts or team sanctions, they are redefining the identity of the Black athlete in America.
---
It wasn't that long ago that athletes faced exile for promoting social justice on the field.
In September 2016, after kneeling during the national anthem at the final exhibition game of the NFL preseason, then-San Francisco 49ers quarterback Colin Kaepernick and safety Eric Reid received national criticism.
"I am not going to stand up to show pride in a flag for a country that oppresses people of color," Kaepernick told reporters. He said he would continue to protest during the anthem until he feels like the flag represents what it is supposed to represent.
Most did not realize Kaepernick protested during the first three preseason games as well; however, once the mainstream media picked up the story, many football fans reacted harshly. They booed him, burned his jersey, and vowed to boycott all NFL games if he continued his demonstration. Kaepernick protested for the remainder of the season before being waived by the 49ers.
He never played in the NFL again.
In Kaepernick's absence, Albert Wilson and Kenny Stills of the Miami Dolphins joined Reid in protest during the national anthem. However, these were the only professional athletes among the four major North American sports leagues consistently kneeling in demonstration prior to the 2020 NFL season.
In 2020, those numbers increased to unprecedented levels.
Over the summer, after the killings of Floyd and Taylor, the NBA lifted the ban on kneeling during the national anthem prior to the restart of the 2020 season. As a result, when the "Bubble Season" in Orlando, Florida, kicked off, all but four players, team personnel, or referees kneeled during the pregame playing of the national anthem. On top of that, every active player, except one, wore "Black Lives Matter" T-shirts during warmups.
Major League Baseball's opening weekend saw over 75 players and coaches kneel before the playing of the national anthem and rising to their feet as the song played. However, over 10 players and coaches remained kneeling during the anthem, with San Francisco Giants manager Gabe Kapler becoming the first head coach in the four major North American professional leagues to kneel during the anthem.
Furthermore, in the NFL, the league where the demonstrations began, opening weekend saw over 50 players and coaches kneel during the national anthem, the most in a given week in league history.
Demonstrations have spread to collegiate and high school levels.
Outside of kneeling for the anthem, collegiate athletes have formed social justice organizations on their campuses, led voting registration initiatives, and started blogs and podcasts to voice their opinions. Furthermore, it is now common to see things like "Black Lives Matter," "Unity," or "Peace" written on uniforms and T-shirts at a college athletic event. Meanwhile, high school athletes are making their voices heard through social media.
While the killings of Floyd and Taylor at the hands of the police were some of the igniters for this wave of activism, some trace the roots back further.
"I'm not surprised this moment is here because this moment has always been here," says Dr. Jamal Ratchford, professor in the history department at Colorado College. He specializes in African American history, sports studies, and 20th century U.S. history. In his article published in The Black Scholar, "Black Fists and Fool's Gold: The 1960s Black Athletic Revolt Reconsidered," Ratchford mentions John Carlos and Tommie Smith's national anthem demonstration during the 1968 Summer Olympics as an example of early social activism in athletics.
Ratchford also cites NBA superstar LeBron James' 2010 decision to leave the Cleveland Cavaliers for the Miami Heat as a monumental illustration of a Black athlete practicing self-determination, an idea extremely prevalent in today's social activism.
"A range of engagements, protest tactics, however you want to frame it, but all rooted in self-determination," says Ratchford. "How that (self-determination) has shifted over time. Black athletes said, 'OK, NBA, you want to put a dress code on us. Well, we will just shape the dress code the way we want.'"
"That's self-determination. This continuum between anti-Blackness and the love of Blackness."
As Black self-determination has shifted, we have seen athletes exhibiting self-determination by using their platforms to promote social activism and make tangible change in any way they can.
"What they have been able to recognize is, 'OK, we may not be able to impact legislation in Wisconsin or Kentucky or anywhere else,'" says Ratchford. "'What we can do is use our arenas as voting sites.'"
While teams converting arenas to voting sites, as Ratchford alludes to, is a significant step in the social justice movement, it is merely one of the several indicators of the changing times. A league that kept Kaepernick out after his national anthem demonstrations, less than five years ago, now writes "Black Lives Matter" on its playing fields. A league that officially banned kneeling during the national anthem witnessed over 200 of its players and coaches kneel during the anthem for the remainder of the 2019-20 season.
---
While some believe the rise in social activism was a result of anger with former President Donald Trump, or pent-up frustration with the COVID-19 pandemic, others believe the activism is here to stay.
"As long as people who look like them, meaning young Black people, take to the streets, then athletes will as well," says Dexter Blackman, a history professor and activist at Morgan State University. "As long as police brutality continues and the death of these Black people continues, you'll continue to have players speak out because the people will be speaking out." 
While many perceive athletes as the trailblazers for the masses to follow, Blackman sees it the other way around. He believes the people will dictate how sustainable the movement will be.
"You don't really see athletes begin to be outspoken, except for a few WNBA players, until Black Lives Matter manifests itself." 
Blackman is referencing the numerous examples of WNBA players speaking out against injustice far before the events of 2020. From hosting town halls and holding press conferences, WNBA players have spoken out for various issues, such as LGBTQ rights and racial injustice, since the league's inception in 1997. 
Furthermore, Blackman envisions the support from leagues and organizations for the athletes to continue as well. 
"The NBA, NFL, Major League Baseball, they don't want to battle with the players at this point," says Blackman. "They have huge contracts. They don't have to play when they don't want to play because they are already financially taken care of. I just think the players have more leverage." 
Leverage is the key. 
As the Diversity and Inclusion chair of the William & Mary Student Athletic Advisory Committee, Felecia Hayes uses her leverage to challenge the athletic department to bring back support systems and resources for athletes. More academic support advisers and a mental health counselor are some of the various changes Hayes is using her platform to push for. 
"I think having that platform as an athlete is very important, and it's something I've definitely benefited from tremendously," says Hayes.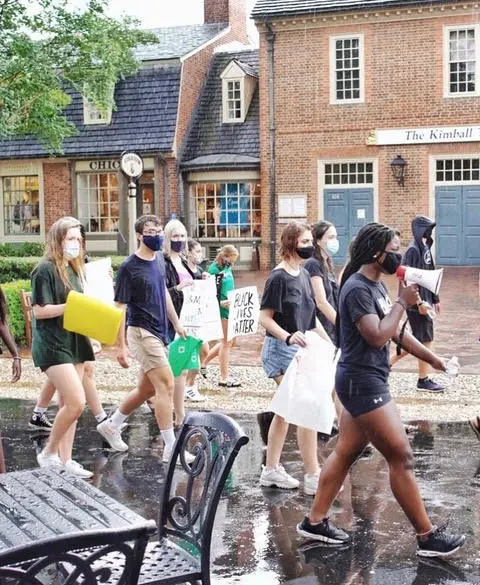 RELATED ISSUES