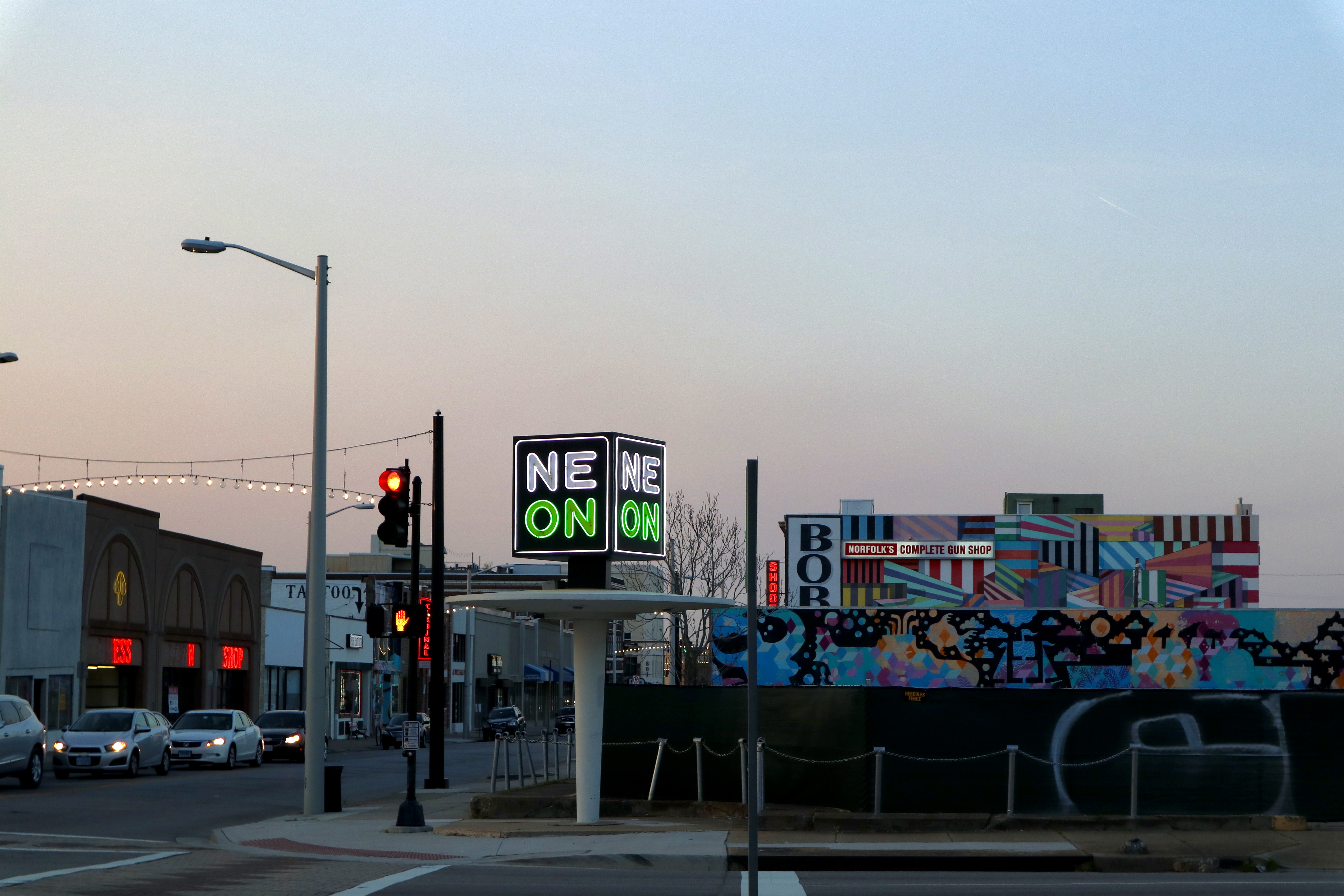 In Norfolk, Virginia, St. Pauls Boulevard is famously known to bisect the city between east and west, separating potholes and jagged sidewalks from seasonal flora and newly-paved bike lanes. Once seen as the hard barrier of these two distinct sides of Norfolk, this border is now beginning to fade.
As the city evolves, these progressively blurred lines are rapidly changing the space surrounding St. Paul's Quadrant. Home to 4,200 residents, the quadrant is a historically-Black public housing complex consisting of three communities: Young Terrace, Tidewater Gardens, and Calvert Square. Each sits to the east of the boulevard and dates back 70 years.
Just one block divides the areas, during which Norfolk morphs from Young Terrace's homogenous rows of apartments to the NEON District's staple candy-colored murals and upscale eateries. This arts district was established in 2013 and signaled a "New Energy of Norfolk" with its name.
Acting as one of the many high-contrast sights in the area, there's a complete flip in appearance between the NEON District and Young Terrace. Changes in aesthetic also mirror the class and racial imbalances entrenched in the two neighborhoods, patterns frequently reinforced over the city's history.
This concern is now the center of a lawsuit from the residents of St. Paul's public housing against the City of Norfolk, its Redevelopment and Housing Authority (NRHA), and the U.S. Department of Housing and Urban Development (HUD).  As Norfolk begins moving residents out of St. Paul's, the lawsuit fears the redevelopment plan will "deny thousands of its Black residents affordable housing opportunities and access to integrated communities."
Norfolk and the NRHA's plan includes demolishing over 1,600 units of affordable housing and rebuilding only 600. This proposal, critics warn, bears strong semblance to past endeavors that only worsened segregation and the displacement of non-white populations in areas like Atlanta and Washington, D.C.
Johnny Finn, a geography professor at Christopher Newport University, remains skeptical that Norfolk will address the heart of its housing issues: "The story stays focused on the middle- and upper-middle-income people—who now make it seem like it's this thriving urban area—only because they've displaced rather than solved the underlying problem of racialized poverty."
Finn directs the Living Together / Living Apart project. Because of his work mapping modern segregation locally, Finn is often cited as an expert on inequality in Hampton Roads, a metropolitan region in southeast Virginia that spans from Virginia Beach to Williamsburg. The recycled nature of the redevelopment plan strikes a dissonant chord with him, adding, "It's never worked before and somehow, magically now, it's going to work. I just don't buy it."
Though the city claims that residents can choose to move back into the renovated area, Norfolk's own track record invites cynicism. "There is a long history of historically broken promises and more recently broken promises," says Attorney Sarah Black. A member of the pro-bono legal team representing the residents of St. Paul's, Black is the director of litigation at the Legal Aid Society of Eastern Virginia. She continues, "The city certainly promises things, and they've promised things before."
Building tension between the wellbeing of Norfolk's established residents and the city's desires to expand represents a microcosm of a country facing a mutating housing-affordability crisis.
Promising beginnings.
Part of a push to make Virginia more attractive, the NEON District came as a result of state legislation. In 2009, the Virginia General Assembly paved the way for localities to establish "arts and culture districts." This served to increase awareness for the arts as well as provide localities with tax incentives and greater flexibility in zoning and other permits.
Confronted with a dwindling youth population, the City of Norfolk and its managerial arm, the Downtown Norfolk Council, hoped to use this legal foundation in retaining younger people. To avoid a worsening trend of "brain drain," the NEON District incentivizes recent graduates and other young professionals, encouraging them to settle in Hampton Roads over other popular mid-Atlantic regions like D.C. or Richmond.
The NEON District was born out of a desire of the Downtown Norfolk Council to create a "business improvement district" with a number of pull factors enticing entrepreneurs, customers, and residents. Known for their foot traffic and financial reward, these business improvement districts also charge property owners higher tax rates.
With the Chrysler Museum of Art and the headquarters of the Virginia Opera company just around the corner, this area became the prime candidate for new development. Texas nonprofit Better Block was hired by the city to demonstrate the potential of an arts district to area residents. This four-day initiative aimed to "give people a chance to experience those spaces in an art-district-style context," recalled Better Block founder Jason Roberts.
One issue Roberts observes is that while everyone deserves sidewalks and greenery, these amenities are extremely limited in quantity. In the St. Paul's area specifically, racial segregation mandated by a 1914 zoning ordinance also resulted in a lack of "sidewalks, streetlights, gutters, and adequate sanitation, creating slum conditions," the lawsuit states. By implementing these assets in an area devoid of them, Roberts notes, this work can also have an inverse effect in driving up local housing prices.
Because of the growing costs of living in downtown Norfolk, the Director of Strategic Initiatives of the Downtown Norfolk Council Rachel McCall admitted that the NEON District struggles to keep the neighborhood affordable and maintains no mass hubs of artists, contrary to the area's designation as an arts and culture district. "We have not ever had that, like, mass of artists living and working in cheap space," said McCall. The City of Norfolk leaves it up to the market to dictate the prices of rent.
In addition to not producing enough affordable housing for local artists to prosper in the NEON District, the issues of redevelopment occur within a larger problem of affordability in Norfolk.
Virginia remains as one of only 16 states using the federal minimum wage of $7.25 per hour. Additionally, Norfolk holds a higher poverty rate relative to other nearby cities like Virginia Beach and Chesapeake, placing upward pressure on living costs. The prevalence of short-term leases due to the area's prominent military presence also creates a higher demand within the rental market.
Together, the high poverty rate and tight supply of rental units work to cement Norfolk as the sixth-most-evicting city in the country. According to Princeton University's Eviction Lab, 8.66 per 100 renter homes in Norfolk face eviction. Even relative to Virginia's eviction rate of 5.12%, Norfolk poses a distinct abnormality. 
New neighborhood, recycled problems
The demographics catered to by the NEON District and other new developments in downtown Norfolk pose a stark difference to the lifestyles of the longtime residents of St. Paul's Quadrant.
Though the two neighborhoods are separated by less than a half-mile, rent prices decrease steeply from NEON to St. Paul's. As the ZIP code with the city's second-highest rent, apartments in the downtown area and arts district average $1,350 for a two-bedroom apartment. The ZIP code occupied by the public housing communities, on the other hand, averages just $1,000. 
Aside from the implementation of an arts district, St. Paul's Quadrant is gradually being surrounded by new attractions and upgrades meant to further increase the value of the area. The NEON District lies to the north of Tidewater Gardens; a new casino is staged to begin construction to the south; the MacArthur Center, Norfolk's primary mall, is due to receive a facelift west of St. Pauls Boulevard; and new drainage work to combat sea-level rise is underway to the east.
"Those profit-seeking interests are fundamentally in contradiction to the interests of poor people who are being displaced from that square footage right now," said Finn.
As residents of St. Paul's move out for the reconstruction of the public housing complex, a completely different surrounding environment will greet them upon their return—that is, if residents come back at all.
The NRHA maintains that the redevelopment of St. Paul's Quadrant  includes improving the housing complex and assuring residents that they have the ability to return to the neighborhoods. This affirmation for low-income renters to continue their lives once the redevelopment finishes reflects a theme echoed before not only by Norfolk but by other major U.S. cities.
"Not only in Norfolk's history but around the nation, the people who get moved out of those communities very rarely benefit from the redevelopment … and few tend to be able to return," said reporter Ryan Murphy, who covers the city of Norfolk for The Virginian-Pilot.
Murphy finds the St. Paul's project carries the potential to repeat past harms from the redevelopment of Ghent 60 years ago. The transformation of the Ghent neighborhood promised previous residents, also predominantly Black, a guaranteed return to their neighborhood after construction is finished.
Once the dust settled, however, the beautiful new area awaiting Ghent's original residents was far too expensive, informally evicting Ghent community members from their own neighborhood. Today, Ghent is replete with lavish dining establishments, pricier coffeeshops, and niche boutiques, marking one of Norfolk's highest-income areas. 
For many, the failures of the City of Norfolk to retain the identity of Ghent still looms 60 years later and makes the prospect of St. Paul's revitalization especially daunting. More recently, the memory of Norfolk's Broad Creek neighborhood signals caution after the city demolished public housing only for that acreage to remain vacant.
"My strong sense is that any plan that's going to bring back hundreds of public housing families to this new mixed-income neighborhood, just south of the NEON District, is just total B.S.," said Finn.
Race to the bottom
Virtually all of the residents residing in St. Paul's Quadrant are Black and nearly half are children. Representing two vulnerable populations, the displacement of these residents twists the knife of historic harms and long-standing social inequities.
For residents unable to reestablish themselves in the newly renovated St. Paul's Quadrant, a dismal rental market awaits them. Poverty rates in St. Paul's Quadrant reach as high as 77% in its Young Terrace community, making the search for affordable housing especially difficult within an already expensive city.
Data from 2017 places 29.4% of Black Norfolk residents below the poverty line — more than double the poverty rate for non-Hispanic white individuals living in the city (13.3%), even though the respective populations only differ by 2.4% in their composition of the city.
Though Norfolk's Black and white populations are rather similar in size, the distribution of the respective demographics shows very little overlap. In order for Norfolk to see a balanced distribution between the two groups, 62.5% of its Black population would need to move. This value, known as the Dissimilarity Index, measures segregation and percentages over 60 show evidence of high levels of residential segregation.
The city hopes to accommodate those who cannot return to St. Paul's by offering federal Housing Choice vouchers that help tenants pay rent in areas not part of public housing. More informally known as Section 8 vouchers, this HUD-sponsored program sends "taxpayer dollars, public funding, through low-income people into the pockets of the landlords," explains Finn.
Rehoused residents of Tidewater Gardens, the only St. Paul's community to officially start the redevelopment process, are ending up in other low-income segregated neighborhoods and moving Norfolk further away from residential integration.
According to a report by The Virginian-Pilot, less than 30% of residents who left St. Paul's relocate to "areas of opportunity," or areas defined by the city as having less than 40% poverty and less than 62% non-white residents.
"What [the city's] not really saying is that, 'We're going to take the current residents and we're going to reconcentrate them in other poor neighborhoods, in other neighborhoods that are resource-deficient,'" said Black.
Scattered around the NEON District, empty parking lots and undeveloped fields sit idly. Black continues, "There's plenty of space to make a mixed-income community within the St. Paul's Quadrant. There is room for everybody."
Contrary to the name the New Energy of Norfolk suggests, the issues facing the city and its hope to grow only require a short look at Norfolk's past to see an ongoing pattern. As the city makes way for more plans to attract newer crowds with deeper pockets, it's the longest-established residents receiving the short end of the stick.
"We've seen this movie before," explained Finn. "It ends with a bunch of already middle-income and up, people moving in, and it ends with the poor people that were there in the first place moving out."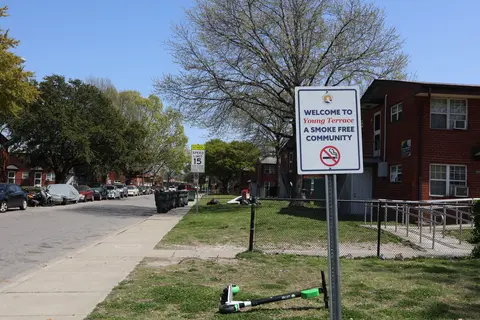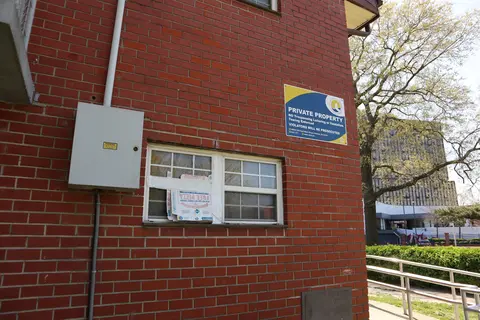 RELATED ISSUES

Issue
Land and Property Rights
Land and Property Rights

Racial Justice