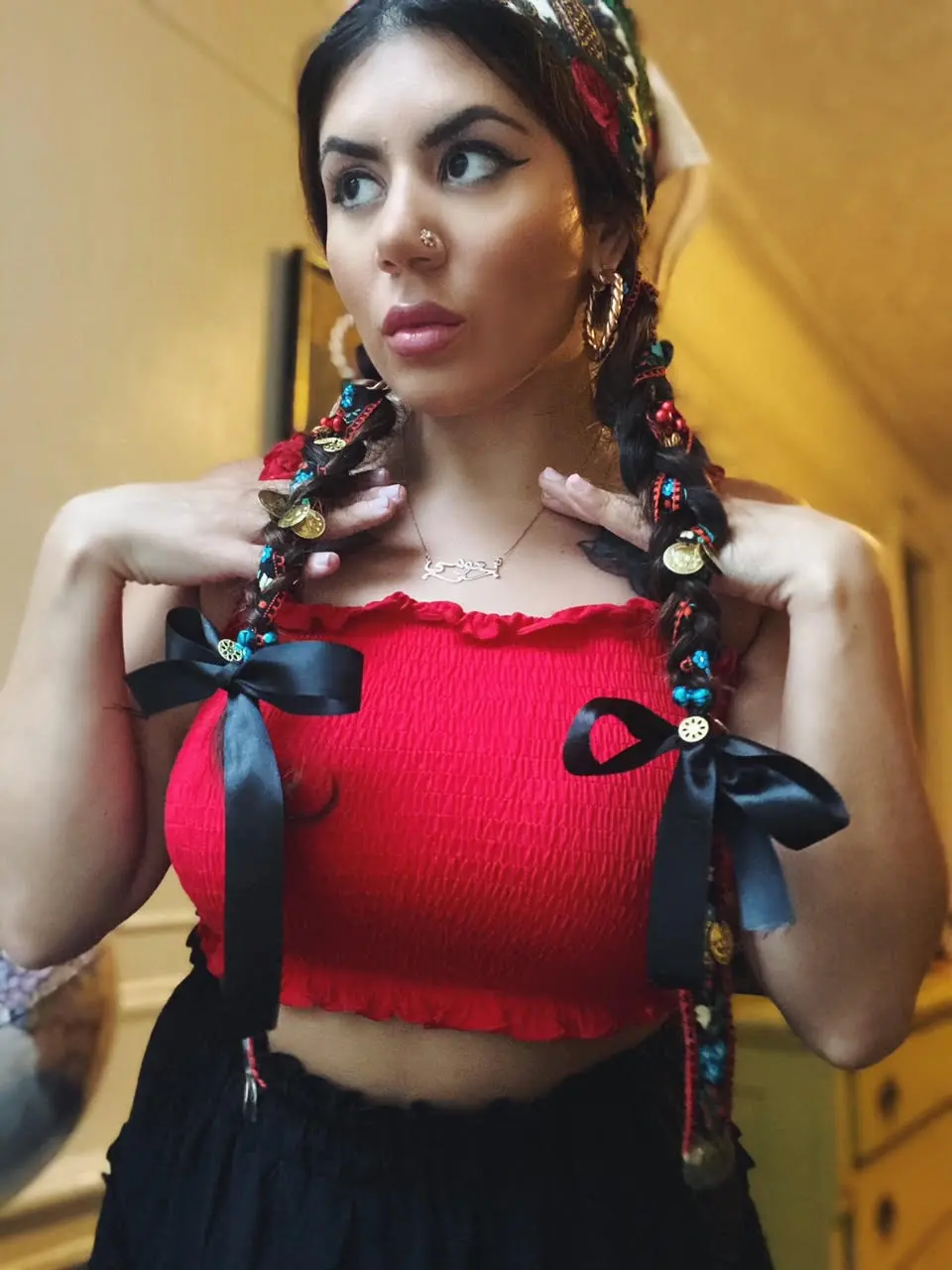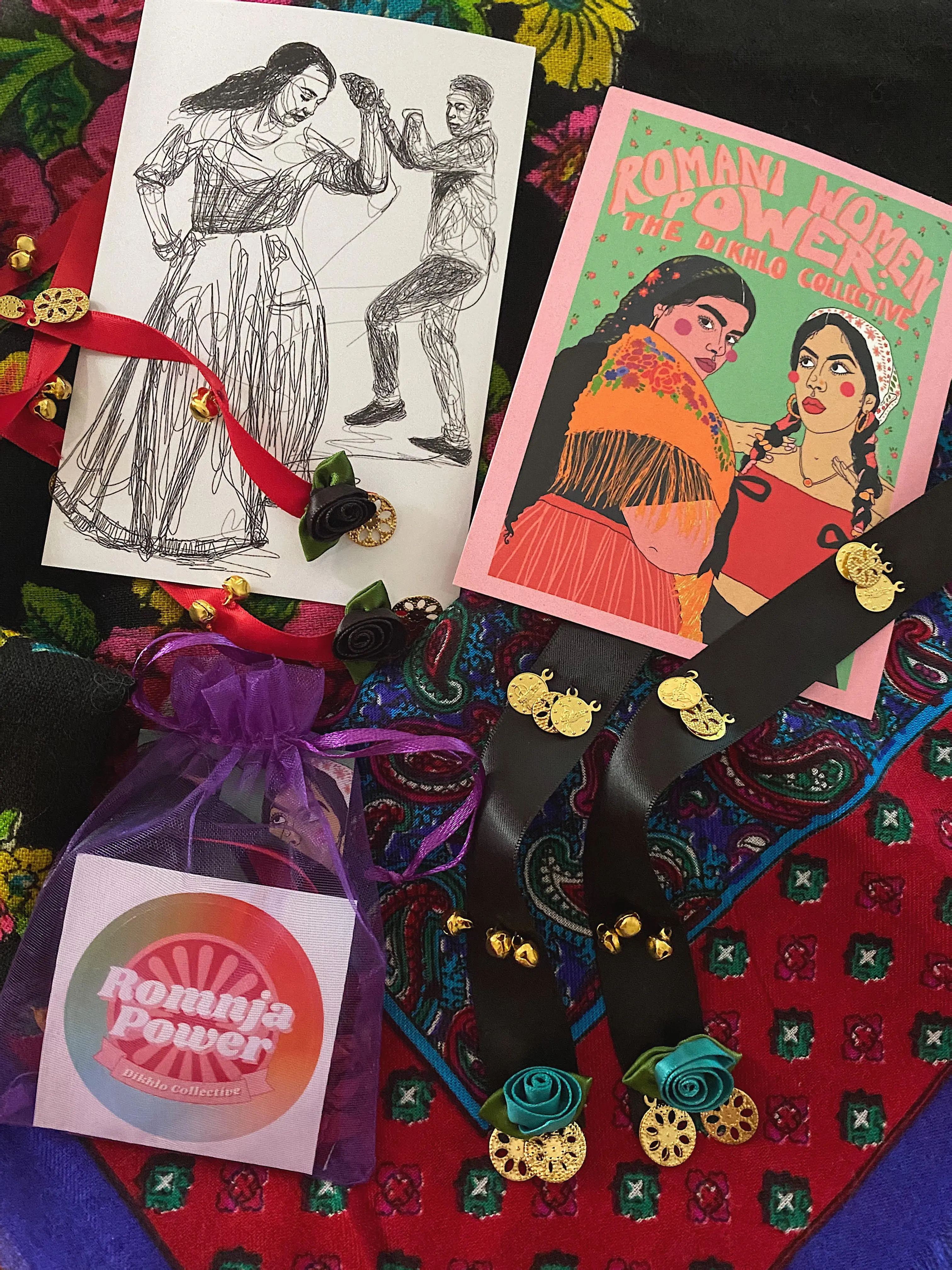 Locked down in her New York City apartment in May, Naomi Negron picked up an arts and crafts project to pass the time. She sewed pairs of ribbons and decorated them with coins, bells, and satin flowers. These were not random adornments. Indeed, each creative choice held significance. Negron is of Roma heritage, and each detail is a nod to that identity. Ribbons, for instance, are a traditional hair accessory in several Roma communities. The embellishments and colors—such as red for good luck—are more subtle expressions of Roma identity.
Lois Jones, a good friend of Negron, joined in the project from overseas. She reached out to members of the Roma diaspora through Facebook groups to gauge the interest in their product. Soon enough, she had about 200 orders. People wanted the ribbons but other goods, too. For example, Dikhlo, headscarves worn by many Roma.
Eventually, the project evolved into the Dikhlo Collective, a community-building, identity-supporting nonprofit. The Dikhlo Collective creates parcels to share with members of the Gypsy, Roma, and Traveller (GRT) community.
These packages are shipped across the U.S. and the Atlantic with the hope that they will spread joy, Negron says. They are free; however, Negron and Jones appreciate donations. The Dikhlo Collective has an Etsy shop that brings in some revenue, but the parcels are otherwise funded by Negron and Jones themselves.
In addition to the packages, the Dikhlo Collective has an active social media presence. It has  established an aesthetic of vibrant pinks, oranges, greens, and blues. The goal of this look, as with the packages, is to create uplifting emotions, Negron said. Rather than use a similar branding to Romani activism pages, Negron and Jones seek to choose colors, patterns, and fonts that resemble the other content followers find in their social media feeds.
"Culture. Community. Unapologetic Identity" is the slogan at the center of the Dikhlo Collective's work. At a time when connections and community moved online, the Dikhlo Collective has created a more in-person community for the Roma diaspora. This concept is especially unique within the Romani-American community, which has otherwise connected through social media.
"We are trying to do something positive for our community and for our people, and to actually give somebody something tangible to be proud of themselves," Negron explained.
Negron and Jones are sparking discussions about the complexities of identity, community, and inclusion. They are nourishing many Romani-Americans with a sense of belonging and celebration, feelings that are especially hard to come by during a pandemic.
Romani-American: A hyphen identity
Jones and Negron met in August two summers ago, as facilitators at Dikh He Na Bister ("Look and Don't Forget"), a yearly youth conference in Kraków, Poland. That summer, around 500 Roma and non-Roma youth from across Europe gathered to remember the Romani genocide during the Holocaust, and to learn about human rights and racism. The conference emphasized the link between genocide and identity development.
"I was the only American facilitator there," said Negron. "So when I put in my application, I was just very curious. Roma are not really part of the history taught in European schools. Even in the U.S., it's more like we're a footnote. We'll be in the list of the others that were impacted by the Holocaust. You know, the folks with disabilities, 'gypsies.' It's just a footnote."
In reality, Romani-Americans are part of a vast diaspora. There are numerous Romani sub-groups and communities that speak different dialects of Romani and practice different traditions. An estimated 1 million Roma live in the U.S. today, some whose ancestors arrived on the land when it was still a British colony.
There is not one single Roma experience, especially in the U.S. Romani-Americans live all across the country. Some Romani-Americans are raised in insular communities, while others—like Negron—are raised with little connection to other Roma.
"It's very much like being any hyphen of American," she said. "You come here and you have your identity, but it's also American."
It wasn't until Negron connected with other Romani-Americans that she realized many of her family's traditions were associated with her Roma heritage, not just her Hungarian heritage.
Anti-Roma racism in the U.S.
Negron has realized other more disheartening realities linked to her Roma heritage. Negron was the first in her family to go to college. All the women on her mother's side of the family have been domestic workers, and Negron's mother never graduated from high school, Negron explained.
Around the world, Roma are misunderstood and misrepresented. In Europe, discrimination toward Roma is a widely reported issue, but it clearly thrives in the U.S. as well.
Romani-Americans endure housing discrimination, profiling by law enforcement, and violence.
There is no published data on the impact of COVID-19 on Romani-Americans; however, a recent study by the Harvard FXB Center for Health and Human Rights and the nonprofit Voice of Roma found that 30% of the 363 Romani-Americans surveyed for their study had no health insurance coverage at the time. Though this study only surveyed a small percentage of the Romani-American population and is therefore limited, this estimate can be compared to the 2019 U.S. census, which found 92% of U.S. citizens had health insurance. As with other minority communities, it appears Romani-Americans have fewer resources to support them amid the pandemic.
The study also found that "more than three-quarters of the interviewees said that Americans discriminate against people of Romani heritage or that Americans treat Romani Americans differently from people in other minority groups. Seventy percent of the interviewees said they usually hide their Romani identity to avoid being stigmatized, stereotyped and/or discriminated against by non-Roma."
"Although a large number of Romani-Americans—at least those that we interviewed—continue to value Roma culture, and to listen to Roma music, and all that, they do it in the safe space of their homes," said Margareta Matache, director of The Roma Program at Harvard FXB and a researcher in the recent Harvard and Voice of Roma study.
Matache fears Roma culture is often described as homogenous and seen as inferior, even by some scholars. Matache explained that there is not enough awareness about anti-Roma racism. She then offered advice to recognize anti-Roma racism.
"When you read something about Roma, and especially Roma culture, just try to replace the word 'Roma' with the word 'Jewish' or 'Black,' or the name of any other racialized or oppressed community. And if that feels racist, it means it's racist."
As protection from the brutal oppression their European counterparts endure, Romani-Americans have attempted to blend into the country's diverse population. And while this is a driving factor for the lack of quantitative data on Romani-Americans, it has not eliminated anti-Roma racism.
Who is Romani-American? 
In the U.S., where not all Roma live in insular communities and much of the nationwide Roma community-building takes place online, Roma identity is particularly nuanced.
"There's being culturally Roma and being ethnically Roma. You could be ethnically a hundred percent Roma, but there will be people that were raised in the culture that will say you're not really Roma because you're not raised in Roma culture. Or, there will be people who were adopted into Roma families who are not ethnically Roma but Roma people claim because they've grown up in the culture," Negron said.
There can be tense debates over who counts as Romani-American. These high barriers to entry are in place to protect against exploitation. Ethnic fraud—when non-Roma falsely claim to be Roma—is not uncommon in the Roma social media space. A North American Roma activist, who asked not to be named for fear of professional repercussions, said that ethnic fraud is extremely harmful to the work Roma activists have put into accurately portraying the Romani diaspora.
Falsely representing oneself as Roma can be profitable. The anonymous source refers to these individuals as "career gypsies."
"They get invited to conferences, they get to go travel around, they get to be paid to be a consultant, and they might not know anything," the source said.
While Negron and Jones are aware of these tensions, they would like to keep their focus on identity celebration.
"If we were involved in all of the nuances of internet arguments about falsified identity, we would never get anything done for our actual people. So I think we both see it. We both observe it. We do discuss it. But at the end of the day, publicly, it's not something that we're addressing."
"When people reach out to us [the Dikhlo Collective], the one thing we ask for is for folks to be honest. I think there's a difference between someone genuinely being interested in connecting with their heritage, whether that's distant or not, and being upfront about that, and someone stealing other people's stories, stealing other people's family history, fabricating things," Negron said.
Inclusive identity  celebration 
The Dikhlo Collective is fundamentally about acceptance. It offers diaspora members traditional signs of Roma heritage, for example Dikhlo, but it also aims to uplift those who do not identify with traditional cultural emblems or who wish to celebrate their Romani identity in tandem with other identities.
Negron must be thoughtful as she works. She makes scrunchies, jewelry, and other subtler items for those who would like to acknowledge their Romani identity without garnering attention from non-Roma. The Dikhlo Collective's dedication to inclusivity is noticeable at an even a smaller level, too. As she fulfills orders, Negron strives to incorporate specific colors, patterns, and embellishments to tailor her crafts to an individual's identity.
While the Dikhlo Collective celebrates traditional ideas about Romani heritage, it is intent on appealing to younger generations.
"We want it to be attractive to younger people because we want them to be able to reimagine culture in whatever way they want. However you embrace and want to display your culture is up to you," Negron said. "Roma people are not just a Roma identity—that comes with gender that comes with sexuality that comes with race. So it's very much up to the individual to decide what suits them. And we want to kind of be a space for celebration and acceptance. Because if we don't change with culture, that is how things can die out," said Negron.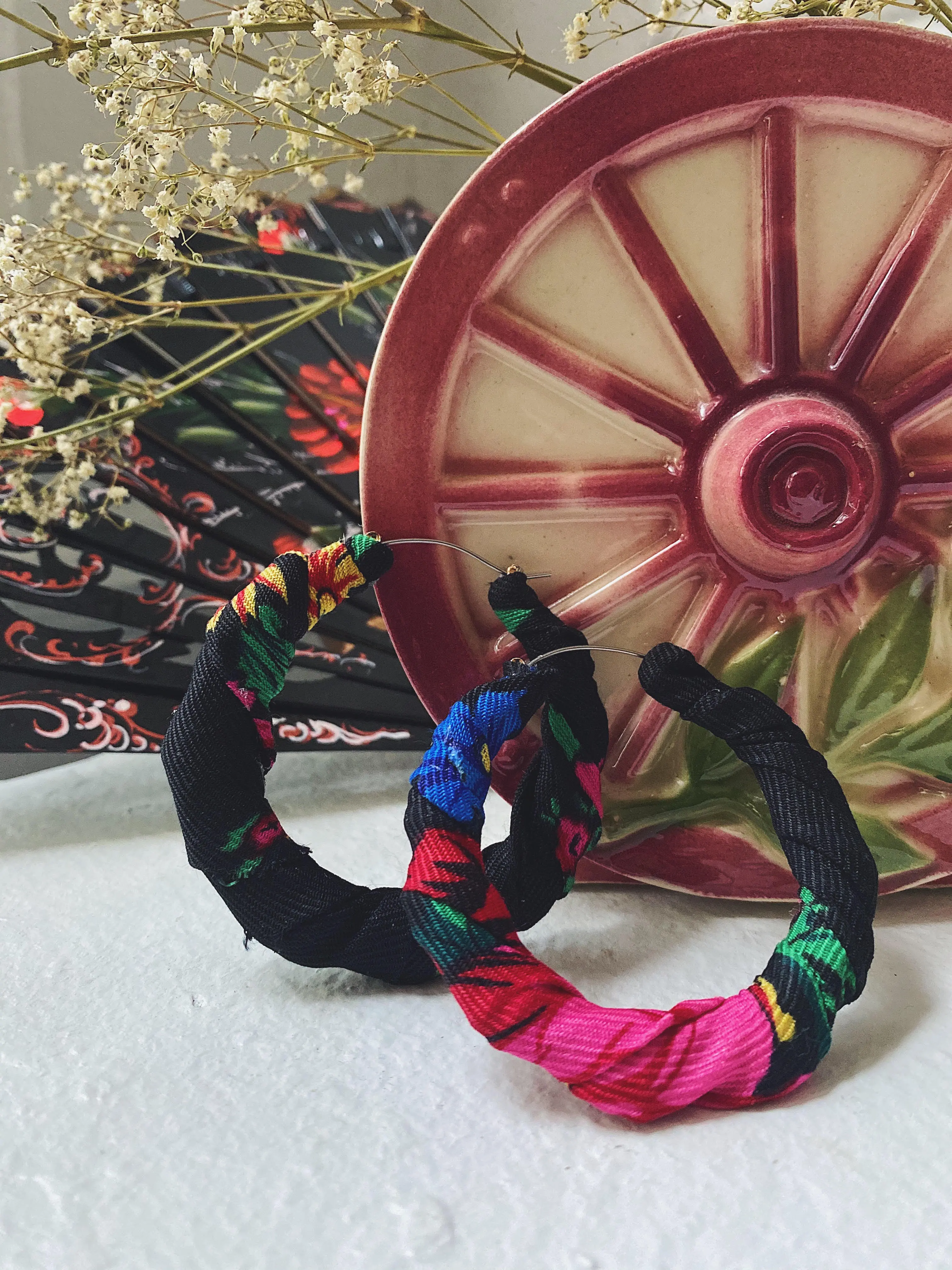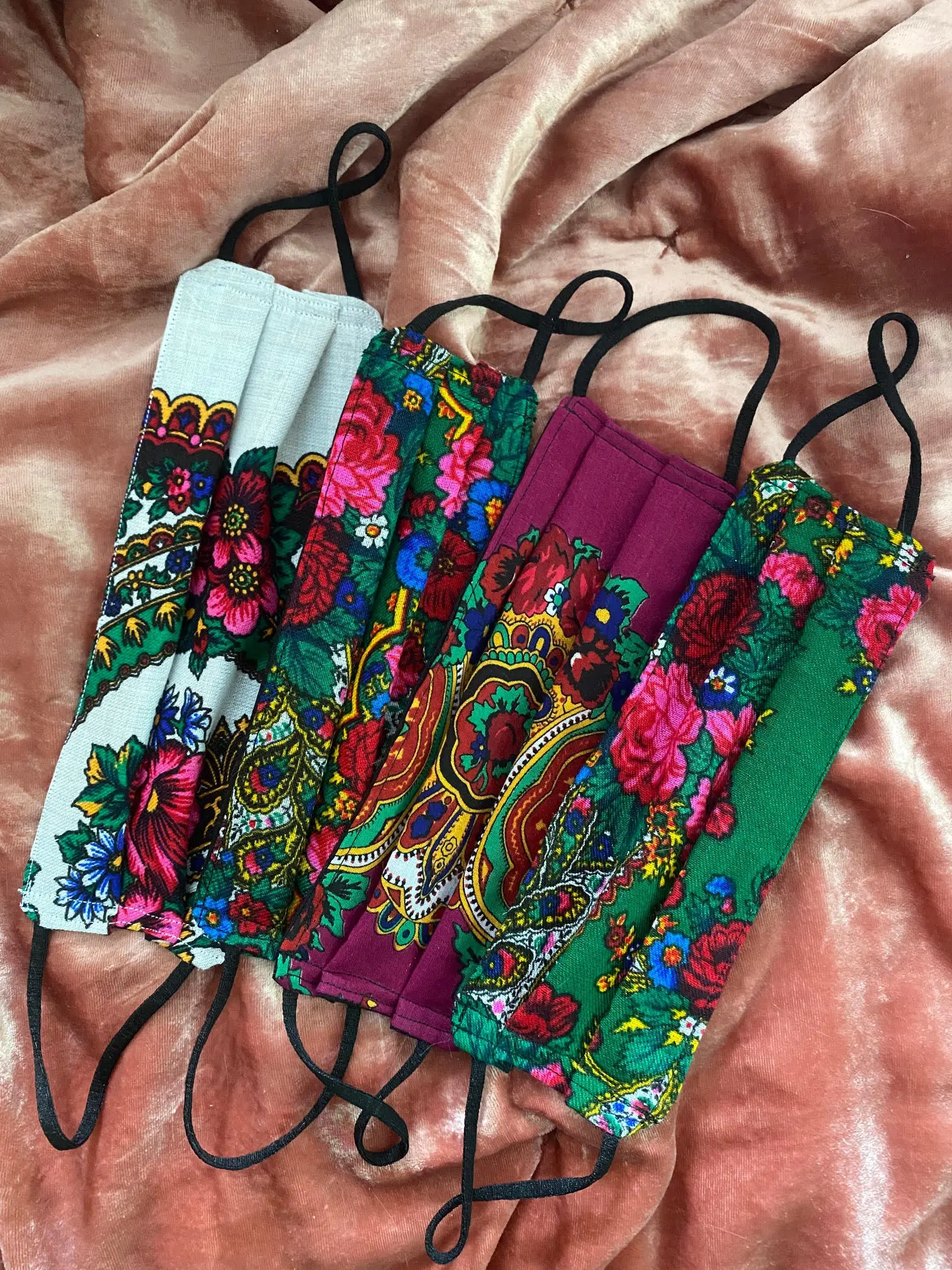 Beyond identity, it's community
Another key objective of the Dikhlo Collective is to create community and a sense of belonging, both for those receiving a package and those contributing to them. 
"We want it to feel like a whole experience for someone—to get something really nice and thoughtful in the mail," Negron said. "Some people will donate, some people will donate and pay for postage, and some people cannot pay postage and we send it to them anyway," said Negron.
In addition, the collective works to uplift Roma artists around the world, Negron said. Negron sources vintage Dikhlo and buys prints by other Romani artists to include in the collective's packages.
Creating individually tailored packages takes time. Negron said a pair of hair ribbons takes about an hour to complete.
"The collective for me is like literally another full-time job with all the things that I make for it," Negron added.
Yet with COVID restrictions on social gatherings, and with the gratitude many in the Romani diaspora have shared with Negron and Jones, Negron has no trouble staying motivated.
RELATED ISSUES