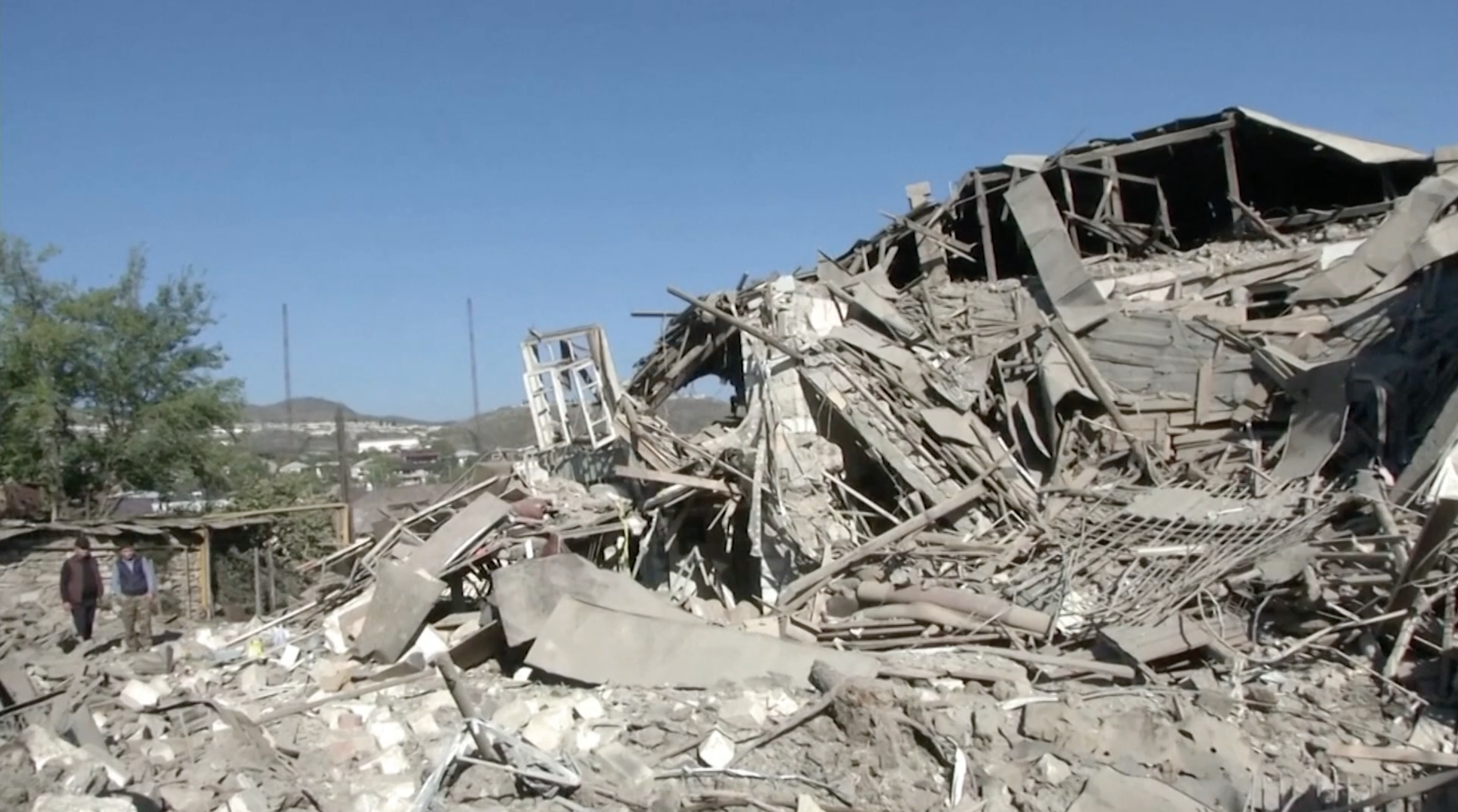 Read the Full Transcript
Hari Sreenivasan:
New clashes have erupted in the contested region of Nagorno-Karabakh. The fighting between Azerbaijani and Armenian forces has been going on for nearly three weeks there, despite efforts of a Russian-brokered cease-fire last weekend.
The destruction has swept through this region with devastating force and is eroding assurances that have held for nearly 30 years.
Special Correspondent Simon Ostrovsky has been reporting in the region with support from the Pulitzer Center and has the latest.
A warning:
Some of the images in this segment are disturbing.
Simon Ostrovsky:
The war over the Nagorno-Karabakh enclave has dragged on for more than three weeks, sweeping through this region with devastating force. It's also sweeping away old certainties that have held here for almost three decades.
Simon Ostrovsky:
Ethnic-Armenians won control of this region in a bitter and bloody war between the former Soviet Republics of Armenia and Azerbaijan that broke out as the Soviet Union disintegrated.
They cemented their rule over these mountains, declaring independence and forging overland links with Armenia. Azerbaijan doesn't yet rule the mountains, but in this new war, it rules the sky with an arsenal of sophisticated weaponry purchased with its oil wealth.
It's a war in which you never see your enemy face to face. Ethnic-Armenian forces are left to warily scan the sky searching for the next suicide drone or guided missile.
Georg:
It's a plane! It's a plane! It's not safe here!
The same thing happened yesterday. We were hit with bombs, some kind of smerch rockets or artillery. I don't really know, I'm a doctor, I don't know these weapons very well.
See?
Simon Ostrovsky:
Here in Martakert, a military hospital was destroyed in a strike on Wednesday as staff removed bodies for transportation homewards. Two medics were injured.
This town, like other parts of Karabakh, has remained under fire despite a cease-fire that was brokered by Russia last week.
Russia once ruled over both Armenia and Azerbaijan, but lately, there is a new power player in the region: Turkey. It's supplied its ally, Azerbaijan, with an arsenal of killer drones and sent in Syrian mercenaries on Baku's behalf.
Ankara's involvement is evoking memories of the 1915 Armenian genocide.
Martin Sargiyan fears the worst.
Martin Sargiyan:
Genocide for us. They don't want us here.
Simon Ostrovsky:
For almost three weeks, Sargiyan has called this cellar underneath a kindergarten in the town of Martuni his home. He shares it with several other pensioners. One of whom was hit with shrapnel when his guard booth was destroyed by a bomb.
Simon Ostrovsky:
Here on the fringes of Karabakh, unlike in the big cities, the cease-fire never came into effect, the war never ended. The men here are frail and old, they say they hope for peace, but they're also ready for war.
Martin Sargiyan:
Half an hour ago there were explosions, a 100 meters from here. We want peace. We want our sons and grandchildren to come here. To be near me, that's what I want.
Simon Ostrovsky:
Martuni has been transformed into a ghost town. The streets are pockmarked and deserted. The sound of distant artillery fire hangs in the air.
Yet, Violetta Tumanyan refuses to flee.
My son is on the frontline, she says. If we stay here, our sons will fight harder knowing they need to defend us.
Further back from the frontline in the town of Lachin, we meet the owner of a supermarket.
Stepan Sargsyan lived in Los Angeles for 20 years before deciding to plant roots along the only functioning road connecting Karabakh to the Republic of Armenia.
On Friday, a bridge here was targeted with an airstrike in an attempt to sever that link.
He tells us it has become more difficult to fill store shelves with dairy products and meat since the conflict began.
Stepan Sargsyan:
It was a very, very big attack. We didn't expect it to be this bad. I didn't think that the world would stand by and look at it, and then make some regular standard statements and then forget about it.
I say that it will be fine. They won't win. But let's hope that God will help us. That ends up being true.
Simon Ostrovsky:
Districts like Lachin are at the center of Azerbaijan's grievances with Armenians.
When ethnic-Armenian forces won the first war, they didn't just take control of the mostly Armenian Karabakh region, they also took over seven surrounding districts of Azerbaijan, forcing out the ethnic-Azeri population. Armenians too had to flee areas that remained under Azerbaijan's control.
Karabakh's representative to the United States, Robert Avetisyan, told me these Azerbaijani districts, which are now largely depopulated, serve as an important security buffer for Nagorno-Karabakh, which Armenians call Artsakh.
Simon Ostrovsky:
Do you think there is a scenario in which Nagorno-Karabakh will ever trade land for recognition with Azerbaijan as part of a lasting peace settlement?
Robert Avetisyan:
Whatever is the Republic of Artsakh today is even less geographically and historically than historical Artsakh, which was part of Armenia for millennia.
Simon Ostrovsky:
So that's a no?
Robert Avetisyan:
That is the clear understanding that the security of the Republic of Artsakh is in the hand of the political leadership and the Defense Army of the Republic of Artsakh.
Simon Ostrovsky:
Azerbaijan too has taken an uncompromising stance, demanding all the territory controlled by Armenians within it's internationally recognized borders be returned to its control.
Ilham Aliyev, Azerbaijani President:
But at the same time we have proposed that in the future, the Armenian community and the Azerbaijani community should peacefully coexist there.
Simon Ostrovsky:
The overall death toll continues to rise.
According to Armenia, 633 soldiers and 34 civilians have died from its side. Azerbaijan reports 43 of its civilians have been killed but isn't releasing figures for military casualties. Judging by the grim footage coming out from the battlefield, it too is sustaining heavy losses.
While Azerbaijan has made some modest territorial gains, it hasn't swept the board as it's military leadership had originally hoped. A temporary cease-fire was agreed to on Saturday but the two sides appear to be locked in a gruelling war with no end in sight.
RELATED ISSUES