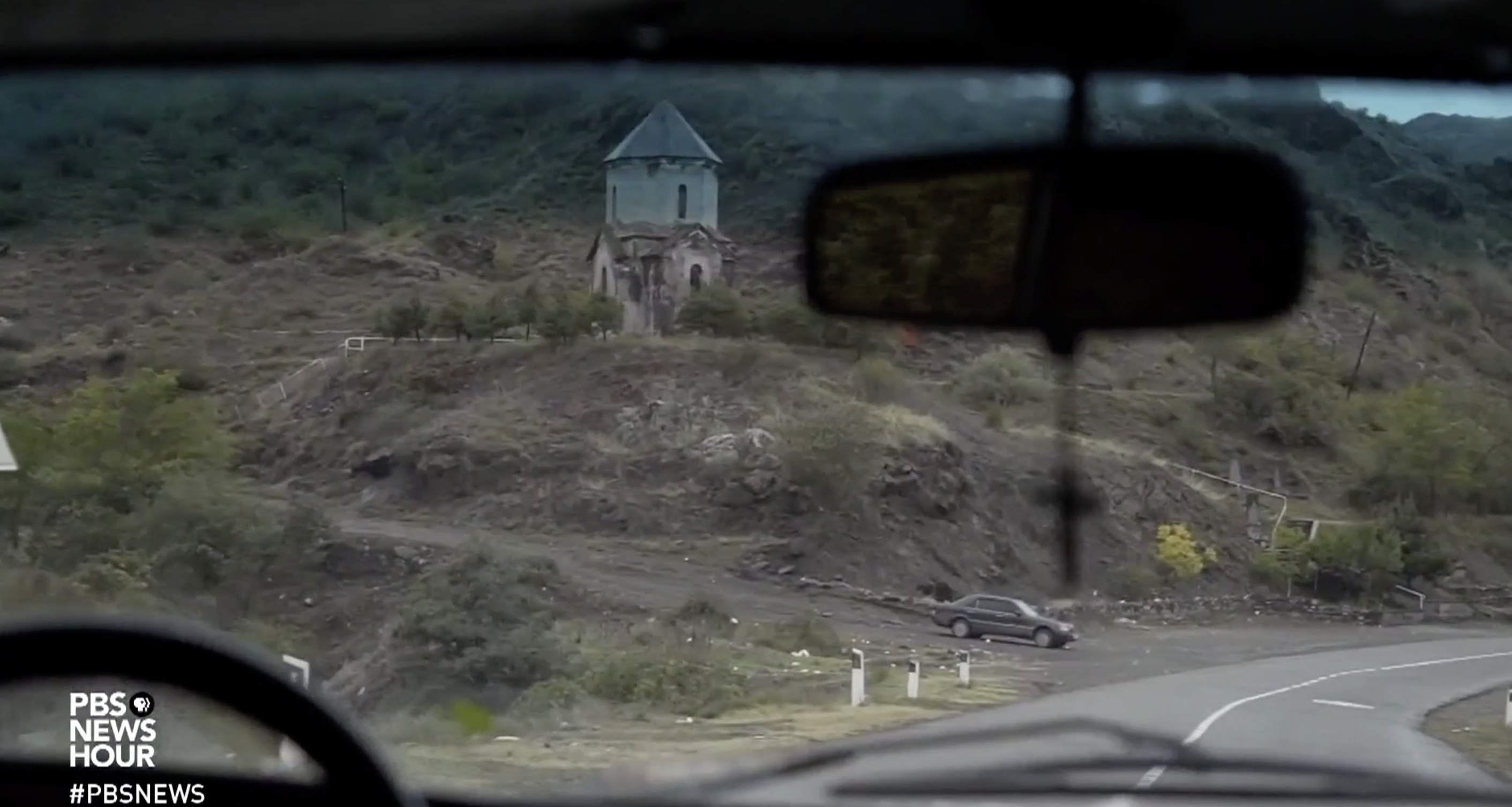 Read the Full Transcript
Judy Woodruff:
Fighting has broken out between two former Soviet republics, Azerbaijan and Armenia, over the ethnic Armenian enclave of Nagorno-Karabakh. Hundreds of lives have been lost since fighting began September 27.
With much of the world distracted by global pandemic and a bitter U.S. election campaign, this return to war now rages.
Late today, the Kremlin, which once ruled these two nations, said that it wanted leaders from both sides to come to Moscow for talks.
But in this small corner on the fringes of Europe, neighboring powers are becoming involved, with unpredictable consequences.
With support from the Pulitzer Center, special correspondent Simon Ostrovsky reports from Nagorno-Karabakh.
(SIRENS BLARING)
Simon Ostrovsky:
For over a week now, Armenians in the breakaway Nagorno-Karabakh republic have cowered in shelters, as bombs rain down from the sky.
Woman (through translator):
They're shooting. Come over here. It's coming in close.
Simon Ostrovsky:
It's a bitter conflict between ethnic Armenians on one side and ethnic Azerbaijanis on the other in a region where Turkey has taken an increased interest in its ambitions to be a regional power broker expand.
Woman (through translator):
They have been shooting all day. They're destroying everything.
Simon Ostrovsky:
This is the first full-scale war that's taken place here since ethnic Armenians won control of Karabakh more than 25 years ago.
But now the small breakaway republic in the Southern Caucasus threatens to pull in large and powerful regional powers. The neighboring Republic of Armenia is already in the fight on the side of their ethnic brethren in Karabakh, sending both troops and weapons.
NATO member Turkey has thrown its weight behind its ally Azerbaijan, supplying high-tech arms, as well as mercenaries from Syria, something Ankara denies.
Absent from the battlefield, for now, is Armenia's ally Moscow, which ruled over both air Armenia and Azerbaijan when war first broke out here as the Soviet Union dissolved in 1992, and Armenians demanded Karabakh become part of the Republic of Armenia.
We managed to get into the separate Karabakh and capital, Stepanakert, on Tuesday and Wednesday.
It's really hard to describe how terrifying it is when the city's being shelled. All you can think about is, how do I get low? How do I get safe?
The city is littered with various types of ordnance. A group of men show me a piece of a rocket that landed in a residential block.
Man (through translator):
It's Turkish. It's Turkish. And the main thing is that it's from an F-16.
Simon Ostrovsky:
Many here believe Armenia's age-old enemy Turkey orchestrated this war and is using weapons, including some supplied by the United States, on the population of Karabakh.
The Armenian prime minister has said as much himself.
Nikol Pashinyan (through translator):
According to our information, 150 top officials of the Turkish military are in different commanding positions of the Azerbaijani army, and they are commanding and leading the military.
Simon Ostrovsky:
But Turkey is not the only country supplying arms to Azerbaijan in its war to reconquer Karabakh. The weapon we found, for example, turned out to be a Soviet-made Grad missile.
In fact, just under 3 percent of Azerbaijan's weapons come from Turkey. More than half of its weapons were imported from Russia over the last five years. And a further 41 percent of the purchases came from another U.S. ally, Israel, but Russia is in only major supplier of arms to both sides of this war.
Nevertheless, many in Karabakh are holding out hope that Russia will intervene on their behalf.
Man (through translator):
Please tell our big brother Vladimir Putin to put his fist down to put them in their place. He knows how to do that.
Simon Ostrovsky:
Hope that he would grew dimmer after Putin yesterday told state television his country's treaty with Armenia doesn't cover Karabakh.
Vladimir Putin (through translator):
We have certain obligations under this agreement, but the fighting is not taking place on the territory of Armenia.
Simon Ostrovsky:
I asked the Armenian Defense Ministry spokesman what he thought of Russia supplying so much weaponry to Armenia's enemies.
Artsrun Hovhannisyan (through translator):
Buying arms from someone, whether it's Russia or Israel, that's one thing. The Turks are actually fighting against us.
Simon Ostrovsky:
The human rights ombudsman of self-declared Karabakh, Artak Beglaryan, called on the international community to cease weapons transfers to Azerbaijan.
Artak Beglaryan (through translator):
With fewer armaments, civilians are largely and internationally guiltier, and Azerbaijan wants to make genocidal acts here against all Armenians, and that's why…
Simon Ostrovsky:
It's dangerous to be in the open.
Just as we begin our interview, we hear an attack drone circling overhead.
A cameraman guides Beglaryan, who is partially blind, to cover in an adjacent ruin.
Man:
Hold on. Here. Here. Just stay here.
Artak Beglaryan (through translator):
Our forces are trying to subdue.
Several countries are supplying drones to Azerbaijan, among them, Turkey and Israel.
Simon Ostrovsky:
Attacks on civilians haven't been limited to Armenian-controlled Karabakh. Ethnic Armenian forces have shelled several major cities on the government-controlled side of the front line as well.
This footage filmed in the city of Barda earlier today. In all, 30 civilians have been killed on the Azerbaijan side, according to official figures, compared to around two dozen here. Military casualties are estimated to be in the hundreds.
With no end to the fighting in sight, civilians have begun fleeing the area. An estimated 75,000 have run across the border to Armenia already.
This elderly couple were on their way to stay with their daughter in the Armenian capital of Yerevan.
Woman (through translator):
We couldn't leave the cellar. We couldn't even bathe.
Man (through translator):
There's no gas, no electricity. How long can you survive on bread alone?
Simon Ostrovsky:
For the "PBS NewsHour," I'm Simon Ostrovsky in Nagorno-Karabakh.
RELATED ISSUES