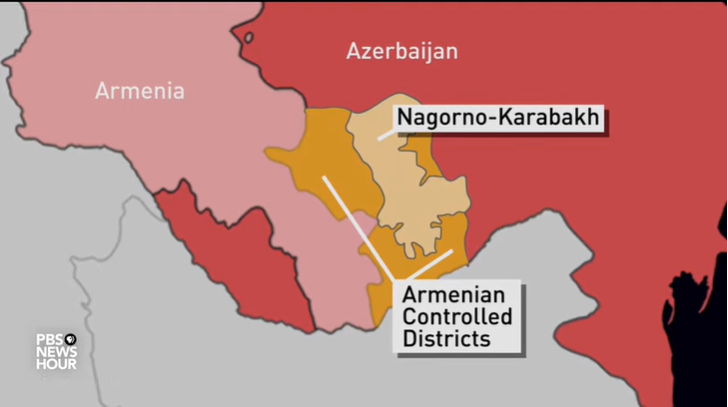 Judy Woodruff:
As the war over the ethnic Armenian enclave of Nagorno-Karabakh continues between Armenia and Azerbaijan, the push for a cessation of hostilities accelerated this week. But that's hard to tell on the ground.
With the support of the Pulitzer Center, special correspondent Simon Ostrovsky reports.
Simon Ostrovsky:
The fighting here is approaching its fourth week, despite attempts by Moscow to mediate.
Hundreds are dead, thousands displaced, here on the southeastern fringe of Europe. Yesterday, Russian Foreign Minister Sergei Lavrov made another offer after Armenia and Azerbaijan agreed last week to a cease-fire that did not cease fire.
Sergei Lavrov (through translator):
All the agreements that have been discussed lately, which were being taken seriously by the parties, assume the relinquishment of five districts and peacekeeping troops.
Simon Ostrovsky:
At issue are seven districts of Azerbaijan that surround the Nagorno-Karabakh region that have been under the control of ethnic-Armenian forces since the first war here between the former Soviet Republicans ended in 1994, after the USSR dissolved.
The de facto authorities in Karabakh have long contended that they need to hold on to these areas in order to retain their link with Armenia and as a security buffer with Azerbaijan. But that calculation may have changed, as ethnic Armenian forces sustained heavy losses in this new round of fighting that began with an Azerbaijani surprise attack on September 27.
The Russian foreign minister said that, under the proposal, the status of Karabakh and control of areas linking it to Armenia would be decided at a later date.
Alexander Hagopjanian (through translator):
Let me show you guys. Come. I will show you.
Simon Ostrovsky:
Reactions were mixed in Stepanakert, which sustained a steady stream of bombardment in the first weeks of the conflict, destroying Alexander Hagopjanian's brand-new stoneworks.
Alexander Hagopjanian (through translator):
It would be reasonable to relinquish five districts. It would not be reasonable to talk about all seven. We cannot lose our link to mainland Armenia, and there can't be an artificial buffer in between us, like the one that was artificially created by the Soviets.
Simon Ostrovsky:
As mediation continues behind closed doors within the framework of the so-called Minsk group, chaired by the United States, Russia and France, the leaders of the two warring nations have ratcheted up their public rhetoric.
Nikol Pashinyan (through translator):
At this crucial moment, the Armenian people have only one thing to do, unite, mobilize all the potential we have, halt the enemy with a decisive blow, and achieve a final victory.
Simon Ostrovsky:
Meanwhile, Azerbaijan's president confirmed that Turkish F-16 fighter jets were indeed parked in Azerbaijan, but said they were only there for support.
Ilham Aliyev (through translator):
Turkish F-16 jets are here. They came here for military exercises. After these exercises, and after the Armenian attacks, they remained here. But they are on the ground, not up in the air, and none of them were used in this war.
Simon Ostrovsky:
Sounding equally warlike, the man who supplied those fighter jets and mercenaries from Syria, Turkish President (Recep Tayyip) Erdogan. He spoke yesterday with Russian President Vladimir Putin, who holds a mutual defense treaty with Armenia, but also supplies weapons to Azerbaijan, stoking fears the conflict could expand, pitting a NATO member against Russia.
For the "PBS NewsHour," I'm Simon Ostrovsky in Stepanakert.
RELATED ISSUES