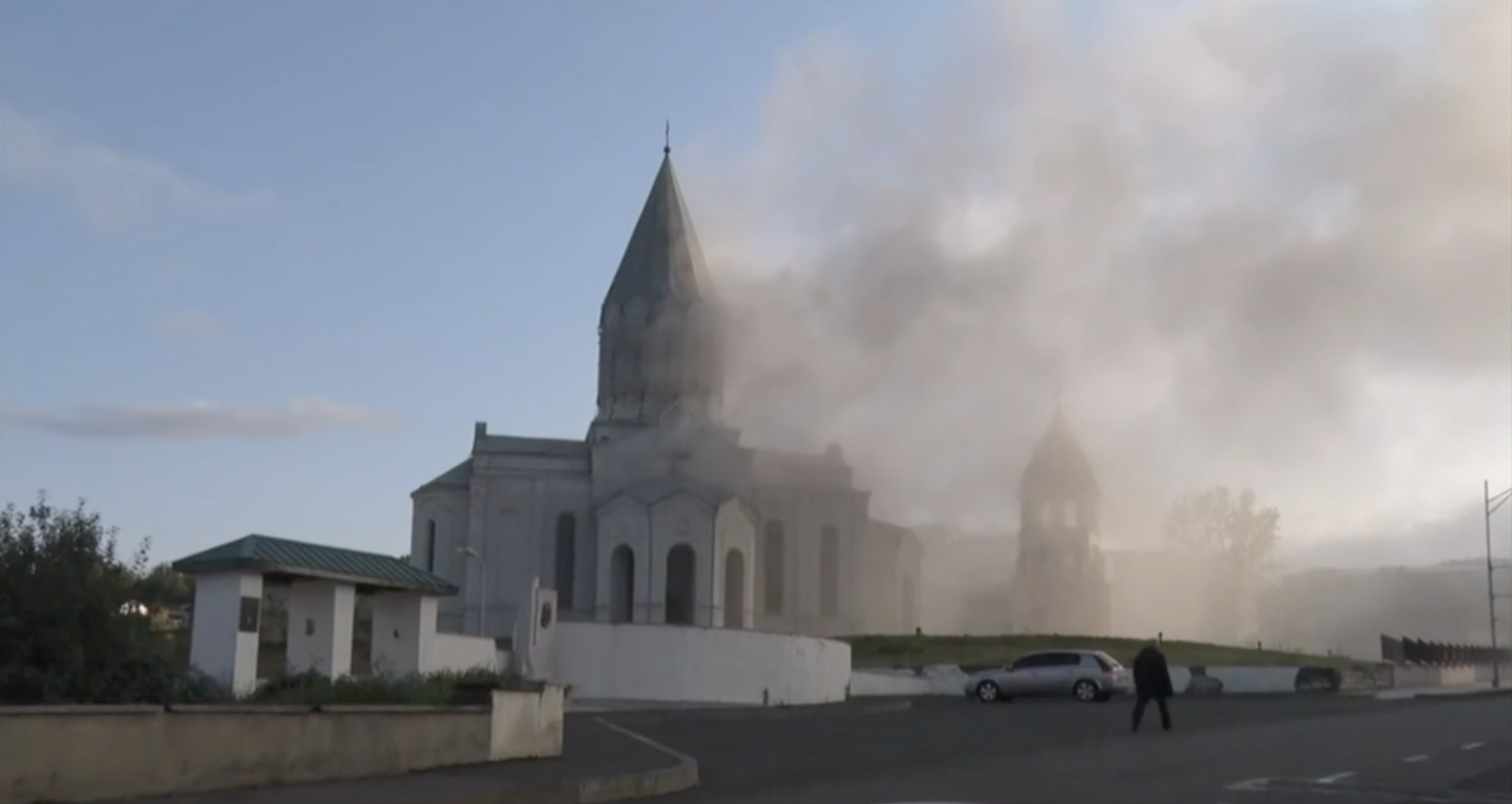 Read the Full Transcript
Hari Sreenivasan:
After nearly two weeks of intense fighting for control of the ethnic-Armenian enclave of Nagorno-Karabakh, the former Soviet republics of Azerbaijan and Armenia agreed to a limited cease-fire early today. The conflict has claimed the lives of hundreds of soldiers and dozens of civilians.
Special Correspondent Simon Ostrovsky is in the rebel region and brings us an update. He's been reporting with support from the Pulitzer Center.
Simon Ostrovsky:
The foreign ministers of Armenia and Azerbaijan met in Moscow overnight to hammer out a cease-fire, which came into effect earlier today at noon. Up until the noon deadline, hostilities continued. You could hear sirens here in Shushi and in the capital of the self-declared Nagorno-Karabakh Republic, Stepanakert.
Ever since noon, it seems like that cease-fire has been holding.
However, along the frontline, where we don't have access, the defense ministries of both countries claim fighting continues.
Nevertheless, the cease-fire is a respite for those in urban areas. We've seen ordinary residents come back out into the streets after spending over a week in bomb shelters.
Just yesterday, this church in Shushi was struck twice by a rocket or by shelling, and we're told that four or five people were injured here. One of them a journalist who was injured seriously. I'm holding in my hands pieces of the weapon that destroyed this building partially.
We spoke earlier to the deacon of this church.
Simon Ostrovsky:
Were you here yesterday when this happened?
Samvel Mkartchyan:
Yes, I was here and I came the first, there was the journalist, by my car. I went to hospital of Stepanakert.
Simon Ostrovsky:
How many people were injured here?
Samvel Mkartchyan:
Maybe four or five
Simon Ostrovsky:
Injured?
Samvel Mkartchyan:
Yes. It is a miracle that no one was killed in this place.
Simon Ostrovsky:
The two ministers of the two warring nations agreed to have a cease-fire for humanitarian purposes in order for them to be able to collect their dead and some of their wounded from the battlefield.
This is not a peace deal and the cease-fire was agreed to last for just several days.
Hostilities could resume at any point.
RELATED ISSUES