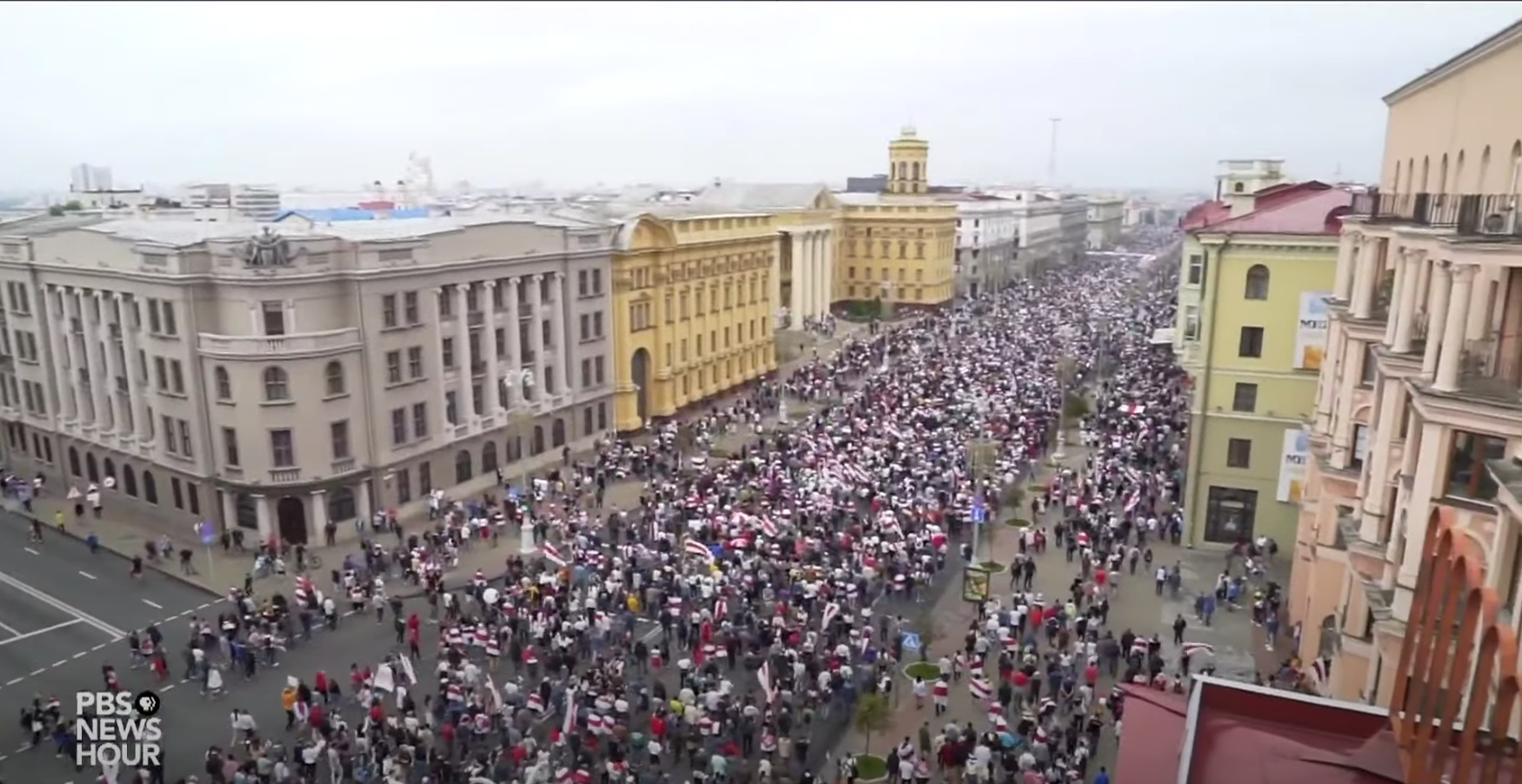 Protests in Belarus have not let up, two weeks after an election denounced as a fraud by the U.S., the European Union and the opposition to authoritarian President Alexander Lukashenko. Now, leaders of that opposition movement, including Nobel Prize-winning writer Svetlana Alexievich, have been summoned for questioning. Special correspondent Simon Ostrovsky reports.
Read the full transcript:
Stephanie Sy:
The popular protests have not let up in Belarus two weeks after an election denounced as a fraud by the U.S., the European Union, and the opposition to President Alexander Lukashenko.
Now leaders of that opposition, including a Nobel Prize-winning writer, have been summoned for questioning, as Lukashenko himself take a militaristic posture.
With the support of the Pulitzer Center, special correspondent Simon Ostrovsky reports.
Simon Ostrovsky:
The protest movement in Belarus has had one thread running through it: defiance.
Man (through translator):
Dear citizens, please disperse.
Simon Ostrovsky:
Defiance of President Alexander Lukashenko's regime in the face of intimidation and threats meant to make his people too scared to come out into the streets.
On television, Lukashenko has warned darkly of foreign powers that would occupy Belarus if he's overthrown. His defense minister has warned the army is willing and able to crush protests.
Vikto Khrenin (through translator):
If order and calm is disturbed in these places, you will be dealing not with the police, but the army.
Simon Ostrovsky:
And, on the streets, messages telling citizens they will face the full force of the law for their insubordination are broadcast from loudspeakers.
President Alexander Lukashenko has used everything in his playbook to try to prevent people from coming out into the streets. He's threatened arrest. He's threatened violence. And he's threatened to bring the military in. But the Belarusian people, two weeks after the election, still remain undeterred.
And just look at them down in the streets of Minsk.
On Sunday, over 100,000 people descended on the capital to voice their anger over the August 9 vote. Lukashenko declared himself the winner, with an improbable 80 percent. His security forces' violent crackdown on protesters enraged the people even further.
Tatyana Gubareva (through translator):
We have seen the news about paddy wagons parked in the courtyards, that they have brought the army in. Honestly, it's really scary.
Simon Ostrovsky:
Earlier today, Belarus stepped up its crackdown on protest leaders, arresting two members of the opposition Coordination Council, a body that has made its goal the transition of power from Lukashenko to challenger Sviatlana Tsikhanouskaya, who met America's second highest-ranking diplomat, Stephen Biegun, in Lithuania today (Aug. 24).
Stephen Biegun:
We condemn the violation of human rights and the brutality that we have seen play out in Belarus since the elections, and we call upon the government of Belarus to release all political prisoners that they are currently holding.
Simon Ostrovsky:
The authorities have tried various tactics to discourage demonstrations all week.
One sinister policy has been to inform demonstrators they are breaking the law, then recording their faces for a potential criminal case. When the same message was played over loudspeakers on Sunday, demonstrators drowned it out with boos.
And when they approached a line of riot police and soldiers, it seemed as though the regime and the opposition had come to a precipice.
The situation is getting very tense, because the crowds are moving closer to the military and the riot police, who are stationed just across from them. Certain people want to come out, and there's other members of the protest who are trying to calm things down and trying to keep the two sides apart.
The crowds push forward anyway, but Belarus' demonstrators have defied expectations time and again, protesting peacefully throughout this crisis.
Man (through translator):
Who are you going to use these guns against? You will all go to prison.
Man (through translator):
Sir, please stand here and don't provoke them. They will start shooting. Is that what you want?
Olga Akadzhanova (through translator):
These are our children. I'm only angry at their commanders that have sent them against the people.
Simon Ostrovsky:
As the protest begins to disperse around dusk, Lukashenko flies into a presidential palace the demonstrators had neared, brandishing a rifle and wearing body armor.
Alexander Lukashenko (through translator):
Guys, thank you. You did a great job.
Simon Ostrovsky:
It's a kind of political rally for one of his only remaining groups of supporters, the security forces. He has to rally as much support with them as possible. After all, now only they stand between him and losing power.
For the "PBS NewsHour," I'm Simon Ostrovsky in Minsk.
RELATED ISSUES