Behind a table stacked with microphones were the fashionably dressed leaders of Belarus's newly minted opposition co-ordination council: a former culture minister in a light blue suit, a lawyer in a red dress, and a closely cropped blonde.
At the end sat a somewhat dishevelled man in a grey knock-off Adidas shirt with self-made tattoos up and down his muscular forearms.
Somehow, he did not quite fit the picture — but, as the struggle for Belarus continues this weekend, he may be more significant to its future than the other members of the council.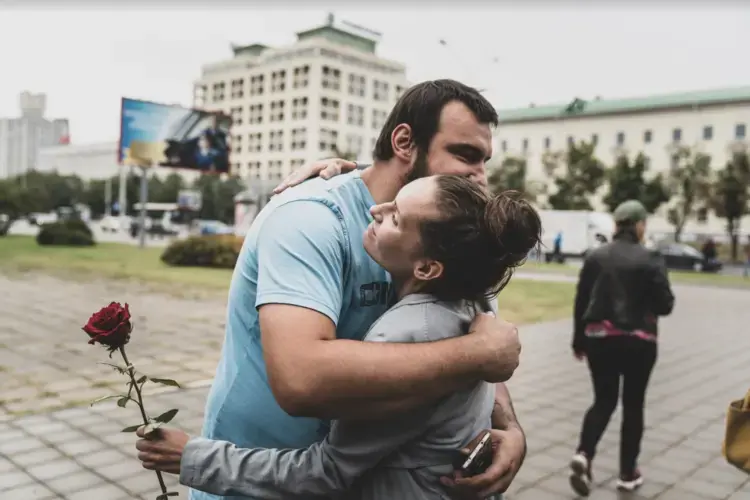 Sergei Dylevsky, 30, his wife and two-year-old son live just outside Minsk in a tiny apartment in a converted workers' dormitory. His salary, equal to about £350 to £450 a month, is just enough to keep the three of them afloat, he says.
Until two weeks ago, Dylevsky's working days centred on a baking-hot furnace at the state-owned Minsk Tractor Works (MTZ). Both his parents work there and his life has revolved around it for as long as he can remember.
Now — after being gripped by what he describes as a "rage" — he has stepped into a role that echoes that of Lech Walesa, the charismatic trade union leader who defied the communist dictatorship in Poland in the 1980s.
As President Alexander Lukashenko, Belarus's strongman for 26 years, manoeuvres to hold on to power in the face of a revolt against yet another stolen election, Dylevsky represents angry workers who have had enough of this dictatorial throwback to the Soviet era.
Like so many of his countrymen, Dylevsky has been swept up in the revolt against the fraught election of August 9, which Lukashenko claimed to have won with an 80% vote share that stretched the boundaries of credulity.
Thousands descended on the streets of Minsk, the capital, on the night of the election. When riot police retaliated with truncheons, rubber bullets, stun grenades and mass arrests, the number of protesters grew to tens of thousands.
The MTZ tractor works was the first big factory to stage a walkout in protest. Dylevsky emerged as the leader of some 3,000 strikers almost by accident, he says, when the prime minister, Siarhiej Rumas, came to the plant to negotiate an end to the strike but refused to allow the media to watch the talks.
"I was gripped by this rage, you know?" said Dylevsky last week. "I grabbed the microphone and turned my back on the prime minister and the general director and addressed the personnel. I asked them: 'Will we talk to them without the press?' The people said 'No!'"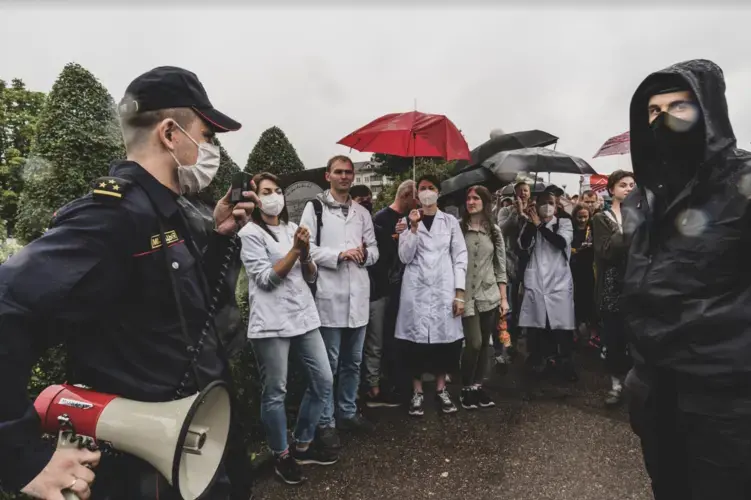 The heads of strike committees of other organisations have sought his advice. He has been getting calls from frightened novice labour leaders and journalists, he told me. "I have maybe a couple of days more experience than them but they look to me."
On Thursday, he met striking workers from the state television channel, BT, who were experiencing a leadership crisis on their own strike committee. As journalists and technical staff huddled around him he struck a unifying note.
"I see that a huge majority of people are against the system and the government. It's plain as day. Together we are doing something very important and right," he said.
It is also fraught with risk. Last weekend, Lukashenko allowed big demonstrations in Minsk, but on Monday he was jeered by workers at another factory — the MZKT heavy vehicle plant — where he had expected to receive a warm welcome. By midweek, riot police were back on the streets dispersing protesters.
State investigators opened an inquiry into the opposition co-ordination council on suspicion of attempting to overthrow the government. A few hours later a labour leader at a large car plant was arrested and Dylevsky himself was ordered to come in for questioning.
"When you see how they are torturing people in jails and prisons and humiliating them, you feel scared," he told me before answering the summons. "But I'm more scared for my family than I am for myself. I'm a big strong guy, I can take it. I'm very worried that the repressions will reach my wife, my child, my parents."
He was questioned for two hours on Friday and said later that he had been treated courteously but could not give any details of what he had been asked about as to do so would be against the law.
At the same time on Friday, according to the official press office, Lukashenko was assuring loyal workers south of Minsk that the protests were "my problem that I have to solve and we will solve it. And believe me, in the next few days it will be solved."
That was taken by some to indicate an imminent clampdown as Lukashenko's opponents prepared for more demonstrations today. His problems, however, are not only in the street, as Dylevsky and other state employees well know. In the long term, Lukashenko's most vulnerable point is the faltering economy.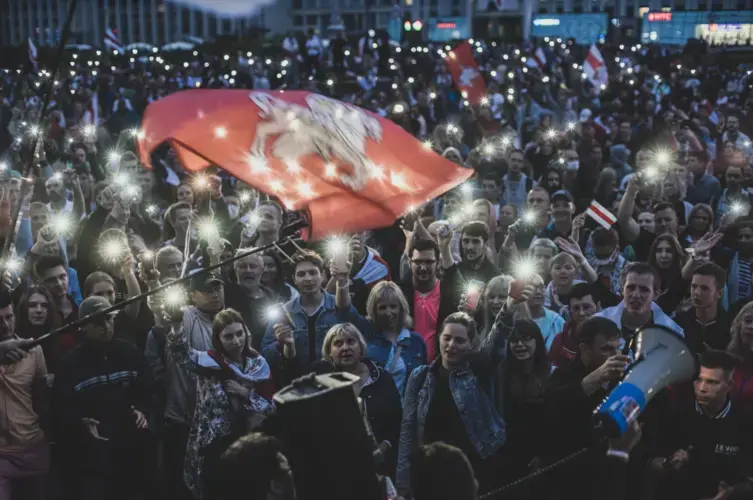 When Belarus was part of the Soviet Union, the huge MTZ factory regularly churned out 75,000 tractors a year for the sprawling socialist empire. Today it usually cranks out a mere 39,500 units but still has a workforce of 16,000 people.
Lukashenko was able to keep the plants running only thanks to generously subsidised fuel and raw materials from Russia, an arrangement Moscow is no longer satisfied with. As it hikes energy prices, the cost of living in Belarus rises while salaries are stagnant, at best.
Across the country, strikes have translated to half a billion dollars' worth of losses so far, no small sum for a country with a GDP of just $60 billion, the lion's share of that from state-owned enterprises. But Dylevsky says he is still far from his goal. "The whole point is to crash the economy . . . then we hope the authorities will hear that the people are tired of them. That the people want something new," he said.
For decades, factory workers in Belarus have been seen as Lukashenko's base. He told them that he alone managed to retain sprawling Soviet-era manufacturing plants under state control instead of selling them off as in Russia and Ukraine, where tens of thousands lost their jobs.
"There's some truth in that," says Dylevsky. "And there are people at the tractor factory who really do support Lukashenko. I respect their opinion. Right now we are fighting for every person to be able to express their opinion."
Although the strike action at MTZ was soon quashed by management with threats of dismissal, Dylevsky is looking for alternative strategies to paralyse the production line: encouraging supporters to take unpaid leave or to enforce cumbersome safety requirements that are usually overlooked.
The efforts have brought modest success. A workshop that was meant to produce 30 driver cabins in a day only managed to put together 10.
"I didn't even know what a stay-in strike was before this. It's when you come to work and do the work but you do it very, very, very slowly," he said with a smile.
RELATED ISSUES