Event
Beyond War: Causes of Conflict, Prospects for Peace
Event Date:
June 2 - 3, 2018 | 2:00 PM EDT

ADDRESS:
National Press Club
529 14th Street Northwest
Washington, DC 20045
Participant: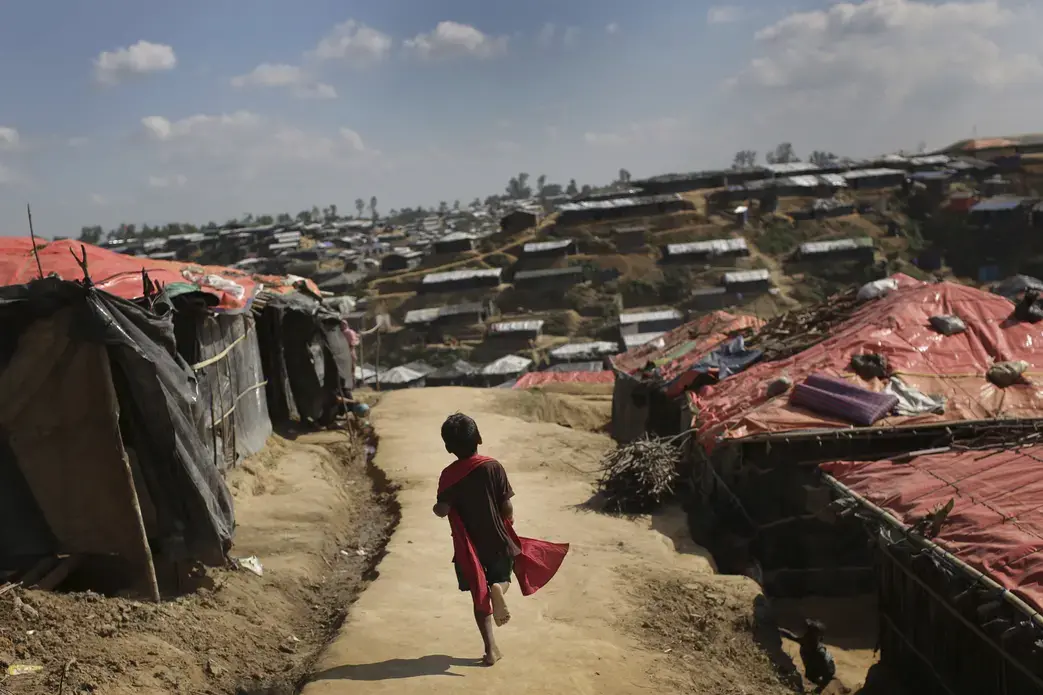 Please join us in Washington, D.C., on June 2 and 3 for "Beyond War: Causes of Conflict, Prospects for Peace, a special conference showcasing Pulitzer Center reporting on conflict transformation and peacebuilding.
We invite journalists, editors, policy-makers, academics, NGOs, and business leaders to join us in a conversation on the vital work of journalists and others covering underreported aspects of conflicts and peace. We'll be addressing the often-interconnected drivers of conflicts, the levers of peace, and successful models of peacebuilding and diplomacy.
"Beyond War" and the Pulitzer Center's reporting and outreach on conflict transformation and peacebuilding are supported by Humanity United.
Schedule is below. See full program with bios of all speakers, panelists and moderators here.
(*Indicates former or current Pulitzer Center grantee.)
Saturday, June 2
Starting at 2 pm, we'll hold a series of panels with Pulitzer Center journalists, policy-makers, local actors from conflict areas, and other experts.  
Our speakers and panels will address region-specific conflicts from an interdisciplinary lens and through cross-cutting themes, from the role of education and journalism to concepts of justice and reconciliation, to youth and women's role in peacebuilding.  
2:30 pm concurrent panels
[Panel 1] Connected: Promoting Peace or Exacerbating Conflicts?
We're all together now, at least on social media. Or so it seems. The efficiencies and immediacy of digital communication on reporting conflicts are clear. Its impact on crisis escalation or response is far less understood. Digital technologies that provide many-to-many communications increasingly facilitate few-to-few filters. Is the vastly expanded public sphere the internet promised narrowing to niches that reinforce a straw-eye's worldview to self-selected users? This panel assesses ways that new media tools and techniques can broaden constituencies for peace—and/or provide platforms for provocation.
Moderator: Tom Lansner, visiting professor, Paris School of International Affairs, Sciences Po and Graduate School of Media and Communications (GSMC), Aga Khan University, Nairobi
Panelists:
Kelly Born, program officer, Madison Initiative at the William and Flora Hewlett Foundation
Ketty Nivyabandi, media associate, Nobel Women's Initiative
Nick Schifrin,* foreign affairs and defense correspondent, PBS NewsHour
Matt Thompson, executive editor, The Atlantic
[Panel 2] The Rohingya: A Genocide on Our Watch?
International attention on the plight of the Rohingya—the world's most persecuted minority group according to the United Nations—has been ratcheting up over the past year as Myanmar's Rakhine state has been wracked by violence, forcing more than half a million Rohingya citizens to flee the country. Myanmar's government has been accused of systematic ethnic cleansing, engaging in harassment tactics that have terrorized the Rohingya while pushing the population out of the country. Panelists will share a range of perspectives on the crisis, including from within the Rohingya community—as well as exploring former and current U.S. policies in the region.
Moderator: Rebecca Hamilton,* assistant professor, American University Washington College of Law
Panelists:
Derek Mitchell, former United States Ambassador to Burma
Jason Motlagh,* freelance journalist
Nahal Toosi,* foreign affairs correspondent, Politico
[Panel 3] Youth in Peacebuilding–Globally and in the U.S.
In 1967, Rev. Dr. Martin Luther King, Jr. said, "One of the great liabilities of history is that all too many people fail to remain awake through great periods of social change...Today, our very survival depends on our ability to stay awake, to adjust to new ideas, to remain vigilant and to face the challenge of change." This panel focuses on the youth worldwide who have been vigilant in shining a light on issues ranging from gun control to economic crises. Panelists will explore the unique role that youth play in creating change, the barriers they face in confronting global challenges, and the ways that youth activists and the media interact to explore pathways to peace.
Moderator: Fareed Mostoufi, senior education manager, Pulitzer Center
Panelists:
Dominic Bracco,* freelance photojournalist
Natalie Keyssar,* freelance photojournalist
Ke'Shon Newman, student, Perspectives Charter School, Chicago, IL
Lauryn Renford, student, Thurgood Marchall Academy, Washington, D.C.
Michael Shipler, Asia regional director, Search for Common Ground
4:30 pm concurrent panels
[Panel 4] When Should External Governments Intervene—and How?
The U.S. and international response to regional challenges over the past several decades has varied wildly, from large-scale military invasion and selective drone warfare to non-military diplomatic approaches, with outcomes just as varied. First-person reports on specific cases (Iran, North Korea, the Democratic Republic of Congo) set the stage for a general discussion on establishing more effective criteria as to whether, and how, to intervene. What works? What doesn't?
Moderator: Terence Samuel, deputy managing editor, NPR
Panelists:
Sarah Holewinski, senior fellow, Center for New American Security
Evan Osnos,* staff writer, The New Yorker
Reza Sayah,* freelance journalist
Ida Sawyer, Central Africa director, Human Rights Watch
Paul Stares, director of the Center for Preventive Action, Council on Foreign Relations
[Panel 5] From the Ground Up: Building Peace Outside the Halls of Power
Peace deals are formal politics, hammered out (almost exclusively) by men with political or military might. But as cycles of conflict around the world show, those deals don't hold without inclusive, grassroots peacebuilding, one community at a time.
Moderator: Jina Moore,* East Africa bureau chief, The New York Times
Panelists:
Suhad Babba, executive director, Just Vision
Sawsan Morrar,* 2017 Pulitzer Center and UC Berkeley student fellow
Passy Mubalama, founder and executive director, Action and Development Initiative for the Protection of Women and Children (AIDPROFEN)
Hassan Ghedi Santur,* freelance journalist and novelist
Veronica Zaragovia,* freelance journalist
[Panel 6] Teaching War/Learning Peace: Global Education as Peacebuilding
John Dewey believed that "education is not an affair of 'telling' or being told, but an active and constructive process," and he challenged journalism to achieve the same great heights of learning and community building. Pulitzer Center grantees and education partners will explore the fundamental intersections between teaching and journalism and discuss the impact and urgency of global education as a means to peacebuilding today.
Moderator: Lorraine Ustaris, multimedia producer, Pulitzer Center
Panelists:
Peter DiCampo,* photojournalist and co-founder of Everyday Africa
Jen Marlowe,* filmmaker, author, and journalist
Jeff McCarter, founder and executive director, Free Spirit Media
Cicely Ogunshakin, social studies teacher, School Without Walls at Francis Stevens
On Saturday evening, June 2, we'll hold an invitation-only dinner with special keynote speakers.
---
Sunday, June 3: Concurrent Workshops
Registration starts at 8:45 am, program starts at 9:15 am.
[Workshop 1] Safe Reporting in a High-Risk World
A workshop and panel discussions led by 1st Option Safety , A Culture of Safety (ACOS), freelance journalists, and David Rohde, an editor at The New Yorker, Pulitzer Center board member, and co-author of A Rope and a Prayer: A Kidnapping from Two Sides.
Panel One: Whose Responsibility?
The role of freelance journalists, news organizations and journalism funding groups in raising the standards for safe reporting.
Facilitator: Tom Hundley, senior editor, Pulitzer Center
Steve Cook, 1st Option Safety
Nadja Drost,* foreign correspondent, PBS NewsHour

David Rohde, The New Yorker, board member of ACOS
Panel Two: What you don't know will hurt you
An interactive session led by Steve Cook and Alison Baskerville of 1st Option Safety, with simulations and role-playing intended to demonstrate the importance of journalists in high-risk situations getting adequate training in advance.
Panel Three: Freelancers perspective, around the world
A panel discussion led by Jeff Bartholet, senior editor at the Pulitzer Center, and including freelancers from diverse regions.
Facilitator: Jeff Bartholet, senior editor, Pulitzer Center
Alejandro Cegarra, photojournalist
Mariam Dwedar, cinematographer
Hassan Ghedi Santur,* freelance journalist and novelist
[Workshop 2] Youth Activists and the Media: Reporting on Gun Violence
Youth activists from diverse communities across the country will share their experiences as leaders in the movement against gun violence and will guide an interactive dialogue on media representation. What stories are being told and which ones go under-reported? How can the media and youth activists work together? What should journalism about gun violence look like? This workshop will create a space for journalists and youth to explore these urgent questions together.
Facilitators: Hannah Berk and Kem Knapp Sawyer
Nyla Brooks, Parkway Center City High School, Philadelphia, PA
Frank Gillis-Corbitt, Parkway Center City High School, Philadelphia, PA
Clifton Kinnie, Howard University, Washington, DC
Ke'Shon Newman, Perspectives Charter School, Chicago, IL
Jade Nguyen, Fort Zumwalt East High School, St. Peters, MO
Kamryn Sloan, Thurgood Marshall Academy, Washington, DC
[Workshop 3] Conflict and Peace Journalism
Facilitators:
Tom Lansner, visiting professor, Paris School of International Affairs, Sciences Po and Graduate School of Media and Communications (GSMC), Aga Khan University, Nairobi
Jina Moore,* East Africa bureau chief at The New York Times and Pulitzer Center grantee
Cassandra Vinograd,* freelance journalist
This interactive workshop critically examines examples of current media coverage of violent conflict to introduce reporting techniques that can help journalists tell vibrant, insightful, and sensitive stories about conflicts' causes, costs, and consequences.
---
The Pulitzer Center is partnering with the Stanley Foundation to plan and co-organize the Beyond War conference.  The Stanley Foundation regularly collaborates with media partners to produce programming that strengthens understanding of critical issues of peace and security, and to encourage timely, in-depth, and rigorous reporting on related topics.
Click here to see sponsorship opportunities.
For more information, please contact Jin Ding at jding[at]pulitzercenter.org.