Pulitzer Center Update June 11, 2018
Beyond War: Youth Activists and the Media: Reporting on Gun Violence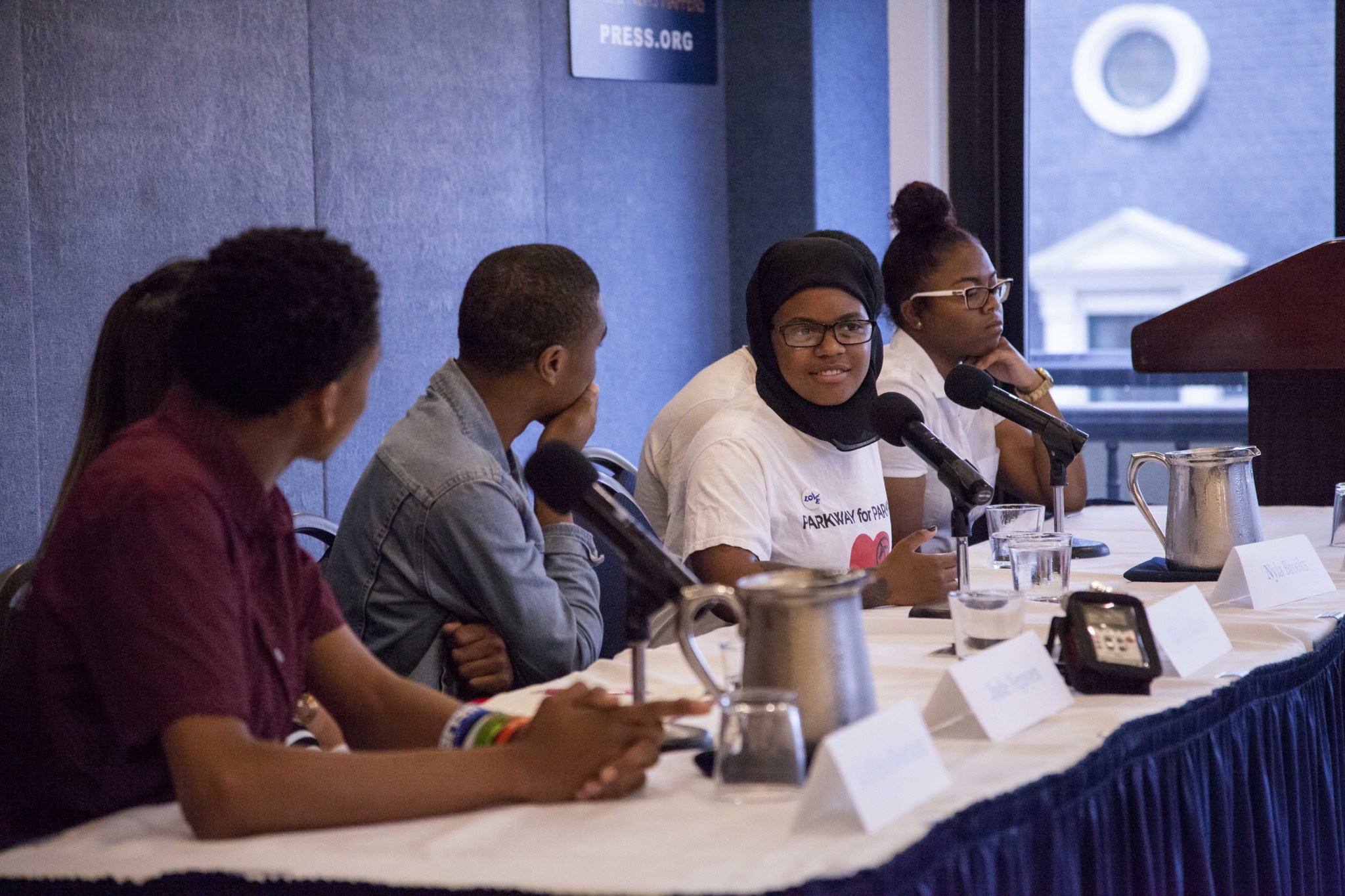 Young leaders in the movement against gun violence had a message for the media and the public during day two of the Pulitzer Center's Beyond War conference: "Take students seriously." So said Jade Nguyen, who has led walkouts to advocate for gun control in her rural Missouri community. Each of the six panelists speaking at "Youth Activists and the Media: Reporting on Gun Violence" are manifestations of why that demand is an imperative.
This interactive dialogue among high school students who have taken up the mantle of peacebuilding in their communities and nationwide was moderated by Clifton Kinnie, a junior at Howard University who devoted himself to activism during the Ferguson protests of 2014 and has been building the anti-gun violence and Black Lives Matter movements ever since. Speakers represented diverse communities from across the country: Nyla Brooks and Frank Gillis-Corbitt, 9th grade, Parkway Center City Middle College in Philadelphia, PA; Ke'Shon Newman, 10th grade, Perspectives Charter School in Chicago, IL; Jade Nguyen, 12th grade, Fort Zumwalt East High School in St. Peters, MO; and Kamryn Sloan, 12th grade, Thurgood Marshall Academy in Washington, DC.
Kinnie kicked off the discussion by highlighting that many civil rights leaders were young people who weren't written into the history books. Early and often, he reminded the audience that these panelists are part of that legacy—and that it is our collective responsibility to uplift them and their work.






The discussion focused on what young people are doing to stem the tide of gun violence and how students and the media can work together to better represent their movement. Picking up on Nguyen's argument against dismissing or condescending to student activists, Brooks went further, emphasizing that their youth is an essential quality of their contribution; young people are on the front lines of the movement because they're on the front lines of gun violence and its consequences every day.
The activists agreed that humanizing the narrative, ensuring that victims are presented as whole people and not just statistics, goes a long way toward sustaining the conversation beyond the news cycle, but Nguyen clarified that journalists must "humanize it in a way that's respectful to the people who are affected." "[The media] needs to communicate what we want people to know," Newman affirmed, rather than spinning youth voices into the most marketable story. "[Youth activists] have the solutions," Sloan told the audience. "We just need the attention."
Panelists also advised the media to be strategic about their audience. Nguyen has faced pushback from her school, community, and family because of her county's anti-gun control majority. Having had to learn how to confront contrary and frequently hostile mindsets peacefully and effectively, she wants to see the media do the same. "Aim for viewers and listeners and readers you don't normally target…who aren't typically going listen to that message," she advised, "because that's where you're going to make change."
When people tour D.C., they don't see Southeast. I'm here to put my city on the map. My city is going to rise above - rise above the negativity and hatred. I want to get to the root of gun violence. - Kamryn Sloan #BeyondWar @pulitzercenter

— Jazmin Goodwin (@TheCozyJAZ) June 3, 2018
For those who want to support youth activists, panelists offered concrete suggestions. "I live on the South Side of Chicago, and resources are limited," Newman noted, "so funding, resources, any materials that we can use to get the youth more engaged in what we're doing…I'm here to get as much support as we can to keep the movement going." Brooks cited an example of how people can use their resources to further the movement, regardless of their own experiences: "Our teacher Ms. Boland…used her social media outlet to put us on her forefront and she got connected with our council members and they put us on their forefront as well. So with people who aren't directly impacted, it's all about whether they want to listen or want to help." Sloan held those who would voice support but fail to follow through accountable. "It's an eye-opener to see how many important people come into your circle and say that they're going to be there for you," she said, "but only pop out when it's beneficial for them."
In addition to tangible resources, young activists stressed the importance of supportive and safe spaces. Newman described his work as a peer counselor, teaching fellow students about how to respond non-violently to everyday conflicts and process difficult experiences. Gillis-Corbitt affirmed the significance of such work. "I wasn't the type of person to talk about the deaths of my loved ones or the gun violence that I went through," he said. But he found people who connected with him on a personal level, shared their stories, and valued his, helping him become the vocal leader he is today: "This experience tells me that I'm not alone."
Take note of these names and faces. They are the ones who deserve to be in the history books for making history and being #peacebuilders in communities around our country @pulitzercenter #BeyondWar @TMAtalks pic.twitter.com/XnV3lweqsf

— Karen Lee (@theleewayat_TMA) June 3, 2018
Before, closing, Kinnie paused to make an observation: all of the panelists had made a connection that day, with the audience and with one another. "When you're an activist," he acknowledged, "a lot of the time you don't see the fruits of your labor." Much of that labor, though, is in perpetuating dialogue and making human connections. It was visible at Beyond War. These six young activists are leaders to watch and listen to. "A lot of our political leaders don't have the will to change these issues, but we do," Kinnie said. "We've got the will, we've got the power, and we're going to get it done."
RELATED ISSUES