Pulitzer Center Update June 5, 2018
Beyond War Conference Highlights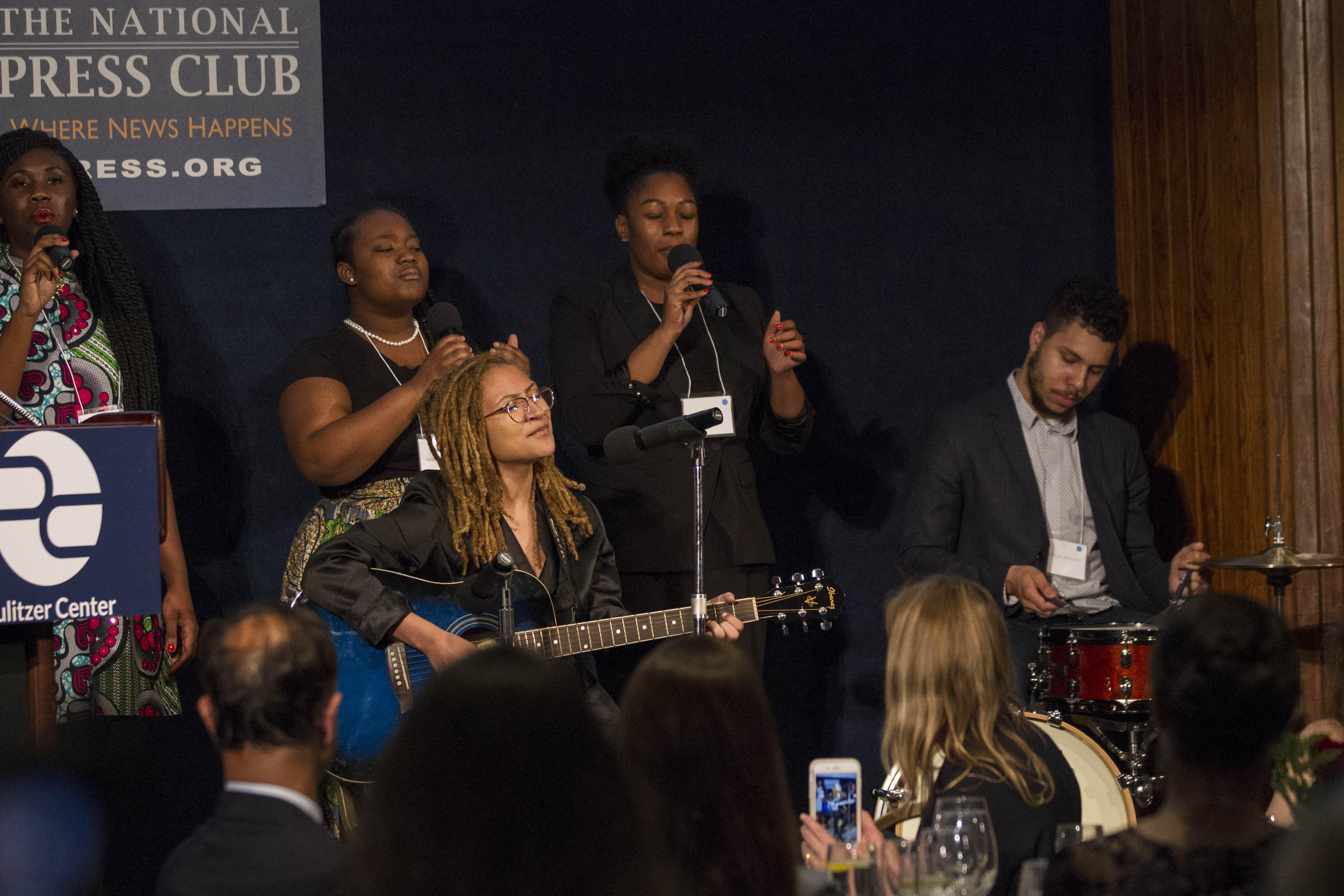 "Your writing becomes history." Heads nodded in agreement with the sense of urgency Ambassador Swanee Hunt brought as she addressed a group of more than 200, including journalists, activists, and policy makers. 
Hunt was speaking at the Beyond War: Causes of Conflict, Prospects of Peace Conference, organized by the Pulitzer Center and held at the National Press Club on Saturday, June 2, and Sunday, June 3. Six panels and three workshops showcased Pulitzer Center reporting on conflict transformation and peacebuilding.
The opening day of the conference began with panels focused on peacebuilding among youth, government intervention, and global education. Panelists took questions from the audience and shared their personal experiences in conflict zones. The speakers at dinner Saturday evening overlapped with themes consistent with that day's panels, among them writing truthful narratives and maintaining one's safety while reporting in war zones. Discussions continued the following morning at workshops led by professional journalists and student activists. 
Our hashtag, #BeyondWar, became the number one trending topic in the D.C. area with 1,500 tweets.
Beyond War, and the Pulitzer Center's conflict transformation and peace reporting is supported by Humanity United.
The Pulitzer Center partnered with the Stanley Foundation to plan and co-organize the Beyond War conference.  The Stanley Foundation regularly collaborates with media partners to produce programming that strengthens understanding of critical issues of peace and security, and to encourage timely, in-depth, and rigorous reporting on related topics.
Panel 1: Connected: Promoting Peace or Exacerbating Conflicts?
Offering international perspectives, panelists weighed in on how social media and digital communication create a platform to both advance and hinder peace efforts. In an unprecedented age where one person's voice can be heard by billions of people globally, the question is raised of what new responsibilities exist to use these tools constructively and responsibly.
Speaking of the role of social media, Burundian activist Ketty Nivyabandi said, "In a very short time, [Facebook] became a political tool. … I like to call social media in my country as the old fireplace; in traditional Burundi that is where stories are told. Social media is that space."
Panel 2: The Rohingya: A Genocide on Our Watch? 
The persecution of the Rohingya people has shocked the international community leaving many policy makers at a loss. While journalists on the ground are documenting stories from family members of men, women, and children who have been killed and maimed, those back in D.C. are learning more about the U.S. government's connection to the Myanmar government. The Rohingya displacement into Bangladesh poses another set of questions for foreign governments and humanitarian efforts to answer. As panelist Jason Motlagh said, "The fundamental problem of a stateless minority is they're acutely vulnerable."
There were 100,000+ people in camps starting in 2012, says Mitchell. From all indications, Rohingya militants were basically just four people on a website. If they were a real threat to Myanmar, they would have hit them like other countries were hit by terrorism. #BeyondWar

— Pulitzer Center (@pulitzercenter) June 2, 2018
Panel 3: Youth in Peacebuilding—Globally and in the U.S.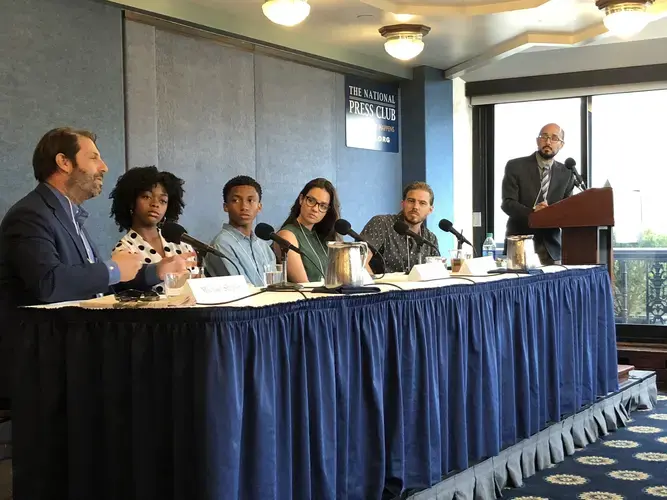 This panel focused on the fundamental role youth play in bringing peace to communities ranging from the success and challenges they face, the resources needed for youth-led movements, and the unique channels created by youth to address violence. 
Speaking about the distinct role youth play in peacebuilding, Ke'Shon Newman, a student at Perspectives Charter School in Chicago, Il., said, "They're the new generation, they will be running America after awhile... If we can teach them the right way, the peaceful way of life then we can see a change happening."
"Crime is a reaction to a failed society... But it feels like right now, this is a moment of pause and reflection. And it's the youth who are stepping up to lead that." - @dominicbracco Youth In Peacebuilding Panel @pulitzercenter #BeyondWar

— Corinne Redfern (@CorinneRedfern) June 3, 2018
Panel 4: When Should External Governments Intervene—and How?
Journalists and experts joined forces to discuss the role that external governments play when intervening in global conflicts. Terence Samuel, panel moderator and NPR deputy managing editor, led the group in outlining events in Iran, the Democratic Republic of Congo, and North Korea. Evan Osnos, a grantee and staff writer at The New Yorker who reported from North Korea in 2017, discussed where he thinks the United States has gone wrong in the conflict. 
"Part of the predicament has been that we have been failing to do what, over the years, nuclear deterrence experts say is the key thing to do," said Osnos, "When you're trying to talk about whether the United States is going to intervene in a sense by using its weapons, you want to communicate capability clearly and we haven't been communicating [...] clearly at all. We send very mixed messages about what we're trying to do.
Panel 5: From the Ground Up: Building Peace Outside the Halls of Power
This panel looked beyond the United Nations and NGOs to the local community members who quietly and diligently work to build sustainable peace. Sawsan Morrar, a 2017 Pulitzer Center student fellow from UC Berkeley Graduate School of Journalism, spoke about refugees in Jordan who have fled violence in Syria and are working to support fellow refugees: "We hear this narrative all the time that there are all these refugees who are trying to come here and flood our country. And I met quite a few of them who actually chose not to move to North America and Europe."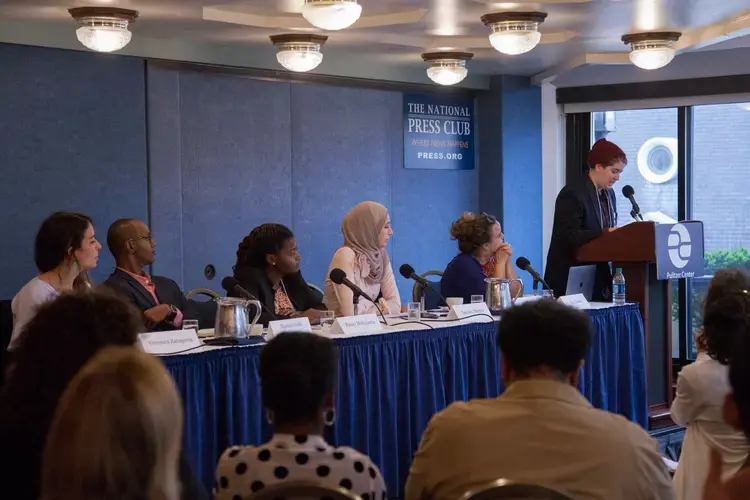 Panel 6: Teaching War/Learning Peace: Global Education as Peacebuilding
An educator, a photojournalist, a non-profit leader, and a playwright discussed the critical role global education can play in peacebuilding efforts—leading students to gain global competencies that enable informed action.
Speaking to the importance of news literacy in global education, Cicely Ogunshakin, social studies teacher at School Without Walls at Francis Stevens, explained, "When we talk about literacy in the global classroom, we're teaching our students how to analyze what they see."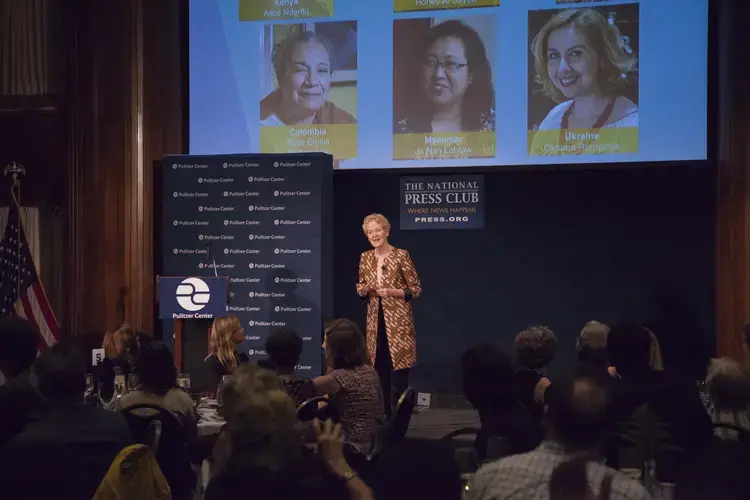 Special Performance and Evening Remarks
Before introducing Ambassador Swanee Hunt, Managing Director Nathalie Applewhite highlighted the crucial role the Pulitzer Center plays: "What cuts across all the work we do is a commitment to addressing the underlying causes of the crises that do make the headlines."
Referencing her most recent book, Rwandan Women Rising, Hunt said women should be portrayed not as victims or tokens, but as agents of change who maintain positions of power internationally. Addressing the many journalists in the audience, she said:
"You are creating history in your writing. And if what you're doing is talking about the male political leaders who are working with the male warriors, that becomes the primary source. That's history."
University and Community Outreach Director Ann Peters introduced Dr. Gracie Lawson-Borders, Dean of Howard University's Cathy Hughes School of Communications, one of the Pulitzer Center Campus Consortium's newest partners. 
Lawson-Borders focused on journalist values in education and stressed the four core values of the Society for Professional Journalists: seek truth and report it, minimize harm, act independently, and be accountable and transparent. We need more data-based journalism classes and a coupling of international affairs alongside studies in journalism, she said.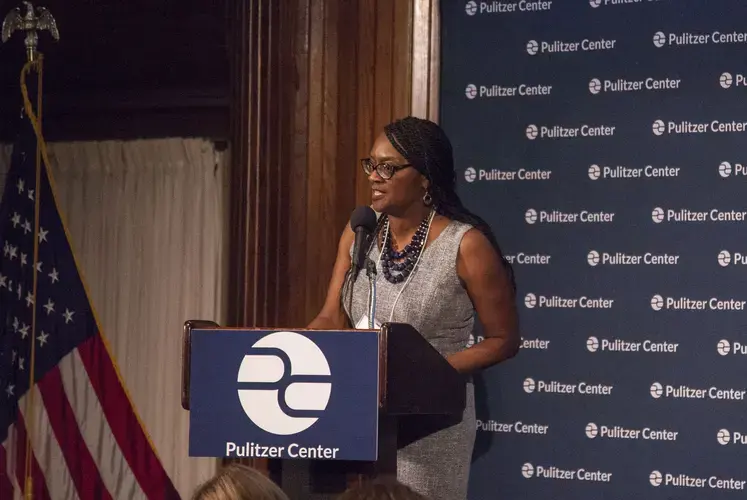 Fareed Mostoufi, senior education manager, turned the focus from collegiate level education to K-12. 
"In 2017, over 80,000 students connected to our reporting as part of nearly 400 events that included journalist visits, reporting, photography, and video production workshops for students and professional development for educators," Mostoufi said. "Our education program is rooted in not only connecting students with global stories, but also in empowering students to make their own connections, share their perspectives, and tell their stories."
Artist and student at Howard University, Indigo Passariello, shared her perspective on the events in Ferguson, MO, in her song, "Hands Up Don't Shoot." She was accompanied by Ekep Nkwelle, Issayah Whitesides, Jillian Willis, and Jazmine Thomas. 
Speaking to the impact of gun violence and police brutality. Passariello asked, "Are you licensed to play God?"and told us, "searches force us to silence." "I'm tempted to ask how we got here, until I realize this ain't nothing new," she added. See her full performance here.
Indigo had at least half the room in tears and inspired all of us (230 or so people) stand up at the end. The only standing ovation of the evening. So so so powerful. #BeyondWar https://t.co/rpQZK9qgSp

— Nathalie Applewhite (@applenat) June 3, 2018
Contributing Editor Kem Knapp Sawyer announced the winners for the Pulitzer Center's international reporting fellowship competition for Campus Consortium student fellows and alums. Julia Canney, a 2016 William & Mary graduate, will be traveling to Northern Ireland to report on women peace makers during the Troubles. Sarah Hoenicke, a UC Berkeley Graduate School of Journalism student, will report on the healing power of narrative in Sri Lanka. Sawyer also announced the Fighting Words Poetry Contest Winners, three of whom attended the conference: Alex Holland, Beatrice Stone and Isabel Brosseau Gray.
"I want to congratulate the poets and also the Beyond War student fellows. And I want to thank you for using words to prevent conflict and build peace. Our future is in your hands," Sawyer said.
Jon Sawyer introduced the next speaker, Yochi Dreazen, with a reminder on the Pulitzer Center's work: "Reporting on conflict—its consequences, its roots and, most important, the lessons that can be drawn so as to prevent future conflicts—has been a constant in our work since the beginning."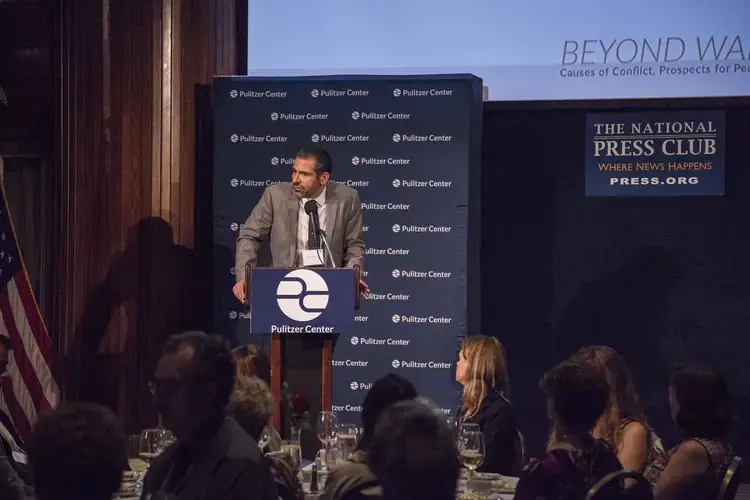 Dreazen has received Pulitzer Center grants to cover projects in Iraq, Mali, and United Arab Emirates. As a senior editor at Vox, Dreazen now works with Pulitzer Center grantees reporting internationally.
"The Pulitzer Center provides funding, and that's enormously, enormously valuable," Dreazen said. "But there's something else that it does, which is also valuable especially in my current job. We are trying to find pieces from overseas that are written by people native to those countries, ideally women. We are trying to find freelancers who are people of color. It's hard to find. But the Pulitzer Center can provide that linkage."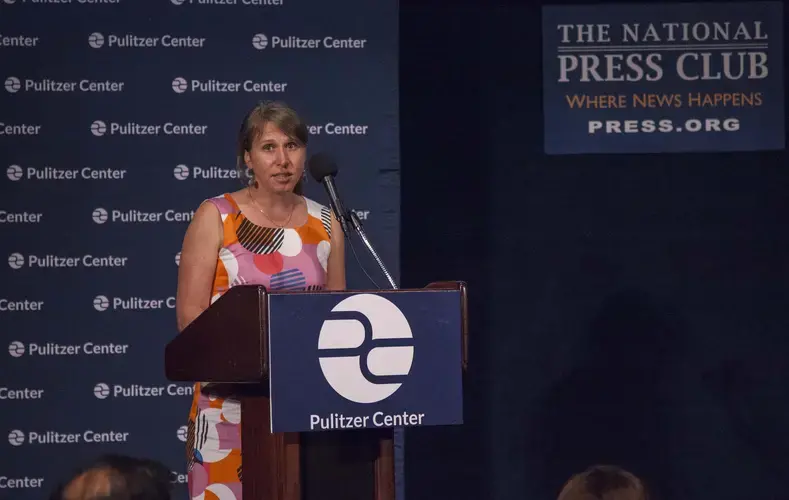 Based in Colombia, Nadja Drost has been an exemplar grantee, hailed by Nathalie Applewhite and Jon Sawyer throughout the evening. Her most recent Pulitzer Center reporting has been on FARC and the complexity behind Colombia's peace deal with the rebel group. Seven million Colombians are currently displaced, and the number continues to grow even after the peace deal. Drost traveled with grantee Bruno Federico through dangerous territories.
"When you have organizations like the Pulitzer Center on board who are financially supporting your travel, it means you make decisions based on what's best for reporting and best for your safety," Drost said. "I cannot overstate the importance of media organizations like the Pulitzer Center filling that void, supporting the kind of reporting that is crucial to building narratives based on reality."
Founder and Executive Director Jon Sawyer made the final remarks of the evening, calling attention to the Pulitzer Center's mission statement:
"We will illuminate dark places and, with a deep sense of responsibility, interpret these troubled times." Theme from #BeyondWar is clear: investigative journalism, particularly journalism telling stories of those often marginalized, is needed now more than ever pic.twitter.com/05sXpT1DWU

— Julia Canney (@juliascanney) June 3, 2018
"The theme of this year's conference could not be more important, or more timely: how to reframe the way we cover conflicts so as to prevent them where possible, give them the context they require and properly apply the lessons of conflicts past," Sawyer said. "I hope all of us come away with new insights, and a redoubled commitment to make this the priority it deserves to be." 
*See full remarks from all dinner speakers in pdf attachments below.







On Sunday, June 3, attendees returned to hear from a wide range of speakers: student activists whose experiences with gun violence motivated them to speak out in their communities and nationwide and journalists with years of experience in conflict zones and how to handle conflicting messages in the media surrounding peace.
Workshop 1: Safe Reporting in a High-Risk World 
This workshop provided an interactive and immersive session highlighting the importance of training in advance of covering stories in high risks areas, and an in-depth look into whose responsibility it is to keep journalists safe amidst reporting on conflicts. 
"Weigh the risk of a particular situation against the journalistic value that might come out of taking that risk," said David Rohde, executive editor of newyorker.com and board member of ACOS (A Culture of Safety Alliance).
This workshop was developed in partnership with the Stanley Foundation.
Hearing from @nadjadrost about staying safe while reporting in conflict zones. #BeyondWar pic.twitter.com/1nrTgkLMsv

— Sarah Hoenicke (@sarah_hoenicke) June 3, 2018
Workshop 2: Youth Activists and the Media: Reporting on Gun Violence
Student activists from cities across the U.S. talked about how gun violence has affected their lives, how they have responded by becoming leaders in the movement against it, and what the media can do to better represent and amplify their voices. "[Youth] have the answers," said Kamryn Sloan, a high school senior in DC. "We just need the attention."
"Your leadership is now," affirmed moderator Clifton Kinnie. "We have the will. We have the power. We are going to get it done."
"We have to transform and restructure society. The things that are supposed to keep us safe are underfunded. Justice is liberation. Justice is freedom." - @CliftonKinnie #BeyondWar

— Jazmin Goodwin (@TheCozyJAZ) June 3, 2018
Workshop 3: Conflict and Peace Journalism
Through challenging questions and small-group activities, workshop facilitators compelled participants to wrestle with prevailing assumptions. They discussed criticisms of U.S. media coverage, the importance of verifying stories, and the goals of peace and conflict journalism. 
"One of the things I like to think that we're all trying to do is complicate the moral imagination that our readers have about what's going on in these places—expand the imaginative proximity and make something that sounds so far away so much closer," said Jina Moore, former Pulitzer Center grantee and East Africa bureau chief at The New York Times.
This workshop was developed in partnership with the Stanley Foundation.
@itsjina explains in Conflict & Peace Journalism workshop how JP Lederach's 4 disciplines necessary for peacebuilding can open doors for journalists to cover conflict in a way that presents a richer picture of what's happening @pulitzercenter @StanleyFound #BeyondWar pic.twitter.com/qJSED4DQTz

— Devon Terrill (@devonterrill) June 3, 2018
For more details on the schedule and Beyond War conference panelists and speakers, please see the program.