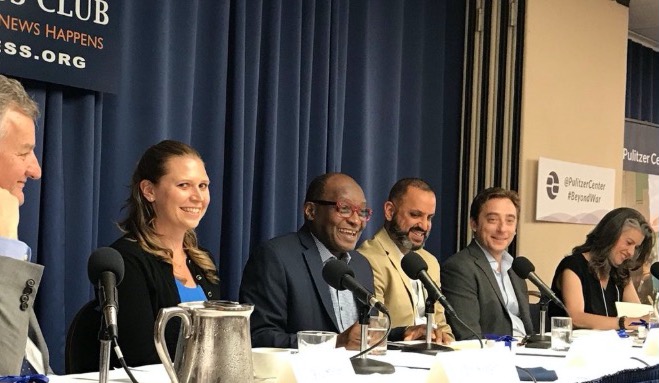 On June 2, 2018, Pulitzer Center grantees and policy experts tackled the question, "When Should External Governments Intervene—and How?"
During the 90-minute conversation, moderated by NPR deputy managing editor Terence Samuel, panelists debated the motivations and lasting effects of external intervention in several of history's most notable conflicts including those in North Korea, Iran, Egypt, and the Democratic Republic of Congo.
Panelists included Center for a New American Security senior fellow Sarah Holewinski; New Yorker staff writer Evan Osnos; Human Rights Watch Central Africa Director Ida Sawyer; grantee and freelance journalist Reza Sayah; and Director of the Center for Preventive Action at the Council on Foreign Relations Paul B. Stares.
We're addressing the question of external interventions at an important time, says @PaulBStares. We're following Afghanistan, Iraq, Libya, and other recent conflicts, with great human and economic cost to the United States. #BeyondWar pic.twitter.com/aANACDEx91

— Pulitzer Center (@pulitzercenter) June 2, 2018
In his opening remarks, Stares highlighted the financial and human costs of U.S. interventions in the Middle East, noting that despite its long history of involvement in global conflicts, the United States is still struggling to establish a strong basis for carrying such operations.
"I think we're addressing this question with great skepticism about what can be achieved because we feel that our interventions have not succeeded very well," said Stares, "We keep repeating mistakes. We ignore clear lessons from previous interventions which often results in making very costly mistakes and causing unintended consequences when we do."
Outlining the complex history of conflict in the Democratic Republic of Congo, a nation rich with natural resources, precious metals, biodiversity, hydropower, and agricultural potential, Sawyer highlighted that interventions have often been motivated by "narrow interests." She went on to discuss the effects of targeted sanctions levied against top Congolese officials and the turmoil surrounding the upcoming elections scheduled to take place in December 2018, saying that it is still uncertain whether President Joseph Kabila will step down or attempt to change the country's constitution.
"Targeted sanctions can clearly have an impact on those directly responsible for abuses without targeting the broader population," said Sawyer. "The impact appears to be greater if the sanctions are applied in an escalating manner going further up the chain of command."
External intervention rarely used for the good of the people in countries targeted — and outcomes leading to entire regions despising US foreign policy. Not good. @Rezasayah7 @NewsHour @pulitzercenter #BeyondWar pic.twitter.com/o4ksdLZ8f5

— jonsawyer (@jonsawyer) June 2, 2018
With more than a decade of experience covering conflict in the Middle East, south Asia, and northern Africa, Sayah shared his criticisms of U.S. policy stating that he is troubled by the outcomes of interventions. Sayah's 2017 Pulitzer Center-supported project for PBS NewsHour focused on Iran's growing religious, political, and security influence in Iraq.
"Based on my observations, external intervention is rarely used for the good of the people, whether it's for the good of American citizens or the good of the people whose country is being intervened," said Sayah. "The outcome has been perpetual conflict and entire regions where people despise American foreign policy."
@pulitzercenter #BeyondWar @eosnos talking about his reporting trip to North Korea… conference room is packed on this rainy Saturday afternoon. pic.twitter.com/ERoqWpooXI

— Victoria Ruan (@RuanVictoria) June 2, 2018
Osnos shared what he learned during his 2017 reporting trip to North Korea, highlighting the importance of the Pulitzer Center's support in allowing him to travel abroad. He stated that the conflict has been heightened by a lack of communication between the two Koreas and that the U.S. has often failed to clearly communicate its goals and capability.
"When I was in North Korea, government officials asked me 'Is it normal for a U.S. secretary of state and a U.S. secretary of defense to voice different positions from the U.S. president?'" recalled Osnos, eliciting laughter from the audience. "If there's one thing that we've learned as we're trying to come up with the doctrine of intervention, it's the value of consistency."
Sarah Holewinski: I've been thinking for a long time about what causes the United States to intervene and what causes the United States to stop intervening. #BeyondWar pic.twitter.com/0H5urXQWFx

— Pulitzer Center (@pulitzercenter) June 2, 2018
For more than 20 years, Holewinski has worked in the fields of both government and civil society at the White House, State Department, the Pentagon, and NGOs. She drew upon her experiences to share with the audience what works and what doesn't, but said that she's still struggling to determine what template is guaranteed to get the attention of policymakers.
In most cases, Holewinski said, stories and data can be effective tools but don't always guarantee a favorable outcome. She recalled United Nations efforts during the Ebola outbreak to humanize the situation by collecting stories from doctors in affected regions.
"Civil society doesn't have enough money, support, data, or evidence," said Holewinski. "Everyday in my job at the Pentagon when I try to get them to do something or to stop doing something, the senior leadership says, 'Where's your data? Where's your evidence?'" She went on to emphasize the disconnect that occurs between efforts to argue for aid and NGOs that don't have the resources to collect critical data.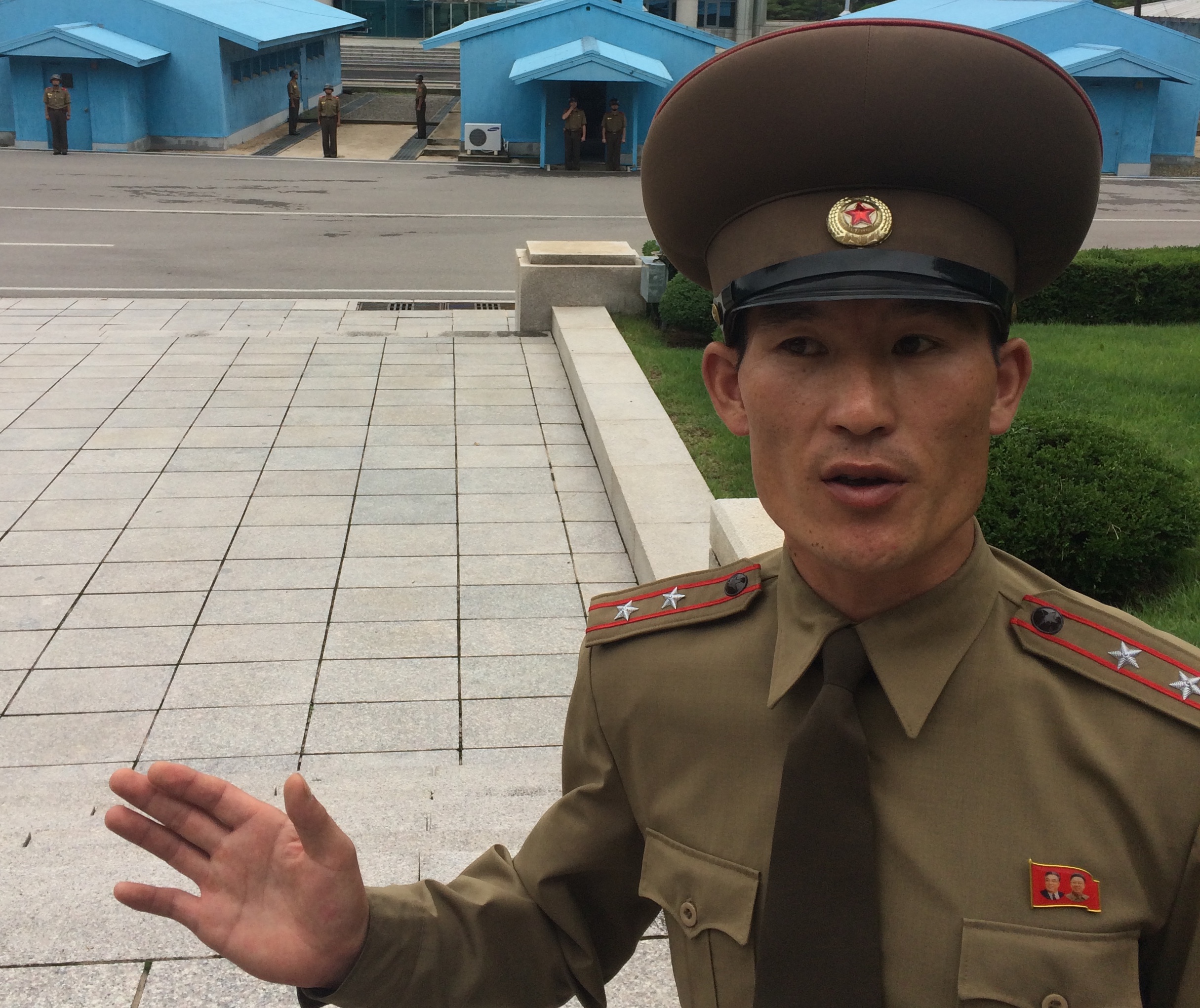 Three days after Donald Trump tweeted that the U.S. is "locked and loaded" in its nuclear standoff...
RELATED ISSUES

Nuclear Threats

Issue
Conflict and Peace Building
Conflict and Peace Building

Governance