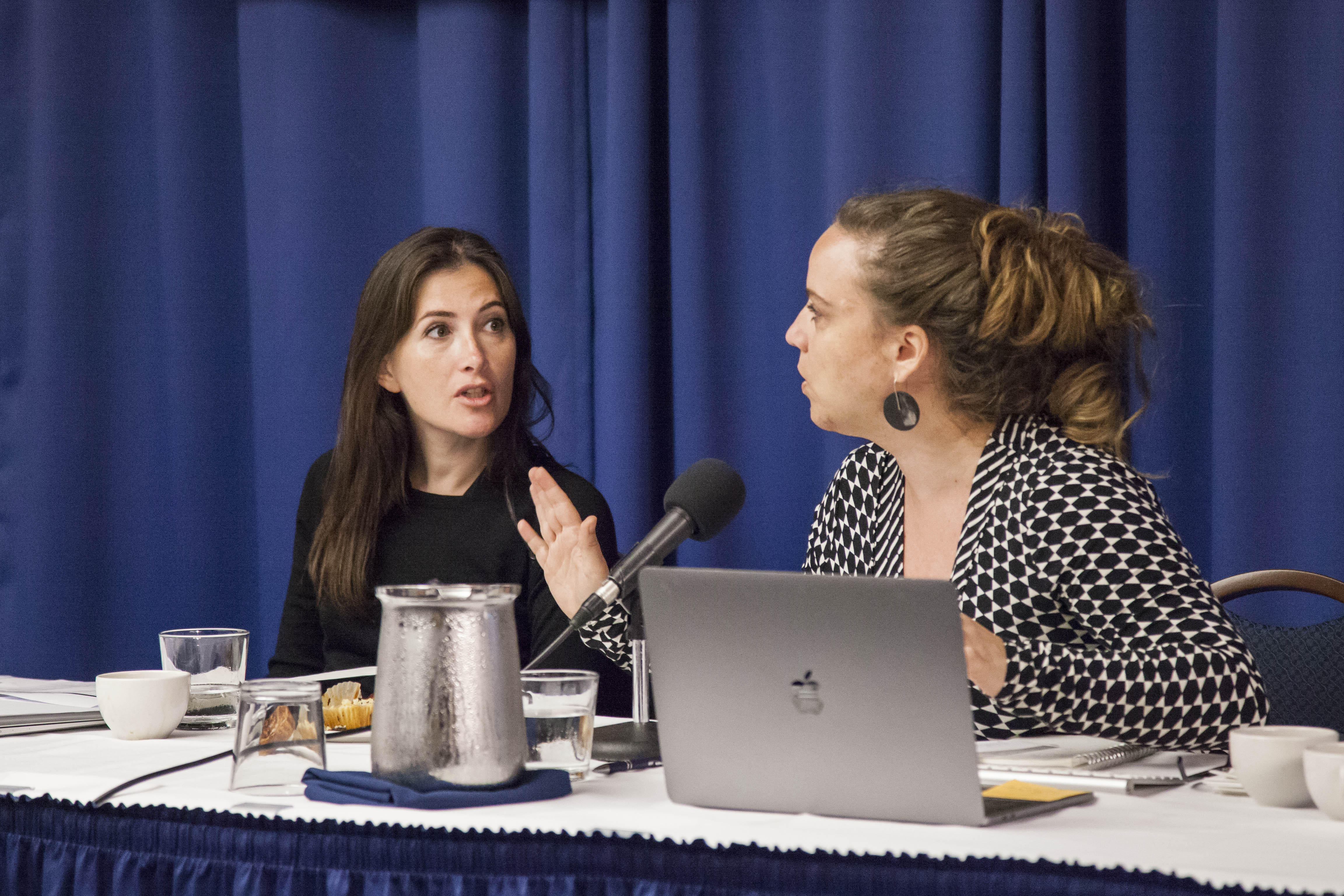 On the second day of the Pulitzer Center Beyond War conference, participants in the "Conflict and Peace Journalism" workshop explored the goals and limitations of conflict and peace journalism. Jina Moore, Pulitzer Center grantee and East Africa bureau chief at The New York Times, Cassandra Vinograd, Pulitzer Center grantee and freelance journalist, and Tom Lansner, visiting professor at the Paris School of International Affairs, Sciences Po, and Graduate School of Media and Communications (GSMC), Aga Khan University, Nairobi, facilitated the workshop on Sunday, June 3, 2018. This workshop was developed in partnership with the Stanley Foundation.
The workshop was divided into three parts that each addressed prominent challenges faced by reporters who cover stories about conflict and peacebuilding. Over the course of three hours, the facilitators engaged in debates about these challenges and offered solutions that they had utilized over the course of their careers.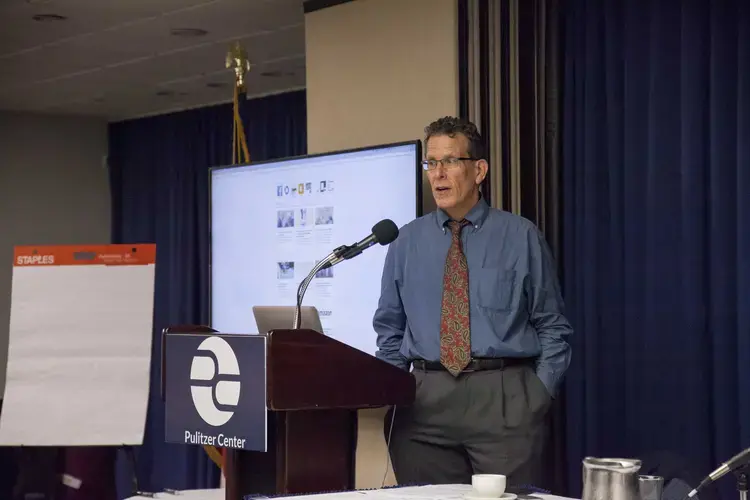 In the first part of the workshop, Lansner led participants through three activities that highlighted: how journalists report on conflict, why some issues are reported and others are not, and who is given a voice in reported stories.
"Let's evict that word 'objectivity' from our vocabularies especially when we speak of media. If we have awareness of our biases and what affects our perceptions of a conflict, then we can deal with them," said Lansner. He urged participants to consider the various identities that influence their reporting and use that awareness to carefully produce stories.
The facilitators and participants engaged in lively debate over the reasons why some issues are reported and other issues are not. Lansner introduced this topic through an activity in which participants discuss which headlines they believed would gain the most attention in U.S. media from a list of headlines including "Myanmar Army Attacks Rohingya," "Kim Kardashian Kidnapped," "Capitals Win Stanley Cup."
The activity led to a discussion about the challenges and responsibility news organizations may have in increasing the degree of coverage on any issue.
"Having worked at three different mainstream media organizations, I can tell you that we covered all of these things," said Vinograd. She explained that editors may need to be creative when writing headlines to spark reader's interest.
"If you care, the story sells. You have to be persistent and frame it in a way that is interesting for the editor." @CassVinograd at #BeyondWar workshop Conflict and Peace Journalism @pulitzercenter pic.twitter.com/n7DkobTPTK

— Flaviana Sandoval (@FlavianaSP) June 3, 2018
In the second part of the workshop, Vinograd led participants through a case study based on a crisis she covered in the Central African Republic (CAR) town of Bria. Vinograd split the room into two groups, and described the crisis that the reporters have been asked to cover. She asked the first group to discuss what a reporter would logistically need to report and the second group to discuss what questions would need to be answered from an editorial lens.
"A lot of times the pitfalls that we encounter in covering conflict have to do with what is logistically possible," said Vinograd. Vinograd described her experience covering a crisis in CAR where she received conflicting information from interviews about who was involved in the conflict and what types of violent acts had occurred.
Reflecting on her reporting, Vinograd revealed that in the first days of her reporting, she often felt like she had found the story she needed to tell about the crisis. However, as she discovered conflicting accounts and complicated relationships between groups, her understanding of the central story in the crisis changed.
"A lot of times, the stories that I hear—they need to be verified, they need to be backed up and triple checked because especially in large groups of people rumors take hold and rumors take on a life of their own," she said. Vinograd left participants considering that reporting on conflict requires time and careful consideration of the continuously changing environments of any crisis.
@itsjina explains in Conflict & Peace Journalism workshop how JP Lederach's 4 disciplines necessary for peacebuilding can open doors for journalists to cover conflict in a way that presents a richer picture of what's happening @pulitzercenter @StanleyFound #BeyondWar pic.twitter.com/qJSED4DQTz

— Devon Terrill (@devonterrill) June 3, 2018
In the final part of the workshop, Moore shared four disciplines described in John Paul Lederach's book "The Moral Imagination" that reporters covering peacebuilding should adopt:
The Ability to Complicate Relationships
Paradoxical Curiosity
Creativity
The Willingness to Take Risks
Moore explained that the disciplines serve as helpful guides for journalists "who may be trying to assist in communities that are going through the process of building peace together."
"No matter what it is you've thought before you got there, you are wrong. And you need to find someone who will help you figure out how you're wrong and why you're wrong, and that will help guide you into what you need to do next," said Moore. She told participants that the ability to complicate relationships is critical because a reporter's initial understanding of a crisis is never the complete story.
Next, she called for reporters to have the paradoxical curiosity described by Lederach, or an ability to work beyond the prominent interpretation of a crisis or event. She called this prominent interpretation the "accepted meaning of things," and suggested that through the complications and challenges of accepted meaning reporters may learn more about the complex realities of a situation.
Finally, she explained that creativity and a willingness to take risks can help reporters move beyond the limitations that workshop participants had discussed earlier.
"One of the things I like to think that we're all trying to do is complicate the moral imaginations that our readers have about what's going on in these places–expand the imaginative proximity and make something that sounds so far away so much closer," said Moore. "I think about these four things when I'm working because they're the kinds of things that I also hope the story might open a little bit of a door to."
For more on the Beyond War: Conflict and Peace Journalism workshop, read a participant's blogpost here. 
Editor's note: The audio recording of this panel has been abridged.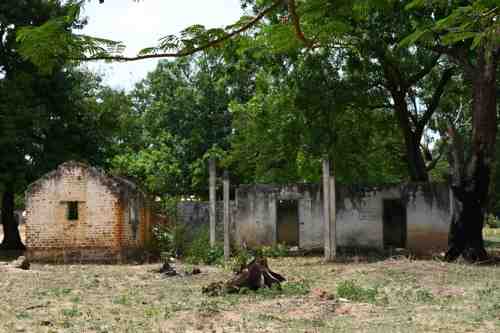 Burundi, Sierra Leone, Guinea Bissau and the Central Africa Republic were the targets of a UN...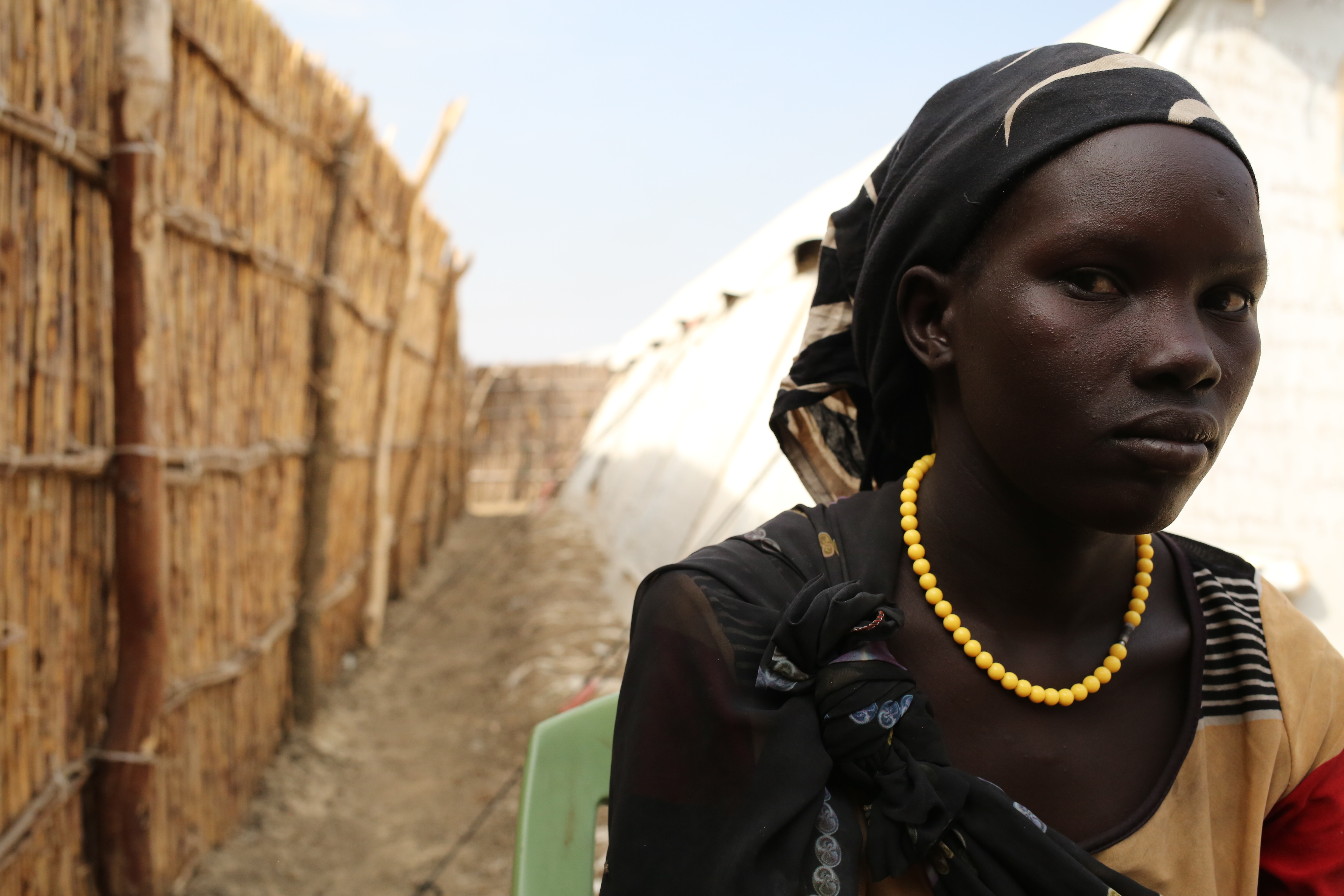 Mass killings, mass rape, ethnic cleansing, starvation and a lack of international will to act...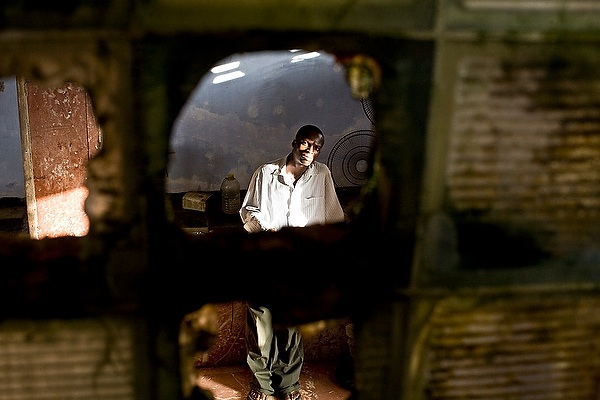 Glenna Gordon and Jina Moore look at Liberia's efforts to restore law and justice -- for victims of...
RELATED ISSUES

Governance

Issue
Conflict and Peace Building
Conflict and Peace Building