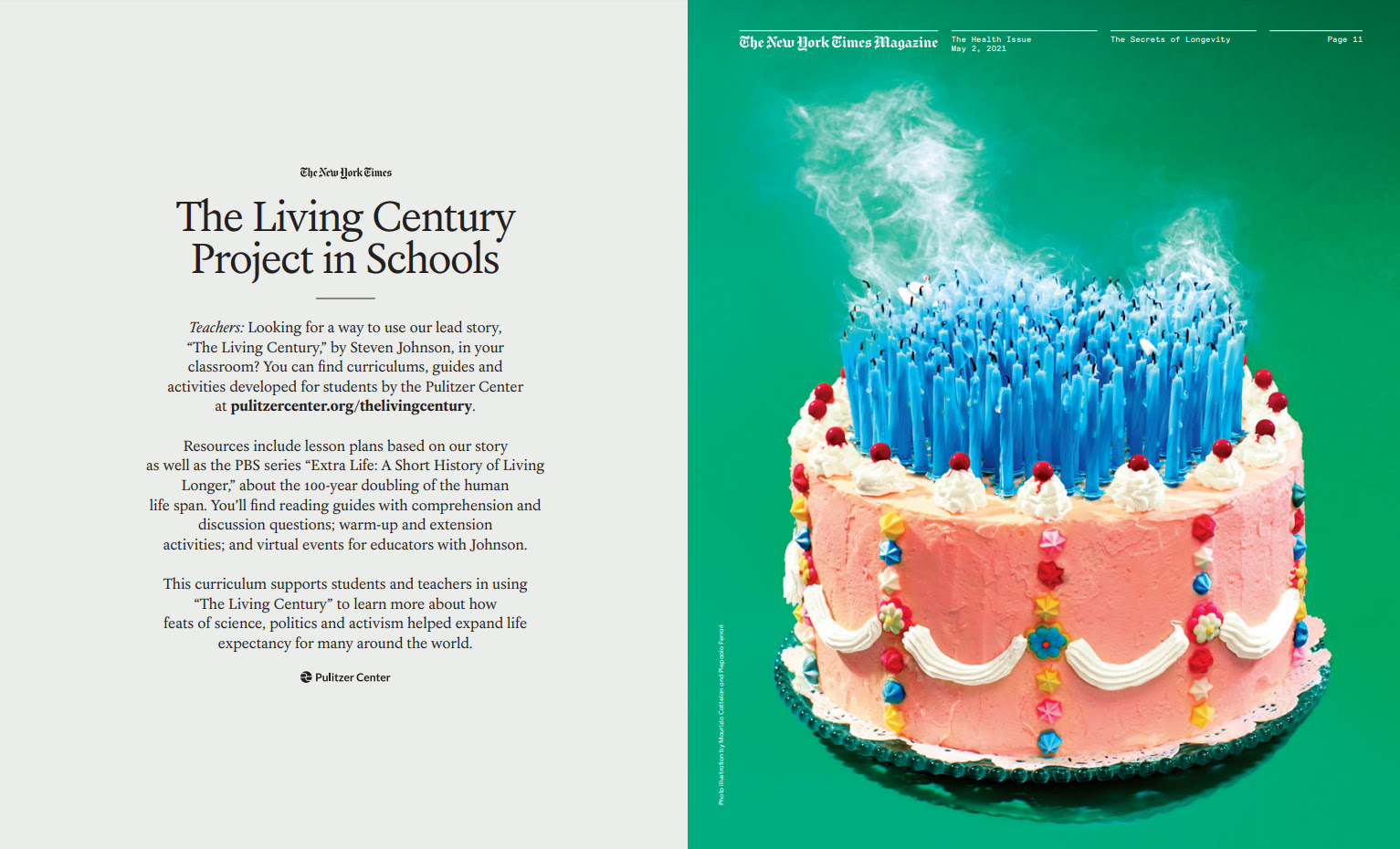 As an organization dedicated to highlighting big systemic crises, we worry that the Pulitzer Center can sometimes feel synonymous with gloom and doom. We focus on conflict, environmental degradation, poverty, health disparities, and racial injustice—dark subjects all, so dark that we run the risk at times of people just turning away in despair that nothing will ever improve.
I can't imagine a better tonic for despair than reading the cover story in this week's New York Times Magazine, the one featuring a cheery birthday cake crammed with 200 candles. The story, "The Secrets of Longevity" by Steven Johnson, tells the remarkable story of the breakthroughs in science, politics, and activism that made possible a doubling in human life span over just the past century.
We are the education partner for Johnson's project, which also features a book coming out this month and a four-part series for PBS starting on May 11. In the lesson plans my colleagues have written, you'll find terrific tools for exploring the history Johnson so masterfully presents—and teasing out the many lessons for tackling the many challenges we face today.
One big takeaway for me is that things have improved, in a myriad different ways—thanks to the work of brilliant scientists and public-health pioneers, for sure, but also because of forward-thinking politicians and engaged citizens no different from you or me.
 

---
Impact
Grantee-journalist Sean Gallagher's Cambodia Burning won one of the main prizes at the 1854 Media/British Journal of Photography's inaugural Decade of Change Awards. The competition will culminate in a major international photography exhibition that will tour Hong Kong's Jockey Club Museum of Climate Change beginning May 29 and New York later this year. Gallagher's film explores deforestation across Cambodia—even in protected areas.
---
This message first appeared in the May 24, 2021 edition of the Pulitzer Center weekly newsletter. Subscribe today.
RELATED ISSUES