Pulitzer Center Update October 21, 2015
The "Secret Sauce" of Shaping and Pitching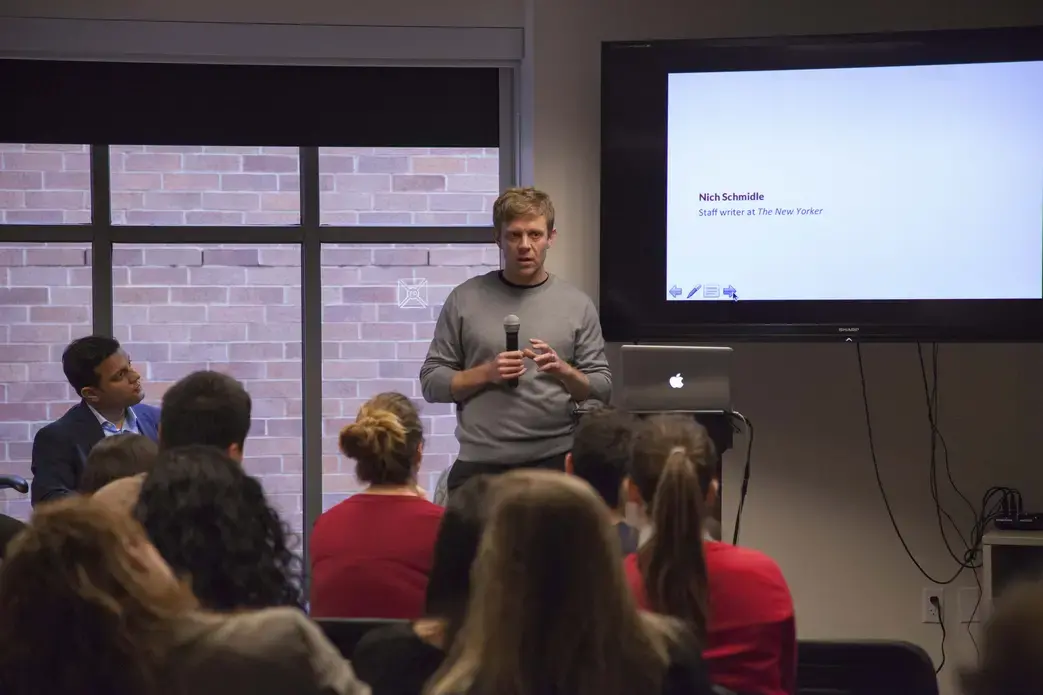 Nick Schmidle, staff writer at the New Yorker, shares his story with student fellows. Image by Jin Ding. Washington, DC, 2015.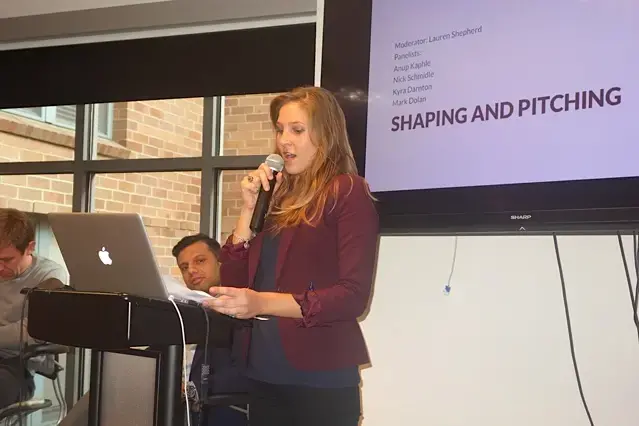 Pulitzer Center outreach coordinator Lauren Shepherd introduces journalists to kick off the 'Shaping & Pitching' panel. Image by Kem Sawyer. Washington, DC, 2015.


Learning to tell an old story in a new way can be the key to good journalism.

Student fellows at this year's Washington Weekend heard advice from vetted reporters and editors on the triumphs and challenges that shaped their careers.

Anup Kaphle, deputy world editor at BuzzFeed News and former Pulitzer Center grantee, Nick Schmidle, staff writer at The New Yorker, Kyra Darnton, managing editor at Retro Report, and Mark Dolan, president of the National Press Photographers Association and professor of journalism at Southern Illinois University Carbondale, headed the weekend's second journalist panel on "Shaping and Pitching."

"I was trying to figure out a way to pitch this story that had been reported so many times, and [that] many people had sort of lost their interest over," said Kaphle as he shared his first experience reporting on Maoists in Nepal for The Washington Post after graduate school.

How do you stand out from the crowd? Whether a story has been told before, or you aren't quite sure how to go about reporting it, the panelists agreed on one point.

"Of course the most important thing is the idea, but also know the place that you're pitching," Darnton told the audience. For Retro Report in particular, it's crucial to understand the organization's model. But equally important is knowing the publication's readership.

As Schmidle explained, "you have to sort of be many things to multiple people. You know, and do it in a way that is genuine and sincere. People, sources, everyone sort of knows if you're trying to con them, trying to pretend like you're something you're not."

That goes for editors too. Schmidle advised fellows to find common ground with people, to gain trust by connecting person to person, rather than strictly as reporter to editor, or reporter to source. "You find those bonds and those ways to try to convince people that you are telling their story."

For Dolan, who started his career in journalism at age 30, having a strong narrative is just as important as knowing how to shape it.

"I want the beginning to really kind of grab people, and maybe pique their curiosity–'huh, what's this about? What's about to come?'–and then I fill in in between."

Dolan's ideal reporting calls for a variety of media as well. "It's just something for you to think about. It puts bullets in your weapons arsenal. And I mean weapons arsenal in terms of getting jobs and getting hired. That's something that's going to be of a lot of interest to a lot of people."

Darnton agreed that it's vital know how to work with different forms, "but it's also more important to figure out what your form is." Across video, audio, and print, "they're all different types of storytelling."

A student fellow from the University of Southern California kicked off the Q&A. Diana Crandall asked the panel: if they were early in their careers, what would they do in order to get to where they are today?

For Dolan? "I think you're doing it. I mean, to be in this room, for you guys either just out of school, or some not having graduated, to be starting off your career having done stories, national or international stories, it's such a much bigger start than I had. I mean that's huge."

Schmidle seconded him. "The fact that you're already out in the field just gives you a massive leg up in terms of pitching. But you're right, it's a crowded field, and so how do you stand out? You stand out by writing, not more stories–people don't really count the number of stories–but better stories."

One final lesson from the panel came from Jon Sawyer, who reminded everyone of a young reporter he mentored who maintained connections with everyone he met. Of Pulitzer Prize-winning international reporter David Rohde, Sawyer remembered, "he cultivated people."