Pulitzer Center Update April 17, 2023
Open Call for Proposals for Pulitzer Center's AI Accountability Fellowships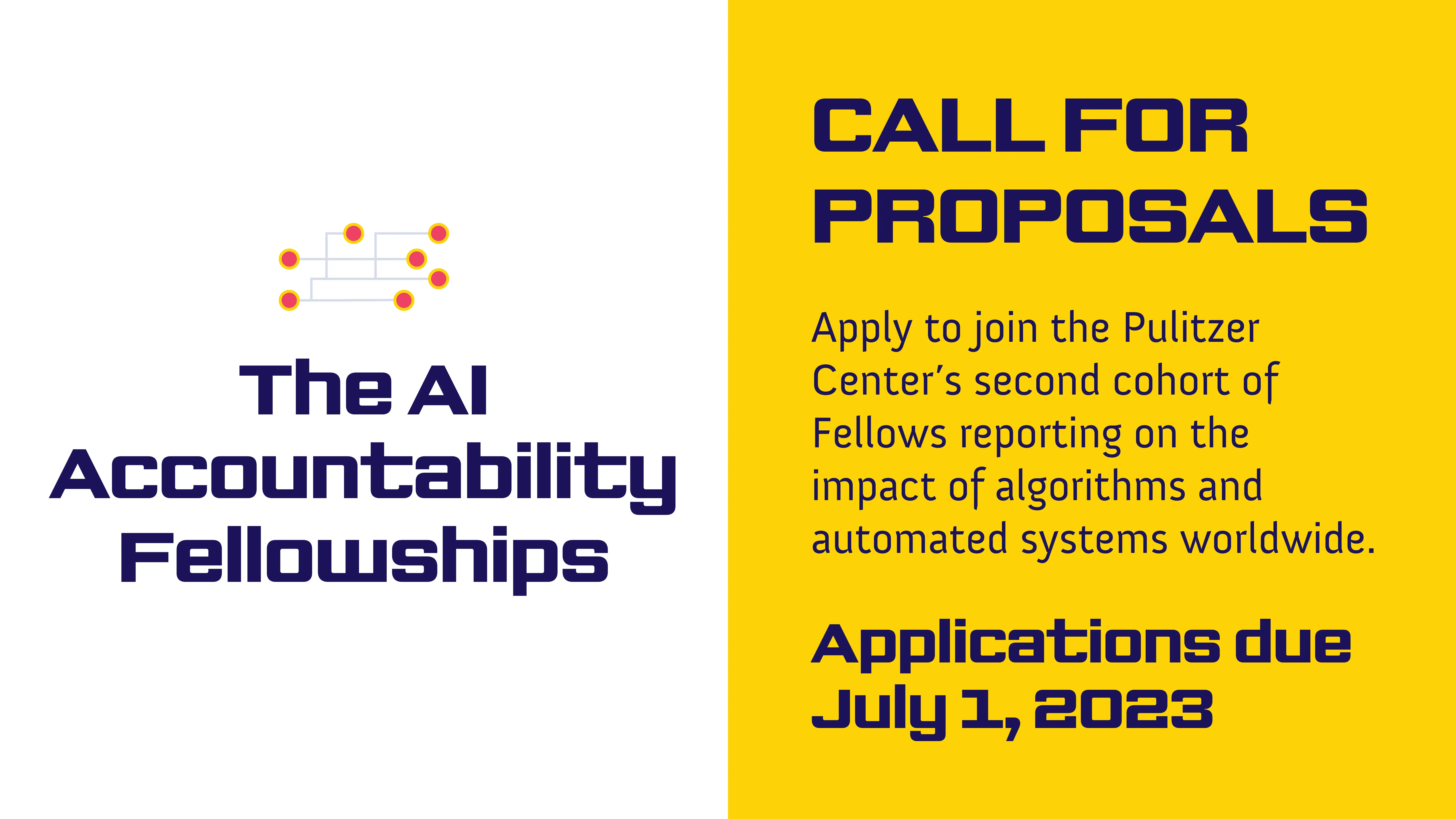 A new partnership with the Digital Witness Lab at Princeton University will support a journalist reporting on the influence of messaging platforms on public discourse.
---
Se abre la convocatoria de propuestas para las becas de monitoreo de algoritmos
Appel à candidatures pour les bourses du Pulitzer Center sur la Redevabilité de l'IA
The Pulitzer Center is accepting applications for the second cohort of its Artificial Intelligence Accountability Fellowships. 
Governments and corporations use AI to make life-changing decisions in policing, criminal justice, social welfare, hiring, and more. If unchecked, these systems can harm some of the most vulnerable members of society, deepening economic gaps and amplifying the effects of racial, gender, and ability biases. The Pulitzer Center's AI Accountability Fellowships support critical, in-depth reporting on the impact of AI systems in communities around the world and nurture a global network of journalists who report and learn together about this urgent, underreported issue. 
"This is not just a technology story but an equity and accountability one, too," said Marina Walker Guevara, the Pulitzer Center's executive editor. "At a time when AI is creating both hype and despair, we are building a global community of journalists dedicated to reporting on this fast-evolving issue with skill, nuance, and impact." 
In its first year, the Fellowship supported 10 Fellows to report in 10 countries. The 2022 cohort of AI Accountability Fellows reported on themes crucial to equity and human rights, such as the impact of AI on the gig economy, social welfare, policing, migration, and border control. 
AI Accountability Fellowships
The Pulitzer Center is recruiting six to eight journalists from anywhere in the world to report on the impacts of algorithms and automated systems in their communities.
The 10-months-long Fellowship starts in September and it provides each journalist up to $20,000 to pursue projects. Funds can be used to pay for records requests, travel expenses, data analysis, and stipends, among other costs. In addition, the Fellows will have access to mentors from different fields and relevant training with a group of peers that will help strengthen their reporting projects.
While we welcome projects on a broad range of issues related to the impact of AI in society, this year we are also placing special emphasis on certain topics. We are seeking to support at least one project that examines the intersection of AI and conflict, war, and peace. In partnership with Digital Witness Lab at Princeton University, we are also recruiting one project that focuses on the role the messaging platform WhatsApp plays in influencing public discourse in a particular community. 
The journalist selected for the shared fellowship with Digital Witness Lab will have the opportunity to be mentored by renowned investigative data journalist Surya Mattu, formerly with tech news organization the Markup, and his team, and to explore projects of common interest with Digital Witness. To learn more about the shared fellowship with Digital Witness Lab, please click here. 
---
Applications for the 2023-2024 AI Accountability Fellowships are now open. The deadline is July 1, 2023.
Find more information here. Apply here. 
---
The AI Accountability Network launched in 2022 to expand and diversify the field of journalists reporting on AI and with AI in the public interest. Through its Machine Learning Reporting Grants, the initiative also supports journalists using AI to tackle big data investigations. The Network is managed by Pulitzer Center Senior Editor Boyoung Lim, with the support of Executive Editor Marina Walker Guevara and the Pulitzer Center's Editorial team. 
The AI Accountability Network is funded with the support of the Open Society Foundations (OSF), Wellspring Philanthropic Fund, and individual donors and foundations who support our work more broadly. Other funders may join during 2023/2024. 
 
RELATED INITIATIVES