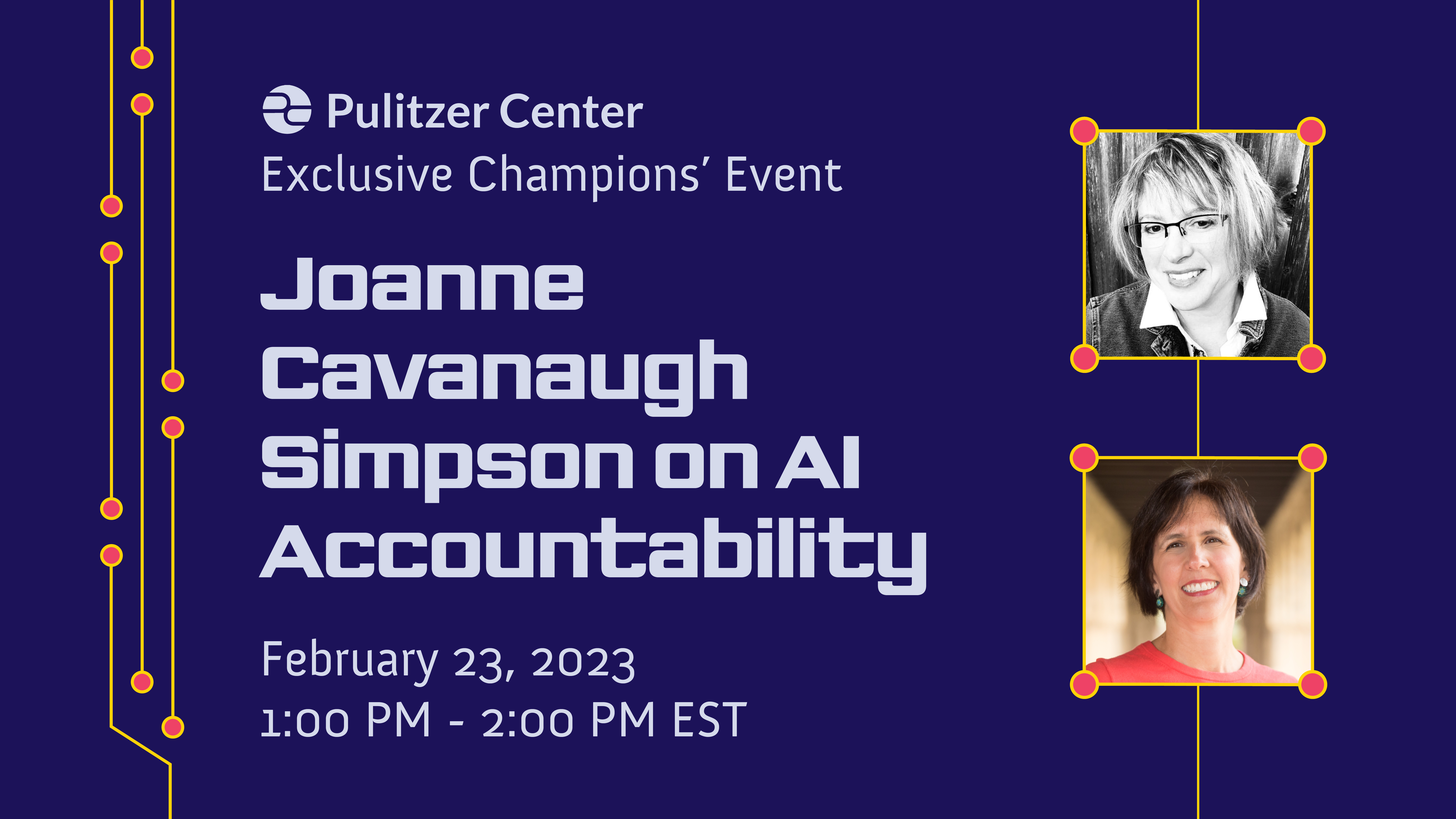 On February 23, 2023, grantee Joanne Cavanaugh Simpson, a freelance journalist and a special adviser to the Pulitzer Center's AI Accountability Network, joined Pulitzer Center Executive Editor Marina Walker Guevara for a discussion and Q&A on AI accountability.
This live event was exclusive to Pulitzer Center Champion donors. Learn more about how to become a Champion and join our team for events like this throughout the year.
Simpson offered her insights on the topic of artificial intelligence and machine learning, including police surveillance. In her project State of Surveillance: Police Use of AI and Facial Recognition in Communities of Color, Simpson uncovered Florida police agencies' unregulated use of a statewide facial recognition database. After Simpson's discovery that police were applying facial recognition technology inappropriately to profile communities of color, new regulations were introduced to prevent further misuse of the database and technology.
Simpson and Walker Guevara discussed the intersection of technology and society and how to approach the tensions between the two in emerging AI technologies as a journalist. Simpson's approach is to give new innovations a chance while trying to understand precisely how the technology is used. She told the Pulitzer Center that it is important to understand limitations of new tools and how to respond to any problems that arise.
A recurring issue in AI technology in policing is racial bias and discrimination against communities of color. In her project, Simpson found that among those tracked using facial recognition technology were organizers for Leaders of Liberty, a Black community-based organization in Florida. In her previous work in Baltimore, Simpson found that surveillance spy planes were deployed mainly in Black neighborhoods.
When questioned about the racial imbalance of surveillance subjects, a police representative who spoke with Simpson, she says, told her the obstacle to surveilling white neighborhoods is the density of trees obstructing the view of the planes.
On the role of journalists in AI accountability, Simpson spoke to the importance of documenting harm. She said it is the role of a journalist to dig deep enough and find answers to keep up with technologies that are fast emerging.
Watch the recording of the discussion above.
RELATED ISSUES