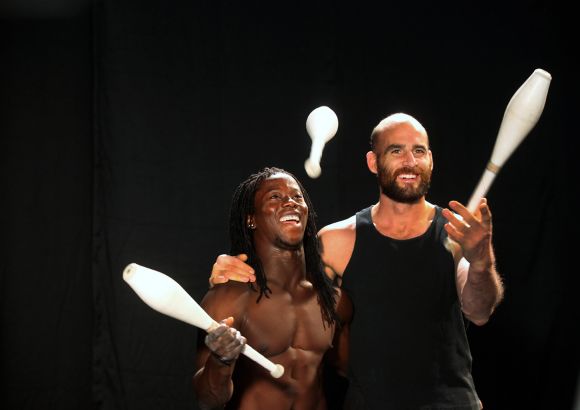 To view this newsletter in your browser, click here.

Dear Educators,

This week's newsletter explores curriculum and school engagement connected to the film Circus Without Borders from grantees Linda Matchan and Michele McDonald. The film follows two circus troupes from opposite ends of the globe as they introduce circus to their communities in an effort to combat the hopelessness and depression that have emerged due to lack of opportunities. Using circus arts as a means of self-expression and cultural exchange, the two circuses —Artcirq in the Canadian Arctic and Kalabante in West Africa—give youth in two of the world's most challenged communities the tools to travel beyond their borders and cultivate hope.

Our featured lesson of the week connects students to the latest reporting on the challenges facing Syrian refugees that have been stopped along the border of Greece and Macedonia.

News Bite Lesson: Circus Without Borders

This week's News Bite lesson begins by asking students to reflect on their dreams for themselves and the barriers they face in achieving those dreams. Students then view the film Circus Without Borders to make connections between their own aspirations and those of the films' subjects. Through discussion and deep analysis of the film using guided notes, students ultimately explore how documentary films can be used to investigate and illustrate the barriers they face in achieving their dreams. This lesson plan was written by Jane Skelton for the Boston Globe Foundation and is taught over four classes.

Featured Lesson: Reporting on Refugee Camps in Europe

This week's featured lesson asks students to analyze how an author uses language to achieve different tones through investigation of reporting by Jeanne Carstensen and Jodi Hilton on the challenges facing refugees living in camps along the border of Macedonia and Greece. Refugees fleeing conflict in Iraq and Syria have been gathered in camps for months in hopes of being granted passage to other parts of Europe. This week, Greece began moving hundreds of refugees to other government-run camps within the country.

Education News: Circus Without Borders, Acrobatics and Life Lessons with Students in Illinois

The following is an excerpt from a forthcoming blog post by Outreach Coordinator Lauren Shepherd (pictured above on the shoulders of Artcirq founder Guillaume Saladin). Check out the Pulitzer Center education page next week to read Shepherd's full report.

"We need a brave volunteer," the acrobat asks as he scans the crowd of middle school students and teachers in the auditorium. One student hops up on stage, eager to learn a juggling trick. She quickly learns that her participation will involve balance, focus, and confidence. The acrobat tells her to keep as still as possible and asks, "Do you trust me?" She nods her head tentatively. As soon as the two shake hands, the acrobat's caring smile puts her at ease. She climbs on the acrobats hip and then his shoulders as he provides support, holding onto each hand. The students watching are silent in anticipation. Steadily the girl on stage lets go of the acrobats hands, raising her own above her head and the room erupts in cheers.

"Did we know each other before? Did we use our words during the tricks?" the acrobat asked.

"No!" the students answered in unison.

"Did you guys feel something? Is it right to say we were communicating without using language?" he asked.

"Yes!"

One student added, "once she trusted you, you could go on to do amazing things."

Two acrobats and a journalist flew to Arlington Heights, Illinois in the first week of May, 2016 to bring to life a documentary about friendship and opportunity in the form of two circus troupes, Circus Without Borders. The film, directed by Susan Gray and produced by filmmaker, Boston Globe feature writer, and Pulitzer Center grantee Linda Matchan, was shown to hundreds of students in the auditoriums of three middle schools in District 21. In the days that followed, the acrobatic duo engaged with 2000 students across the district, shaping communities of trust in each assembly hour they had with the middle schoolers.

High school students at Northside College Prep High School in Chicago also had the opportunity to engage with with the three Circus Without Borders visitors. Sylwia Balata, a student on the newspaper there, captured the excitement and inspiring moments exchanged between the students and the presenters that day. Read her article, here.

Circus Without Borders follows Guillaume Saladin and Yamoussa Bangoura, best friends and world-class acrobats from remote corners of the globe who share the same dream: To bring hope and change to their struggling communities through circus. Their dream unfolds in the Canadian Arctic and Guinea, West Africa, where they help Inuit and Guinean youth confronting suicide, poverty and despair achieve unimaginable success. Both troupes use art and the power of dreams to transform themselves and their communities. Seven years in the making, this tale of two circuses—Artcirq and Kalabante —is a culture-crossing performance piece that offers a portal into two remote communities, and an inspiring story of resilience and joy.

If you are interested in scheduling a visit to your school, or would like support creating resources connected to Circus Without Borders, email [email protected].

Featured Project of the Week: "Canadian Citizens Sponsor Syrian Refugees" by Robin Shulman

Click here to learn more about journalist Robin Shulman and her project about Syrian refugees in Canada. Create your own lesson plan using Robin's work with our Lesson Builder.

Want more education news? Sign up for our newsletter here.